It almost hurts me how much I love this river. I love the beautiful scenery and varied geography, the challenging rapids and sense of adventure, the timelessness of being so deep in the wilderness. I love the eight crazy teenagers I guided through each of the 500-something kilometres and I remember every cup of cowboy coffee and bug bite and paddle stoke with wonderful nostalgia.
And I will never tire of telling any and everyone why a canoe trip on the Missinaibi River will be a magical, life-changing experience.
Looking for day-by-day trip reports and planning guides for the Missinaibi River? I've now paddled the river twice and here are the trip reports I've written: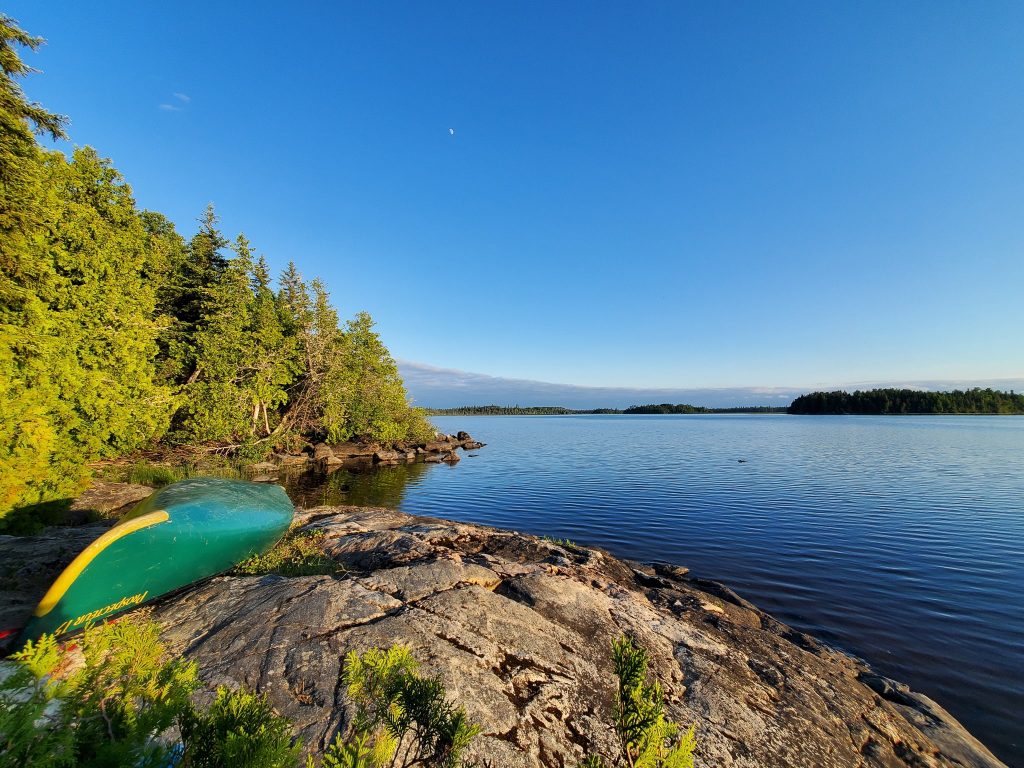 This post may contain affiliate links. If you make a purchase through one of these links, I may receive a small commission at no extra cost to you. Your support is much appreciated! You can learn more by reading my full disclosure.
---
Welcome to the Missinaibi River
The Missinaibi River is a major waterway through which Indigenous people, voyageurs and fur traders alike navigated Lake Superior and James Bay, due to it being the shortest route connecting these two colossal bodies of water. The river in essence cuts the province of Ontario in half.
For recreation, the river is generally considered to start at Missinaibi and Little Missinaibi lakes at the 'height of land'. From there, the river weaves its way through the Boreal Forest uninterrupted, passes by one just one little town, and ultimately joins the Mattagami River to flow into the Moose River.
Finally, the river meets the salty waters of James Bay, and it is here that you find the communities of Moose Factory and Moosonee.
1. The transition from Canadian Shield into Hudson Bay Lowlands is stunning
It is also painful, but we'll come back to that. The Missinaibi River starts on the Canadian Shield, geography of jagged granite rock, but finishes on the Hudson Bay Lowlands, a relatively flat and sprawling landscape.
The first part of the trip will feel a tad reminiscent of Algonquin or Killarney Provincial Park. The river is winding and punctuated by rapids and waterfalls.
The transition between Canadian Shield and Hudson Bay Lowlands is sharp, occurring largely over the course of a single portage appropriately named Hell's Gate. Adjacent to the portage is a series of formidable waterfalls and for 2.5 km you must trudge alongside them.
It's one of those portages that has you lamenting "Next time we're paddling in a Kevlar – I don't care if we puncture the boat!" while shaking your fist in the sky. (If you aren't a boat nerd and didn't get that reference, a Kevlar canoe is made of an incredibly light material but doesn't stand a chance against rapids and is ill-suited for river expeditions.)
But after going through hell and Hell's Gate, the views are stunning and the next section of the river is unlike anything in lower Ontario. The river is so straight you can actually sail your canoe if the wind is good. The sky is nothing but expansive (get ready for beautiful sunsets).
2. The rapids are gnarly, but you always have the option to portage
There are some fantastically fun rapids to paddle on the Missinaibi (specifically on the Canadian Shield portion of the river). If you're in an intermediate canoe group (where at least two or more people know whitewater rescue techniques) you can run a lot of the rapids.
If you want to take a pause from adrenaline rushes or a rapid is beyond your skill level, you can always portage. Every rapid has a (fairly) well-maintained portage trail and decent signage.
If you're less experienced but still want to run the fun rapids, I strongly encourage you to consider going with a guide. I had quite a few tips and canoe rescues when I did the river – this is not a river for unguided beginners! I highly recommend MHO Outfitters – I have two friends who guide on the Missinaibi River for MHO, so I know you'll be in good hands.
One of my favourite rapids was close to the end of the trip, near Moose Factory, and is appropriately named Deception Falls. At this point the river has been totally flat for at least 150 km, so "no way this rapid is going to be anything significant" I thought.
And that is where, obviously, it deceives you. The drop is far greater than it looks and you get one more humbling splash of water in your face before docking in town.
Read More: How to Get Started in Whitewater Canoeing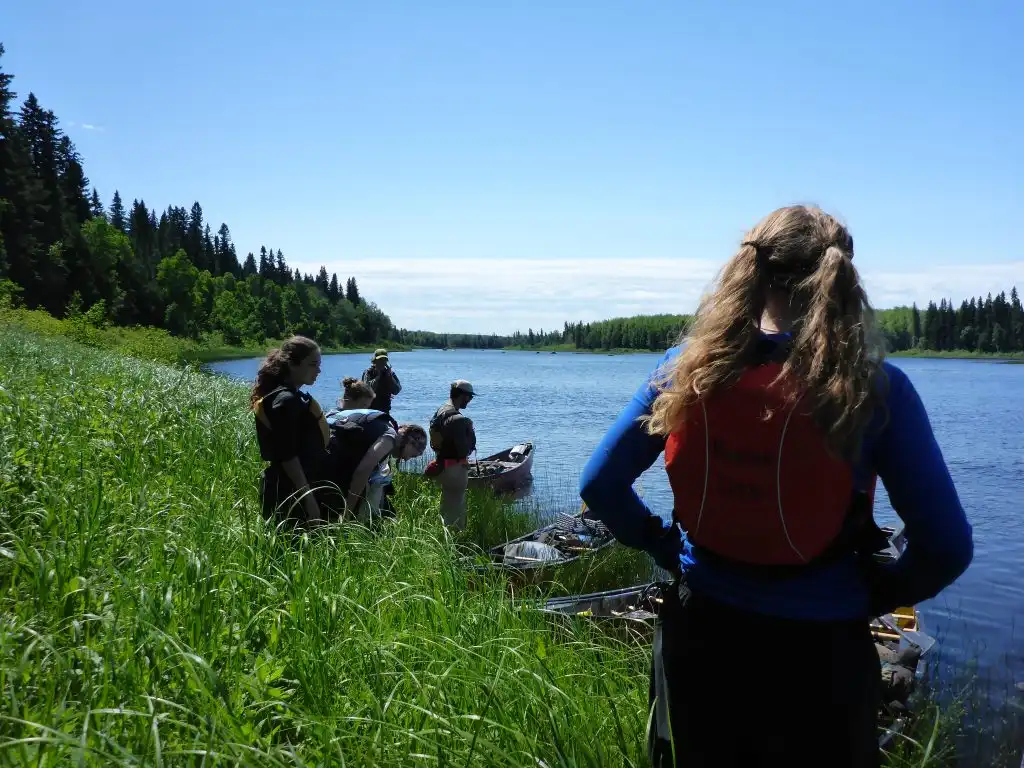 3. The river is part of the Canadian Heritage River System
If you're a history buff or a sucker for all things old, you'll appreciate the opportunity to witness a little piece of early Canada. The Missinaibi River was of vital significance to the fur trade.
For 200 years it was one of the most important rivers in Canada, through which traders could travel from Lake Superior to James Bay. Several trading posts were established along the river by rival trading companies (specifically, the Hudson Bay and the North West companies) including Brunswick House, Missinaibi Houses and Wapiscogamy House.
Moose Factory, now home to Moose Cree First Nation, was the first English settlement in Ontario, established in 1673. Here you can wander through the well-preserved buildings of a Hudson Bay Trading Post and look at antiques and old letters. It's actually really interesting – even my campers enjoyed it.
Note: It's important to be respectful when passing through small towns and first nations communities. Read the principles of rural tourism here if you're unfamiliar.
4. Learn about Indigenous history
Speaking of First Nations, let's not forget that for thousands of years, long before the fur trade started, the Missinaibi River was home to many Indigenous communities, notably the Cree and Anishinabe.
Today there are two First Nations – Moose Cree and Missinaibi Cree – living on the rivers banks. In Moose Factory, the Cree Cultural Interpretive Centre welcomed my group warmly and ran sessions for my campers on the Indigenous culture and history of the river, including hosting a traditional cookout and teaching the campers to slow-roast a goose over a fire.
I've heard from others that the CCIC will run sessions for any group of paddlers (for a fee of course). It's a great way to support a community after paddling on their river!
5. The entire trip has a profound 'wilderness' vibe
For the entire length of our trip, we saw only one other group. Besides our brief pause in the little French town of Mattice (where we of course treated ourselves to public flushing toilets and ice cream sandwiches) we didn't encounter a bar of cell service nor the sounds of a boat engine or highway off in the distance.
Perhaps if the river grows in staggering popularity this will change, but for now, at least you enjoy a secluded wilderness experience.
Read More: The Ultimate Guide to Canoe Camping
6. Yet the river is incredibly accessible
For the views and the seclusion, the Missinaibi River offers, you would expect it to be located in the far north, perhaps even in the territories, and be an expensive logistical nightmare to access.
But this isn't the case. From Muskoka, we had a single day of driving to the put-in at Missinaibi Lake. We finished our trip in Moosonee, where a quick ride brought us to the town of Cochrane, ready for a quick drive back to Muskoka. This brings me to my final reason I love the Missinaibi…
7. Your trip ends with a ride on the Polar Bear Express!
The most common way to leave Moosonee is by train; the Polar Bear Express travels from Moosonee to the town of Cochrane where you can be reunited with a major highway.
Is there a more Canadian way to end a canoe trip than by loading your boats onto a train? It just feels right. You need to book your seats ahead of time and reserve a cargo car for all your gear and canoes. (If this is sounding like a lot of logistical planning, there are outfitters who can help you with this.)
So what are you waiting for? The Missinaibi River is a canoe trip unlike any other – you won't regret making this the destination for your next paddling adventure!
And if you're thinking you'd like to go guided, I cannot recommend MHO Outfitters enough. I absolutely loved the trip I did with them in 2019 (which you can read about here).
>>Read about the MHO Upper Missinaibi trip here.