When we can't actually get away from work or school to travel and explore, we satisfy our wanderlust with the adventures of others. I, for one, love reading outdoor adventure books. If it takes place on a river or mountain, perfect. If it's a true story or memoir, even better. Continue reading for, what I believe, to be the best outdoor adventure books.
And why not forward this post to your adventure buddies? Choose a book and start an outdoor adventure book club!
---
22 Must-Read Outdoor Adventure Books
By Alfred Lansing
This is the 22nd book to be added to this list and it's going in the number one spot. I can't believe I only learned about this book two weeks ago. It is perhaps the most incredible story I've ever read.
Endurance is a book written about Sir Ernest Shackleton's incredible voyage and self-rescue in the Antarctic. Let's set the scene. It's 1915 and a team of 28 men hop aboard a wooden ship. They have 69 sled dogs and three lifeboats, canvas tents and wool clothing. There's not an inch of Gore-tex or satellite communication to be found.
In the middle of 1915, their ship (named the Endurance) gets trapped in ice and the group is stuck on the ship for the long, dark nights of an Antarctic winter. Then the ship begins getting crushed by ice and they must move onto the floe. Once summer arrives, the floes begin to break and the team must move to increasingly smaller floes. I won't go into the rest of the ordeal (believe me, it gets worse). But all 28 men survive. It's the most miraculous survival story.
And what makes the novel itself so incredible is how it's written. The author, Alfred Lansing, interviewed all of the men from the expedition at length. He read their diaries and included snippets throughout the story. Holy crap, I cannot believe the book I just read. If you take one recommendation from this list, let it be Endurance.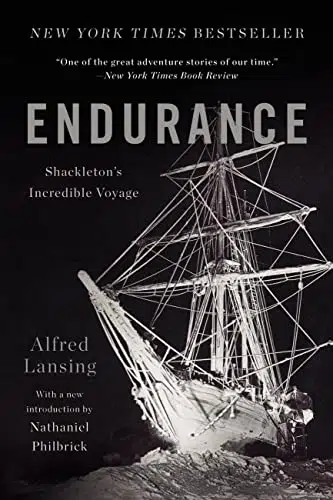 This post may contain affiliate links. If you make a purchase through one of these links, I may receive a small commission at no extra cost to you. Your support is much appreciated! You can learn more by reading my full disclosure.
By Joe Simpson
This book is a rollercoaster of emotions. It's a lot of 'no way Joe survives this' and 'he is definitely about to die' until you remember Joe is the one who wrote the book, so clearly he does survive. But oh my goodness I don't think I've read a better survival story.
Joe and his climbing partner are mountain climbing in South America, attempting a first ascent. On the descent, there is a terrible storm, Joe is injured and from there on it's just disaster-miracle-disaster-miracle.
There's tension when his climbing partner must decide whether to stay or abandon his partner. You'll hold your breath as Joe dangles over a crevasse, about to drop. If you have high blood pressure, maybe don't read this book. But if you love to be kept up at night on the edge of your seat, you'll love this book.
---
By Cheryl Stayed
In Wild, Cheryl's life has just about hit rock bottom. She is grieving the death of her mother, her marriage has just ended, and she was dangerously close to a heroin addiction. Then, with no experience and very little guidance, she makes the impulsive decision to hike 1,000 miles of the Pacific Crest Trail alone.
If you don't know anything about camping, this book will give you some confidence that it's never too late to fall in love with hiking. If you do know camping, you'll appreciate Cheryl's descriptions of pain and perseverance on the trail. What's beautiful about Wild is that it goes beyond just another trip report.
In the book, Cheryl tackles her demons throughout the hike and overcomes many of the barriers that had existed in her mind.
---
By Jon Krakauer
It's likely you've already seen the movie Into the Wild, but I'd still urge you to read the book. If you haven't read or seen it and you have no idea what it's about, here is a quick summary. Into the Wild is the story of Chris McCandless.
Fed up with the commercialism and lack of authenticity in society, he donates all of his possessions, abandons his family and hitchhikes his way to Alaska. Both the movie and book are emotionally moving, however, the book provides more context.
Plus, Jon Krakauer draws a parallel between the reckless decisions both he and Chris made in their young lives, and how luck worked out in one person's favour, but not the other. This novel sets the standard for outdoor adventure books – it's a true classic.
---
By Adam Weymouth
While I was reading this book, I was always trying to convince people it was more interesting than it appeared. "Mikaela, you're reading a book about salmon?!?" On the surface, it's a story about paddling the Yukon River (Adam is in a canoe, after all) but the story goes so much deeper than that.
This is the journey of the Chinook Salmon and the communities along the Yukon River whose lives have been forever altered by the salmon's near disappearance. The story goes into the history of the Chinook and Indigenous communities; it details salmon farming throughout the world; it reveals some (alarming!) information about the salmon we find in the grocery store.
Meanwhile, it's all set in wild and vast Alaska. I know it sounds like a book about fish, but it's seriously worth the read.
---
By Hap Wilson
Hap Wilson is the father of modern canoeing, having paddled over 60,000 km, completed 250 expeditions and created the first canoe guide books for many of the most popular rivers we paddle now.
In River of Fire, Hap recounts his experience paddling the Seal River during an enormous and dangerous forest fire (one of the worst the Boreal Forest has ever seen). He has a terrible co-guide and two completely inexperienced clients. And this was during a time when you didn't have satellite phones to call for help.
And all of this is set amid the beautiful scenery of the Seal River. I love Hap's descriptions of the estuaries and eskers, the big sky and spiny trees.
I really enjoyed this book, though there were parts where I wanted to scream at Hap. There are so many red flags ahead of the trip and I know, personally, I never would have set out on this trip. I imagine that, were Hap in this situation today, he wouldn't either.
But it's because he moves forward with the trip, despite the emerging problems, that we get to read such an entertaining and thrilling account of a nearly disastrous trip. So I definitely recommend this book!
---
By Adam Shoalts
I was so excited to read this book. I liked Adam's first book (Alone Against the North, featured below) and I also love the arctic. So, no surprise I loved this book (much more than his first, actually).
In Beyond the Trees, Adam recounts his nearly 4000 km journey across Canada's unforgiving arctic, alone.
It's a race against time; he must reach his destination before winter sets in, so he cannot rest or make mistakes. On his journey, he battles gale winds, paddles upriver and has a handful of close wildlife encounters.
I want to emphasize just how much upriver paddling he does, because anyone who has paddled a whitewater river knows it takes skill to paddle down the river; paddling up seems impossible. Yet Adam manages to paddle up the Coppermine River.
It isn't thrilling the way Touching the Void or River of Fire is, but instead of thrills, the reader will get a deep look into a landscape untouched by modern development. I found the book to read kind of like an elaborate love letter to the wilderness. Plus, Adam is so damn funny in his prose. I love it.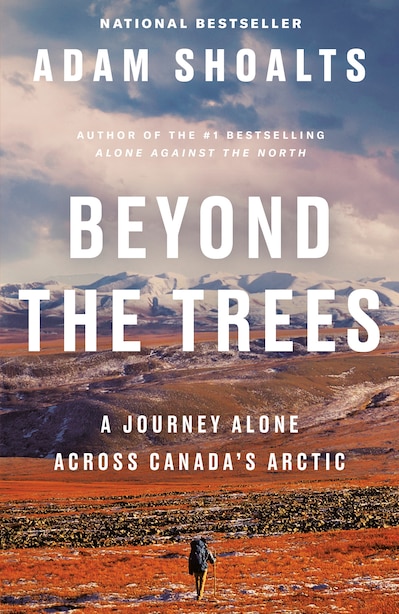 ---
By Blair Braverman
This book will surprise you in many ways. Blair Braverman is a tough girl obsessed with the North. She has lived in Norway and Alaska, working with sled dogs and guiding on glaciers.
You'll be fascinated by her descriptions of attending dog sledding school, panic when she gets trapped in snow, fear for her as she navigates empty tundra at night. And yet, while the story is exciting in nature, there is so much more to the book than sled dogs and chilly environments.
The novel also confronts the fear of living in extreme environments, sexism in adventure guiding, owning your story and your own body, among other topics. Also, Blair is a total badass and it's an entertaining read. As far as outdoor books go, this one is a total knock-out.
---
Trails and Tribulations: Confessions of a Wilderness Pathfinder
By Hap Wilson
I first learned about this book while researching the Missinaibi River before a summer of guiding. I came across a passage from the book about more than 30 fatalities that occurred on the river due to mistakes on the topographic maps (critical portages and waterfalls were incorrectly marked or missing altogether).
Years later I returned to read the book in its entirety and found it to be incredibly interesting. The book, written by canoeing legend Hap Wilson, resembles a memoir in parts but goes much further than that.
Hap details what it was like working as a wilderness guide in the 70s and 80s and how the canoeing infrastructure (both social and physical) has evolved over time. He touches on Indigenous history and I found the sections on Thunderhouse Falls and the Bloodvein River to be particularly chilling. There's also stories of conservation efforts, especially in regards to Temagami and the old growth forest of Wolf Lake.
This is a great book for anyone, but I think it's an especially important read for young wilderness trippers (myself included). The book illustrates a history for the recreational canoeing we're familiar with now; it also provides insight into how the fight to conserve these areas is not over (and probably never will be).
---
By Bill Bryson
I love the way Bill Bryson writes. In A Walk in the Woods, Bill Bryson and his recovering alcoholic friend set out to walk the entire length of the Appalachian Trail. Neither are experienced hikers, so you can imagine the blunders encountered along the way.
This book is very different from all the others on the list because it isn't about an impressive expedition or an insane survival story. In fact, the walk itself is pretty mundane. But then again, Bill Bryson wrote an entire (best selling) book on home furniture, so Bill can make literally anything an amusing book to read.
Honestly, this book will have you laughing out loud, thinking of your own hiking memories and continuously turning the pages. I found a few sections to be a little frustrating (the lack of preparation! ahh!) but once I let that go I found it very funny.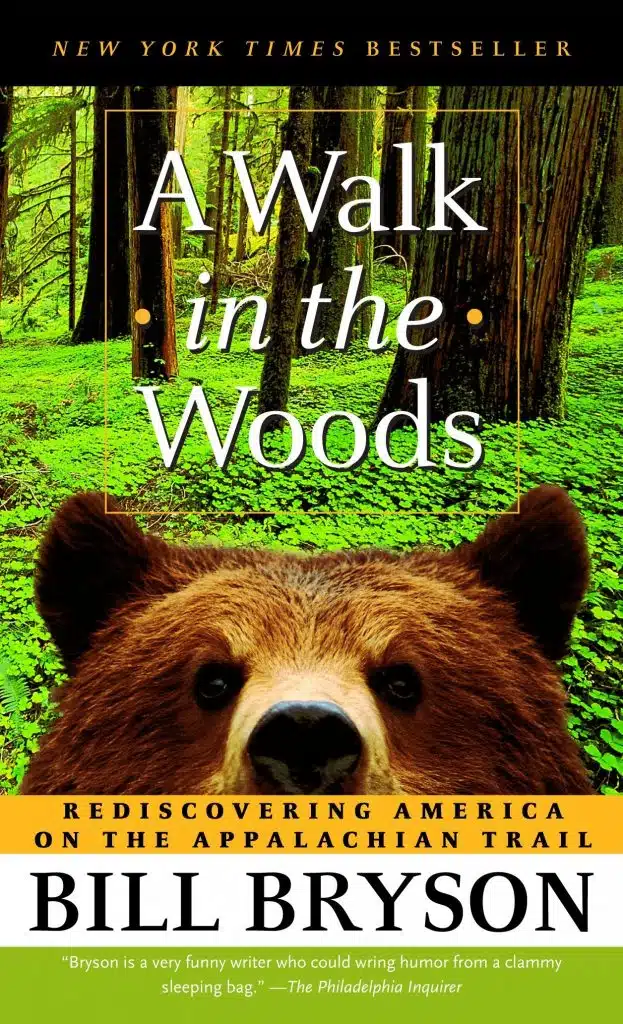 ---
By Eric Viesturs
This story takes you to the peaks of the world's tallest mountains. Eric Viesturs was the sixth person to ever each of the 14 8,000 meter-plus mountains and in this memoir, he details everything from his early obsession with the mountains to the logistics of mountaineering and finally, the incredible feat that is climbing the tallest mountains in the world.
This is one of those "he did an impressive thing so let's have him write a book about it". I wasn't taken on an emotional rollercoaster; there were no long nights where I couldn't put the book down. That said, it was interesting learning about what goes into an expedition and how your mindset changes as you navigate an obsession.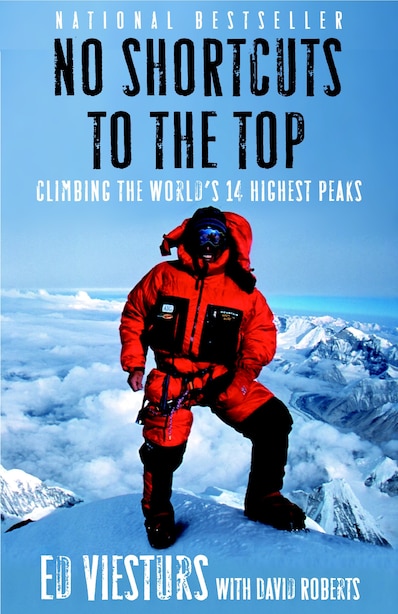 ---
By Adam Shoalts
In this book, Adam Shoalts sets out to paddle an unnamed river in the Hudson Bay Lowlands that has no record of ever being paddled. Without a map, anything can lie beyond the river bend (say, a 20 ft. waterfall…) and I can only imagine the courage it takes to paddle not knowing what you're in for.
In total honestly, this is my least favourite Adam Shoalts book. When he began his journey as explorer-author, I think he placed a little too much emphasis on 'discovery' and 'conquering the land'. He's evolved so much as a story teller since this book and I don't have this critique for anything else he's written.
Despite it being my least favourite, I still think it's a great read. Adam has incredible determination and courage to face the unknown, on his own, and the book is entertaining.
I'd recommend this book to anyone who loves canoeing, but even if you don't you may find it sparks a desire in you to go paddling (or never get in a boat again).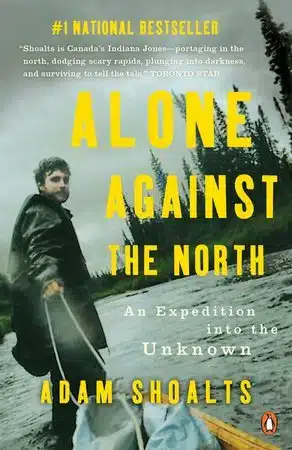 ---
By Jon Krakauer
Here is another book by Jon Krakauer (who also wrote Into The Wild), and this is the epitome of outdoor adventure books. Into Thin Air is an exhilarating and heartbreaking account of the Mount Everest disaster of 1996. John, a writer for Outside Magazine, joins an Everest Expedition led by one of the world's most celebrated climbers, Rob Hall.
On the summit day, a huge storm hits and those who did not abide by the 2:00 pm turnaround time get caught in it. Over the next day, eight people die, including Rob Hall. Jon does extensive research to support the personal account of what happened and he interviews survivors after the fact.
Honestly, it isn't one of my favourites (I'd recommend Touching the Void over this one), but it's celebrated enough to command a spot on this list.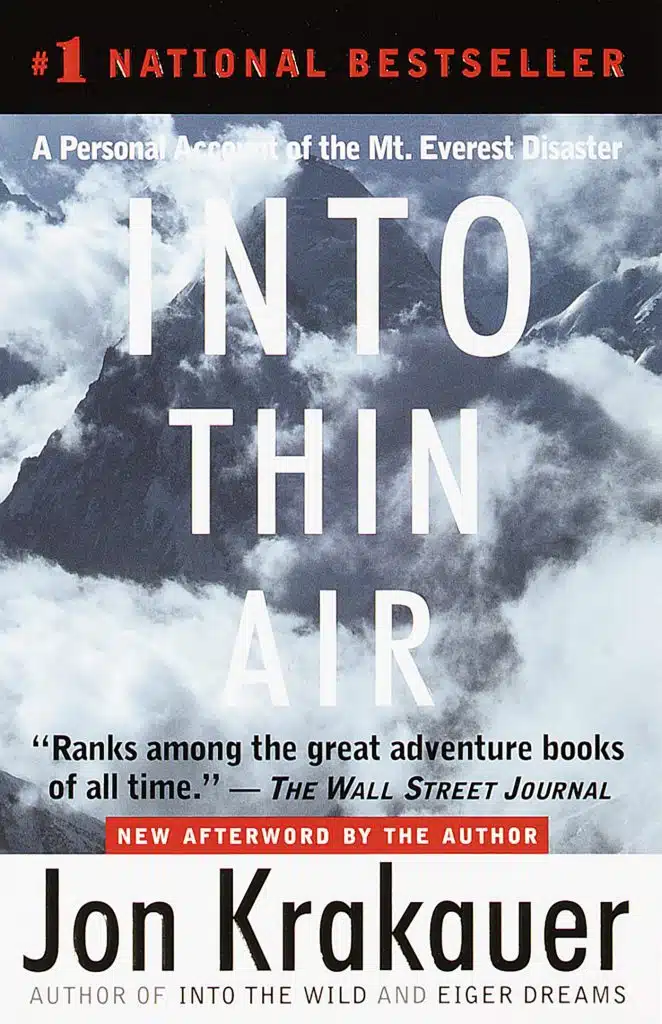 ---
By Anatoli Boukreev
While Into Thin Air gets all the press and fanfare, it's been brought to my attention that The Climb: Tragic Ambitions on Everest is a more accurate depiction of the events of the 1996 disaster. I haven't read this one personally, so I don't know how good it is.
---
By Alex Honnold with David Roberts
Alex Honnold is a legend in the climbing community, and the outdoor adventure world overall. In this book, we get to see the world through Honnold's eyes and the thoughts he had while alone on a sheer rock face.
In total honesty, I didn't like this book (part of it is because Alex Honnold didn't write it himself). If you want to learn more about Alex and his climbing, I would recommend watching the documentary Free Solo instead. That said, it's a largely celebrated book so who am I to say it doesn't below on this list?
---
By James Campbell
In Braving It, James Campbell and his daughter make three trips to the Alaska wilderness, each progressively more difficult. The first visit is a summer trip to help a friend construct a cabin, the second a visit to the constructed cabin in the winter, and the third a canoe trip.
Overall, I really liked this book. It was easy to read and provided vivid imagery of Alaska. I saw parts of myself in James' daughter and could relate to her fascination and enthusiasm with the north.
While the book will have you longing for a trip to the Alaskan backcountry, I think the real story is about the connection between fathers and daughters. The worrying from both sides, the acknowledgment that not all feelings need to be said to be shared. It's made me even more eager to plan a camping trip with my dad.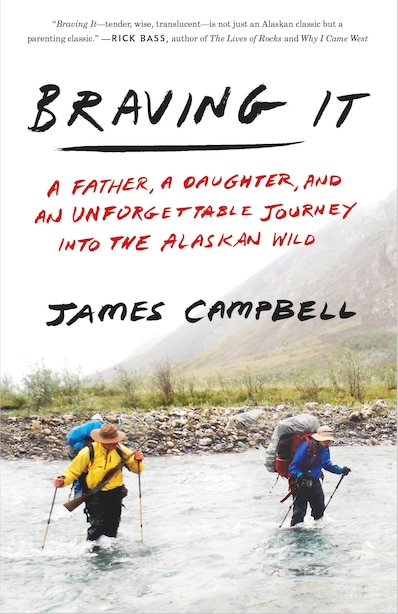 ---
By Audrey Sutherland
This book was excellent. I'll admit I bought the book because it had the word "canoe" in the title and was disappointed that she isn't actually in a canoe for much of the book. The misleading title, however, allowed me to read a book I'd likely never pick up otherwise – and I'm so glad I did.
In this story, Audrey is mesmerized by the Molokai coastline one on of Hawaii's islands. With a terrain so rugged, walking the coastline is impossible. The waves are too much for a boat – something more nimble is needed… So Audrey elects to swim the coastline. She nearly dies on her first attempt, but her second is much more fruitful. In addition to being an amazing story, the imagery itself is lovely.
Also, I love this edition of the book specifically. There are beautiful watercolour paintings to illustrate the Hawaii coastline, and it really adds to the vivid descriptions Audrey uses. I love turning a page and seeing an illustration of the cascading waterfall I've just read about, or the bright yellow fish swimming under breaking waves.
Read it Now: Paddling My Own CanoePaddling My Own Canoe
---
By Don Starkell
I don't know much about this book – other than that it involves canoeing the Amazon – however, if you scroll down to the comments this is the #1 recommendation (I even get people emailing me about this book so it must be good).
Read it Now: Paddle to the Amazon: The Ultimate 12,000-Mile Canoe Adventure
---
By Christiane Ritter
Based on the recommendations below, I have picked up a copy of A Woman in the Polar Night. This is a memoir written in 1934 by the Austrian painter Christiane Ritter. She and her husband spend a year on the Spitsbergen, a remote island in the arctic.
For the first section of the book, Christiane isn't a big fan of the arctic. It's cold and barren and desolate. But over time she starts to fall in love with its charm. It reminds me a lot of my time in the arctic, where I spent the first part painfully lonely but completely fell in love with the region.
So far it's been really good!
Find It Here: A Woman in the Polar Night
---
By RM Patterson
I was supposed to paddle the Nahanni River with my dad in 2020 but a pesky little virus cancelled those plans. Then we were supposed to in 2021 but couldn't because of this gosh darn persistent pandemic. So while our Nahanni plans are on hold, I've gotten a copy of The Dangerous River: Adventure on the Nahanni to tide me over.
In this memoir, RM Patterson details two journeys down the Nahanni River in the 1920s. After leaving a comfortable banking job in England, RM Pattersere journeys to the Canadian wilderness in search of gold. He hunted, trapped, fished, and explored, ultimately falling in love with the landscape.
Along the Nahanni River, he faced all of the hardships characterized by a wild, northern river. I am very excited to read this book next!
Find it Here: The Dangerous River: Adventure on the Nahanni
---
By Eric Blehm
Unlike most of the other books on this list, this is not a memoir. In The Last Season, Eric Belhm tells the story of an incredible park ranger in the Sierra Nevada. Randy Morgenson, a seasoned ranger of 28 years, protected the mountainous landscape and its visitors with introverted enthusiasm.
But then Randy faces a series of setbacks; tie in the intense isolation, and many suspected his disappearance as being a suicide… or the result of foul play.
So what happened? Well, read the book and piece the puzzle together yourself!
Find it Here: The Last Season
---
By Jedidiah Jenkins
I haven't jumped into this book myself, but it's been recommended to me by quite a few people. The memoir is written about 2019 when 30-year-old Jedidiah quits his jobs and bikes from Oregon to Patagonia. He documents his travels on Instagram, winning over hundreds of thousands of followers – all the while questioning, what makes a life worth living?
Perhaps I am judging a book by its cover (well, specifically, its synopsis) but I don't have a lot of desire to read a "meaning of life" book written by someone just 5 years my senior.
That said, I can't deny that biking from Oregon to Patagonia is bloody impressive, so I'll give it a try and let you know what I think.
Find it Here: To Shake the Sleeping Self
---
What's your favourite outdoor adventure book?
This is an evolving list. Comment below your favourite outdoor adventure books and I'll do my best to give them a read and add it to the list!