For me, finding the best canoeing shoes was a lot of trial and error. On my first big canoe trip, I remember bringing "waterproof" sandals and a pair of running shoes – eventually, both got wet and never truly dried. They gave me blisters and the sandals offered so traction or stability. It wasn't until my most recent summer guiding that I ~finally~ found my dream system totally tailored to my preferences.
But that won't happen to you, because you're taking the time to research shoes for canoeing before your trip. Good for you. That foresight will bode well for you in the backcountry. So rather than diving into the exact canoe footwear I recommend, I'd like to take a few moments to explain what I look for in a good pair of canoeing shoes – both my "wet" shoes and my "dry" shoes.
In this post I'll cover:
---
The 8 Best Shoes for Canoeing
Picture
Name
Best For
Features
Price
Salomon Supercross Trail Running Shoes
– Canoe routes with lots of portaging
– Whitewater canoeing
– Extremely durable with great traction
– Excellent on portages and in rapids
$$$
Astral Brewer 2.0
– Whitewater canoeing
– Wearing over a dry suit
– Vibram sole is really grippy, great on slippery rocks
– Dry fairly quickly
$$$
Keen Clearwater
– Casual canoe tripping
– Minimal portaging
– Quick drying
– Comfortable for summer paddling
– Many openings for sticks to get inside
$$
Keen Newport
– Casual canoe tripping
– Some portaging

– Sturdier than the Clearwater
– Quick drying
– Less room for sticks to get inside
$$
Nike Free Air
– Summer canoe routes with some portaging
– Very comfortable
– Great on portages and in rapids
– Dry somewhat quickly
$$
Teva Hurricane
– Campsite shoe
– My favourite site shoe
– Very sturdy
– Secured with velcro strap
$$
Chaco Z/Cloud
– Campsite shoe
– Durable, comfy and stylish
– Secured with clip and strap
$$
Crocs
– Campsite shoe
– Fasted drying shoe on the list
$
This post may contain affiliate links. If you make a purchase through one of these links, I may receive a small commission at no extra cost to you. Your support is much appreciated! You can learn more by reading my full disclosure.
---
Wet Canoeing Shoes: What you Wear in the Canoe with You
Your "wet shoes" are the shoes you wear during the day. Whether it's getting in and out of the canoe, stepping in a puddle on a portage or encountering a rainstorm – they most definitely will get wet.
The best water shoes for canoeing are dependent on the trip you're taking. So ask yourself the following questions:
What time of year will you be canoeing? Exclusively summer, or spring and autumn too?
Will you be primarily paddling on flat water? Or will there be whitewater too?
Will there be portages?
The best canoe shoe for you will be dependent on your answers above.
What properties to look for in any canoeing shoe
Here are the properties to consider when choosing the best shoes for canoeing.
Comfort: You will be wearing canoeing footwear for the hardest and longest parts of the day. You want something comfortable. That means a shoe that fits well and doesn't give you blisters. If you ever canoe on your knees, you probably want something with a flexible ankle. If you primarily canoe in the summer you want something with ventilation that won't make your feet overheat. But if you also canoe in the spring or autumn, you want something that can go over wool socks.
Traction: If you can, you want the best canoe shoes you can also wear on a portage as portage shoes because then you can avoid changing your shoes during the day. That means you want something with good, sturdy traction. This is why some people don't use canoe boots and instead canoe in hiking boots. But there are plenty of non-hiking boots that offer a comparable level of traction for use as canoeing boots.
Closed Toe: You want your entire foot to be covered. This prevents sticks from getting in your shoes during a portage or cutting your foot on a submerged rock if wading through rapids.
Durable: You want your shoes to at least last the season, if not many more, so durability is an important consideration. Sharp rocks under the water can cut through fabric or wear away at the sole if the materials aren't durable. Hiking on rugged portage trails can do the same.
Quick Dry: Not as important, but definitely something I care about, is how quickly the shoes dry. I really hate putting wet shoes on in the morning, so I like my canoeing shoes to be quick dry, and ideally dry overnight.
Tip: If your shoes get wet during the day, and they have inserts (i.e. hiking boots), take the inserts out and dry them and the shoes by the fire. Don't put them too close though or they might melt. Leave the inserts out of the shoes until you have to put them on in the morning. That gives the inserts as much time to dry as possible.
Additional properties to look for in a river shoe
River shoes (also referred to as 'white water shoes') are specifically used for canoeing on rivers where you will encounter rapids or white water.
You may have to get out of the canoe to scout rapids, wade across moving water or go into a rapid to retrieve a pinned canoe. Since you could be walking on uneven rocks in moving water, you need your river shoes to have a few specific properties.
It is very important river shoes be closed-toed. Traction is especially important as well because you'll be walking on submerged rocks. If you will be canoeing in a dry suit (in the spring or autumn) consider river shoes that can be worn over the feet of the drysuit.
Read more: How to Get Started Whitewater Canoeing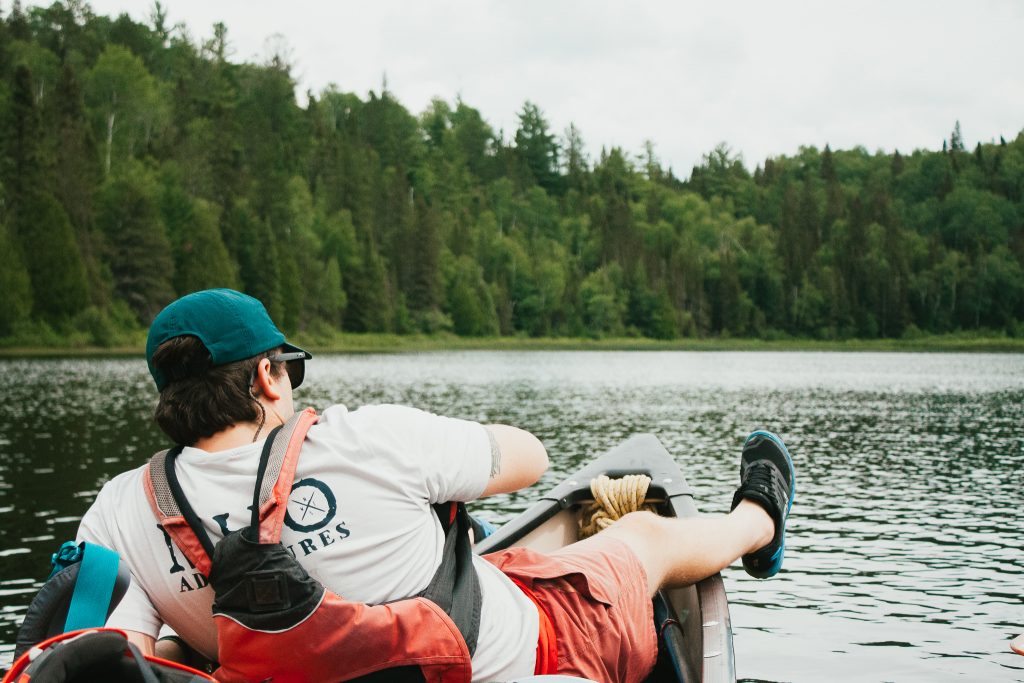 ---
My Tops Picks for Wet Canoeing Shoes
Salomon Trail Running Shoes
What I Love
Depending on the model, there is great stability / ankle support
Less sturdy options are incredibly breathable
Traction is great for portaging
Quick drying
Lots of options of varying stability, durability and breathability
What I Don't Love
Mine were more breathable and less durable, so the fabric on the top of the shoes ripped a bit when I got my foot caught on a sharp rock (but this was after 40 nights in the wilderness)
---
Astral Brewer 2.0
What I Love
Super sticky rubber sole is especially good on slippery rocks portages
Incredibly durable sole
Designed specifically for water sports, so excellent waterproofing and quick drying
What I Don't Love
Would prefer more ankle support if there were long and challenging portages
Although nothing has happened to them yet, I have some concerns about the durability of the fabric
---
What I Love
Very breathable and dry incredibly quickly
Excellent traction (great for navigating wet rocks at campsites but not great for walking in rapids)
The best paddling shoes for summer flatwater paddling with minimal portages
Most popular canoeing shoe of my peers
What I Don't Love
Heel strap stretches over time so your foot slides backwards
Sticks get stuck inside on portages, cut my exposed heel on a rock once while wearing these shoes
Don't feel super sturdy – always felt like I was sliding out of them, especially when wet
---
What I Love
This sandal is a beast – best durability and best traction out of any sandal I've ever tried canoeing with
Unlike the one above, there are no holes at the front of the foot which reduce the number of sticks getting inside during a portage
Dry quickly, fairly breathable
What I Don't Love
Very bulky for canoe sandals, the toe covering is quite bit and the clunkiness takes some getting used to
Some concerns about the heel strap over time, but much more durable than the shoe listed above
---
What I Love
Extremely comfortable
No opportunity for sticks to get inside on portages
Fastest drying running shoes I've ever used
Surprisingly durable – I've taken them on three whitewater trips now and they're still in great shape
What I Don't Love
Don't dry as quickly as sandals, but they dry about as quickly as trail runners
Not as much traction as most trail runners
Tip: I've been able to buy my last few pairs of canoeing shoes on sale by shopping through one of the following: Mountain Equipment Co-Op (CAN), Atmosphere (CAN), Altitude Sports (CAN) and Backcountry (US). Check there first before ordering a pair of shoes from the brand's website.
---
Dry Shoes: What you Wear at the Campsite
Your 'dry shoes' or 'site shoes' are your light at the end of the tunnel. After a long day on the water I get so excited to take my soggy canoe shoes off my tired feet and slip on a pair of breathable, comfy sandals. I do my absolute best to keep these shoes dry no matter what. Because dry shoes are only worn at site, you don't need to worry about their performance ability as much. Here are the things I care about:
Wool Socks Compatibility: The shoes need to be easily worn over wool socks. That means anything that separates my toes is a no-go for me.
Comfort and Breathability: I like the shoes to be as open and loose as possible. That means no running shoes or similar shoes that cover my whole foot.
Waterproof / Quick Dry: Even though these are dry shoes, there is a chance they'll get wet. Like if you drop them in the water by mistake, step in a puddle or get caught in the rain. Ideally you want these shoes to dry as fast as possible so your dry shoes continue on as dry shoes.
Tip: I don't change into my dry shoes (or my campsite clothing) until camp is totally set up. If it looks like it might rain heavily, I don't change into my dry shoes either. I do everything in my power to keep them dry.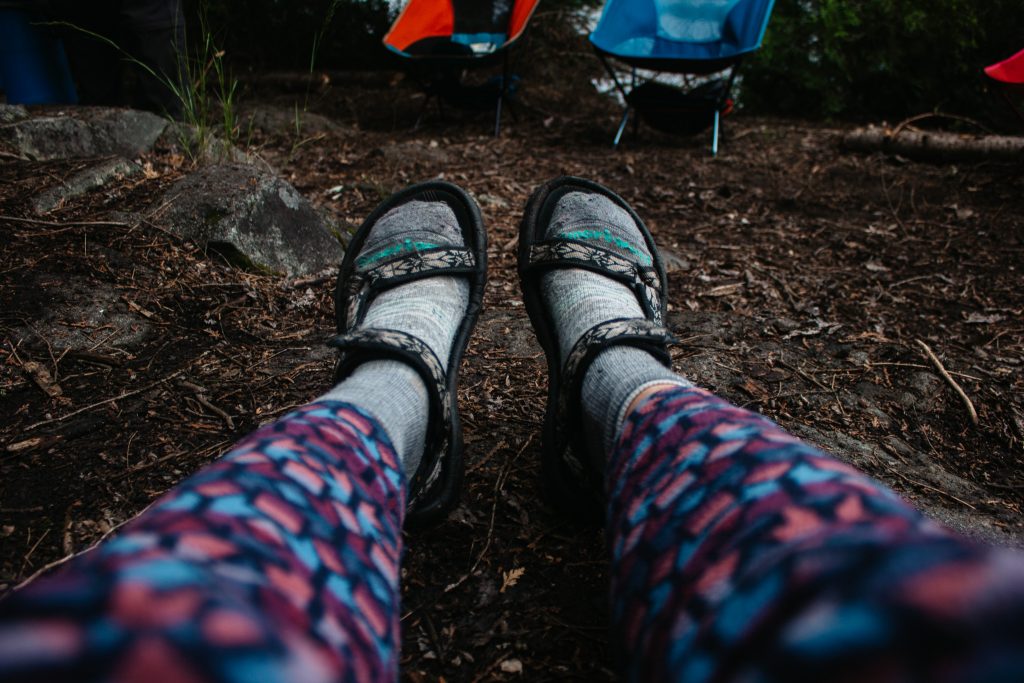 ---
My Tops Picks for Dry Canoeing Shoes
What I Love
My go-to campsite shoe
Easy to put on and take off, and fit nicely over wool socks
Waterproof, and dry really quickly
What I Don't Love
Straps aren't super sturdy – not recommended for hiking or portaging
---
What I Love
The look WAY more attractive than Tevas or Keens
Quick to slip on and take off
Rubber sole makes them good on (somewhat) slipper rocks
Waterproof and dry reasonably quickly
What I Don't Love
The strap across the foot closest to the toes isn't adjustable
I don't find them super compatible with big wool socks
Not super sturdy – not recommended for hiking or portaging
---
Crocs Classic
What I Love
Fastest drying shoe ever
Fit comfortably over wool socks
Excellent breathability
What I Don't Love
Be careful close to the fire, as the heat and embers can melt the shoes
Not great traction / stability
They're Crocs
Personally, my favourite out of the above is Tevas, though I do like Chaco's as well. I really dislike Crocs as a product, but I can't deny that they tick all the boxes for dry shoes. A lot of the older Wilderness Canoe Association members I canoe with swear by them.
---
Canoeing Shoes: Some Final Tips
I really hope this post has been helpful in choosing your next pair of canoeing shoes. Here are a few final tips for having comfortable feet on the trip. If you end up purchasing a pair of shoes, comment on what you chose below!
Don't be afraid to experiment – if one shoe really isn't working for you, try something else
Join a canoe group like Ontario Canoe Tripping or Wilderness Canoe Association to ask experienced paddlers for advice before making purchases
Don't leave your shoes out overnight (evening rain or the morning dew will make them wet) – keep them under your vestibule
Have a pair of wool socks dedicated for sleeping – don't let these get wet ever!
Happy adventuring!