Update: This post is in the midst of being updated to reflect recent items being discontinued.
Are you looking for the best women's hiking pants? Women's clothes for hiking come in so many different variants, materials, and styles that I can understand if you feel overwhelmed and do not know which hiking pants qualify as the best hiking pants. 
But don't worry! I am going to make that decision easier for you. After years of trying out different hiking gear for women, I now know exactly what to look for in hiking pants.
In this post, I will share all the information that I have gathered with you on this topic, including what to consider when buying hiking pants, women-specific hiking pants review and whether you should opt for the best hiking leggings instead of hiking pants.
---
My Top Pick – The Best Hiking Pants for Women
In my opinion, the best hiking pants for women are either The North Face Aphrodite 2.0 Pants or the Kuhl Horizn Skinny for their overall comfort, functionality, and durability.
Read the detailed review below to know more.
---
Quick Overview – Best Women's Hiking Pants
If you do not have the time to read through the detailed reviews below, here are my top recommendations of what I think are good hiking pants for specific requirements –
---
Comparison Table – Best Pants for Hiking (Women's)
Here's a table with all the best pants for women compared based on some core criteria. You can refer to it to figure out which of these pants work best for your needs. To understand more about how to choose the right hiking pants, check my handy buying guide below.
| Name | The North Face Aphrodite 2.0 Pants | Patagonia Quandary Pants | Arc'teryx Palisade | Arc'teryx Gamma LT | Kuhl Horizn Skinny |
| --- | --- | --- | --- | --- | --- |
| Material | 95% nylon, 5% elastane | 96% nylon, 4% spandex | 94% nylon, 6% spandex | 88% nylon, 12% elastane | 56% premium stretch polyester, 44% non-stretch polyester |
| Fit | Relaxed | Regular | Regular | Slim | Slim |
| Weight | 8 oz | 10 oz | 9.2 oz | 11 oz | Unavailable |
| Water-resistance or quick-drying technology | Flash Dry HD | DWR | TerraTex | Fortius Fabric | DWR |
| Pockets | 2 side pockets and 1 zippered pockets | 2 hand, 2 back, 1 cargo | 2 hand pockets and 2 zip cargo pockets | 2 zippered hand pockets, 1 zippered thigh pocket | 2 zippered thigh pockets |
| Convertible | Roll up using ankle drawstrings | No | No | No | No |
| Price | $$ | $$ | $$$$ | $$$$ | $ |
This post may contain affiliate links. If you make a purchase through one of these links, I may receive a small commission at no extra cost to you. Your support is much appreciated! You can learn more by reading my full disclosure.
---
Hiking Leggings vs. Hiking Pants
So many women wonder if they should opt for hiking leggings or hiking pants.
As I have stated in my detailed guide on hiking clothing, the answer to that depends on the type of hike you are heading out on. Day hikes can be easily managed in a good pair of hiking leggings.
Read this post on the best women's leggings for hiking here.
However, finding a good pair of warm leggings for hiking or waterproof hiking leggings is quite difficult. Plus, the skin-hugging fit of leggings makes them a bit uncomfortable to wear on longer multi-day hikes or thru-hikes.
Therefore, unless you only head out on casual day hikes, investing in a pair of great hiking pants is absolutely non-negotiable.
Read Next: Best Women's Leggings for Hiking in 2022
---
Best Women's Hiking Pants: Reviews (2022)
Fit: Relaxed
Material: 95% Nylon, 5% Elastane
The North Face women's hiking pants are one of my favourite pants on this entire list for the brilliant comfort and functionality that they come with. First of all, the fabric used is a premium quality fabric that looks rich and durable. The nylon and elastane mix also provides excellent mobility and stretch.
Plus, the Flash Dry engineering allows these pants to dry off quickly and feel lightweight even on wet hikes. This technology is considerably better than most other quick-dry solutions offered by other hiking pants.
These pants come with a drawcord both at the waist and the ankle to allow a custom-fit. The ankle drawcords also double up as length adjusters.
Additionally, the pants have two well-placed non-interfering pockets for quick slip-ins and zippered pockets for more secure storage.
No stone has been left unturned in the design of these North Face hiking pants. Women's comfort, end-use, functionality, and durability requirements are all taken care of at a relatively moderate price tag.
Pros
Durable
Comfortable
Quick-dry engineering
Come with waist and ankle drawcords
Lightweight
Offer great value for money
Cons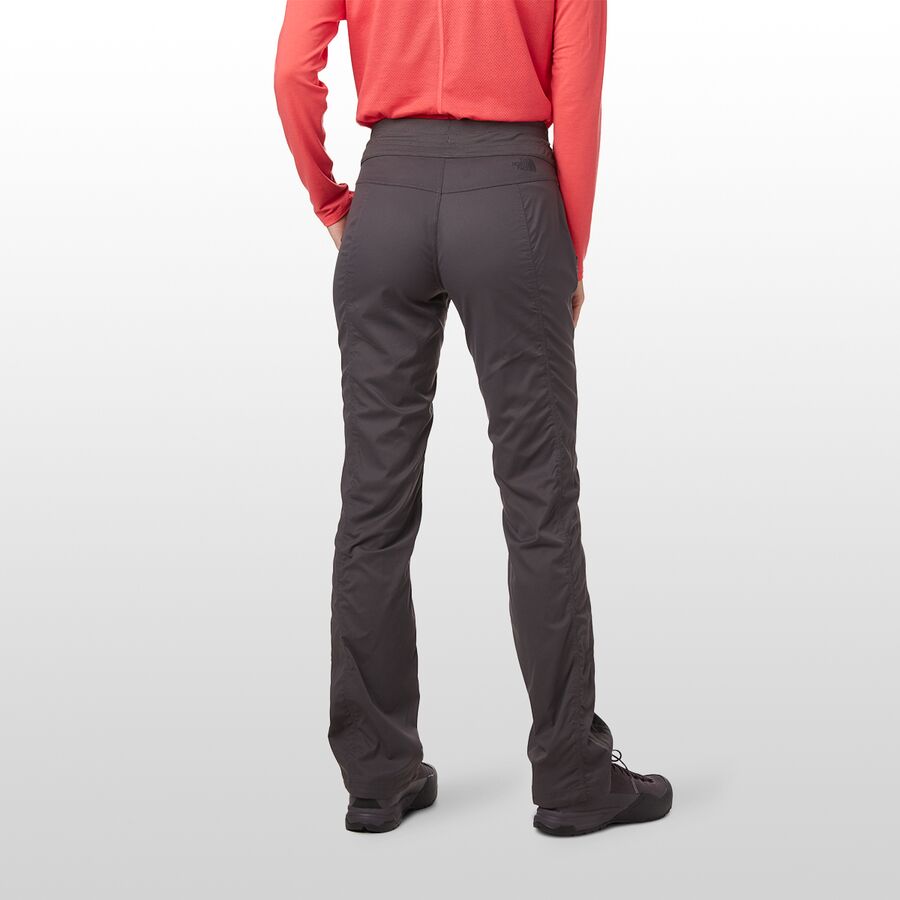 ---
Fit: Regular
Material: 96% Nylon, 4% spandex
There's a ton of hype around the Patagonia Quandary Pants and these are definitely one of the most popular ladies hiking pants. The use of nylon with a small amount of Spandex makes them feel soft on the skin, and the freedom of mobility is ensured thanks to the gusseted crotch and articulated knee.
Plus, even though these hiking pants come with both zippered and drop-in pockets, their convenient side placement does not impede leg lifts. These pants are also coated with DWR (durable water repellent), making them perfect 3-season water-resistant hiking pants.
However, the inner drawstring of these pants does little in terms of providing a better fit for straight-sized women but could help women with slimmer waistlines and broader hips. The hidden drawstrings also do not cut into the skin when cinched, thus ensuring overall comfort.
Pros:
Comfortable with articulated knees and gusseted crotch
Water-resistant
Come with inner drawstring
Lightweight
Durable
Cons
A bit expensive for what you get
Sizing isn't great if you have big thighs
---
Fit: Regular
Material: 94% Nylon, 6% Elastane
These high-end hiking pants feel soft on the skin, and the fit ensures no chafing. The gusseted crotch and the articulated knees make movement easy without adding much weight. These hiking pants even feature two zippered pockets and two regular pockets while still making them feel lightweight.
By far my favourite feature is the waistband. The pants have a piece of webbing sewed into the waistband (which is more comfortable than a drawstring) and have a clasp that is super quick to close and open. All this makes it easy to adjust the waist band to exactly what you need. (Click here for a close up of the waistband).
One downside, however, is the Terratex fabric coupled with a laminated hem – it dries quickly but does little to add durability and abrasion resistance. Overall, the Arc'teryx Palisade are most suitable for use as non-convertible summer hiking pants but wouldn't be great at surviving cold conditions (go with the similar Gamma LT for women's winter hiking pants).
Pros
Comfortable and soft on the skin
Comes with two hand pockets and two zippered pockets
Lightweight
Dry quickly
Come with a waistband for better adjustment
Cons
---
Fit: Slim
Material: 88% Nylon, 12% Elastane
The Gamma LT hiking pants are a great investment for those looking for the best hiking rain pants. I love these pants. They are now my go-to for cold weather hiking.
These pants provide excellent water and wind resistance with their in-built Fortius engineering. That also makes them one of the best pants for hiking in cold weather. With a 12% elastane, the fabric feels stretchy and sits tight on the skin, allowing optimal heat retention.
In fact, despite being on the best women's winter hiking pants, these pants are still super light weight and comfortable. The articulated knees and the gusseted crotch allow full mobility. What's impressive is the placement of the pockets that does not impede movement despite its depth (perfect for carrying an iPhone).
The Gamma LT have the same waistband as the Arc'teryx Palisade Pants mentioned above, making them super comfortable and very adjustable.
However, these hiking pants will seem like an expensive buy for use as 3-season hiking pants. In summers, their lack of convertibility will make them feel stuffy and uncomfortable.
Pros
Great water and wind-resistance
Ideal for use in cold conditions
Stretchy and comfortable, excellent waistband
Come with sufficient pockets and internal belt
Cons
Expensive
Not ideal for summers
---
Fit: Slim
Material: 56% Premium Stretch Polyester, 44% Non-stretch Polyester
These are the most recent addition to my hiking pants collection, and they are an excellent option for those looking for hiking pants that can easily double up as everyday-wear comfort pants.
My favourite thing about these pants is that they are lightweight and breathable, while still being durable. They're great for warm weather hiking – you won't sweat too much in them, but they still offer great protection from bugs and bushes. I also love that they have two zippered thigh pockets (though my phone + case is slightly too big to comfortably fit inside).
Honestly, the only downside of these pants is that they fit a little snug on my thighs. They also come in a straight-leg style that can be converted into shorts. That would be super convenient, but I wanted hiking pants I could also wear during the day, so I didn't want convertible pants.
Pros
Versatile, super comfortable and lightweight feel
Affordable
Water-resistance
Cons
A little snug on the thighs, so order one size up if you have larger thighs proportional to your hips
---
Fit: Relaxed
Material: 97% Nylon, 3% Spandex
The Prana Halle Pants impress with their fabric quality. The thick fabric makes these pants durable and abrasion-resistant without impacting their breathability. In fact, the material makes these pants eligible for use as winter hiking pants as well.
These pants also excel at using a traditional trouser cut with zip ply, button closures, and belt loops while introducing several comfort features such as the articulated knees and the wider boot-leg opening.
The pants can also be rolled up to mid-calf levels using a snap button to adjust to varying weather conditions. The trousers are also treated with DWR to add water-resistance to them to sustain in wet and cold conditions.
However, the trousers seem to carry some unnecessary weight on account of the back pockets and the thigh zippered pocket. These pockets also restrict movement in uphill hikes.
Pros
Comfortable and roomy
Suitable for all body types
Water-resistant
Stylish hiking pants
Ideal for use in cold conditions
Can be rolled up using snap buttons
Cons
Bulky
Pockets compromise on mobility
---
Fit: Regular
Material: 96% Nylon, 4% Spandex
The MEC Terrena Stretch Pants are one of the best women's trousers for hiking. And in my opinion, seriously underrated. These pants can be used as 3-season hiking pants, and their versatility makes them available for alternative uses too.
These MEC women's hiking pants can be easily rolled up during warm hikes using their inner buttons to a perfect capri-length (see what that looks like here). The DWR coating also makes them abundantly water-resistant, and the nylon-spandex means they work as quick dry trekking pants.
Supposedly, these pants fit exceptionally comfortably on all body types (according to reviews). I was reluctant about pants like this because I have big thighs in relation to my hips, so usually only wear pants with an element of stretch to them (these ones are not so stretchy).
So I had to try a size larger than usual, but there's an internal drawcord as well as the belt loops, which worked okay.
The added fabric in the gusseted crotch and articulated knees does not add weight and restrict movement.
However, the zippered pockets on the back, when filled with stuff, can make the pants weigh down from the waistline, making them uncomfortable for descents and other adventure activities.
Pros
Excellent 3-season pants
Versatile
Comfortable
Convertible into capris
Come with drawcords and belt loops for adjustments
Cons
Uncomfortable back pockets
Better suited to slimmer body types (in my opinion)
---
Fit: Regular
Material: 65% Polyester, 35% Cotton
These one-of-a-kind hiking pants come in a unique polyester-cotton blend that affords unparalleled comfort. They make for the perfect stretch hiking pants for summers and warm conditions. They are also ideal for use as women's trail pants, thanks to their articulated knees.
Despite the use of cotton (which you guys know I dislike), these prize-winning pants feel light and airy. These warm-weather trousers are also suitable for use on rough terrains or summer hikes requiring protection against insects (which is important to me ever since the bug apocalypse).
To compensate for these trousers' length, the ventilation mechanism comes equipped with innovative side zippers that run from the knee to the thigh.  The placement of the thigh pockets works seamlessly on all inclinations. However, the button pockets do struggle with providing quick access. These pants have a ton of cool features, so click here if you want to read about even more features.
But unsurprisingly, the trousers struggle to provide optimal moisture-wicking and can feel bulky when wet.
I so wanted to like these pants. I tried them on, they were comfortable and looked great. But I just couldn't get over the cotton element – it goes against everything I know about dressing for the outdoors. So ultimately, I would never wear these pants on a long hiking trip.
Pros
Comfortable
Perfect for warm conditions
Come with added ventilation zippers and handy pockets
Lightweight and airy
Cons
Not suitable for wet and cold seasons
---
Fit: Regular
Material: 96% Nylon, 4% Elastane
The Mountain Hardwear Dynama pants take the crown for the best lightweight hiking pants with their weight that's approximately 5 ounces.
This incredibly lightweight product has been achieved by minimizing the use of zips, buttons, and drawstrings. However, these missing elements do not dilute their functionality. You can read more about the features here.
These top-rated women's hiking pants offer superb comfort and stretch to allow full movement. Plus, the nylon-elastane mix makes these pants sit softly on the skin and do not cause chafing. The DWR coating also makes them water-resistant and ready for use in wet and moderately cold conditions. The pants also come with handy pockets to make carrying maps and gadgets possible.
Of course, the lack of a drawstring or belt loops means that there is little room for correction if the pants do not fit well. Similarly, an option to roll these lightweight pants up would have added to their functionality.
Pros
Extremely lightweight
Comfortable and breathable
Water-resistant
Come with handy pockets
Cons
No drawstrings or belt loops for adjusting the fit
No drawcords to roll up the pants
---
Fit: Regular
Material: 86% Ripstop Nylon, 14% Elastane
The Outdoor Research Ferrosi Pants deliver versatility as well as immense comfort while hiking. The unique blend of these ripstop hiking pants makes them exceptionally breathable on warmer hikes. The stretchy fabric makes climbing seem effortless, and that ease of movement is further powered by the roomy articulated knees and gusseted crotch.
The fabric-lined waist drawcord makes these pants feel soft on the waistline even when cinched tight, and the ankle drawcord allows length adjustments as per weather conditions.
The use of ripstop nylon means that these pants form part of the rare hiking clothes for women that can survive sharp twigs and rocks.
However, it is disappointing to see such great functionality being let down by weak water-resistance technology. Besides the inherent moisture-wicking traits of the nylon fabric, the hiking pants do little to protect in wet conditions.
Pros
Super comfortable
Come with drawcords on the waist and ankle
Can be rolled up to varying lengths
Ripstop nylon protects from sharp ends
Cons
Weak water-resistance
Back pockets add little value addition
---
Factors to be considered when choosing hiking pants
Material
Nylon and polyester are the main types of fabrics used for making hiking pants. Here's a quick look into their characteristics –
Nylon
Nylon is a synthetic fabric that feels soft on the skin, does not absorb much water, and wicks moisture efficiently. It is also extremely durable and suitable for most types of hikes.
Additionally, women's nylon pants naturally feel stretchier and more comfortable than other non-nylon pants. Women's leggings, for this very reason, also tend to employ nylon.
Polyester
The next most popular fabric after nylon is polyester. Polyester works better than nylon at drying itself quickly. It absorbs almost no water, wicks moisture off much faster, and is more abrasion-resistant than nylon.
It is often employed for making wet or cold weather hiking pants.
Elastane / Spandex
Elastane or Spandex is used in hiking pants to make them more movable and stretchy. Plus, its moisture-wicking quality only enhances the overall dry feel essential to hiking pants.
Fit
Hiking pants are designed to allow ease of movement. However, movability depends on the fit of the hiking pants.
Loose fit hiking pants have more room and make movement more comfortable as opposed to snug-fitting hiking pants. Women's summer hiking clothes often include a good pair of relaxed fit pants because they tend to be cooler and more breathable.
On the contrary, slim hiking pants that fit well allow less energy-wastage and promote lower body mobility. Women's winter hiking pants are often made to fit more snug on the body for this reason.
In addition to the cut of the pants, pants that come with articulated knees and gusset allow more freedom of movement to the knees, thighs and hips and improve the comfort factor of hiking pants considerably.
Durability
Hiking pants are exposed to most movement on hikes, so buying durable hiking pants is an absolute must. Most nylon or polyester pants are inherently durable and work well in all types of weather conditions. However, for rough hikes, a thicker fabric would bring in more durability.
Weight
As a general rule, the more the pants' weight, the more difficult it is to move around in them and carry them around in your backpack. Conversely, lesser weight means lesser heat. Therefore, while women's lightweight pants tend to be a great summer hiking option, for winters, it is better to go for pants that come in thicker, slightly heavier fabrics.
The best lightweight hiking pants are Mountain Hardwear Dynama/2 Ankle Pants.
Other features to consider
Convertible / Roll-up feature
Convertible pants for women are ones that can be converted into shorts whenever required.
Buying women's convertible hiking pants works as an excellent investment in the sense that it gives you the comfort of shorts and the warmth and protection of pants without having to spend separately on both.
Note that convertibility can also be achieved through roll-up pants. Roll-up pants are pants that can be rolled up to the desired length, thus offering more control to the wearer.
Pockets
When looking for the best women climbing pants, remember that pockets can add a considerable amount of weight to the pants. Pockets make pants feel bulky and hiking in such pants can feel exhausting quite quickly. Therefore, it is best to opt for pants with one or two side pockets enough to store a cell phone and a couple of other items.
Waterproofing
The use of polyester or nylon fabric inherently makes pants far more water-resistant than a pair of cotton pants. Plus, some pants are coated with a durable water repellent. This coat does not allow water droplets to penetrate inside the fabric, making the pants excellent for use in light showers or wet conditions without compromising much on the pants' overall comfort and breathability.
The best waterproof hiking pants are Arc'teryx Gamma LT, and the best quick-drying hiking pants are The North Face Aphrodite 2.0 Pants.
---
Final Thoughts on Women's Hiking Pants
While any of the above hiking pants should work perfectly well for you in terms of the return on investment that you get from these, here are some quick recommendations for you –
If you are a casual hiker, I suggest going for a cheaper, more versatile variant like the Columbia Anytime Outdoor Pull-On Pants or a minimal variant like the Mountain Hardwear Dynama/2 Ankle Pants.
If you are a serious hiker, you should settle for The North Face Aphrodite 2.0 Pants or the more durable Arc'teryx Gamma LT.