After a long day of paddling and portaging, there are few things better than starting a fire and cooking up a nice warm meal. Backcountry cooking is one of my favourite parts of a canoe trip, so I love any opportunity to experience backcountry-adapted gourmet canoe trip meals.
In this post, you'll find 10 canoe camping recipes to try on your next trip.
For more canoe trip recipes (and a comprehensive guide on how to build the perfect canoe trip menu) check out my eCookbook: The Voyageur's Backcountry Cookbook.
---
Canoe Trip Breakfast Ideas
1. Breakfast Sandwiches
Another great choice is breakfast sandwiches. If it's early in the trip, you can bring English muffins. If you want to have this meal later into the trip, you can use wraps, powdered egg and bacon bits or sausage.
Ingredients: wraps or English muffins, powdered eggs, powdered milk, bacon or sausage, ketchup packets, cheese optional: avocado, tomato
Instructions:
Mix powdered eggs and powdered milk at a 6-to-1 ratio and mix with water until thick and runny. Scramble the eggs.
If needed, cook the bacon and toast the english muffins.
Add scrambled eggs, bacon and cheese to english muffin or wrap. Add toppings and ketchup and close.
Optional: Wrap in tin fold and heat over the fire to keep them warm and toasty while you wait for your coffee to brew.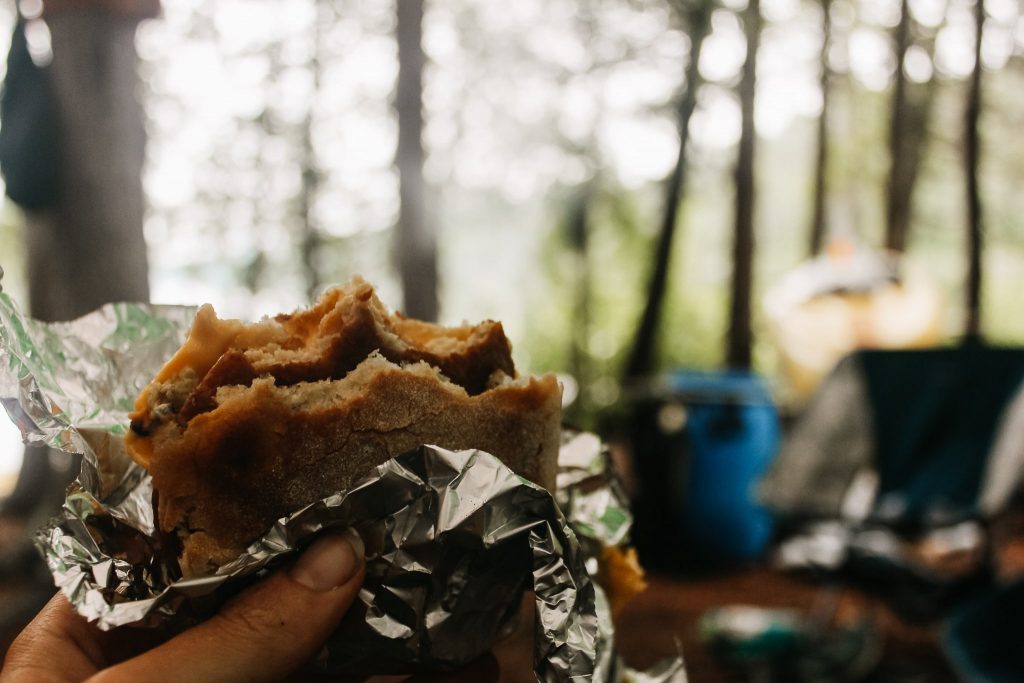 This post may contain affiliate links. If you make a purchase through one of these links, I may receive a small commission at no extra cost to you. Your support is much appreciated! You can learn more by reading my full disclosure.
2. Cinnamon Buns
Another classic for a rest day is cinnamon buns. They require a Dutch oven and some prep work, and you'll want to make sure you pack some butter dedicated for this meal because it needs a lot of butter.
Ingredients: baking mix*, flour, brown sugar, cinnamon, butter, optional: nuts, raisins, powdered sugar
Instructions:
Add equal parts flour and baking mix into a bowl with a little cinnamon; gradually add water and stir. You want a ball of dough that holds, but you don't want it too sticky.
On a cutting board with a little flour, roll out the dough so it's flat and in an oval.
Spread butter over the surface of the dough, then add a generous amount of brown sugar. Sprinkle cinnamon and nuts / raisins.
Roll it lengthwise so it looks like a tube. Then, slice the tube so you have a bunch of little cylinders.
Butter the inside of the Dutch oven. Be generous! Then put your cinnamon rolls (cylinders) into the Dutch oven. Place on the embers of the fire and wait. They will probably need ~20 minutes, but check regularly.
Once crispy brown, remove and sprinkle some powdered sugar on top.
Tip: To make baking mix, combine 4 cups of flour, 2.5 tbsp of baking powder, 1/4 cup milk powder and 2 tsp of salt in a bag.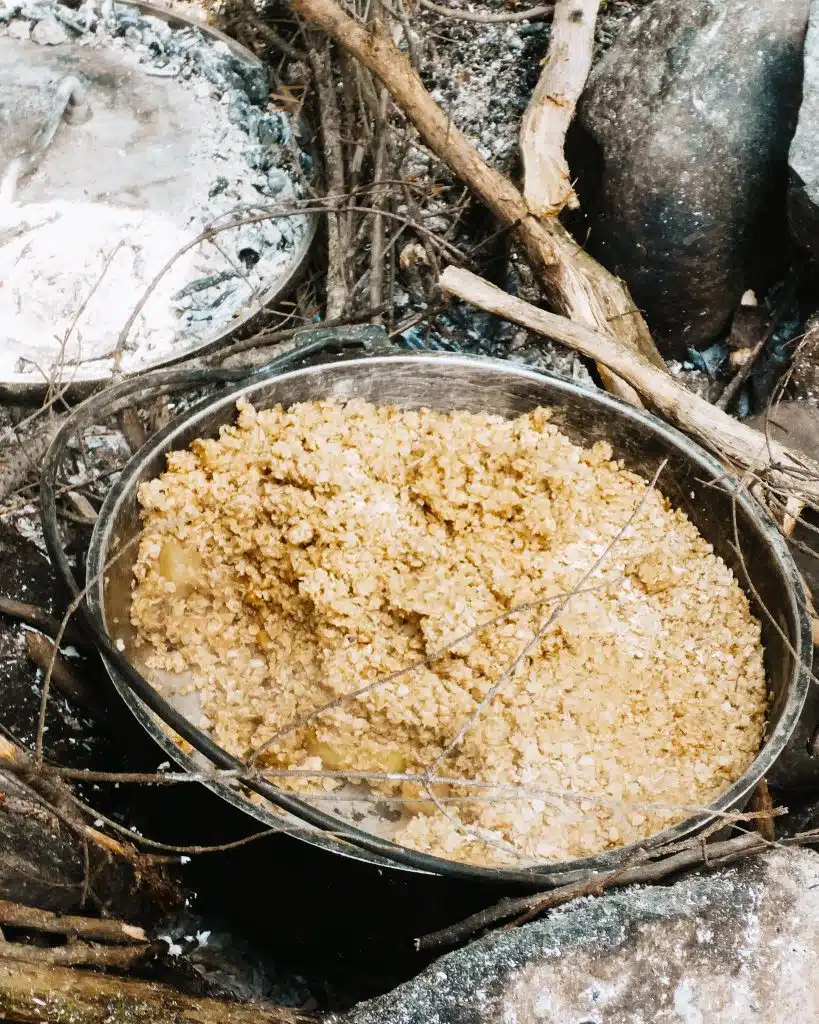 Bonus: Oatmeal
Oatmeal is my go-to backcountry camping meal because it's so easy to make and clean up. Plus, there are a ton of ways to make oatmeal more interesting.
Here are two of my favourite recipes for oatmeal, and I have six other recipes in this blog post.
Sweet & Savoury Oatmeal
This recipe is met with mixed reviews. Cut leftover bacon into small pieces (or you could try packaged bacon bits) and top the oatmeal with shredded cheddar cheese and diced apples. A little nutmeg and brown sugar bring this bowl to life. As I said, this sweet & savoury bowl gets varied feedback – bacon in oatmeal?!? But hey, don't knock it til you try it. I'm a huge fan now, myself.
Maple Oatmeal
Maple syrup in oatmeal – a Canadian classic, eh? Instead of brown sugar, sweeten this bowl with maple syrup, adding toppings like craisins and coconut to create texture. If you've got a fresh banana, a few slices go great with the maple.
Read More: 8 Recipes to Make ~Not Boring~ Oatmeal on Camping Trips
Tip: Don't make the oatmeal in the pot! Instead, boil water in the pot and put quick oats in everyone's bowl. Let each person add the amount of hot water they need to get their oatmeal to the desired consistency. I personally, like my oatmeal very dry and hate it when someone makes a single batch. This also makes cleaning up easier because you don't have to wash a pot.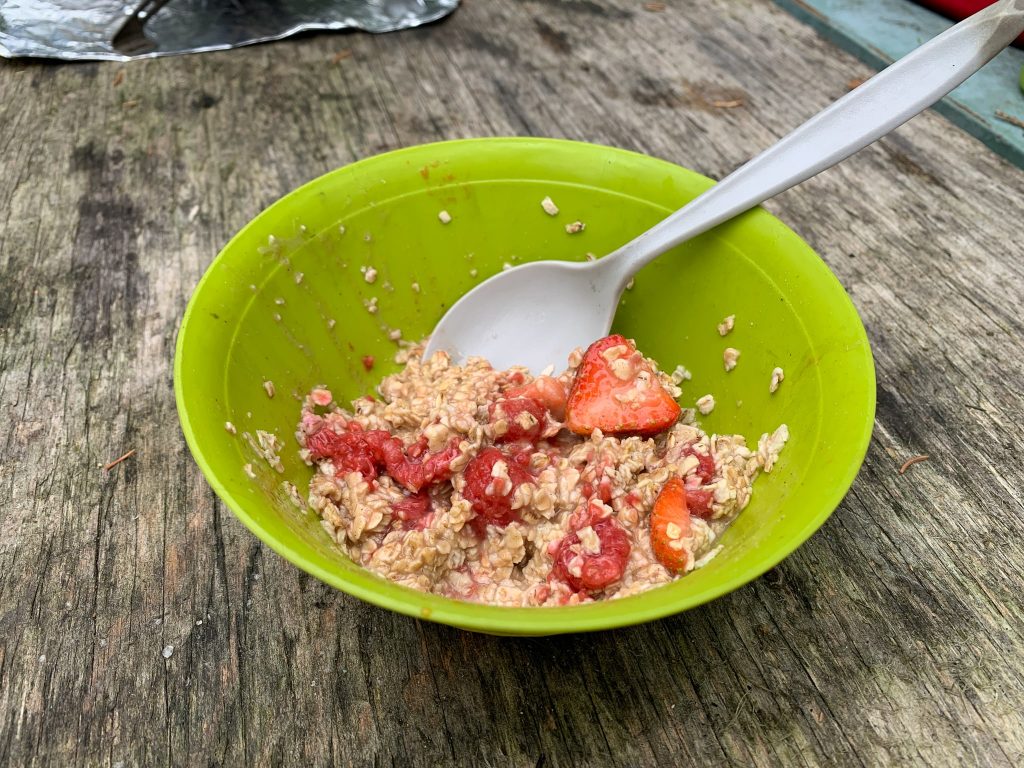 ---
Canoe Trip Lunch Ideas
I typically eat a lot of wraps for lunch on canoe trips. They're easy to pack, quick to make and there's a decent amount of variety you can get with fillings.
3. Burrito Wraps
Burritos are a crowd-pleaser. They require some work the night before but are worth the effort. You can also cook rice and add it to the burrito to make it even more filling. This is also a great opportunity to use sriracha or other hot sauce.
Ingredients: wraps, cheese, onion, peppers, tomato sauce, refried beans
Instructions:
The night before: If needed, rehydrate refried beans, tomato sauce and veggies by adding them to a saucepan or pot with a small amount of clean water. Stir regularly, adding more water as it is absorbed.
Once everything is rehydrated, let it cool and then store it in a Nalgene or bag.
Day of: Spread bean mixture in the centre of the wrap and add cheese. (Don't use cheese if vegan).
Fold into a burrito. You can heat the burrito over a stove if you'd like.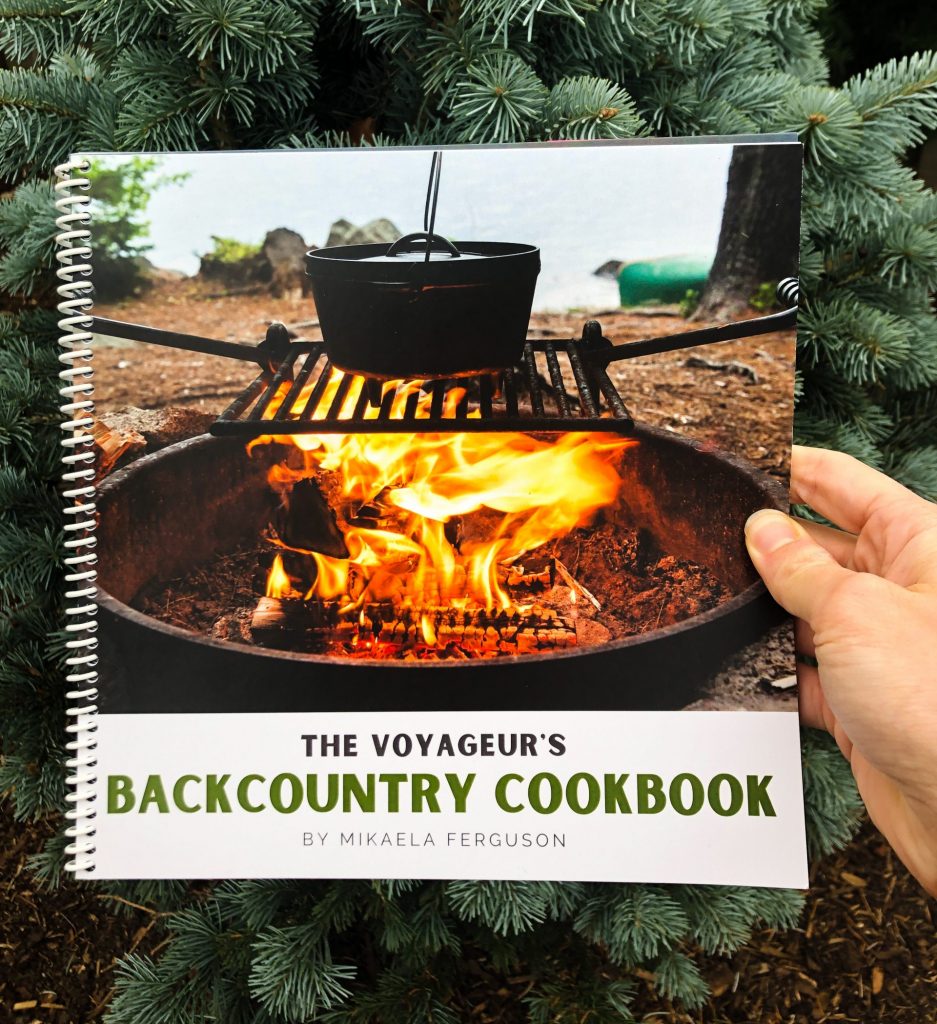 4. Hummus Buddha Bowls
This is a high-protein, high-nutrient lunch that you can make reasonably quickly. The only downside is that it does require a dish and utensil. But other than that, this is an easy canoe trip lunch idea!
Ingredients: Cooked quinoa, dehydrated hummus (you can purchase dried hummus or dehydrate your own), nuts / seeds (I like pine nuts or crushed walnuts), spices, Flax Crackers and / or Vegetable Chips (see below for making your own).
DIY Veggie Chips: Thinly slice easily chip-able vegetables (i.e. sweet potatoes, zucchini, beet, carrot). Toss vegetables in a tiny bit of olive oil and salt. Place on parchment paper-lined baking sheet. Cook on low heat (max 200 F) for at least 45 minutes.
Instructions:
Pack the dehydrated hummus with the spices and nuts / seeds.
Cook the quinoa the night before and store it in a plastic bag or sealed container.
Rehydrate hummus in a bowl by slowly adding water and stirring. You'll probably need about 1/4 cup of water, but you'll know you've added enough when it's reached your desired consistency. You can also add a small splash of olive oil, which will give the hummus a nicer texture, but I'm usually too lazy for that.
Mix the quinoa with the hummus and nuts / seeds.
Scoop the hummus mixture with your crackers and veggie chips and enjoy!
Note: Most people prefer this without the cup of quinoa, but I just don't find this meal filling enough without the added grain.
Bonus: Sprinkle some dried kale on top for extra nutrients and additional crunch!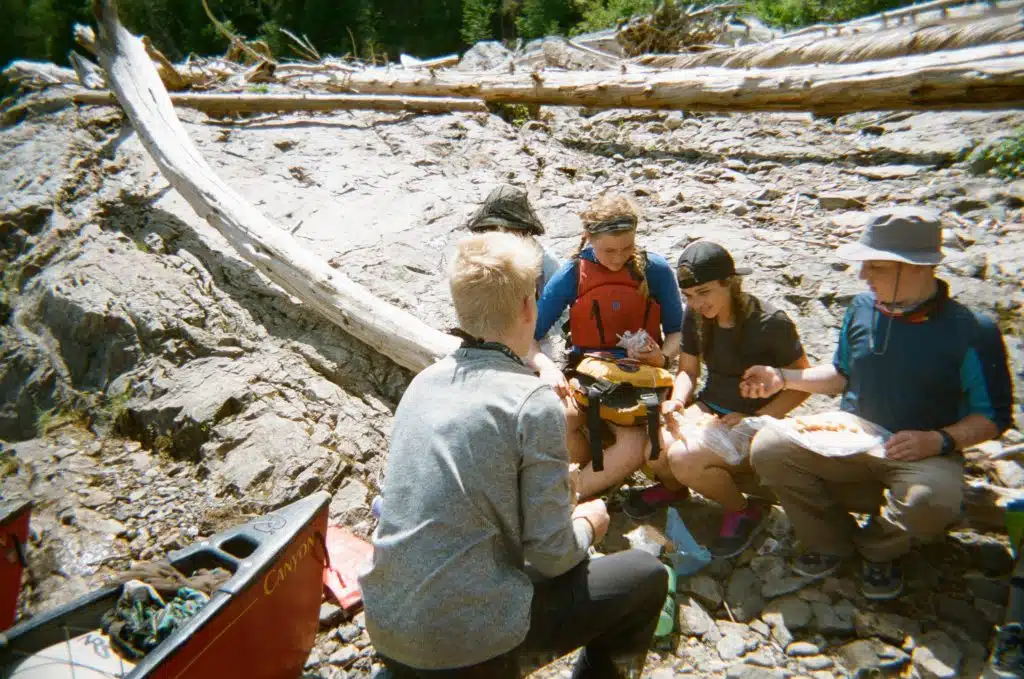 ---
Canoe Trip Dinner Ideas
5. Chilli & Garlic Bread
This is my favourite camp meal. This is a meal best prepared by two or more people (someone to do the garlic bread and another to do the chilli).
Ingredients:
dehydrated ground beef or textured vegetable protein (TVP), dehydrated
beans, dehydrated veggies, dehydrated tomato sauce, spices and bread mixture
Instructions:
Make the garlic bread according to the instructions on page 42. Make chilli according to the instructions below:
Add a splash of clean water to the pot and some dehydrated tomato sauce. Stir regularly. As the sauce absorbs water, add a little more.
Once the sauce is almost rehydrated, add in the vegetables, and ground beef or TVP and big handfuls of dehydrated beans. Continue stirring and adding water if necessary. Add spices.
Stir regularly. If the chilli looks too thick, add water. If the chilli looks too watery, add either more TVP or put a small handful of potato pearls.
Let simmer on low heat.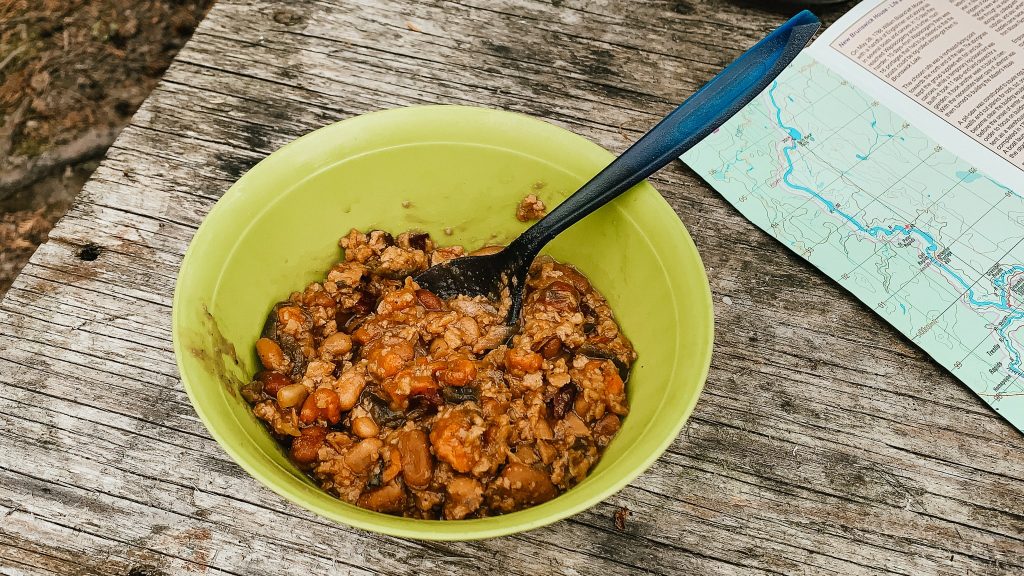 6. Thai Red Curry
This is a super easy but super delicious meal to make. It's so easy because most of the flavour comes from the red curry paste. You don't need to refrigerate the paste before you open it, so I'll buy a few small jars.
Ingredients: rice, coconut milk, jar of red curry paste, cayenne pepper, onion, peppers, mushrooms, zucchini, chickpeas.
Instructions:
Boil water in a pot. Pour in rice and stir. Go with a water-to-rice ratio of 2:1.
In a frying pan, rehydrate veggies and chickpeas if necessary. Pour in a can of coconut milk. Add some red curry paste and a pinch of cayenne pepper.
Once rice is cooked and the sauce is done, scoop rice into bowls and add a big spoonful of sauce onto the rice.
You can garnish with cilantro and peanuts if you'd like.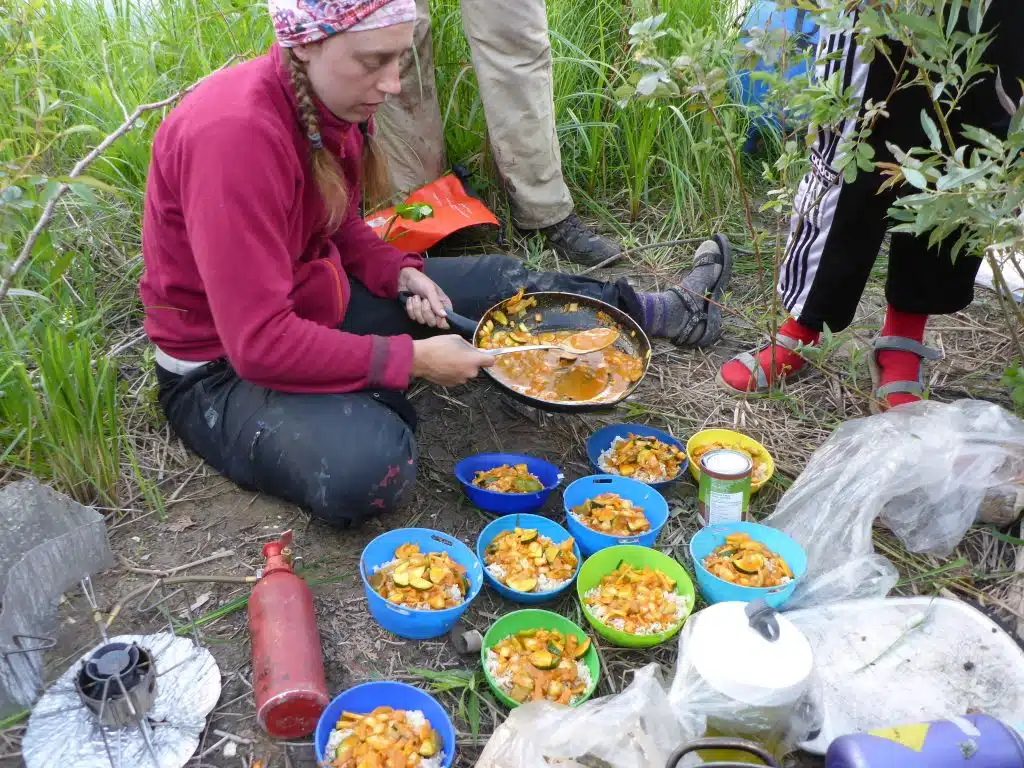 ---
Canoe Trips Snacks
7. Protein-Based Snacks
So much of the food on canoe trips – especially the snacks – is carb-based. This is great for quick energy, but sometimes you need something with more fat and protein to sustain you on those long days.
Dates + Cheese + Pepperoni
This may seem like a weird combo, but it works out to be the perfect salty-sweet snack. Stack a date on a small slice of cheese and wrap in pepperoni. It's actually very tasty.
Beef Jerky
This is a tasty, yet filling snack option. You can buy beef jerky in bulk or make your own and eat it after a long portage. The salt will be good after a long period of sweating!
Pepperoni Sticks
Similar to the above, pepperoni sticks are a filling afternoon snack. And if you want to experiment, use those individual packets of cream cheese as a dip. Personally, I love it.
Tuna on Crackers
Another high protein option, you can bring tuna canned or in individual packets (you can even get different flavours). Scoop onto crackers and enjoy!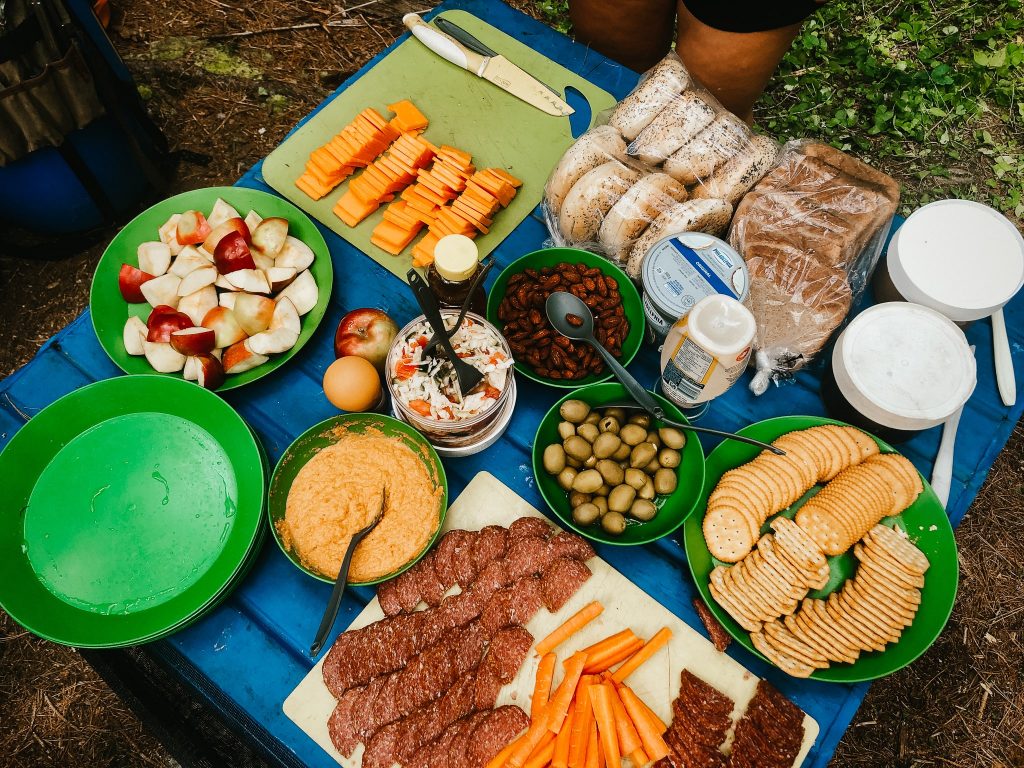 8. Homemade Fruit Leather
Rather than buying (expensive) store-bought fruit leather, you can easily make your own at home in either a dehydrator or in your oven. Below I've outlined the steps that I take to create fruit leather at home.
If you don't want to make your own, this is my favourite store-bought fruit leather. My only issue with it is that I need two to feel satisfied and they're pricey – definitely buy in bulk rather than from the grocery store!
Note that I do all my dehydrating in an oven, rather than a dehydrator. If you have a proper dehydrator at home you can still follow this process but you may need to adapt a few steps for your specific dehydrator.
Ingredients: Apple sauce, optional: cinnamon, nutmeg, shredded coconut, chopped nuts.
Instructions:
Preheat your oven to the lowest temperature setting it has.
Line a baking sheet with parchment paper. Do not use wax paper!
In a big bowl, pour in a can of apple sauce.
This is the creative part: mix in any additional toppings / fillings that when make your fruit leather more fun. I always add cinnamon and nutmeg; I've also experimented with shredded coconut. I think chopped nuts could also be really tasty, though I've never tried that myself.
Use a spatula to pour your mixture onto the parchment paper and spread until it's a consistent thickness across the sheet, no more than 1/2 inch thick.
Place in the oven.
Cook time will depend on the thickness of your spread apple sauce and your oven's lowest temperature, but I've found it to take about 6-7 hours in my oven.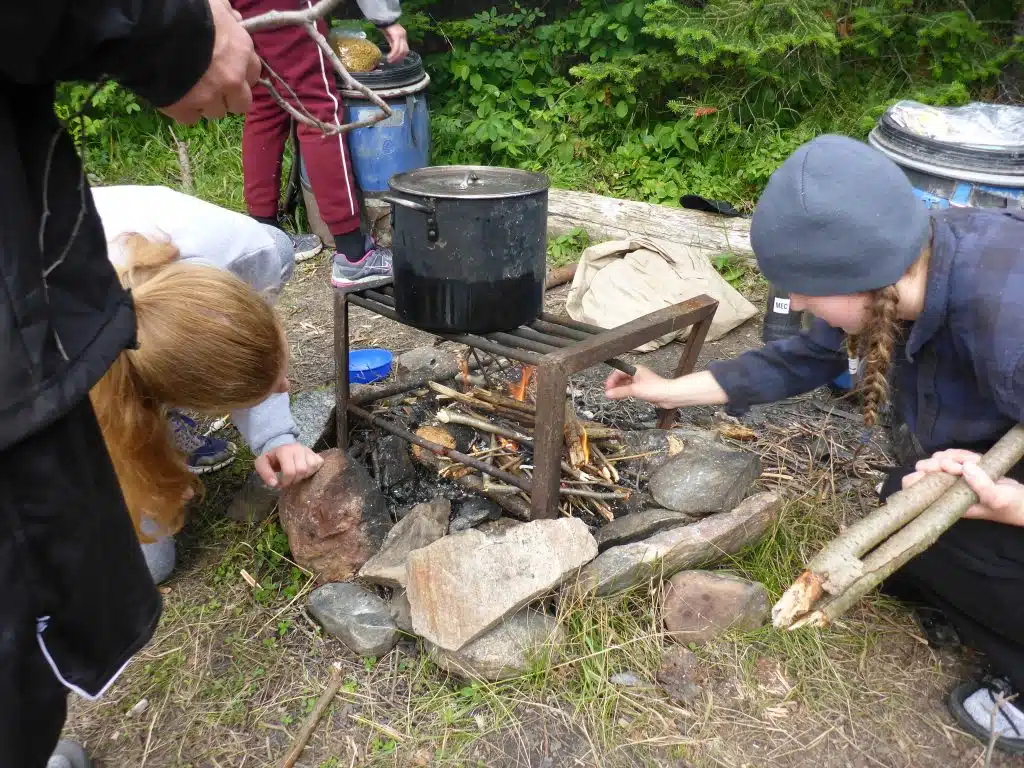 ---
Canoe Trip Desserts
9. Lazy Cheesecake
This is such a lazy dessert I'm almost embarrassed to include it, but it's so tasty. And it's an awesome dessert if you are camping somewhere that has wild blueberries!
Ingredients: cheesecake powder, graham crackers, chocolate chips or fresh or dried blueberries
Instructions:
In your bowl, add a few spoonfuls of cheesecake powder. Add clean water slowly, stirring until it is a thick liquid.
Crush graham crackers over your bowl and add either chocolate chips or fresh blueberries. Enjoy!
Note: You could also make this un-lazy, by making a graham cracker crust and cooking it in a Dutch oven (page 63 of my cookbook).
10. Chocolate Cake
This is what I try to prepare whenever there is a birthday on trip. I discovered it on MyCCR a while back and fell in love. I use a Dutch oven, but if you have Reflector Oven and cake pan you can use that instead.
Ingredients: chocolate cake mix, instant chocolate pudding, milk powder, egg powder, water, butter, flour, chocolate chips, icing sugar.
Instructions:
Mix 1/2 box of cake mix with 1/2 package of instant pudding mix, 1/2 cup of milk powder and 1/4 cup egg powder (you can put this all in a plastic bag at home).
Grease a Dutch oven with butter. Sprinkle a little flour on the butter (this helps with sticking).
Pour the dry ingredients and 1 cup of water in the Dutch oven and stir. If the mixture is really thick, add a little more water.
Cover Dutch oven and place in the embers of the fire.
After 30 minutes, check on the cake. Stick a fork in the middle – fork should come out dry if the cake is done.
When done, use a knife to separate the cake from the oven along the edges. The cake may come out with the knife, or try flipping the oven upside down and over a plate or cutting board, and giving it a little shake. The cake should fall out (flip the cake over so it's right side up).
Finally, sprinkle some icing sugar on top, cut and serve! You can also bring shelf-stable icing to spread on top.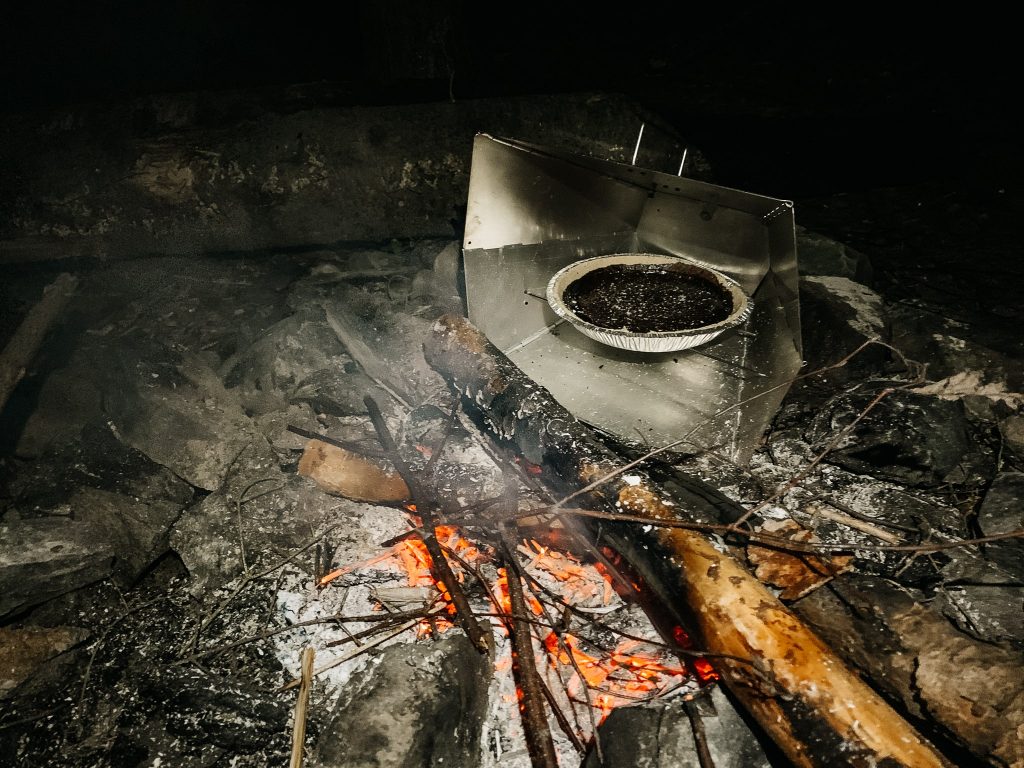 ---
Canoe Trip Recipes – Final Thoughts
If you need more inspiration for creating excellent canoe trip meals, consider checking out The Voyageur's Backcountry Cookbook. It has a ton of canoe trip food ideas, plus tips for meal planning, food preparation, dehydration and more.