Generally I like all elements of canoe tripping. Sure, I'm not giddy for a long portage, nor do I relish in putting on cold, wet wool socks in the morning. Even after the bug-apocalypse I was still keen to get out in the wilderness. But if there's one thing that grinds my gears and puts a damper on my optimism, it's sand. And by canoeing Noire River, I was drowning in the stuff.
And yet, somehow, despite all the sand, I would still recommend a paddle on the Noire River. I even returned years later to canoe the Noire's sister river, the Coulonge (a more popular river of equally sandy proportions). It's easily accessible, has fantastic whitewater and opportunities to see wildlife, and decent campsites (despite the sand). But that's just the beginning. So if you're thinking of canoeing the Noire River, here is what the river has in store for you.
Note: Many of the photos on this page were taken by my canoe guide partner, Connor Furneaux. You can see more of his work on his photography website.
Disclosure: This post may contain affiliate links. If you click one of them, I may receive a small commission (at no extra cost to you) that helps me run the site. Read my full disclosure.
What to expect canoe camping on the Noire River
---
 The Noire River has everything you could ask for in a river
Located in Quebec and traditional Algonquin territory, the Noire River (also known as the Rivière Noire) is a south-east flowing river in the Upper Ottawa Valley. Of all the rivers in the Ottawa Valley, this is one of the least paddled, and yet (according to the leading canoe guide company Black Feather) it also has:
Longest distance of paddle-able whitewater
Shortest distance that must be portaged
Greatest chance of seeing wildlife
Lowest chance of encountering other paddlers
That sounds like a win-win-win-win to me!
Planning a trip is fairly straightforward
The Noire River is quite accessible – you can drive to the river from either Toronto or Ottawa in less than six hours. You can park at the Black River Inn and Outfitter and they will shuttle you and your boats to the start of the river. The inn is located right on the river, so at the end of your trip you can quickly directly load your gear into your car. Of course, all this needs to be arranged ahead of time.
On the river you can make use of Hap Wilson's excellent book Rivers of the Upper Ottawa Valley. In the book, he has illustrated all of the rapids on the Noire River in exquisite detail (including which ones to paddle and what line to take, as well as where you definitely need to portage). The rapids are hand drawn and don't have coordinates, so make sure you also bring a set of topographic maps.
Despite its calm appearance, the current is hella strong
On our first day we overshot our campsite by about 25 km. If that doesn't sound crazy consider that we only had about 10 km to do that day total, meaning the current moved us so quickly we did 250% more than we'd intended. It didn't help that the river winds like a flimsy spaghetti strand (see below) and we weren't sure what kind of campsite we were looking for.
I know arctic rivers have much stronger currents and that gets incorporated into route planning. I think it's also a lot more obvious in a northern river because the current is visibly moving, often with continuous swifts for hundreds of kilometers. The Noire River, on the other hand, looked really calm. It meanders its way along, secretly carrying you much faster than you realize. But hey, I'm not complaining. Made for some easy paddling!



The Noire River has tons of awesome rapids
There are lots of rapids on this river, perfect for an intermediate whitewater paddler. If you're a little less experienced, all the rapids have well-maintained portages. My favourite rapid was 50/50, which has a campsite adjacent to it and is perfect for a rest day. We spent the an entire day running the set in empty boats, trying different lines and practicing our skills.
To guide you throughout the river, I highly recommended buying the book I mentioned above, Rivers of the Upper Ottawa Valley. Purchase the book and then photocopy and laminate the river maps and illustrations of the rapids. It'll help you decide which rapids to run, and which to portage.
Here is proof of how gnarly the whitewater can get!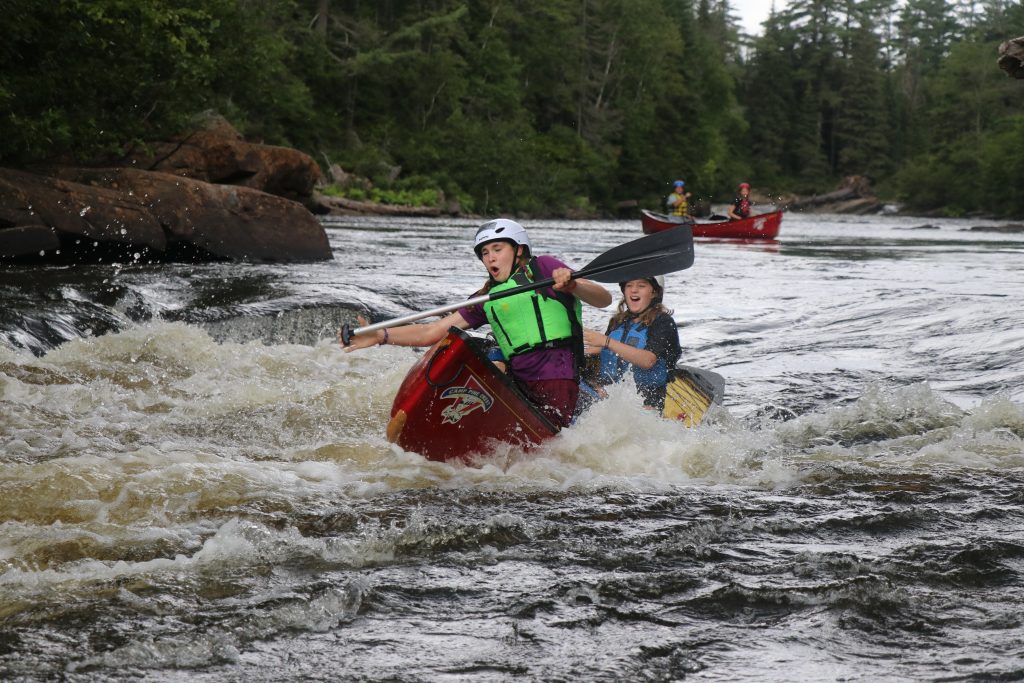 We had to use a pulley system to get a canoe down a cliff
This is something I had never done before and haven't done since. There is a gnarly portage called "The Mountain Chute" around a waterfall and it gets incredibly steep at the end. In order to get down to where you put in the canoe, there are ropes tied to trees to guide you down or support you going up.
But you can't exactly do that with a canoe on your back. What's recommended in the Rivers of the Upper Ottawa Valley and by my fellow paddlers is to use a pulley system. Whitewater canoe guides carry several types of rope, pulleys and carabiners for whitewater safety and these could be used. I won't go into the details of how we built it in this post, but you can see in this video below what it looked like.
I finally saw a moose on a canoe trip!
Literally all summer I had been dying to see a moose and finally, on the Noire River, it happened. One lovely thing about paddling a relatively unpopular river is that there is very little human activity so scare away wildlife. Black bear, fox and mink sightings are also common, though I was not lucky enough to see these creatures myself.
But oh my goodness there was so much sand
Two years after the trip I was looking through my trip report and was reminded of how we had sandy campsites for the first six nights. My campsite descriptions, at first optimistic, became more and more bleak as the trip stretched on. What first described features and offered positive sentiment "The campsite is long and narrow, situated on a sand bank on river right. The sand is everywhere but at least the terrain is flat and smooth for our tents!" soon devolved into "The campsite is sand" and eventually just became "SAND."
Though there were eventually some campsites that didn't have sand
And actually, some of the campsites were quite nice, though I never did get the pesky sand out of my hair (or my socks, my barrel, my tent or my soul). If you're camping on the Noire River, expect lots of flat and smooth campsites.
It was a crazy fun adventure
Paddling the Noire River is an excellent river for canoeists of any ability. You are sure to have a blast paddling the white water and enjoying the seclusion!
Have you paddled the Noire River? Would you paddle it now?