Trip Log is a blog series where I rip a metaphorical page out of my trip journal and get a little personal. I'm answering your questions, sharing stories and voicing opinions about the great outdoors. You can subscribe to Trip Log by filling out the form at the bottom of the page. Have a question? Send me a message.
Never again will I criticize Ontario for being flat.
It was my third and final day hiking the Highland Backpacking Trail in Algonquin Provincial Park, and the hills were relentless. Impossibly steep with a seemingly endless supply of ups and downs, my hiking motto echoed in my head: "Just put one foot in front of the other." My hands gripped the handles of my trekking poles; the mosquitos gripped the exposed flesh on my hands. I kept on trudging.
Algonquin Provincial Park has long been synonymous with canoe camping. With over 2,000 km of canoe routes, you could paddle Algonquin for your entire life and never exhaust the possibilities. What many don't realize, however, is that Algonquin is also home to three multi-day backpacking trails.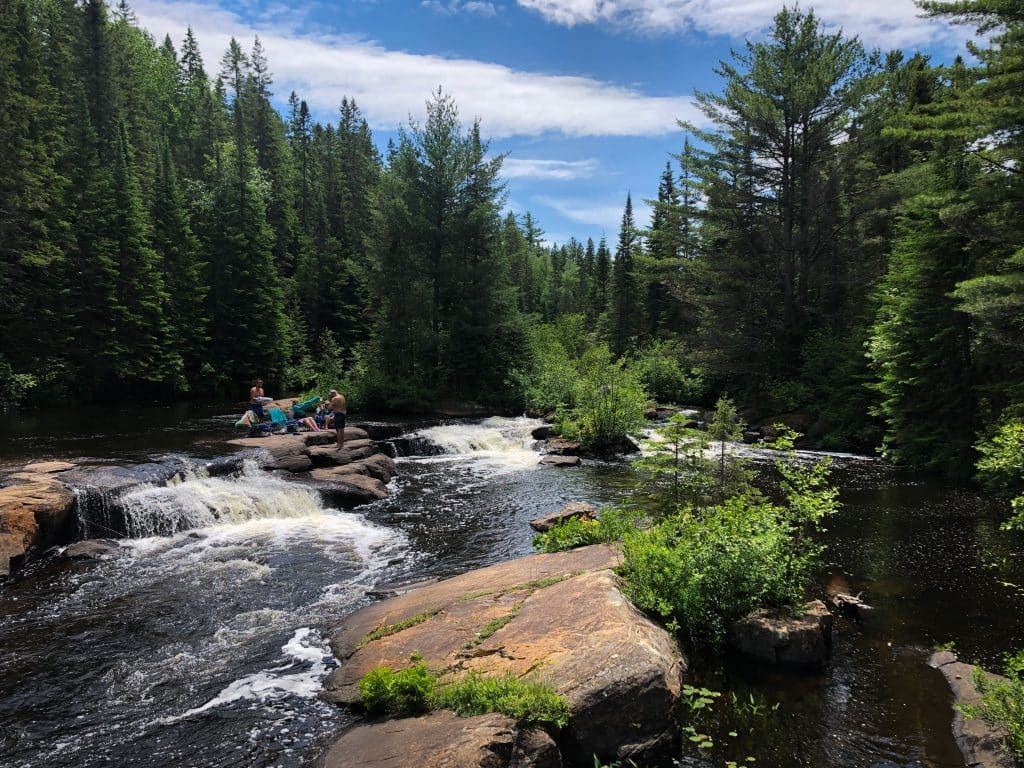 This post may contain affiliate links. If you make a purchase through one of these links, I may receive a small commission at no extra cost to you. Your support is much appreciated! You can learn more by reading my full disclosure.
At a length of 35 km and an elevation gain of 1500 m, the Highland is sort of the middle child in the Algonquin backpacking family. The eldest would be the Western Uplands, whose longest route is 88 km long with an elevation gain of 2800 m. The baby of the family must then be the Eastern Pines, whose longest route is 17 km with an elevation gain of less than 400 m.
As an avid canoeist, all of my time in Algonquin had been spent in the stern of a prospector canoe. But in an attempt to broaden my horizons and get out of my comfort zone, I laced up a new pair of hiking boots, put on my backpack and took off.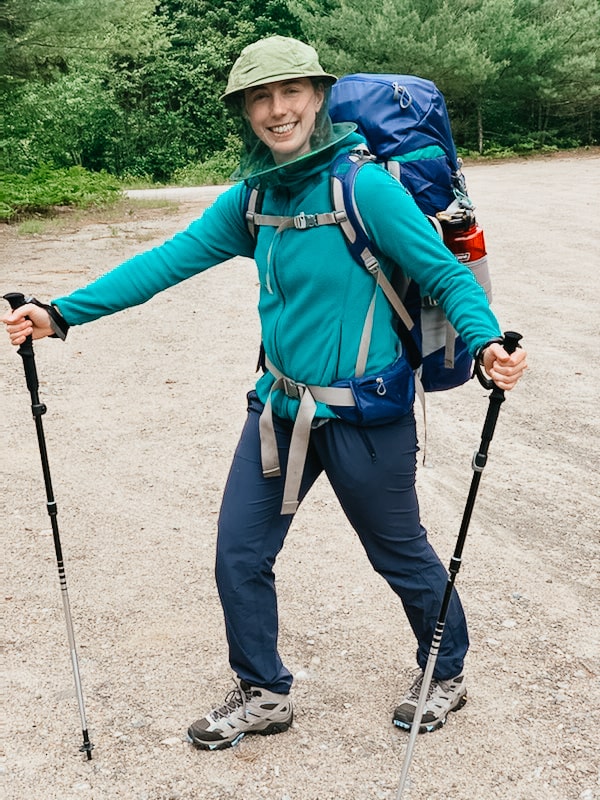 One thing I will admit is that there is something nice about parking the car and walking away with only what you can carry. No boats to take off the roof rack; no barrels to pack into the canoe. Backpacking is minimalist by necessity. Next time I would bring even less, and perhaps rent a solo tent, as my 2-person was a little bulky and added unnecessary weight.
The first day was easy enough, covering just 5 km. We hiked from Mew Lake to a campsite on the east side of Provoking Lake, passing by Provoking Falls on the way. Arriving early in the afternoon meant we had plenty of time to cook up a delicious meal of chicken Thai red curry and go for a sunset swim.
Our second day was much longer – almost 18 km – and early in the day, it became apparent that I was still a novice in the backpacking space. For starters, I had not spent nearly enough time breaking in my new hiking boots. I took them off at lunch to apply some moleskin and medical tape; blisters were something I never really experienced on canoe trips.
Second, there were more mosquitos than I had ever experienced and my hiking shirt was not in fact mosquito-proof. Thus I spent the duration of the hot day wearing a rain jacket and sweating up a storm. Thankfully I did have a bug hat, otherwise, I surely would have gone insane.
But we ended the day with another swim and taco bowls, and the sky rewarded our efforts with a beautiful sunset and spattering of twinkling stars.
Day three was the most challenging. With 13 km to cover and a dozen painful blisters, I also faced the most elevation gain of the trip. It was here that "Just put one foot in front of the other" transitioned from a motto to an attempt at manifestation. Would I make it to the end?
Again, this was something I was not accustomed to. I'd been canoeing all my life, so very few elements of canoe camping brought me out of my comfort zone anymore. I could paddle for hours without getting tired; I disliked portages but could do them with relative ease. Even whitewater was becoming predictable. There were always new skills to learn, but I genuinely enjoyed all elements of canoe camping and none of it contributed to building resilience or mental toughness.
On a rugged hiking trail, however, I was uncomfortable. I was tired and I was sore. But I could also feel myself using different muscles and pushing the limits of my optimism and persistence. Backpacking was hard, and it was definitely out of my comfort zone.
When we finally arrived at the car, we made a beeline for hamburgers and milkshakes. Mother nature then presented me with the best reward possible: a mother and baby moose on the side of Highway 60. If all trips end like this, maybe I could get used to backpacking. For the next two days, I sat on the couch with ice packs on my feet. And yet during this time, I researched other backpacking trails I could attempt next season.
I still wouldn't call myself a convert; canoeing will always be number one. But hiking the Highland Backpacking Trail reminded me that it's important to challenge ourselves in other outdoor activities as well.
So if you, reader, are a canoeist by nature, I challenge you to learn from my mistakes (break in the boots, lighten your gear, prepare for mosquitos) and hike the Highland yourself. Algonquin, it would appear, has more to offer than just canoeing.
This post was written in 2020 following my hike on the Highland Backpacking Trail, but never published. I've since become a frequent backpacker (I actually backpack more than I canoe now!), and got a good chuckle when I stumbled upon this post in my drafts. How dramatic I was about hiking!