Have you heard about the McCrae Lake Conservation Trail? McCrae Lake was the first place I ever camped, and I'd been canoeing there as a camper and camp counsellor between 2005 and 2013 but hadn't been back in years.
So you can imagine my surprise when I learned there is a hike to the lake and it's less than 2 hours from Toronto. How had this excellent day trip from the city been so off my radar? In this post you'll find everything you need to plan a day- or camping trip here yourself.
---
About McCrae Lake
McCrae Lake is a relatively large lake connected to Georgian Bay via a small stream of moving water called "McCrae Rapids". Adjacent to the stream is a 300 m portage, and many travellers to McCrae Lake arrive by canoe.
McCrae Lake Conservation Reserve is a non-operating provincial park, meaning you can camp and hike in the park without fees or permits, but you have to follow the Ontario Parks rules (i.e., no drones).
Like that of Georgian Bay, the terrain around McCrae Lake is Canadian Shield, complete with quartz-stained granite rocks and windswept pines. Scattered on the shoreline are some 50 campsites (which I've marked on a map at the bottom of this blog post) – some designated with fire pits and thunderboxes, some are a little more makeshift.
However, unlike much of this part of Georgian Bay, there are no cottages on McCrae Lake. The lake is also a quick paddle from Georgian Bay Islands National Park, where the camp I used to work at is located (and why McCrae was such a popular destination for our overnight canoe trips).
What I hadn't previously been aware of, however, was that you could hike to McCrae Lake from a little offshoot of the 400 Highway. Specifically, the McCrae Lake Conservation Trail takes you from the parking lot, through maple forest and over Canadian Shield, to McCrae Lake. It's a long hike and takes the better part of the day, but – as I soon would learn – is most definitely worth it.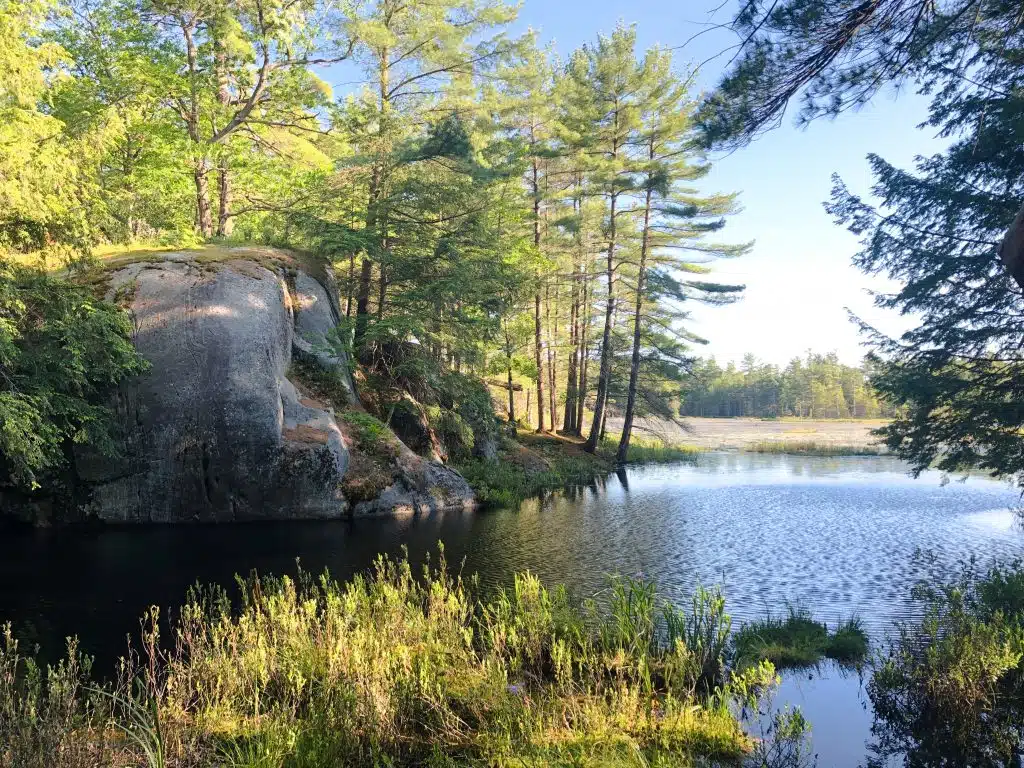 This post may contain affiliate links. If you make a purchase through one of these links, I may receive a small commission at no extra cost to you. Your support is much appreciated! You can learn more by reading my full disclosure.
---
About the Hike
Distance: 14.5 km
Elevation Gain: 300 m
Type: Out and Back
Trailhead: McCrae Lake parking lot (here are the Google Maps coordinates for the trailhead)
Note: If you camp at any of the campsites along the trail, you won't have to hike the full ~15 km.
---
Hiking McCrae Lake Conservation Trail
Here is how our McCrae day trip went down. I've also included some helpful tips if you're thinking of doing the hike yourself. Scroll to the bottom if you want info about camping at McCrae.
An early departure and a rude awakening
With a full day and hiking and two hours of driving each way, we needed every minute of sunlight we could get. My three friends picked me up at 8:00 am. We were slightly delayed (damn construction on the 400 highway) but beyond that traffic was smooth sailing.
The drive itself is easy enough. Straight up the 400 and then take Exit 168. Turn right on Georgian Bay Rd and then take a second right as if going back onto the 400 but in the southward direction (okay, it's a little complicated when I write it out). There will be a parking lot on your left.
Upon exiting the highway, however, we were greeted by dozens of parked cars on the shoulder of Georgian Bay Rd. The parking lot was totally full so people had taken to parking on the side of the road. I guess other people had the same idea to spend a gloriously sunny, summer Saturday on a beautiful lake like McCrae? The nerve.
❗ Note: There is greater enforcement of parking rules now. Port Severn municipality can tow any car that is not in the designated parking lot. To avoid getting towed, get to McCrae Lake early and park in the parking lot.
So we too parked on the shoulder of the road. I don't know if this is actually allowed, but everyone else was doing it and I'm a rebel (read: lemming).
If you too park on the side of Georgian Bay Rd., you can follow an ATV trail to get to the trail instead of walking on the shoulder of the highway to get to the parking lot (which is understandably unadvisable). The ATV trail is muddy and buggy, but beats the alternative.
What to Read Next: Complete Guide to Hiking the Highland Backpacking Trail in Algonquin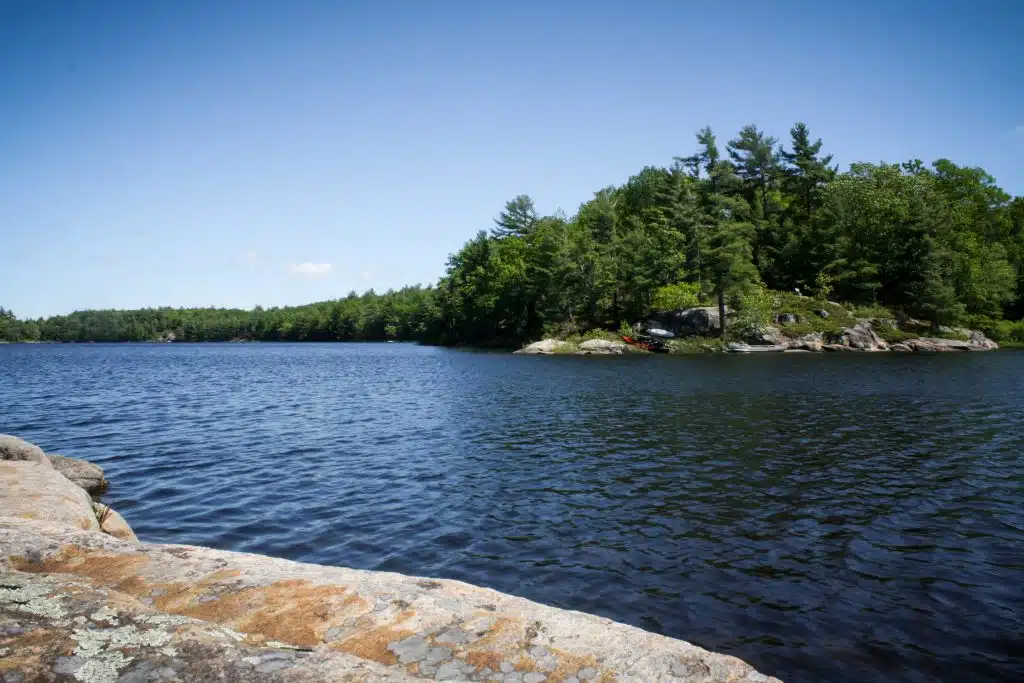 Marshy lakes and lily pads
Once we were actually on the trail, we walked through a dense forest of maple trees. This part reminded me a lot of southwestern Ontario. But soon enough we came to our first lake view. Though not of McCrae Lake itself, we were treated to numerous marshy lakes, with yellow and green grasses sticking out of the water and a fair share of lily pads.
We couldn't linger too long because there was a heightened concentration of mosquitos here, so I snapped a couple of photos and we continued on our way.
Eagles Nest: A Lookout Point
After a couple of kilometres, we came to a fork in the trail. On a tree, there were yellow markers pointing to the left, and we could see a trail snaking its way through the forest. There was also a blue marker on the tree, however, and this one pointed to the right, where the trail opened up to exposed granite and a big sky. A lookout point perhaps?
Sure enough, in a few steps, we were greeted with an expansive view of McCrae Lake. Unfortunately, there were quite a few people here (what with it being a sunny Saturday and all) so we didn't linger here long. Apparently, the blue trail continues down to the water, and below we saw people chilling on the rocks with their feet in the water.
Upon returning home and conducting a little research for this blog post, I learned the lookout point is called 'Eagles Nest'. I actually saw two birds I thought were eagles on the hike, so perhaps my bird identification skills are improving.
We had a long way to the other side of the lake though, so we turned back for the yellow markers and pushed on.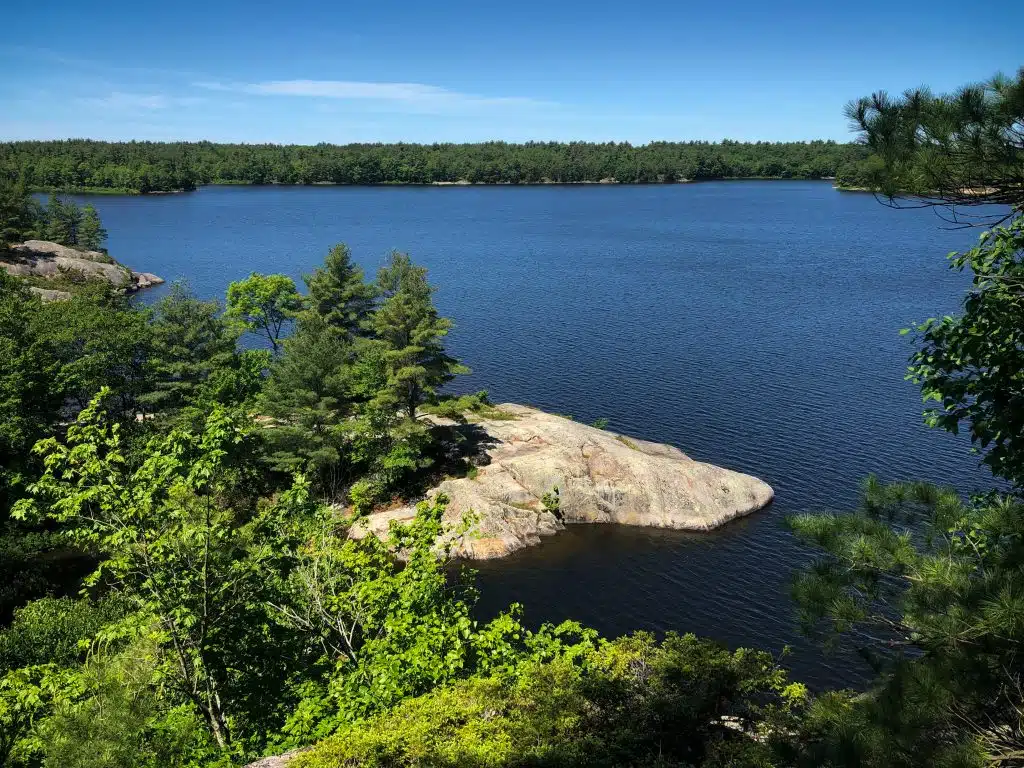 Almost lost, always found
After some walking in mostly forested terrain, the trail finds its way to more exposed parts of the Canadian Shield. Sometimes we'd come to a particular point, look around and wonder "where next?" Often times we had missed a marker a few dozen meters back and had to retrace our steps.
Thankfully we never got seriously lost. With four people and four sets of eyes, one of us could usually spot the missed marker in little time. If you're hiking this trail solo, keep your wits about you!
Navigating the Canadian Shield: It's super easy to get lost on the Canadian Shield, as trails aren't always obvious. On this trail, there are yellow markers tacked onto trees and rock piles indicating where the trail is. Ensure every few minutes you're looking around for the next one. This will prevent you from getting lost. A map / GPS is helpful to have on you as well.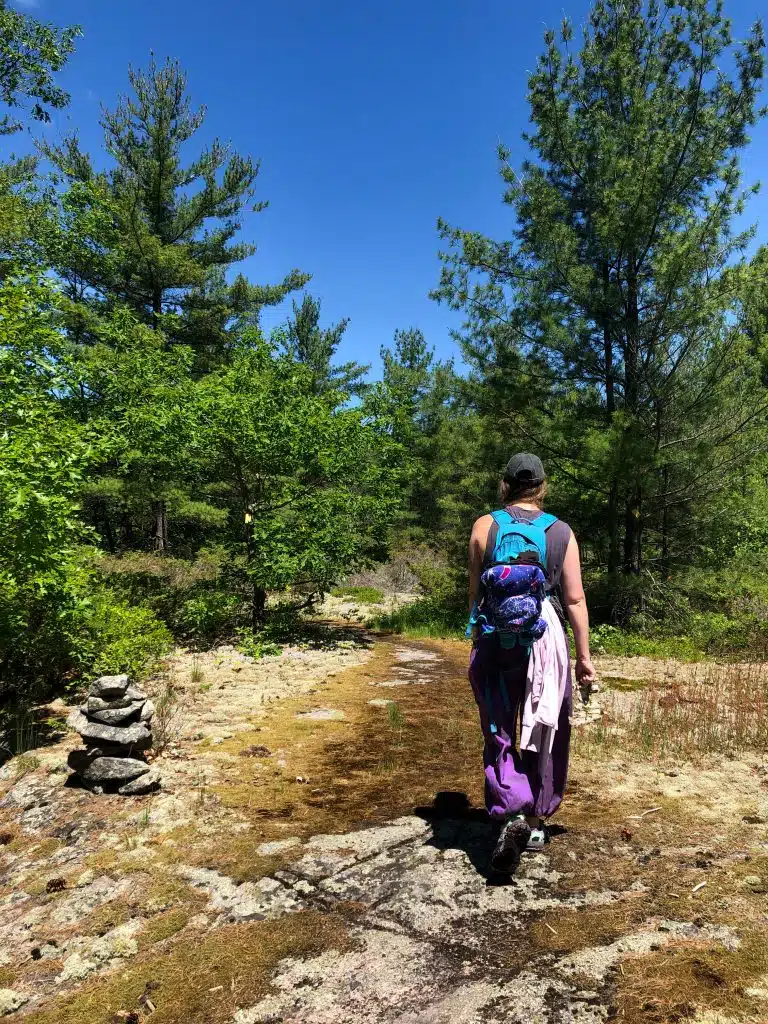 Snack Spot with a View
A little more than two hours in we stopped for a snack. The sun was shining down and the temperature was climbing into the mid-20s C, so we all needed a sugar boost to keep us going on the last leg.
Lisa brought delicious tangerines and a fruit salad (even flavoured with mint and maple syrup – I need to try this for myself). We also had salted peanuts. It was exactly what all of us needed.
Water: One thing I did not bring enough of was water! Bring much more than you think you'll need (especially if it's sunny out) or bring something to purify water (like this water filter or Aqua-tabs). You shouldn't drink the lake water at McCrae because there can be traces of Giardia – a parasite that causes nausea and diarrhea – in the water.
Wildflowers
There were tons of wildflowers along the trail. Finding new types of wildflowers is perhaps one of my favourite parts of hiking a new trail. I was super excited to see the pink flower (shown in the last photo below) which I later learned is called Pink Lady's Slipper. I love that.
Chilling at the campsite
After three or so hours and 9 km of walking, we, at last, arrived at the final stretch of the trail. (The trail itself is only 7 km each way, but following the ATV trail had added distance, plus a few brief wrong turns). Again, we were faced with the decision to push on a little further on the yellow marked trail, or follow a blue marker down to the water. This time we opted for the water.
Upon getting to the water, I realized we were standing on a very familiar campsite. This was the destination of that fated thunderstorm night when I was younger! I'd stayed at the campsite several times since and it was just as lovely as I remembered.
There was another group who had reached the campsite first and were staying overnight, but they were chill with us using a part of the campsite for cooking lunch and hanging out. The spot my group settled was a piece of exposed rock with views 300-degree view of the water. Across we could see another campsite and group (I've also stayed at this campsite and it's one of my favourites on the lake).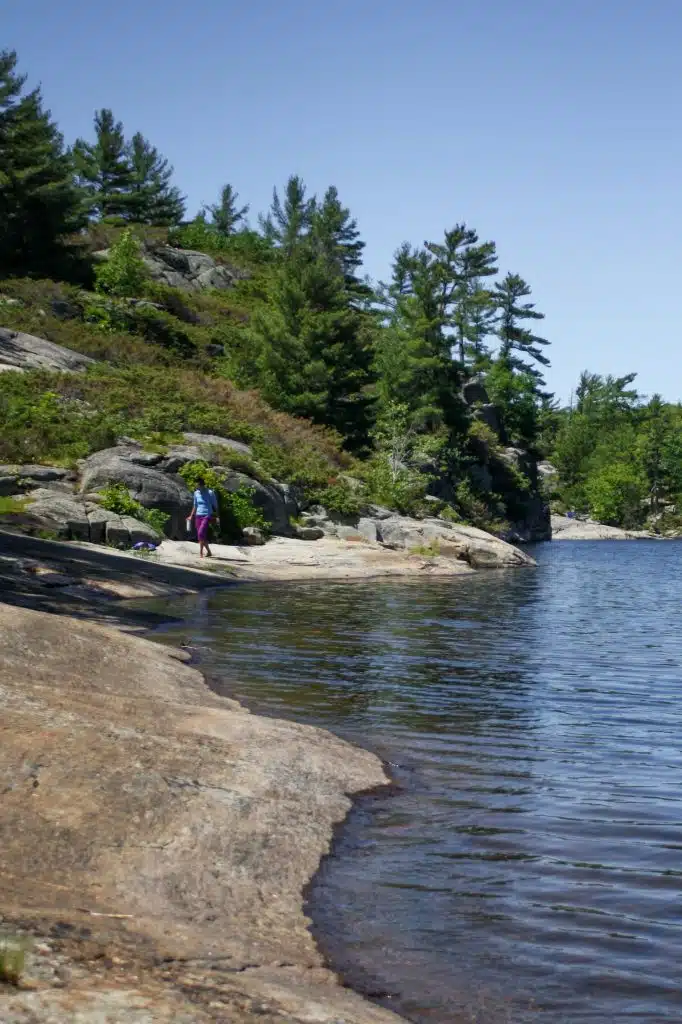 Pizza Wraps over a Fire
After so much hiking, we'd all worked up quite the appetite. We all did a quick hunt for firewood, and then Claire and Mike went out for a second load while Lisa and I broke sticks. Once we'd assembled a nice arsenal of varying-sized sticks, we began building the fire. We chose a cross between a log cabin and a lean-to style of fire. Then we placed some birch bark in the middle, Lisa gave it a light and – bam! – we had a fire. The wood was very dry and the wind was fierce, so our fire caught onto the bigger sticks quickly.
The day before, Claire made gourmet pizza wraps – complete with fancy salami I couldn't pronounce and expensive cheese – and Mike cooked them over the fire. Gosh darn, they were delicious. The cheese was melted; the wrap crispy.
Making Fires: Because we were on crown land and there wasn't a fire ban, we were able to make our own fire. Whenever possible, make a fire in an existing fire pit. All the fire pits around us were taken, so we built our fire here where someone else had already built a fire before. Fires scar the rocks with soot, so try to minimize your impact by building where others have built and keeping fires small.
Swimming in McCrae Lake
On each of the day hikes I do with Mike and Claire, we make an effort to swim. Well, they always commit to swimming – I usually need to be coaxed in a bit.
Thankfully, each Saturday the water gets progressively warmer. The water of McCrae Lake was definitely chilly when we first got in, but very quickly became pleasant. I stayed in for maybe 15 minutes, but Claire and Mike stayed in much longer. (Meanwhile, I lay out on the warm rocks like a sunbathing sea lion.)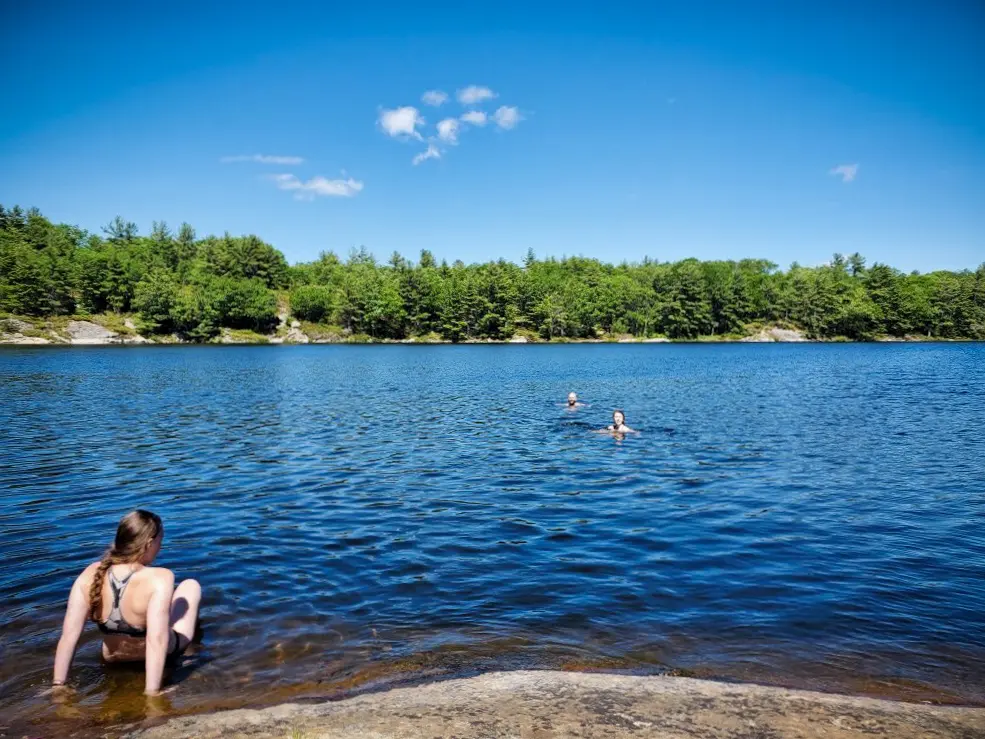 Goodbye McCrae Lake
After the swim, we played three rounds of Euchre and ate snacks under the sun. Soon enough it was 5:30 pm and time for us to boogie on back to the car. We had 9 km of hiking and 2 hours of driving ahead of us.
And so we bid farewell to McCrae Lake and began our long trek back.
By this point my knees were starting to hurt and going down a steep section I rolled my ankle. Thankfully Claire found me two walking sticks and I was able to push on at a quick pace with no pain at all (I guess that's adrenaline for you because upon getting home my ankle swelled up so big and I couldn't put weight on it). But in the moment I just soldiered on.
We made an excellent time hiking back. By this point, it was just past 8 pm and the bugs were out in full force, so I was thankful to jump in the car and shut the doors. I almost immediately passed out, and I suspect others did too (though thankfully Mike stayed alert to drive the car).
Soon enough we were back in Toronto. Another Saturday Day Trip was a success!
McCrae as a Day Trip from Toronto: When all was said and done, this day trip took a little over 14 hours: 4ish hours of driving, 6 hours of hiking, 4 hours of chilling. A day trip to McCrae from Toronto will require 10 hours at a minimum. I think it's well worth the effort, but ensure you're prepared for a long day before you leave.
On a serious note: Claire just finished her Master's and was studying lyme disease, so she reminded me to do a tick check when I got home (which is something I often forget to do). If you aren't familiar with ticks, tick checks or Lyme disease, read this post.
---
Camping: McCrae Lake Map
Although we didn't camp on this specific trip, I've spent dozens and dozens of nights on McCrae Lake and highly recommend it. There are approximately 50 campsites on McCrae Lake, which I've detailed on the map below. Please note that these markings are approximate.
McCrae Lake is crown land, meaning you don't need a camping permit or to reserve sites in advance. Please ensure you are prepared for a backcountry camping trip and follow Leave No Trace principles.