When my boyfriend, and I were traveling around New Zealand, a lot of our planning was done on the fly. There were times where that totally blew up in our faces. But there were also times when it completely worked out and the outcome was better than anything we could have planning. Like finding baby seals while kayaking in Abel Tasman National Park.
I'll tell you the story of how our lack of planning resulted in something so incredible, but if you'd just like to know how to go kayaking with baby seals yourself, jump to the bottom of this post.
This post may contain affiliate links. If you make a purchase through one of these links, I may receive a small commission at no extra cost to you. Your support is much appreciated! You can learn more by reading my full disclosure.
(Lack of) Planning our Visit to Abel Tasman
I'll start at the beginning. We had developed a rough plan to drive to Abel Tasman National Park, located on the northwest side of New Zealand's South Island. From our home base in Dunedin, Abel Tasman was an 11 hour drive away. We planned the route we'd take, sights we'd visit and some inexpensive lodging to break up the drive. As we pulled up to Motueka, the nearest major town to Abel Tasman, something dawned on me. While we had adequately planned the journey to Abel Tasman, we had failed to plan the visit to Abel Tasman itself.
So here we were, sitting in the car, frantically searching for accommodation. I scoured Airbnb and my boyfriend sifted through many red "You Just Missed It" listings on Booking.com. Finally I found an Airbnb with Instant Booking, available that night and within our budget.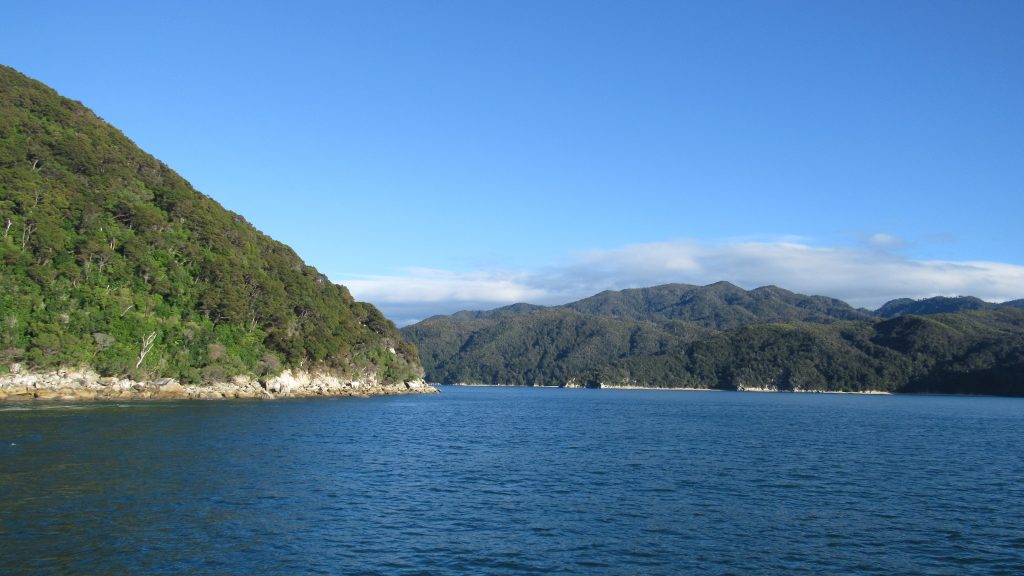 The struggle continues…
The Airbnb was located in the even smaller town of Kaiterteri, 25 minutes northwest of Motueka and even closer to Abel Tasman. I took a sign of relief.
Yohann navigated the winding two lane side road that connects Motueka and Kaiterteri. Meanwhile, I thought about the last time we'd driven somewhere at unfamiliar at night (spoiler alert, it had us sleeping in a broke down car). Tonight would not be like that night. However, we did have serious trouble finding the place. And even once we found the house, we couldn't find the door. When we finally found the door, a friend of the host answered (the host himself was not home) and the friend had not been expecting us at all.
(Despite difficulty finding the place in the dark, this is the best Airbnb we stayed at in NZ – here's a link to the place if you're interested).
Now what…
However, when the host came home things made a sharp turn for the better. A charming man of Maori decent, our host was an expert on Abel Tasman National Park, having previously owned some guiding companies in the area. He had one recommendation for how to spend a day in Abel Tasman National Park.
Our host told us we had to go on a full day tour of kayaking in Abel Tasman. He even specified the company we had to go with, Kaiteriteri Kayaks, because they had the best trip. We hadn't been planning on doing a kayak tour (you know, as we hadn't planned anything at all). But our host was so adamant, I booked a tour at 10 pm for the following morning.
Kayaking in Abel Tasman
We arrived at the launch not really knowing what to expect – we hadn't done any research on the trip, so everything we knew was from our Airbnb host.
The trip began on a boat cruise. The thing about Abel Tasman National Park is that isn't accessible by car. You either have to hike in or you can take a boat (kayak or cruise). The benefit of taking the boat cruise first is that you are able to go deeper into the park, and then transfer to the kayaks for more exploring.
Kayaking along this coast of New Zealand is great, but that on its own wouldn't be considered a bucket list activity. You can access the coast from the boat cruise, so it's nice but not particularly special. Had this been the whole experience, I don't think our host would have been so strong in his recommendation.
Another stroke of luck
After some time paddling along the coast, however, our guide directed us into a small opening in the trees. The pathway would have been nearly invisible from the cruise, but from the kayak we could see the opening grew into a secret harbour. Our guide told us that the habour is only accessible at certain times, depending on the tides. Without realizing it, Yohann and I had booked the best tour at the exact right time.
We paddled through another narrow opening and then made some twists and turns. When the pathway opened up again, we were greeted with the most magical scene.
Dozens and dozens of baby seals were playing in the water
Our guide explained that the baby seals hangout here while their mothers are out in the open ocean. And boy, did they play. Sometimes they were sitting perched on rocks. Sometimes they swam, jumping in and out of the water, chasing one another. One jumped over the bow of my kayak. Another jumped onto the stern of our guide's kayak.
I don't know how long we stayed there just floating in amazement, but I could have done it forever. The seals were so entertaining to watch and so, so cute. Some of them swam right up to us with curiosity while others watch us suspiciously from a far.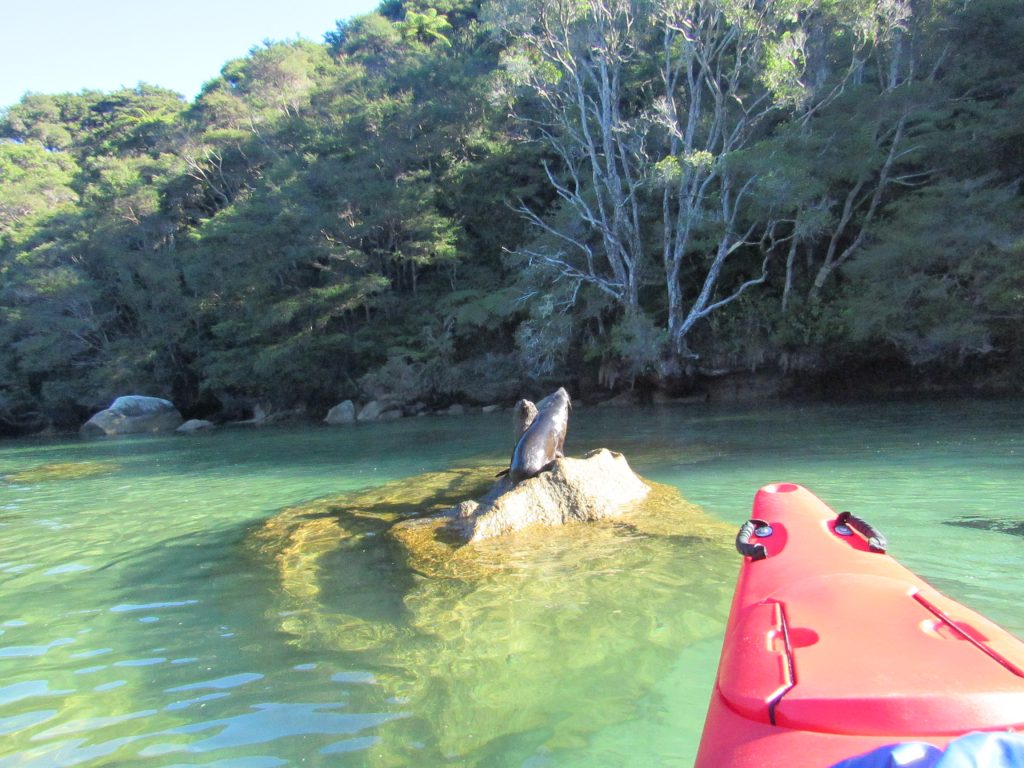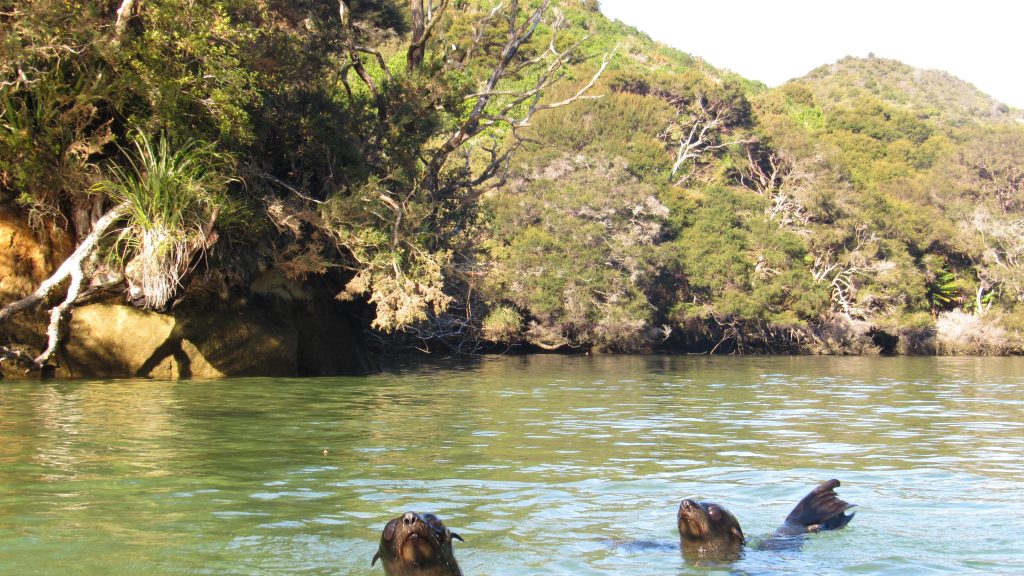 Back to the kayak tour
After leaving the baby seal harbour, we paddled to Big Tonga Marine Reserve to watch some birds and find the mama seals. At one point we stopped on a beach and our guide prepared a delicious lunch. When the day was coming to and end, we got back on the boat cruise and were taken back into town.
While Kaiteriteri Kayaks offers a number of kayak trips, their Kayak Awaroa trip is the one that has the option to see the baby seals. The seals are only there at certain times of the year and the little harbour where they hangout is only accessible during certain tides. My recommendation is to phone Kaiteriteri Kayaks before making your reservation and ask them what day the tides are predicted to be in your favour.
How to find seals & go kayaking in Abel Tasman yourself
Choosing a tour guide
There are a few tour operators in the park, but I cannot recommend Kaiteriteri Kayaks enough!
Where to stay near Abel Tasman
There are a lot of options for accommodation around Kaiteriteri (the launching place for Abel Tasman).
Budget: So the hostel scene in this area is pretty dismal, so if you're looking to save money I'd recommend Airbnb (you already know we ended up staying at this wonderful Airbnb). There is Kaikteri Lodge where a dorm bed is less than $30 per night, but its ratings are so low I don't recommend this option.
Comfort: However, if I were to visit again, I'd really want to check out the Kimi Ora Eco Resort (Jacuzzi looking onto the ocean and private kitchen, all ten minutes from the kayaking? Yes please). And if I sudden
Luxury: For more luxurious accommodations, the Split Apple Lodge – Eco Lodge & Resort is an excellent choice. Also, the Awaroa Lodge might be a little impractical for the kayaking because it's a bit further a way, but it seriously looks incredible. So secluded, beautifully decorated, amazing views – also super pricey and way out of my budget, so I'm dreaming of it for my return.
How Abel Tasman fits in a Road Trip Itinerary
If you're going to be in the South Island of New Zealand, I've created two road trip itineraries to help with your planning. The first is a 2-week itinerary that takes you to Kaikoura (for swimming with dolphins), Abel Tasman and then classics like Milford Sound, Mount Cook and Wanaka. The 3-week itinerary includes everything from the 2-week, but also time in the Catlins, the underrated city of Dunedin (where I was living) and the coastal town of Akaroa. If you need advice for planning your New Zealand road trip, please leave a comment or send me a message. I'd be happy to help!
Note: I am in no way connected to or sponsored by Kaiteriteri Kayaks. I have received no compensation for writing about them; I just think it's a great trip if you're interested in kayaking in Abel Tasman NP.