Kaikoura is a small and often overlooked town on New Zealand's South Island. Despite its lower popularity among tourists, I made several visits here while living in New Zealand, and grew very fond of this charming seaside town. In this post, I'll go over everything you need to know to plan a trip to Kaikoura, should you fancy a trip here yourself. We'll go over where to stay, great food joints and things to do in Kaikoura. Okay, let's get going.
Map of Kaikoura
Although Kaikoura is a small town (making it easy to find everything) I've included all of the activities listed below on this map.
---
Getting to Kaikoura
Where is Kaikoura?
Kaikoura is nestled on the eastern coast of New Zealand's South Island three hours north of Christchurch. Directly to the east is the Pacific Ocean; to the west is the Seaward Kaikoura Mountain Range.
How to get to Kaikoura
Highway 1 runs right by Kaikoura, making it easy to add into any self-drive south island itinerary.
Visitors to the South Island of New Zealand typically arrive in one of three ways:
Fly into Christchurch – If you've just flown into Christchurch, grab your rental car or RV campervan van and drive three hours north to Kaikoura.
Take the ferry to Picton – If you've just arrived in Picton by ferry, drive south for two hours to Kaikoura
Fly into Queenstown – If you flew into Queenstown, you'll probably have a bunch of other South Island stops to make before arriving in Kaikoura
Car or RV / Campervan?
Road tripping is the best way to see New Zealand, but are you better off with a rental car or a campervan? With a rental car, you'll have an easier time driving some of the wilderness roads, but you'll also be reliant on either hotels/hostels/Airbnbs for accommodation (or you can use a tent / sleep in your car which is how I did a lot of New Zealand).
Alternatively, you can go with an RV or campervan. These are roomy vans with a kitchen set up, bedding and sometimes a bathroom. If your RV is self-contained (which basically means it has a bathroom inside) you can park almost anywhere overnight (freedom camping). The reason the vehicle needs to be self-contained is that New Zealand has a fragile environment and doesn't want it damaged from people peeing and pooping in its beautiful wilderness. Read these tips for additional ways you can travel in an RV sustainably.
---
Things to do in Kaikoura
Kaikoura is a wonderful town for slowing down and seeing wildlife. While there are a few adrenaline filled activities, you'll also find places to sit back & relax. Stroll along Kaikoura Peninsula Walkway at sunset; lounge aboard one of the Kaikoura's whale watching cruises.
Out of all the activities in Kaikoura that I've had the pleasure of trying, my favourites were swimming with dolphins, the flight seeing tour and sunset on the peninsula. But there are plenty of other things to do in Kaikoura as well. Below you will find seven activities I recommend.
This post may contain affiliate links. If you make a purchase through one of these links, I may receive a small commission at no extra cost to you. Your support is much appreciated! You can learn more by reading my full disclosure.
Go on a Whale Watching Cruise
Kaikoura is one of the best places in the world for whale watching. Understandably, this also makes whale watching the #1 most popular activity in Kaikoura. Something about the geography of the ocean floor makes it the perfect place for whales to hangout.
Joining a whale watching cruise is the the most popular option for seeing whales. The tours are longer (typically 3-3.5 hours with ~2 hours actually on the water) and are more economic than the alternative (a whale watching flight). Most of the tour operators, including the one I linked above, offer an 80% refund policy if you happen to be in unlucky 5% of tours that don't see whales.
Tip: You can save a little money booking your Whale Watch Kaikoura tour through Get Your Guide. (That's an affiliate link, but I'm not sponsored by Get Your Guide).
Take to the sky on a Whale Watching Flight
A whale watching flight, on the other hand, is more expensive however you'll also be treated stunning views of the Kaikoura Peninsula and Kaikoura Seaward Mountain Range.
Depending on your budget, you could splurge and go on a 1.5-hour helicopter tour or a 30-minute helicopter tour. I went for the less expensive (though still pricey) option of a 30 minute plane ride with Wings Over Whales. All of the companies advertise a 95% success rate of seeing whales, however I was in the unlucky 5%. Oh well, I did get a great view of the peninsula.
Swim with Dolphins
It isn't just whales that like the Kaikoura underwater geography; dolphins love it too. Dolphin Encounter Kaikoura is an eco-tourism company that gets people in the ocean swimming with wild dolphins… WILD DOLPHINS (I'm not sponsored by them, by the way). This was probably one of the best experiences of my life (I wrote an entire blog post about it). I was gushing for day (weeks?) after.
The tour runs four hours long. You are given a wet suit and snorkelling equipment, shuttled to the ocean and ushered onto a boat. From there, you are driving out to the dolphins. Since there are wild (!) dolphins, it can take a little time for the boat drivers to locate the dolphins. Unlike operators in other parts of the world, they don't bait the dolphins with food.
Once the dolphins have been located, the swimmers jump into the water. The dolphins are incredibly playful and will swim right up to you. If you make noise underwater, they will make noises back.
Tip: My biggest regret of my whole time in Kaikoura was not renting a GoPro, so I have no good photos of the experience (the photos below are courtesy of Dolphin Encounter Kaikoura). Don't be like me – pay the ~$45 NZD and get a GoPro for the swim.
Explore the Kaikoura Peninsula Walkway
The Kaikoura Peninsula Walkway is an absolutely beautiful walk right on the edge of town. You can easily access it by car and walk for as little or as long as you like (the full loop is 3 hours, but there are options to take shorter routes).
At the start of the walk you will likely encounter Kaikoura's seal colony. These friendly creatures like sleeping on the boardwalk or lounging on the rocks, but don't get too close to them. Seals enjoy their personal space, and as such like people to stay at least 10 m away from them at all times.
As you continue along the Kaikoura Peninsula Walkway, you'll get stunning vistas. On one side you'll have the Kaikoura Seaward Mountain Range, on the other side you'll have rugged coastline. You're likely to feel cool ocean breeze and see seabirds gliding.
I recommend going for either sunrise or sunset (I went for both). The sky really lights up!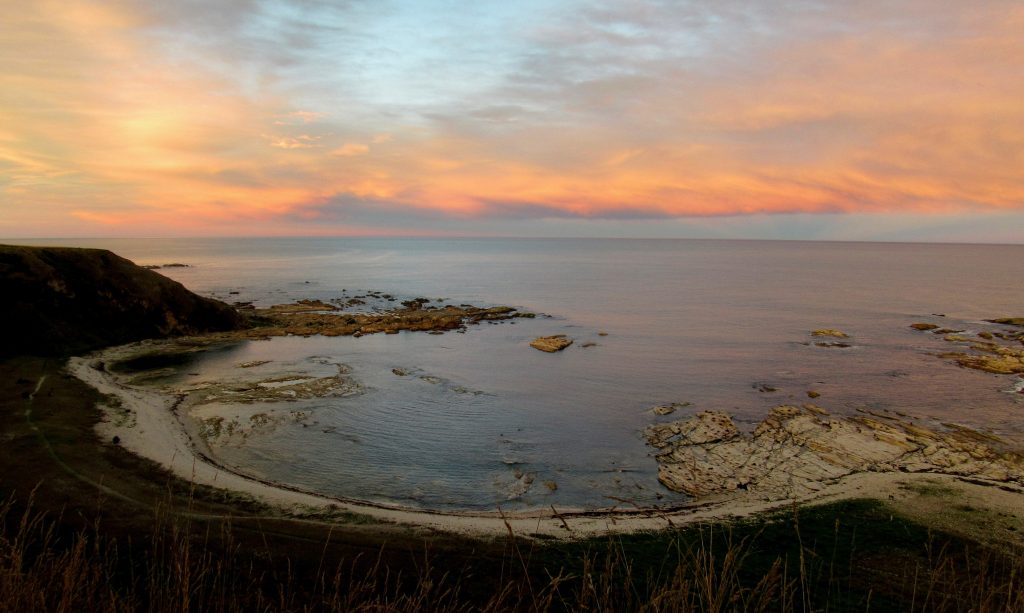 Hike Mount Fyffe
Another activity you can do is the Mount Fyffe hike. The track is well maintained and can either be a 5 hour return trip or an 8 hour return trip. I didn't have time to do this hike, so I can't comment on the hike itself, however the Department of Conservation website details all you need to know about the hike should you choose to do it.
Photograph Glenstrae Lavender Farm
Just outside of Kaikoura is the Glenstrae Lavender Farm, which has fields of over 50 lavender species spring into bloom in deep shades of purple. In January and February they lavender is harvested, extracted and distilled into lavender oil. The oil is then used in lavender infused products they sell in their store.
Check out Ohau Waterfall Walk
A short drive north of Kaikoura is a walk to Ohau Waterfall. At 15 meters tall, the waterfall itself isn't particularly impressive, but it does get a lot of action from marine animals (specifically fur seals).
Although Kaikoura and the greater Canterbury region don't get nearly the same hype as other destinations on the South Island, there are actually some pretty decent places to hike in the Canterbury region.
---
Where to stay in Kaikoura
Honestly, for such a small town there are an overwhelming number of places to stay in Kaikoura. I was on a tight student budget, so I either camped at a holiday park or stayed at the Dusky Lodge and Backpackers. It's a pretty basic hostel will a decent sized kitchen and clean rooms, but it didn't have much charm or personality though.
Now, because I'm always dreaming of my return to New Zealand, I have two recommendations for hotels saved: Artists Retreat and Te Mahuru Retreat. Both are mid-range hotels with supposedly great views of the mountains.
If you wanted to splurge, you could go with Glenburn Coastal Retreat, which looks absolutely luxurious.
---
Kaikoura, New Zealand – Additional Resources
I hope you've found this post useful and have a better idea of where there is to see and do in Kaikoura, New Zealand. If you haven't done so already, check out my South Island 3 week or 2 week itineraries to help with trip planning. And if you're in need of additional information, you can check out the Kaikoura official website.