Over the last few years or so there has been an explosion in the popularity of Ontario Crown land camping. Since so many people have gotten into camping this year, it has become very difficult to book campsites at many provincial parks.
Plus, it seems like the campsite fees at the parks never stop increasing. All this is driving more and more people to try out Crown Land camping.
The biggest challenge is that there aren't a lot of great resources for finding Crown land campsites in Ontario. The Crown Land Use Policy Atlas is the definitive resources, but it's a little tricky to use. There are dozens (hundreds?) of maps and guidebooks supposedly spelling out where all the sites are, but if you're new to Crown land camping, it can all be a little overwhelming.
In this post, I hope to make finding Crown Land campsites a little more manageable! The post is divided into the following sections: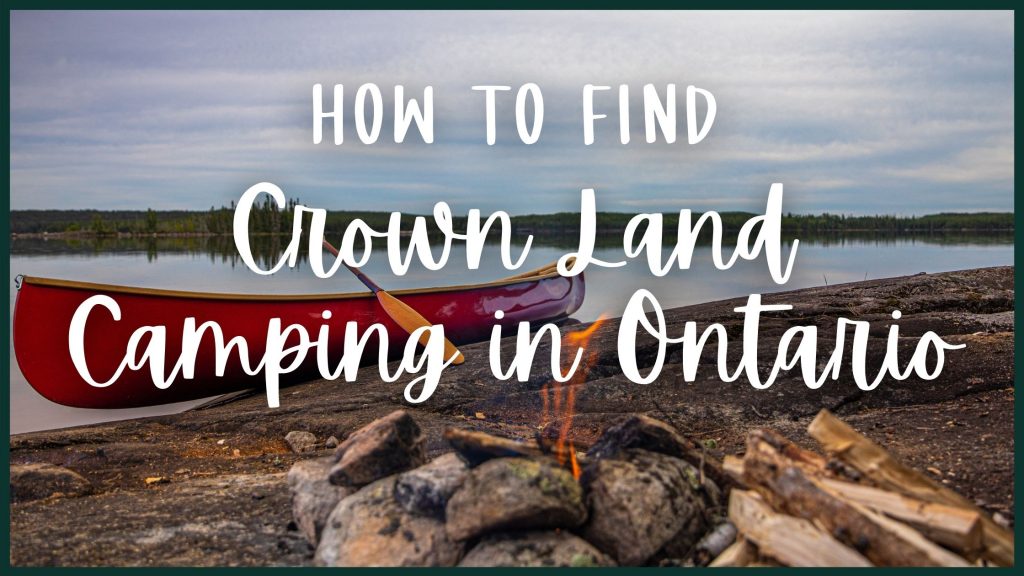 This post may contain affiliate links. If you make a purchase through one of these links, I may receive a small commission at no extra cost to you. Your support is much appreciated! You can learn more by reading my full disclosure.
---
What is Crown Land Camping?
Crown Land is land managed by the Ministry of Natural Resources and Forestry. That is to say, it's basically just land owned and managed by the government. About 87% of Ontario is Crown Land, including the 10% that is managed by provincial parks and conservation areas.
When we talk about Crown Land for camping purposes, we're usually talking about the 77% that isn't in a provincial park or conservation area.
Why Is It Called 'Crown Land'?
It's called Crown land because it is owned by the federal / provincial governments and is thus in the 'royal domain' (because Canada's head of state is the Queen).
A lot of people (myself included) don't like the term 'Crown land' because of its colonial, genocidal underpinnings. That's a discussion for another blog post though.
For this blog post, I'll call it Crown land because that's technically what it's called and it's what most people are familiar with.
What Does It Mean to Camp on Crown Land?
'Crown Land Camping' means different things to different people. Some people are interested in campsites with road access, so they can car camp or bring their trailer.
Others are interested in campsites they can hike or paddle to. Either way, camping on Crown land does not require a reservation and there are no camping fees.
Sounds amazing, but it's not all rainbows and sunshine, unfortunately.
In most cases, people want a free campsite away from other people that isn't too far from where they live. These constraints are what make Ontario Crown land camping difficult to find (especially for beginners or those living in southern Ontario).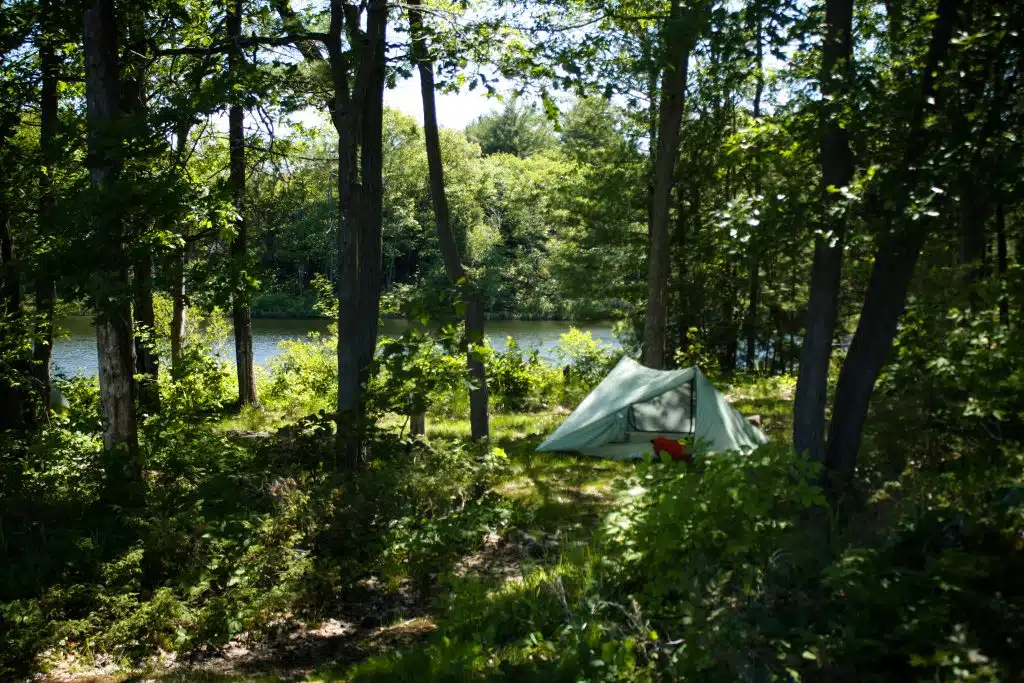 ---
Why it can be "difficult" to find Crown Land Camping
While Ontario crown land camping is free in the money department, it'll cost you in another department. Time. Finding crown land sites is difficult.
There Isn't Much Crown Land Near Where People Live
If 77% of the province is Crown land, it should be easy to find campsites, right?
Many of the people asking about Crown land campsites in Facebook Groups are from Southern Ontario, like Toronto and London. There is virtually no Crown Land in Southern Ontario. There are other places to camp (which I'll detail further in this post), but there just isn't much Crown land.
And the Crown land campsites that do exist are extremely popular and have a tendency of getting trashed. For example, McCrae Lake on Georgian Bay is Crown land and is packed every weekend in the summer.
So if you're coming from southern Ontario, you're likely going to have at least a four-hour drive to any Crown land.
It Takes Time to Find Sites
An added complication is that it can take a lot of time to find campsites – especially when it comes to campsites you can drive to or campsites that only have a short paddle or hike.
People do not readily share their campsites (more on that below), and the resources available are not precise. That means you may have some exploration to do to find your campsite.
For example, during one of my recent trips, we expected to find some campsites in a particular area. We never found the sites and ended up sleeping in the truck. The next day we tried again and we were successful in finding a lovely Crown land campsite.
A lot of people, especially those coming from southern Ontario for a weekend trip, want the guarantee that they'll find a campsite quickly, and that often isn't the case.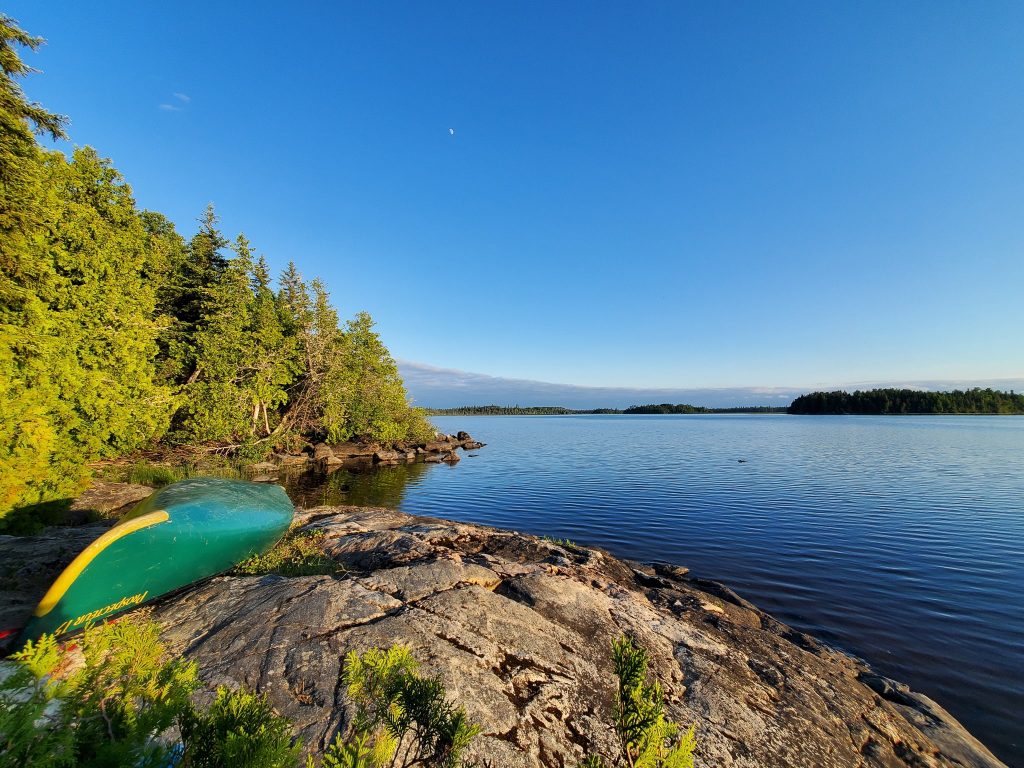 People Don't Want to Share Their Spots
Wouldn't it be so much easier if people could map out exactly where the nice Crown Land campsites were? In theory, yes. But people do not like sharing their knowledge of campsites, and there are a few reasons for this.
For starters, any Crown Land campsites that have become largely known to the camping community have quickly been overpopulated and trashed (i.e. McCrae Lake on Georgian Bay, High Falls in the Kawarthas). People don't want the site they love facing the same fate.
They also don't want to show up at their favourite site only to find someone else is there. Keeping it a secret ensures it'll be available to them when they need it.
Finally, many people are of the belief that finding Crown Land campsites should require work. Not everything about camping needs to be spoon-fed to people. If you want a guaranteed campsite that is easy to find, go to Ontario Parks.
If you want something free and away from other people, be willing to do the work to find it.
Voyageur Tripper's Views on Ontario Crown Land Camping
So where do I come into all of this? Seeing as I've built a sizable blog around sharing backcountry camping resources and route guides, you might be surprised by my take.
I believe in providing beginners with all of the resources they need to explore the backcountry safely. I write guides on skill development and develop detailed trip reports on canoeing and hiking routes. I will share any route that exists within an Ontario Park or National Park. I don't believe in gatekeeping this information.
That said, Crown Land camping is different. I will share canoeing and backpacking routes in Northern Ontario that are on Crown Land (all of those routes are listed here). However, I won't share individual Crown Land campsites that are not part of an established canoeing / hiking route (especially those that can be driven to). I agree that not all information needs to be available online.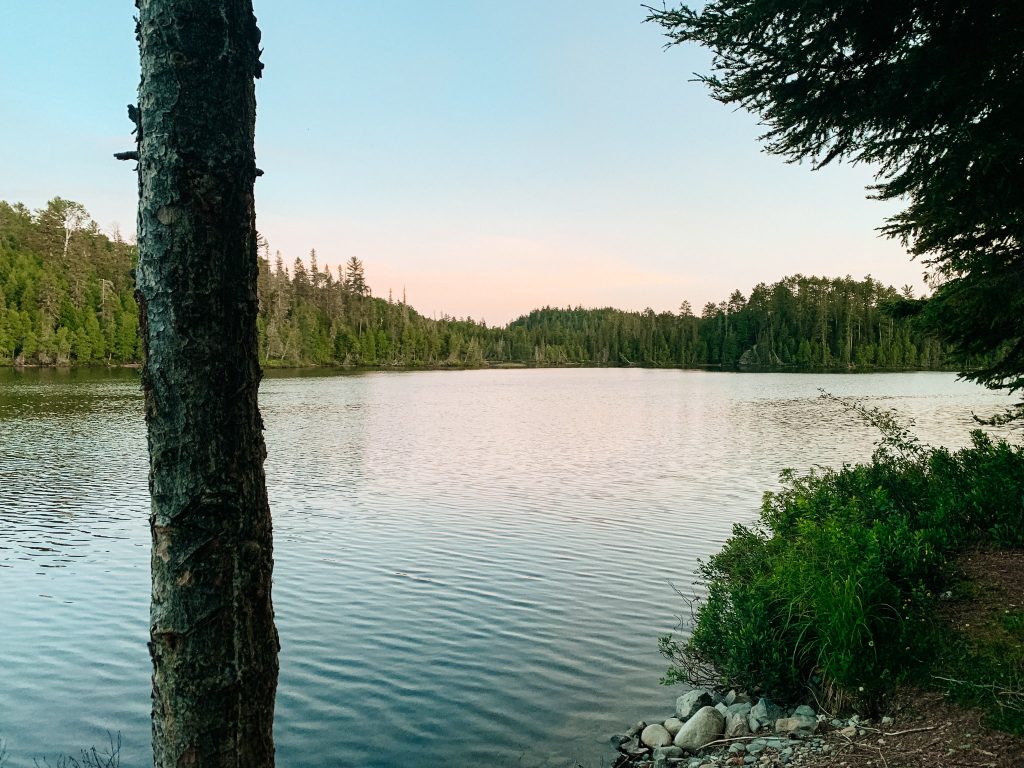 ---
Resources for Finding Ontario Crown Land Camping
The most important resource for finding Ontario Crown land camping is the policy atlas. This is an interactive map of Ontario that indicates what land use is permitted throughout the province.
To be completely honest, the atlas is kind of difficult to use (the next section is dedicated to using the atlas). It's slow to load and it's colour-coded in various shades of green, yellow and grey. When I first started looking using the atlas, I was constantly thinking "okay but is this the light yellow or the dark yellow – how do colour-blind people do this?!?"
Now, the atlas isn't perfect. It'll tell you what land is fair game for Crown Land camping, however, it won't tell you if there are campsites or access roads to get to it. For that, you'll need some other resources.
Click Here to Explore the Atlas
Crown Land Camping Apps
There's a lot of chit-chat in Facebook groups and online forums about apps that have crown land camping locations. I've tried most of them and found each to be… disappointing.
iOverlander – At first glance, it looks like there are lots of crown land sites, but then as you start to read the reports from people who have visited the sites, you learn that a lot of them are inaccurate. (See screenshots below of people getting fined for camping on private property, which iOverlander claimed to be crown land). In addition, a lot of the crown land campsites I use were not on the map, so clearly it's not very comprehensive.
Campendium – Don't bother downloading this one. It only shows RV parks and the occasional provincial park in Ontario.
Backroad Mapbooks – Backroads is better known for their guidebooks, but they also have a map for desktop and mobile apps that specifies what land is crown land. They don't have the locations of specific campsites though. It's a much better user experience than the CLUPA, but not quite as accurate. Overall I don't use it much.
Maps & Guidebooks
There are tons of maps & guidebooks that feature areas for crown land in Ontario. Typically these are part of canoeing and hiking routes.
Here are a few of the guidebooks I'm familiar with.
Kevin Callan Guidebooks – Kevin Callan has a tremendous volume of guidebooks and canoe route ideas. Some of his books are specific to provincial parks (i.e. his books on Algonquin or Killarney & The French River), whereas others detail 'lost' or 'uncommon' canoe routes, many of which are on crown land.
Hap Wilson Guidebooks – Another excellent resource would be Hap Wilson's guidebooks. One of my personal favourites is Rivers of the Upper Ottawa Valley and Temagami: A Wilderness Paradise is excellent too. Pair these with a set of maps from Adventure Map, and you're good to go!
Trip Reports
If you're looking for canoeing, kayaking or hiking routes on Crown Land, check out the Ontario Crown Land Camping section of Trip Reports. In most cases, there is a map detailing where the campsites are, how to access the starting / ending points, and what topographic maps or guidebooks you need.
Miscellaneous Blogs
If you're willing to work the internet a little, you can usually find information on Ontario crown land campsites on random blogs. Don't Google "crown land campsites in Ontario". That's too broad (though it's probably how you found this article).
Instead, get specific. Find a particular lake or county on the Crown Land Use Policy Atlas and then search something like "camping around XX lake" or "camping XX region".
The first page of Google will likely be high level information from big sites like Northern Ontario, Camping in Ontario and Ontario Parks.
Head to the second page of Google. Here, you're more likely to find small, personal blogs where people have documented their trip report. Some people are vague with their campsite information; some people go so far as to post the GPS coordinates of their trip.
The data may be a tad out of date, but it can definitely be used as a starting point.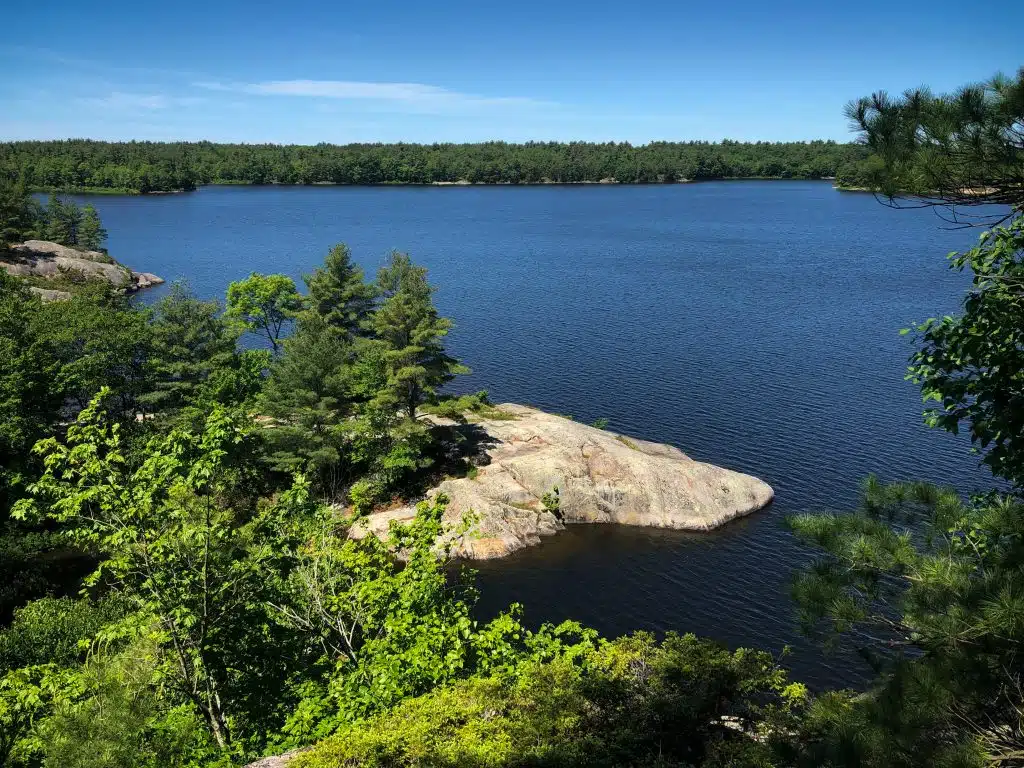 Google Earth
You can use Google Earth with the Crown Land Use Policy Atlas to find specific areas of interest. You might see a large area of crown land on the atlas and then find the same area of land on Google Earth. You can then see roughly what the area looks like.
For example, you might see that an old logging road leads to a lake that has a large beach on it. Interesting, very interesting.
AllTrails
AllTrails can be very hit-or-miss, but I've had some luck finding short hike-in campsites on the platform.
I start by looking on CLUPA for crown land right outside provincial parks. Then I switch to AllTrails and look for hiking trails in the same area. If there is a hiking trail that overlaps with crown land, I zoom in on the trail to see if there is a tent icon anywhere.
Now, just because there is a campsite icon doesn't guarantee it's there. Crown land has no guarantees. Likewise, just because you don't see a campsite icon doesn't mean there's no campsites.
So my next step is to Google "camping" plus information about the hiking trail. For example, there's a hiking trail outside Kawartha Highlands Provincial Park to a particular waterfall. I Googled "camping + the name of the waterfall" and found a random blog that had information about the campsites here. Sure enough, the area has a dozen or so hike-in crown land campsites.
As I said above, I'm not going to post specific sites on the Internet (or I'll get A LOT of hate emails), but if you're struggling to find a site of your own, send me an email and I'll point you in the direction of a few.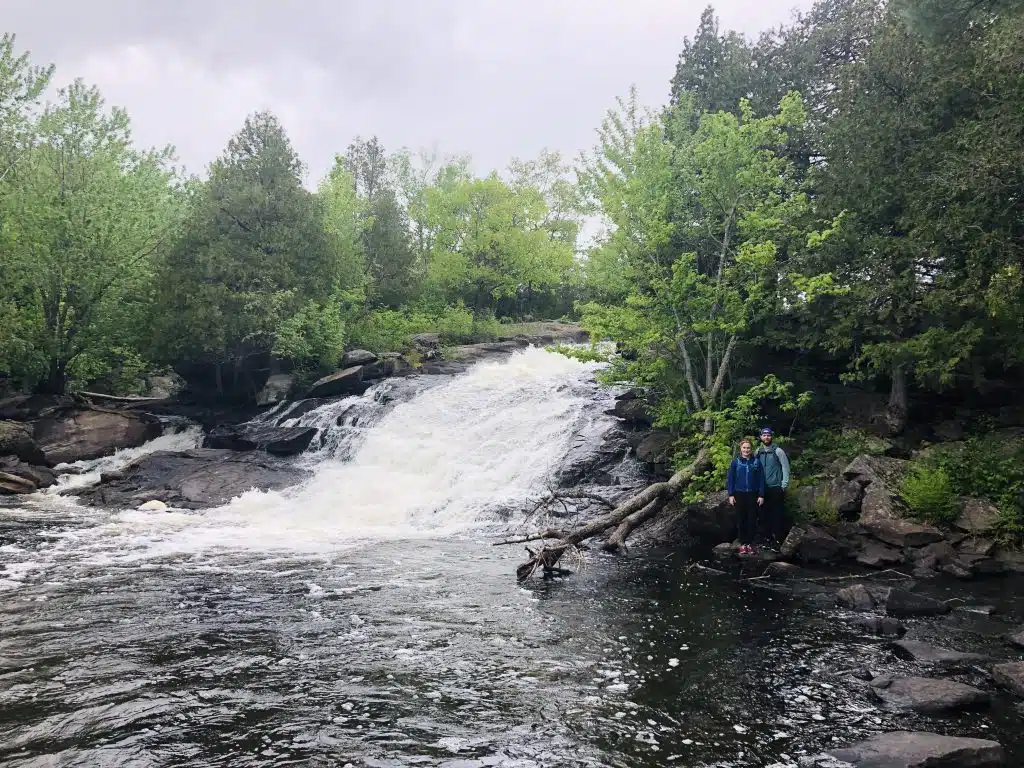 ---
Using the Crown Land Use Policy Atlas
Rather than me showing you screenshots and explaining what you need to do, I think watching both of these YouTube videos will be really helpful. Both videos are done by two outdoor adventurers I really admire and respect, so I'm sure you'll take away as much from these videos as I did.
Backcountry Planning: Route Information & Resources for Ontario – Crown Land, Parks, Maps, Trip Info by Explore The Backcountry
---
---
How To Locate Crown Land To Camp On by Kevin Callan
---
Alternatives to Crown Land Camping
Non-operating Ontario Parks
Non-operating parks are provincial parks that have no facilities and are very similar to Ontario crown land camping. No visitors centre or park staff, no campsite reservations or permits to books, and there are no fees. In many cases, you can pack your bags and head out at a moment's notice.
Now, not every non-operating park has camping available. Some parks are too urban or too small to accommodate camping. On the park's website, it will list if camping is available. Check the icons at the bottom left of the park's homepage. As you can see in the photo below, Mattawa River Provincial Park has camping available (20 campsites, to be specific) and does not require reservations.
For those parks that do allow camping, you still have to follow Ontario Parks rules (i.e. no drones), but besides that, it's basically crown land camping. You can see all of the non-operating parks on a map here.
Here are a few non-operating parks to get the inspiration flowing:
Noganosh Lake PP
Gibson River PP
Algoma Headwaters PP
Conservation Reserves
Conservation reserves don't get nearly as much attention as Crown land or Ontario Parks (though they're actually managed by Ontario Parks and are very similar to non-operating parks).
The biggest difference between a conservation reserve and non-operating provincial park is that the primary purpose of a conservation reserve is to protect ecologically sensitive, culturally or scientifically important areas, whereas non-operating parks are also meant for recreation.
Typically, conservation reserves are more strict on the kind of activity you can do on the land (i.e. absolutely no motorized activity, fishing or hunting of any kind). They tend to be smaller than Ontario Parks and there are fewer resources for finding campsites since they aren't nearly as popular as parks.
Ontario Parks with Backcountry Registration
Next, you could consider visiting one of the Ontario Parks that doesn't require specific campsite / lake reservations but instead requires you to register for a backcountry permit. These parks include:
Missinaibi River PP
French River PP
Spanish River & Biscotasi Lake PP
Temagami Cluster
Tidewater PP
Wabakimi PP
Woodland Caribou PP
The upside is that, unlike with Killarney or Algonquin, you won't have to worry about waking up at 6:00 am to reserve your permit. I'm sure there is a limit to the number of permits they can issue, but I've never heard of anyone being unable to book their desired trip due to capacity.
The downside is that you'll have to abide by park rules and pay for each night you're in the park. And it adds up quickly – my short trip on the Missinaibi River last summer costs $100 in permits! (2 people x 5 nights x $10 per night).
---
Rules for Camping on Crown Land in Ontario
Just because you aren't in a provincial or national park does not mean you can do whatever you'd like on Crown Land. The rules are super straightforward, however.
You can find a list of all of the Crown Land camping rules here.
Permits
Permits are not required for Canadians and permanent residents. Non-citizens or residents can buy a camping permit online. Last I checked, it was $10.57 per person, per night.
Length of Stay
You can camp at a single campsite for 21 days per calendar year. After 21 days, you must move to a new site at least 100 m away. This rule is in place to prevent squatting. It also ensures that many groups can enjoy the same sites throughout the year.
Leave No Trace
You cannot harm animals or plants that are protected under provincial law (i.e. don't go picking trilliums!). Don't leave any garbage. In fact, try to leave the site exactly as you found it.
Technically, you can cut down trees (bushcrafters love doing this). Personally, I strongly discourage this. Use deadwood to build fires and bring a tent for shelter. Sure, if one person cuts down a live tree it isn't a big deal. But when you have multiple groups cutting down a tree every time they camp there, it's habitat destruction. Plain and simple.
Read More: Eco Camping: Your Guide to Environmentally Sustainable Camping
Making Your Own Campsites and Trails
You can create your own campsite by brushing away pine needs and small plants to form a clearing. You can build your own fire pit with rocks and deadwood. Although not technically illegal, please don't chop down trees to make a clearing.
You need prior approval from the Ministry of Natural Resource and Forestry to build a new trail.
Campfires, Hunting & Fishing
Many sites will already have an established firepit, though sometimes you'll need to make your own. You can have campfires so long as there is no fire ban in place.
You can fish as long as you have a valid fishing license and aren't in an area that prohibits fishing (usually for conservation purposes). Hunting also requires a license and there are additional requirements around the animal, season and quantity. Do your research before hunting.
Motorized Vehicles
A lot of Crown Land allows for motorized vehicles – like ATVs, motorboats and snowmobiles. Usually, the limiting factor is not whether you are allowed to or not, but in physical limitations (lack of trails and roads). Some areas do restrict access for other purposes so you may see a sign restricting access to non-motorized vehicles.
---
Final Thoughts on Crown Land Camping in Ontario
I hope you've found this post helpful and have a better idea of how to find your own crown land campsites. I know it can be daunting and intimidating (and frustrating – "just tell us the sites already!!"). But once you have your first success in planning, searching for and then camping at a campsite, it'll all be worth it. If you have any questions, send me a message on Instagram.
And don't forget to head over to Trip Reports and make an account! Click here to sign up!