Recently I went hunting on my hard drive in search of one particular photo. I found it buried in the incorrect folder (and untagged, unnamed – why do I do this to myself) so I'd been unable to search for it. But sometimes little inconveniences yield the best results. Because the folder in question contained all of my photos from the 10 days I spent in Qikiqtarjuaq that never made it to the blog. What a treasure trove of memories it offered!
While I was working for the tourism company in Iqaluit, I got to spend 10 days in Qikiqtarjuaq (called "Kick" for short), helping with a remote arctic basecamp. To this day this is the coolest experience I've ever had (perhaps tied with guiding on the Missinaibi River).
This post may contain affiliate links. If you make a purchase through one of these links, I may receive a small commission at no extra cost to you. Your support is much appreciated! You can learn more by reading my full disclosure.
Journey north of the Arctic Circle
I departed from Iqaluit in a really tiny plane – it had maybe 12 seats – and I was the only passenger. Two pilots and I flew over the spectacular ice caps and beautiful mountain ranges, which I was totally unable to see through the thick, fog surrounding the plane (why does this always happen to me).
I did get to fly the plane for a few minutes though, so that was pretty invigorating (and very trusting of the pilots).
And no big deal or anything, but Leonardo DiCaprio sat in my exact seat one week earlier, so that was kind of a big deal (to me and literally no one else). That particular plane has transported a lot of famous people apparently, and it's common to sign your name above me seat. Well, on this particular day I considered myself to be a celebrity too and added my name right beside Leo's.
Getting to Base Camp
So after that exciting plane ride, I arrived in Qikiqtarjuaq to mist and clouds. The hamlet only has about 500 people so the community is very close. I walked the entire thing in under thirty minutes. For the next two nights I stayed at Billy's house. Billy is an Inuit guide who has been guiding this specific arctic safari for who knows how long. I slept on an inflatable mattress in the office; his wife offered me all kinds of delicious home cooking. She too would join us at the base camp, though only during the day.
Soon enough the guests arrived and I had to go into professional wilderness guide mode. It's sometimes weird guiding guests when you've never been to a place yourself, like on a trip like this, but the guests quickly realize I am not the knowledge keeper on the tour. I'm the one they come to when they want snacks or first aid treatment, a hot water bottle or their yurt's generator is acting up.
That said, I do need to show some resemblance of knowing what I'm doing. So on the boat ride to the arctic base camp I didn't volunteer the information that this too was my first time north of the arctic circle. I kept my gasps and "holy sh*ts" to a minimum. But gosh darn, that can be hard when you're seeing real icebergs for the first time in your life.
Icebergs, I'd later come to appreciate, are very humbling. They remind you just how small humans are in comparison to the rest of the world. Qikiqtarjuaq is sometimes referred to as Iceberg Alley, because a lot of icebergs come by on their trip from Greenland to Labrador.
Life at an Arctic Base Camp
The boat ride to the camp took about an hour, and required serious maneuvering to get around so many icebergs. By now I was beginning to feel something other than awe for the striking landscape; I have never been so cold in August.
The idea behind an arctic base camp is fairly simple. The guests stay in yurts and the guides stay in huge tents called Arctic Ovens (despite the name it was still super chilly inside). During the day, the guides take the guests on excursions, in our case to the nearby Auyuittuq National Park to see wildlife, fjords and glaciers. Some guides stay behind and tend to the camp, like prepping for dinner, cleaning yurts and a myriad of other tasks.
Being the most junior guide, my primary responsibility was to act as sous-chef (read: dish washer) to the professional chef managing the kitchen.
That might sound like a small task, but everything from washing dishes to storing food is a logistical nightmare that far north. Just getting clean water and disposing of dirty water was a five minute or longer ordeal. Never again will I take running water for granted.
Day Trip to Auyuittuq National Park
There was one day where I got to go out on the boat with the rest of the group and that was perhaps one of the best days of my life. The chef, who went out on the boat everyday to prepare lunch for the guests, insisted he needed his sous-chef to make lunch that day (thanks, man!) and so I was able to accompany everyone on the day trip.
Unfortunately this was the one day trip where we didn't see a single animal. The guests actually joked that I was a bad luck charm… But we did visit Coronation Fiord, see a waterfall and a glacier. And more icebergs. So many icebergs.
In the early afternoon it was time to get to work. The chef manned one camp stove, the lead guide another, and I began preparing what has to have been the best grilled cheese sandwich north of the Arctic Circle. Ever. There were four types of cheese and meat inside. Damn.
I've found no matter where you are or what the conditions are like, a warm meal never goes unappreciated. It just has a way of lifting spirits even if it's a tad chilly or overcast.
Kayaking around Icebergs
There was one day of the trip when everyone stayed around camp and we went on a kayak around icebergs. Normally a guide of my experience would have stayed behind, but we had an odd number of people in our group and needed someone else in the tandem kayak – me! me! me! I volunteer!
We got the guests suited in dry suits, loaded into tandem kayaks and were on our way. And there I was, kayaking around ice bergs.
Something I hadn't appreciated until that moment was just how far down into the water icebergs really go. Of course, I was aware of the saying "tip of the iceberg" and the stat that "70% of an iceberg is under water." But knowing the facts and seeing it before your eyes are two incredibly different things.
Wrapping up at the Arctic Base Camp
Eventually the sun had to set on this incredible experience. When the trip was over, I accompanied the guests back to Qikiqtarjuaq and we all flew back to Iqaluit. It's incredible how even after several years I remember my time here so well; Nunavut truly changed the course of my life. It's the territory I can't stop talking about, the place I'll never stop wanting to visit.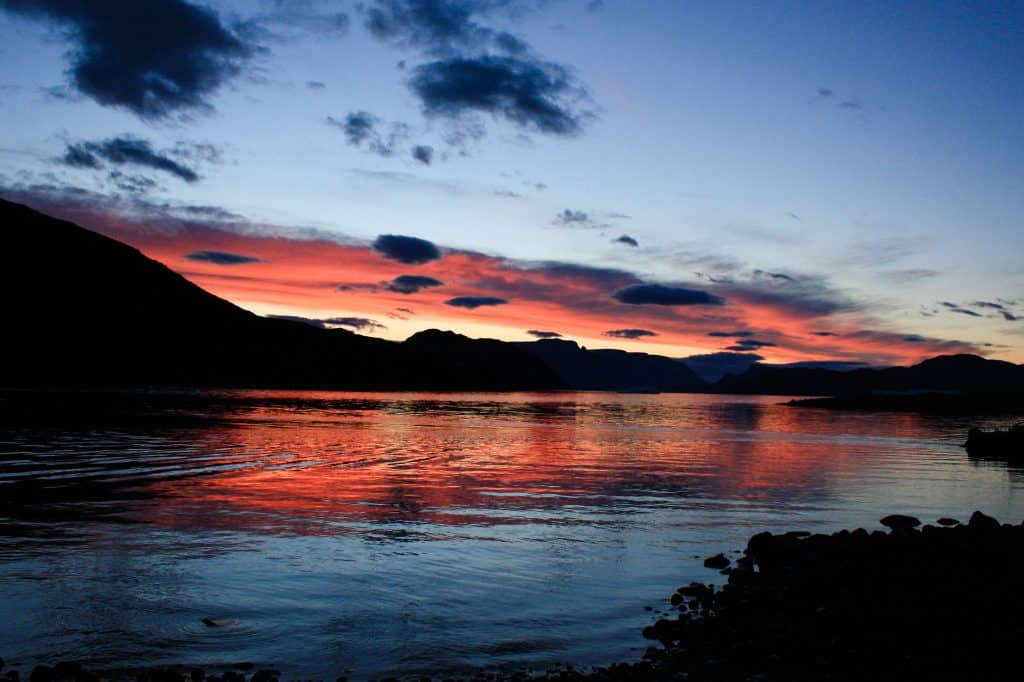 Visiting an Arctic Base Camp
If you're interested in going on an arctic safari and visiting an arctic base camp yourself, here is the tour that I was supporting. Arctic Kingdom has a ton of really cool tours to choose from though.
More Stories from Nunavut
---