Tofino is known for its world class surfing, but if riding waves isn't your thing there are still plenty of Tofino hiking trails to get you outside. The town's position on the coastline and proximity to Pacific Rim National Park mean there are tons of rainforest trails, beach walks and the occasional mini-mountain to climb. All in all, I'm sure you'll find a few hikes to add to your bucket list.
In this post I'll go over 11 excellent Tofino hiking trails. The majority of the trails are easy, and suitable for beginners.
Before we dive into the hikes, I've included some information on the logistics of planning a trip to Tofino. But if you'd like to jump straight to the hiking trails, click here.
---
Best Tofino Hiking Trails – My Picks
Over six days, I did every common hike between Tofino and Ucluelet (except for the two that require a boat taxi). Here were my favourite Tofino hikes:
Lighthouse Loop – Super short hike, but the lighthouse is beautiful.
Cox Bay Mountain – One of the few hikes with views of both mountains and beaches.
Canso Plane Crash – The plane in ruins on the side of a hill is both super cool and super creepy.
---
Planning a Trip to Tofino
Getting to Tofino
Tofino is located on the west coast of Vancouver Island. Although Tofino does have its own (small) airport, most visitors will drive in from either Vancouver or Victoria.
From Vancouver: Take the BC Ferry from Horseshoe Bay to Nanaimo. The ferry takes 1 h 40 min. You can view ferry schedules here. From Nanaimo, it is a three hour drive to Tofino, first driving north on Highway 19 and then west on Highway 4.
From Victoria: Instead of taking a ferry to Nanaimo, you can drive from Victoria to Nanaimo via Highway 1. The drive takes about 1 h 30 min.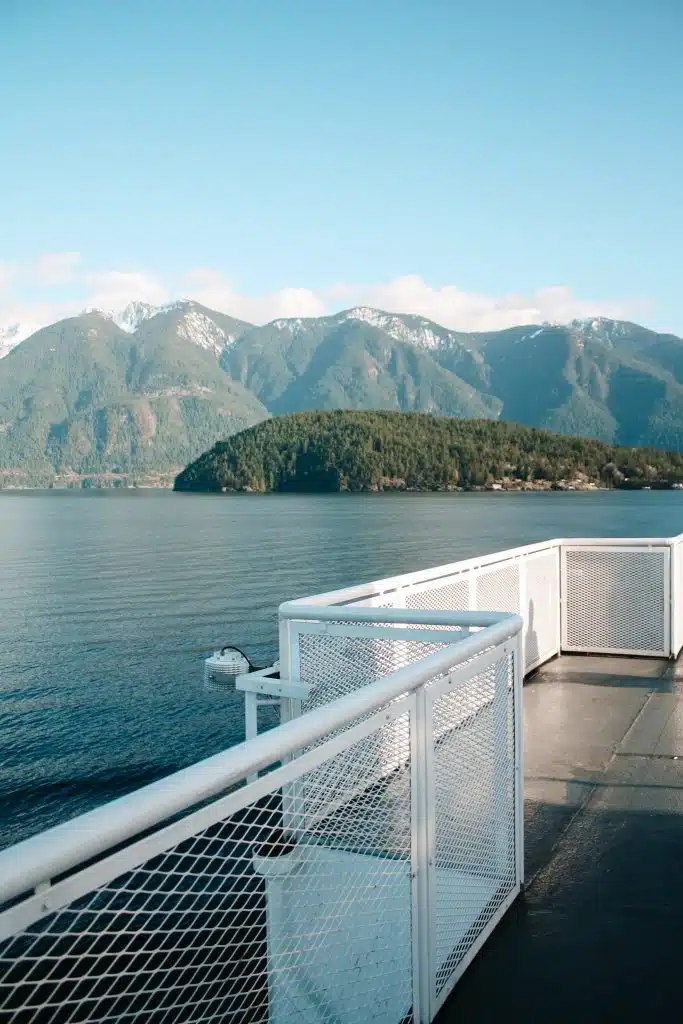 This post may contain affiliate links. If you make a purchase through one of these links, I may receive a small commission at no extra cost to you. Your support is much appreciated! You can learn more by reading my full disclosure.
Where to Stay in Tofino
Tofino has an overwhelming number of accommodation options, ranging from bare bones campgrounds to luxurious five star resorts. Most travellers will find themselves in mid-range accommodations, as I did when I first arrived in Tofino.
Normally I'd opt for camping, but it was the winter and I was keen to try out one of the cute and cozy boutique hotels. If you'd rather camp though, I suggest reading this post on the best and worst campgrounds in Tofino.
Anyways, I spent a long time researching which hotel I wanted to stay at, and I was really happy when I found "the one". Here's a little about the hidden gem that is Duffin Cove:
Duffin Cove
For this hiking adventure, I stayed at Duffin Cove. I wanted a place that felt cozy, had a view of the ocean and was within walking distance to the restaurants and grocery stores. Duffin Cove satisfied each of these requirements.
We stayed in one of their studio rooms which had an excellent view of the water and a king-size bed. There was a Nespresso machine in the room, though I didn't use it too much because the hotel was a short walk from two excellent cafes. The furnishings were modern, with wood paneling and a rain shower in the bathroom.
Duffin Cove also has two A Frame cabins right at the water. In addition to having more space, this option also has a kitchen and a BBQ.
Check availability at Duffin Cove
Bonus: If you have allergies, Duffin Cove is perfect for you. The rooms don't have carpets, were immaculately clean and each came with a Dyson air purifier. My boyfriend (who has terrible dust allergies) was traveling with me and he gives Duffin Cove a glowing review.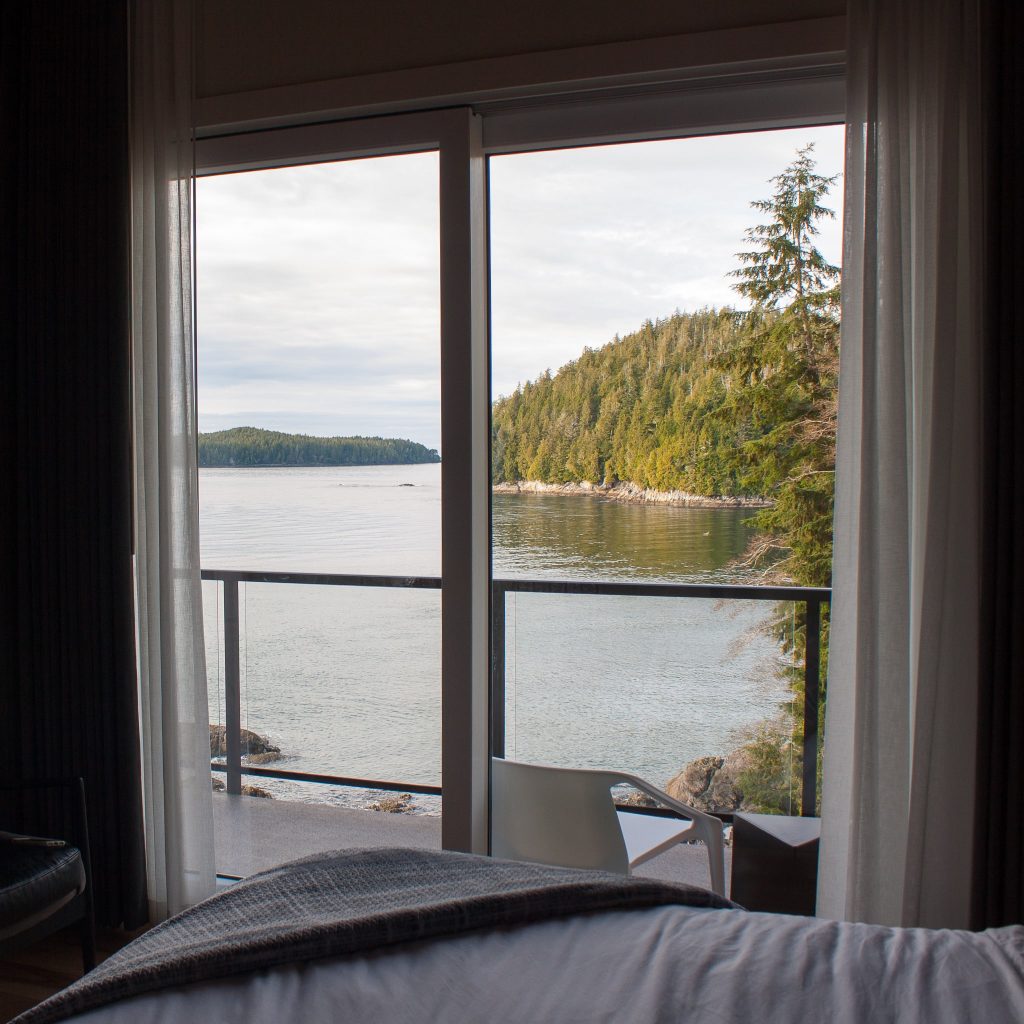 Disclaimer: I was given a complimentary room at Duffin Cove in exchange for photographing the hotel and surrounding area. All opinions are my own.
---
17 Incredible Hiking Trails in Tofino
Below you'll find information for excellent Tofino hiking trails. Some of the trails are located around Tofino itself, while others are located within Pacific Rim National Park or the nearby town of Ucluelet. All trails (with a few exceptions) are within a 45 minute drive of each other.
Note on Hiking in Pacific Rim National Park: A park pass is required to park at the trailhead for any hikes in Pacific Rim National Park. You can purchase the park pass in the parking lot – the machine looks like a Pay Parking machine – and you can leave the ticket on your dashboard.
---
Rainforest Trail
Location: Pacific Rim National Park
Distance: 2 km
Elevation Gain: 731 stairs
Vancouver Island is covered in a thick layer of rainforest. Trees tower above, seemingly a hundred feet high; their trucks are covered and the branches dip under the weight of bright green moss. Streams meander through the soil and ferns cover every inch of the forest floor. To see and touch the incredible beauty of Vancouver Island's rainforest, explore the aptly named Rainforest Trail.
There are two parts of the Rainforest Trail – one on the west side of the highway and one on the east. Both trails take you over a series of wooden boardwalks through dense, lush rainforest. The trails are short and suitable for beginners, however there are a lot of stairs.
---
Radar Hill
Location: Pacific Rim National Park
Distance: 0.2 km
Elevation Gain: 15 m
Radar Hill is the highest point in Pacific Rim National Park. There is a short trail to a lookout point and two red Adirondack chairs, as found in every national park.
This hike is also home to the Kap'Yong Memorial which remembers the soldiers from the 2nd Battalion Princess Patricia's Canadian Light Infantry who lost their lives during the Korean War. This unit received the United States Presidential Unit Citation – the only Canadian Unit to ever receive this award (according to the plaque at the memorial).
---
Canso Plane Crash
Location: Pacific Rim National Park
Distance: 5 km
Elevation Gain: 35 m
Although I was not expecting to find a hike like this in Tofino, this turned out to be one of my favourite hikes. The trail begins off the Pacific Rim Highway and the first section is wide and covered in gravel, bringing you to a graffiti-covered abandoned building.
After the building, the trail becomes much more rugged; I was climbing over fallen trees, stepping on roots to avoid ankle deep mud and holding onto branches to get up a few steep sections. Thankfully, Parks Canada recently put in a boardwalk over the bog section, which in the past would force hikers into knee deep mud for almost a kilometre. Despite the occasional bit of mud, the bog section was especially beautiful.
The hike culminates at the site of where Canso 11007 crashed into the hillside while on a routine flight from Coal Harbour to Ucluelet in 1945. The Canadian Air Force plane is still largely intact, although it has been severely vandalized.
Despite the fact that everyone survived the flight, I still found the plane to be eery, and I didn't stay there long. Perhaps this isn't a hike to do solo (even the park ranger I saw was surprised I'd done it alone, even though its an easy hike).
Read this post for excellent directions on how to find the trailhead.
Note: Please do not climb inside or touch the plane. The plane has experienced substantial degradation due to hikers over the years; the plane is not stable and there are many exposed and sharp pieces of metal throughout the site.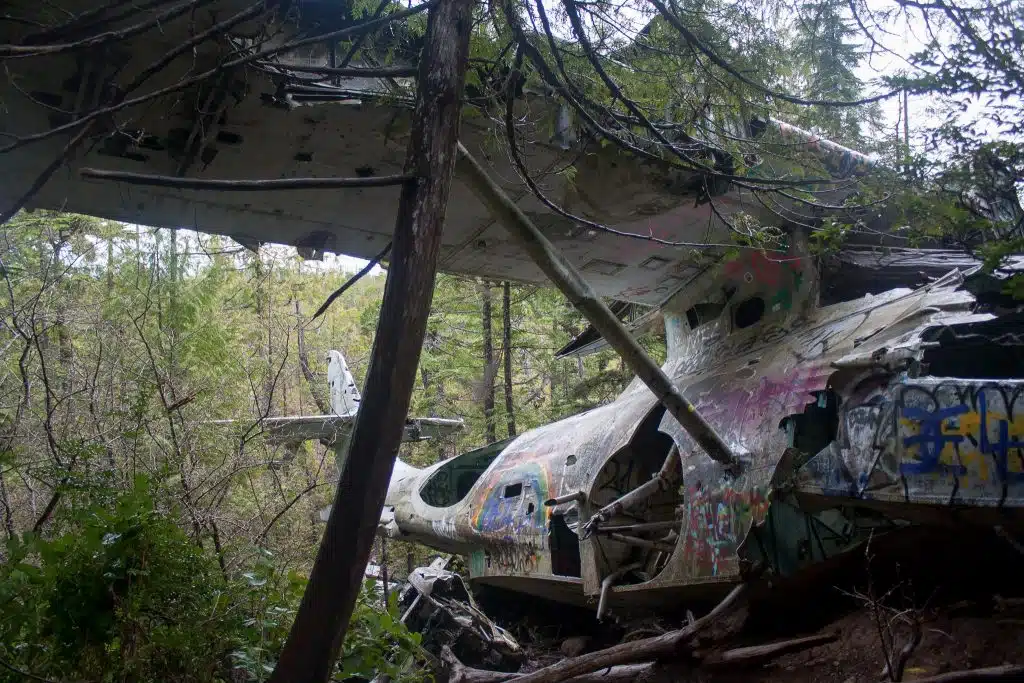 ---
Cox Bay Mountain Trail
Location: Tofino
Distance: 4 km
Elevation Gain: 400 m
This trail takes you up the side of a (very small) mountain on the southern shore of Cox Bay Beach. You can park at Cox Bay Beach. The trailhead is on the south end of the beach – there are no markers, just a big opening in the rocks and a rugged trail. From there, follow the muddy footprints of others until you make it to the top.
There is a point about halfway up that has a nice lookout and view of the beach and mountains in the distance.
Tip: If hiking Cox Bay Mountain Trial for sunset, give yourself more time than you think you'll need. The trail is very, very rugged so it takes some time. We had to turn back just shy of the peak because it was getting dark and we didn't have flashlights.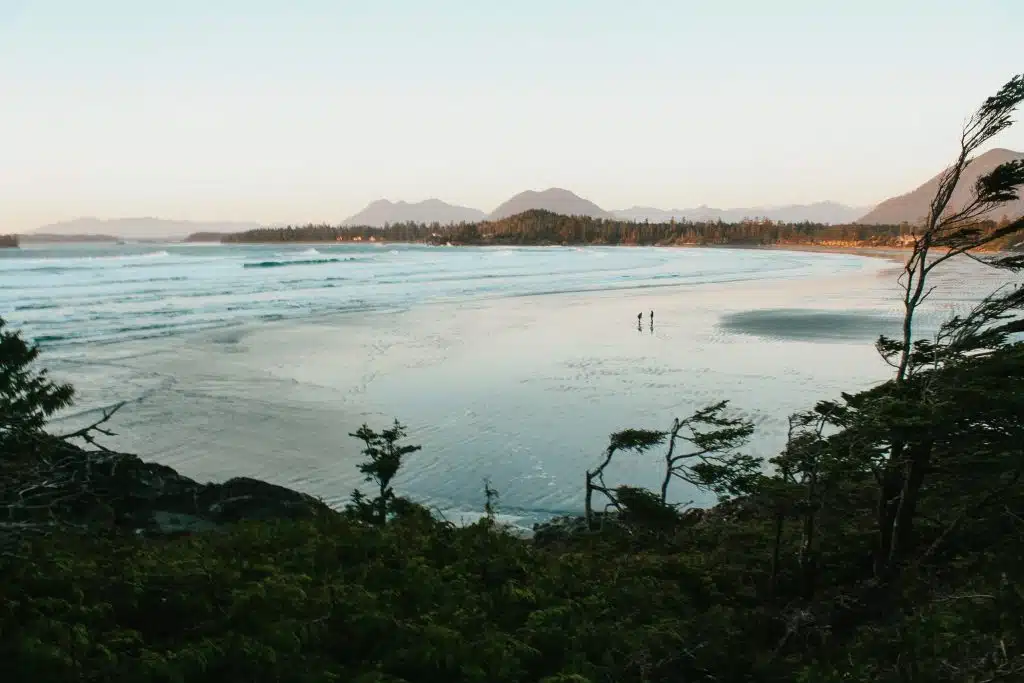 ---
Lighthouse Loop
Location: Ucluelet
Distance: 2.6 km
Elevation Gain: None
This is a very easy and scenic trail south of Ucluelet. The trail begins at the foot of the gorgeous Amphitrite Point Lighthouse, constructed in 1915 and still in operation today. From there it follows a wide and flat trail, tracing the coastline. Eventually, the trail loops through the forest to bring you back where you started.
In addition to the lighthouse, there are some nice views of rocky outcrops to the south and east, facing Carolina Channel.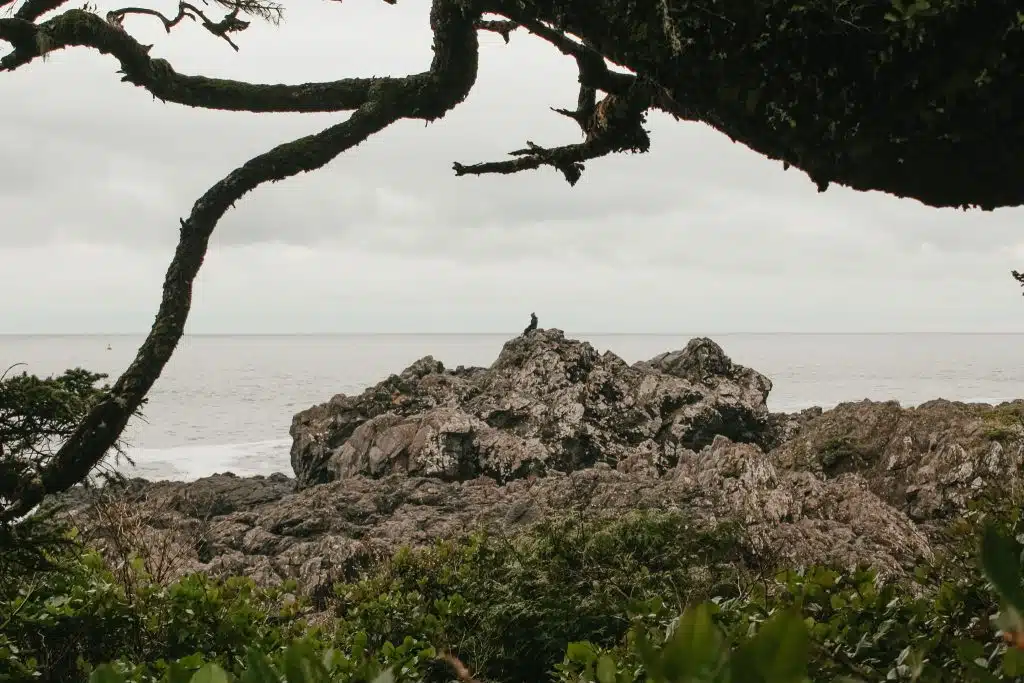 ---
Bog Trail
Location: Pacific Rim National Park
Distance: 0.8 km
Elevation Gain: None
This is a super short hike that is perfect for beginner hikers or parents hiking with kids. The trail is on a wooden boardwalk and takes you through a bog, one of Pacific Rim National Park's most unique ecosystems. The soil in the bog is incredibly acidic, and only a few types of plants can grow. You'll see Sphagnum Moss – which can be up to 2 m thick and 400 years old – and the Shore Pine, the only tree able to grew in the harsh, nutrient-poor soil.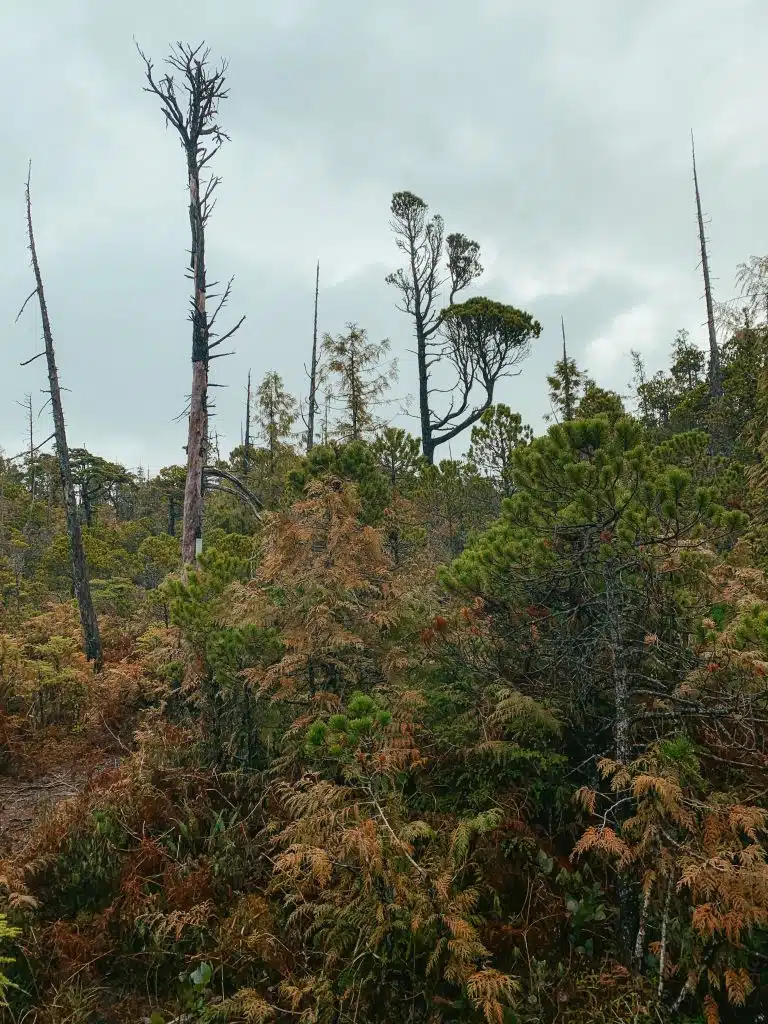 South Beach Trail // Nuu Chah Nulth Trail
Location: Pacific Rim National Park
Distance: 1.6 km // 3.8 km
Elevation Gain: 46 stairs // 284 stairs
South Beach Trail is apparently the most popular hiking trail in Pacific Rim National Park. We visited for sunset, which I highly recommend, it was beautiful!
Nuu Chah Nulth Trail leaves from the South Beach Trail and goes over a series of raised boardwalks through a wetland.
Note: The Nuu Chah Nulth and South Beach Trails are currently closed due to COVID-19 precautions. You can still access South Beach at low tide, by walking to it from Wickaninnish Beach.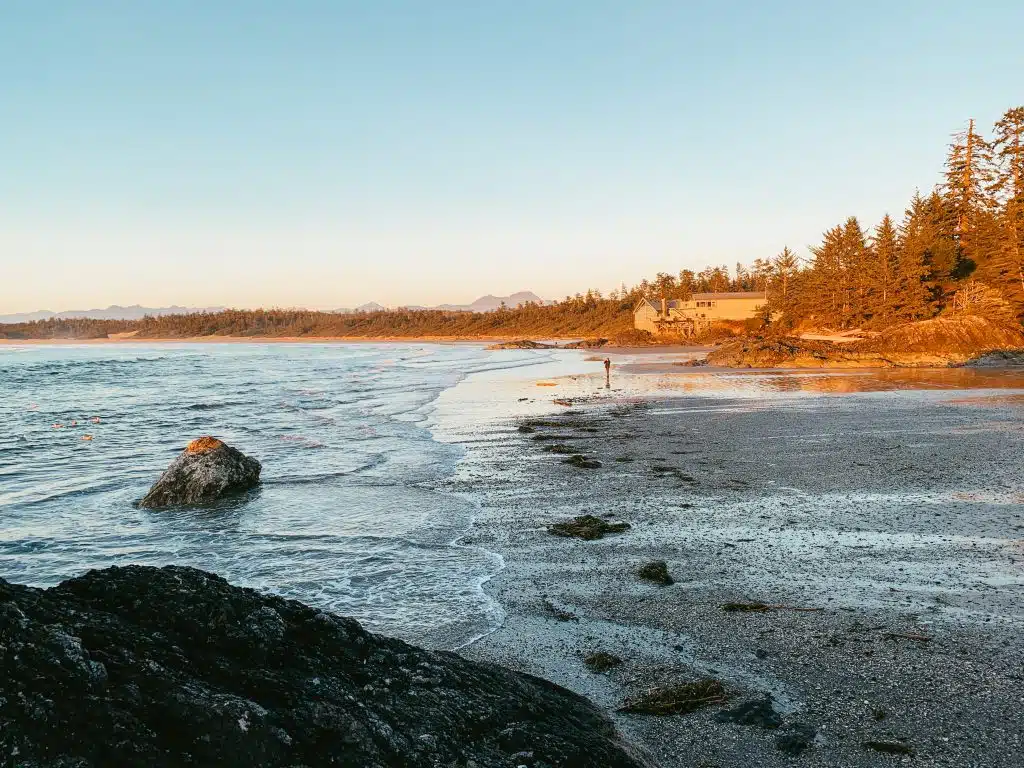 ---
Schooner Cove
Location: Pacific Rim National Park
Distance: 2 km
Elevation Gain: 336 stairs
This trail follows a boardwalk through the rainforest, passing by tall ancient cedars before until arriving at Schooner Cove Beach. I can't comment on the trail specifically because it was closed during my visit.
Note: Schooner Cove Trail is currently closed due to COVID-19 precautions.
---
Ancient Cedars Trail // Rocky Bluffs Trail
Location: Ucluelet
Distance: 0.8 km // 2.1 km
Elevation Gain: 30 m // 60 m
As the name suggests, the Ancient Cedars Trail is a part of the Wild Pacific Trail that passes by several ancient cedars and some Sitka spruce and western hemlock trees. Two of the cedars, in particular, are an attraction in and of themselves. Over 800 years old, the base of these trees is more than 12 meters around.
Although the Ancient Cedars Trail is short, it can be combined with Rocky Bluffs Trail to make a longer hike. This part of the trail has several viewpoints to see waves crashing onto the rocky shoreline.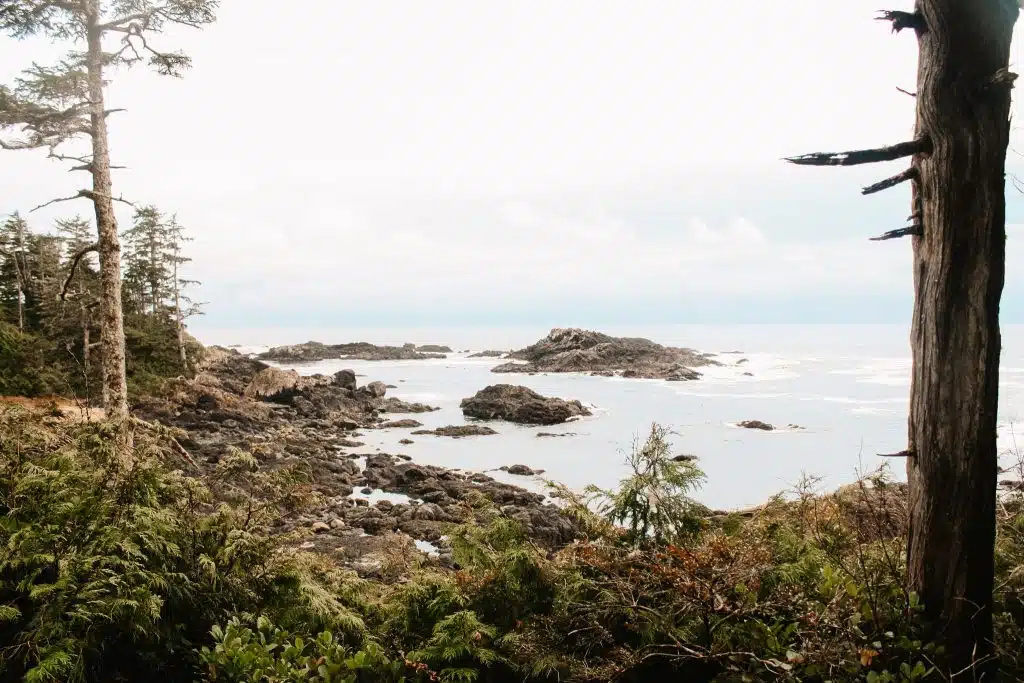 Read More: 25 Best Things to do in Victoria, BC + Travel Guide
---
Tonquin Beach
Location: Tofino
Distance: 3 km
Elevation Gain: 91 stairs
This beach gets a lot of hype, and I imagine a lot of that comes from its proximity to Tofino. While I was hiking to the Canso Plane Crash, my boyfriend did the hike to Tonquin Beach and said it was a little underwhelming in comparison to the other beaches (specifically Florencia, Cox Bay and Long Beach).
Regardless, if you'd like to check it out, you'll need to do the 3 km walk from the parking lot to the beach. There are quite a few stairs to do over the course of 3 km, however, it isn't challenging.
---
Halfmoon Bay Trail // Willowbrae Trail
Location: Ucluelet
Distance: 4.2 km
Elevation Gain: 120 m
I've grouped these two hikes because the hike out to Halfmoon Bay can be accessed from the Willowbrae Trail. Click here to see the trails on a map.
The Willobrae Trail goes from the parking lot to Florencia Beach, which is one of the prettiest beaches between Ucluelet and Tofino in my opinion. Toward the end of the trail, there is an opportunity to turn left and follow a trail to Halfmoon Bay.
Unfortunately, during my visit the Willowbrae Trail was closed, so we accessed Florencia Beach from the opposite side (near the parking lot for South Beach). That meant we weren't able to check out Halfmoon Bay Beach.
---
Combers Beach
Location: Pacific Rim National Park
Distance: 0.5 km
Elevation Gain: 6 stairs
I like to think Combers Beach got its name because its a good place to be a beach comber, scanning the sandy shore for washed up treasures. The walk about to Combers Beach is short – it's just half a kilometre – although the gravel path from the parking lot is quite steep.
---
Unlike the hikes above, which can be accessed from the main highway, the next two trails require a water taxi to access. I haven't hiked either of these trails, but I've heard really good things about them.
Note: The water taxi is currently unavailable to non-residents during COVID-19
Big Tree Trail
Location: Meares Island
Distance: 3.5 km
Elevation Gain: 106 stairs
Lone Cone Trail
Location: Kakawis
Distance: 7 km
Elevation Gain: 730 m
---
Other Things to do in Tofino
I have a full post on Things to do in Tofino (it also includes a more thorough travel guide). But below I've included a few of my favourite activities.
Surfing in Tofino
Although there are some fun hikes in and around Tofino, the town's real attraction is its excellent surfing. There are several beaches to try catching the waves, suitable for both beginners and experts.
Since neither of us had really surfed before, we did a surf lesson with The Surf Club at Long Beach Lodge & Resort.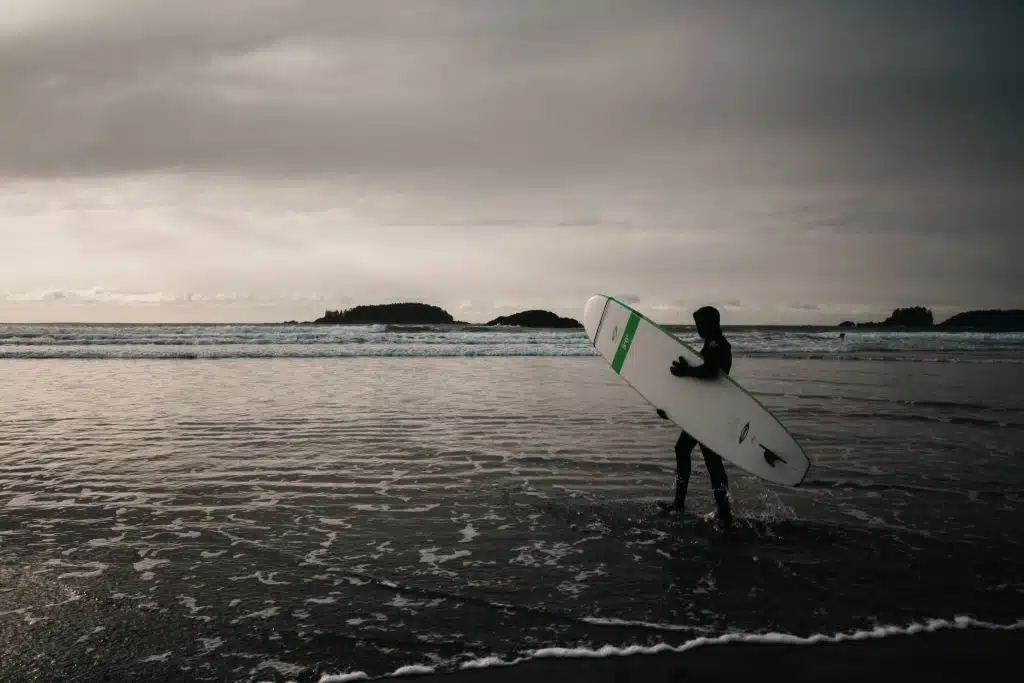 Flight-Seeing
One of my biggest regrets from my time in New Zealand was not taking a flight to a glacier when I had the chance. So now, when I learned there were mountains and glaciers near Tofino, we hopped on the next flight.
We did the Sand to Summits tour with Tofino Air. We flew over both the sandy beaches around Tofino and the mountains to the northeast. I highly recommend this tour!
Kayaking // Whale Watching Boat Tours
Tofino has some excellent tours for both kayaking and whale watching. I was visiting in the off-season, so unfortunately these tours weren't running. Most of the kayaking // whale watching tours run from May to September, so if you'd like to do one of these activities ensure you plan your trip accordingly.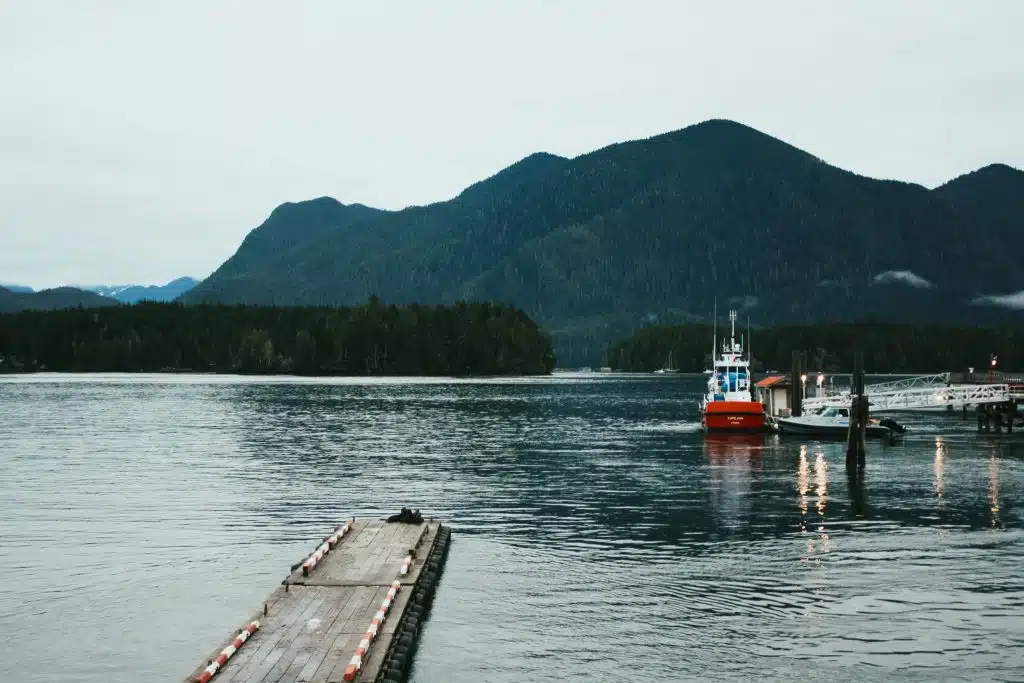 ---
Tofino Hiking – Final Thoughts
I hope this has been helpful and you've found some Tofino hikes to add to your travel plans. Always remember to be prepared and respect the environment. Happy trails!
Additional BC Guides: