After many always-too-short visits, I finally bit the bullet and moved to Vancouver. I've been living here for six months now, and truth be told, hiking is pretty much the only hobby I've picked up. There are just so many incredible hikes right in the city. Some meander through old growth rain forest; others are steep alpine climbs that make me wish I did more cardio workouts. Whatever your style, hikes in Vancouver are on another level.
Whatever your hiking ability, there are guaranteed to be some suitable hikes for you. I've divided this post into three sections: beginner, intermediate and advanced Vancouver hikes.
Here are 21 can't miss hiking trails in Vancouver.
---
Map of Best Hikes in Vancouver
Before we dive in, check the map below to see all of the Vancouver hiking trails mentioned in this list. I've colour-coded it by the level of difficulty.
Tip! Here is a tip I've learned from hiking in Vancouver so much. You'll get sweaty at the beginning of the hike (when you're climbing elevation) and then your shirt is a little damp. As you get higher, the temperature cools and your slightly damp shirt will make you really cold. I started wearing a merino wool hiking shirt, which wicks away sweat and, unlike cotton or polyester, keeps you warm while it dries. I highly recommend trying a merino wool hiking shirt!
---
21 Best Hikes in Vancouver
Easy Hikes in Vancouver
Although I believe the best hikes in Vancouver are all in the intermediate and difficult categories, there are a few beautiful yet easy hikes in Vancouver for you to try out.
These hikes are all in Vancouver itself, and have minimal elevation gain.
---
1. Inner Loop at Stanley Park
I've done the walk around Stanely Park sea wall a dozen or so times and I still love it. Most wouldn't consider it a hike – you're on a paved trail the entire time – but if you're new in your hiking journey this 9 km, entirely flat, walk is a good place to start.
Plus, it's such an iconic walk that any one visiting Vancouver should do it.
If you'd rather avoid paved trails, however, there are a few hikes within the park itself. I like the 8 km Inner Loop and the 5 km Beaver Lake Trail. I most recommend the Inner Loop. You'll see Prospector Point (excellent views of English Bay and the Lion's Gate Bridge), but you'll also get lots trail going through beautiful rain forest.
This post may contain affiliate links. If you make a purchase through one of these links, I may receive a small commission at no extra cost to you. Your support is much appreciated! You can learn more by reading my full disclosure.
---
2. Capilano Canyon and Cleveland Dam Loop
Capilano Pacific Trail is a wonderful trail in North Vancouver. There are a few routes you can take, though I personally like the shorter one because it's a better bang for your buck. It's a loop that takes you from the Cleveland Dam to a bridge that crosses the Capilano River and then back up to the dam on the other side.
The longer route involves the trail above, but tacks on a there-and-back trail that stretches down almost to the highway.
The loop section has some great views of the Capilano River and a few places where you can get down to the water (and have a swim in the chilly water).
Read More: Hiking Clothing 101: What to Wear Hiking & Backpacking
---
3. Capilano Suspension Bridge Park
Most wouldn't consider this a hike, but as one of the most beautiful Vancouver walking trails and a suitable length for beginners, I'm including it in the list.
The Capilano Suspension Bridge Park features the iconic and much-photographed Capilano Suspension Bridge. Originally built from hemp and wooden planks in 1889, the bridge has been rebuilt several times. It currently consists of thick steel cables and sweeps 140 m across a canyon.
In addition to walking over the bridge itself, there are also several tree-top suspended bridges. Here you can walk among the branches and touch the sturdy branches of Douglas Fir and Hemlock.
Capilano Suspension Bridge Park is a paid park (check ticket prices here) and tends to be busy now that's it's become a major tourist attraction.
---
4. Twin Falls and the 30 Foot Pool
A free alternative to the Capilano Suspension Bridge is the Lynn Canyon Suspension Bridge. There is a nice 3 km loop that goes around the canyon and over the bridge, however I'd recommend choosing the slightly longer 5 km route that also goes to Twin Falls and the 30 Foot Pool.
Both trails are relatively easy, however there are a few stairs to climb and uneven terrain throughout. If you get hot, be sure to take a tip in the river at 30 Foot Pool. The gorgeous green water is especially refreshing.
---
5. Velodrome and Pandora Trails at Burnaby Mountain
Location: Burnaby Mountain
Length: Between 3 and 10 km
Elevation Gain: Between 161 and 337 m
Link to AllTrails: Burnaby Mountain
Burnaby Mountain is a great way to get some mountain views without breaking a sweat. There is parking near the top of the mountain, and from here there are a few different trail options.
The longest would be the Simon Fraser University trail, with a total length just under 10 km and a moderate level of elevation gain (337 m).
Alternatively, the Velodrome and Pandora Trails take you down a beautiful staircase with views of the ocean and north shore. This route is less than 3 km and only 161 m of elevation gain, however all that gain occurs while climbing stairs.
Read More: 10 Best Easy Hikes in Vancouver: Chill Trails with Amazing Views
---
Intermediate Hikes in Vancouver
The following hikes are more difficult because they have a lot more elevation to them, but they aren't super long and are fairly straightforward easy to navigate.
6. Eagle Bluffs via Black Mountain Trail
This is probably the prettiest hike I've done in Vancouver so far. The trail starts from the parking lot in Cypress Provincial Park, so thankfully a lot of the elevation gain is climbed while in a vehicle.
Still, the trail starts off quite steep and the first two kilometers are kind of brutal. But once you get passed the 2 km mark, the trail levels off and actually decreases in elevation a little. It's much more pleasant from here on.
The trail is well marked and easy to follow. One thing to be mindful of is that this is an incredibly popular hike (see the photos and you'll know why) so go early or on a weekday if possible. I went on a Friday morning and there were 8 or 10 other people at the view point. I can't imagine how busy it would be at noon on a Saturday.
Tip: On your way to Eagle Bluffs, make a stop by Yew Lake Lookout. Here you'll get a great view of The Lions.
---
7. The Grouse Grind
Location: Grouse Mountain
Length: 2.9 km one way
Elevation Gain: 785 m
The Grouse Grind has been appropriately named "Nature's Staircase" and is one of the most iconic hikes in Vancouver. While the elevation gain is aggressive, the trail is relatively short and easy to follow.
An added benefit to this hike is that you get to work on improving your hiking fitness without doing a wilderness trail. Plus, if you don't feel like hiking back down the staircase, you can purchase a "Download" pass for $15 at the top and take the gondola down.
And if you REALLY want a work out, there are two excellent trails (Crown and Goat Mountain) that leave from the top of the Grouse Grind.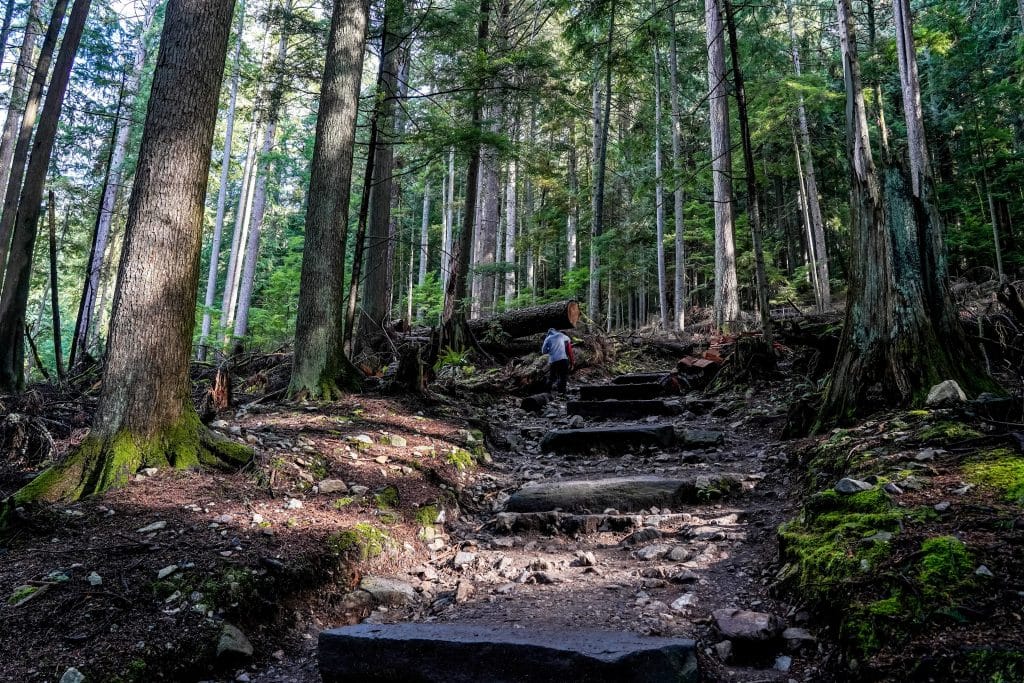 Read More: 17 Incredible Tofino Hiking Trails: A Hiker's Guide to Tofino, Ucluelet and Pacific Rim National Park
---
8. Goat Mountain // Crown Mountain
Location: Grouse Mountain
Length: 7.1 km round trip // 9.0 km round trip
Elevation Gain: 393 m // 874 m
Link to AllTrails: Goat Mountain // Crown Mountain
I've grouped these two mountains together because you follow the same trail for the most part. The trail leaves from the top of Grouse Mountain (passed the Grizzly Bear habitat) and follows the ridgeline to Darn Mountain and Little Goat Mountain before arriving at a fork in the trail. Take the right pathway, and you will quickly arrive at Goat Mountain. Take the left trail for a slightly longer (and more difficult) walk to Crown Mountain. Or, if you have time, you can even visit them both.
Although the elevation gain isn't much for Goat Mountain, there is some climbing involved to get to the peaks. For example, in order to get to the top of Goat Mountain, you'll need to hold onto a rope and climb up a trail that is almost vertical.
On the other hand, Crown Mountain has almost double the elevation gain because after the turnoff, you actually descend the side of Goat Mountain and then climb up Crown Mountain. It is not for the faint of heart!
That said, this was one of my favourite hikes for views. It was truly panoramic!
---
9. Hollyburn Trail
Location: Cypress Provincial Park
Length: 8.7 km round trip
Elevation Gain: 446 m
Link to AllTrails: Hollyburn Peak
This trail takes you to the top of Hollyburn Peak and can be accessed from the parking lot at Cypress Provincial Park. The first section is a little monotonous – you're climbing the side of a ski hill. But this only lasts a few minutes and then you'll come to a forested section and from here on out it is much more enjoyable.
The total elevation gain isn't much, though there are a few particularly steep sections. I personally would recommend hiking shoes, however many people (including my friends) did it just fine in trainers.
It's understandable why Eagle Bluffs is the more popular hike. The view from the top of Hollyburn is great, however it is much more obstructed than that of Eagle Bluffs. You don't get the same panoramic view.
---
10. Mount Fromme
Location: Slightly southeast of Grouse Mountain
Length: 11.1 km round trip
Elevation Gain: 886 m
Link to AllTrails: Mount Fromme via Dreamweaver
Mount Fromme is actually the first peak I hiked in Vancouver, so it holds a special place in my heart. There are a couple of ways to access the trail; I started at the end of Prospect Rd and followed the Dreamweaver Trail until the Peer GYNT Trail. If that sounds confusing, click the link above to see the route.
There's no way to sugar coat it, as far as Vancouver hikes go this one is a slog. It's non-stop incline for the entire way, and you aren't treated to any views until you get to the top. That said, the view at the top are pretty spectacular.
This part of the north shore has dozens of intersecting trails. I recommend downloading the route map on AllTrails to avoid getting mixed up!
Tip: This was the first real hike I did in Vancouver and I wore a polyester athletic shirt that got so sweaty – and I was so chilly at the top (even when I put a sweater on). It was this hike that inspired me to get a merino hiking shirt.
Read More: 15 Best Viewpoints in Vancouver: Skyline, Mountains, Beaches & More
---
Difficult Hikes in Vancouver
I haven't hiked all of the difficult Vancouver hiking trails yet, so I've turned to my friends for their suggestions. Since I haven't hiked the following trails myself, I haven't included descriptions or photos for them. Once the snow clears and I can get back to the trail, I'll get these done and update the list.
11. The West Lion Hike
Location: Cyprus Provincial Park
Length: 21 km
Elevation Gain: 1447 m
Link to AllTrails: West Lion Hike
12. Brunswick Mountain
13. Mount Seymour
Location: North Vancouver
Length: 8.2 km
Elevation Gain: 577
Link to AllTrails: Mount Seymour Trail
14. South Needle
Location: North Vancouver
Length: 14.2 km
Elevation Gain: 1358 m
Link to AllTrails: South Needle Trail
---
Best Hikes Near Vancouver
If you're willing to venture outside of the city, there are some great hikes near Vancouver. Squamish and Whistler tend to be the most popular destinations for hiking trails outside of Vancouver, and Chilliwack also has some great ones. I haven't done all of these myself, so some come at the recommendation of my BC-resident friends.
Anyways, these are the best hikes near Vancouver.
15. Joffre Lakes
Location: Pemberton
Length: 7.7 km
Elevation Gain: 491 m
Link to AllTrails: Joffre Lakes
Despite being a bit of a drive from Vancouver, Joffre Lakes continues to be an extremely popular hiking destination. Understandably so, as who could pass on those topaz waters and snow capped peaks.
The trail is fairly easy, especially if you are only going to the first lake (many people go only to the first lake, snap that classic "standing on the tree" photo and turn around). If you continue though, you'll get even better mountain views.
Note: Due to COVID-19 restrictions, Joffre Lakes is closed to visitors.
---
16. Iceberg Lake
Although a serious uphill grind, this is one of my favourite hiking trails I've ever done. The first 3/4 of the trail is through forest and not particularly remarkable, with the exception of a nice waterfall. Once you get passed the trees, however, you enter this alpine meadow with views of mountains and a glacier. Beautiful!
The trail culminates at Iceberg Lake, which is a small, silty lake at the foot of the glacier. I went for a swim in it and can confirm that it is as cold as you would expect.
Although the elevation gain is challenging (I recommend trekking poles), it is well worth the effort.
---
17. Half Note and High Note
This trail begins at the Roundhouse Lodge at the top of the Whistler Mountain and is accessible by gondola. This means that you get high alpine views without too much elevation gain.
---
18. Stawamus Chief Trail
Also known as "The Chief", this is the most popular hike in Squamish. The hike is to the top of the iconic monolith that towers over the town. There are three peaks in total, and you can do one, two or all three of them. The trail is really easy to follow and is suitable for all levels of hikers. However, there are a few tricky parts. The beginning section has wooden stairs and is really steep (you'll be exhausted!) and the final part to reach each of the peaks is quite steep and exposed. There are ladders/chains to help you up.
The effort is totally worth it though – the views are incredible. Final tip: Avoid hiking the Chief on the weekend if you can. It gets really busy.
The following three hikes are still on my bucket list. I'll update this list once I've hiked them!
19. Elk Mountain Trail
Location: Chilliwack
Length: 8.2 km
Elevation Gain: 746 m
Link to AllTrails: Elk Mountain Trail
20. Watersprite
21. Elfin Lakes
---
Best Vancouver Hiking Trails – Final Thoughts
I hope this post has helped you find the best hikes in Vancouver and decide which one to do next. Vancouver has hundreds of hiking trails, which is both wonderful and a tad overwhelming. I hope you now have a better idea of what trail you might like to do next.
Additional Resources for Adventures in Vancouver