It's no secret Vancouver is my favourite city in the world. While Vancouver has just about everything you could ever want or need, sometimes you need a little break from the city. That's where this post comes in.
14 Vancouver Weekend Getaways – Overview
It is truly incredible how central Vancouver is to so many weekend adventures. So to help you navigate this post, I've ordered the destinations by their approximate distance from Vancouver.
The first section is Vancouver weekend getaways that are within 2 hours, like Bowen Island and stops on the Sea-to-Sky Highway. The next section contains weekend getaways that are between 2 and 4 hours from Vancouver, like places on the Sunshine Coast and a few places in Washington State. Finally, we have destinations that are 4 or more hours from Vancouver that are better for long weekends.
Here are the Vancouver weekend getaways included in this post:
Some of these destinations I've written about personally and some have been recommended by other travel bloggers.
---
Vancouver Weekend Getaways – Less than 2 Hours Away
1. Bowen Island
Time from Vancouver: 1 hr
Bowen Island is a quiet haven just a stone's throw from Vancouver. It's been mindfully developed, with old cottages and modern cabins. Most of the island is covered in forest and there are a few different hiking trails to explore. Since Bowen Island is so close to Vancouver, most people just visit for a day trip. However, there's something nice about walking the quiet streets early in the morning before the day trippers arrive or catching the sunset while eating dinner. So I think it's a perfect Vancouver getaway!
How to get to Bowen Island
Getting to Bowen Island is super easy. You can either drive or take the bus to the Horseshoe Bay ferry terminal. You can take your car on the ferry or park it at the terminal and go as a foot passenger. From there it is a 20-minute ferry ride to Bowen Island. At the time of writing, the ferry costs $10.50 for a round-trip ticket (as a foot passenger). When you reach Bowen Island, you'll arrive in Snug Harbour which is the downtown area with shops and restaurants. Most things to do in Bowen Island are within walking distance of the ferry.
This post may contain affiliate links. If you make a purchase through one of these links, I may receive a small commission at no extra cost to you. Your support is much appreciated! You can learn more by reading my full disclosure.
Things to do on Bowen Island
Hike to the top of Mount Gardner: This is a 10 km hike with 700 m of elevation gain and great views of Howe Sound. Only do the hike if the weather is good, as there won't be any view from the top if it's foggy.
Walk around Killarney Lake: Lovely trail if you want something easier than Mount Gardner.
Window shop around Snug Cove: There are tons of cute and quaint shops around Snug Cove (where the ferry docks). There are also lots of yummy places to eat.
Go kayaking: Bowen Island Sea Kayaking offers kayak rentals and tours from Snug Cove. The Pasley Island Tour full day tour is considered the best kayaking day trip in the Lower Mainland.
Where to Stay on Bowen Island
I have family on Bowen Island, so I haven't stayed at any of the hotels. However, I have heard really good things about Artisan Suites on Bowen. It's right near Snug Cove, so you're within walking distance from the ferry, restaurants, shops and the Visitors' Centre.
Read More: Things to do on Bowen Island: Hiking, Restaurants, Accommodations & More
---
2. Squamish
Time from Vancouver: 55 min
Squamish sits almost in the middle between Vancouver and Whistler. Most people drive through Squamish on their way to one or the other, but that would be a mistake. There are amazing things to do and see here to make it a wonderful weekend getaway from Vancouver.
How to get to Squamish
One of the best things about Squamish is that you'll need to take the Sea To Sky Highway to get there – and it's one of the most beautiful and spectacular highways in the world. For most of the drive, you are hugging the side of mountains while looking down onto the Pacific Ocean or up at majestic snow-capped mountains.
You'll first need to make your way from wherever you are in Vancouver to West Vancouver. From West Vancouver, Squamish is a short drive (65 km total) along the Sea-to-Sky highway. The highway goes right through Squamish so you can't miss it.
Apart from driving, you can reach Squamish by bus. There are several private companies that offer direct service from various locations in Vancouver for a modest price.
Things to do in Squamish
Squamish is an outdoor person's paradise. When not on rapids, enjoy being surrounded by nature, including dozens and dozens of bald eagles who nest nearby.
Sea to Sky Gondola: Take the Sea To Sky Gondola up 2900 feet to hike, walk and overlook majestic mountains and the Pacific Ocean below. If you feel energetic, you can hike up or down instead of riding the gondola.
Hiking: Next door to the Sea to Sky Gondola, you watch the awe-inspiring Shannon Falls. If you're up for more action, hike The Chief, the most popular hike in Squamish. While the Chief isn't a long hike, it does involve a lot of elevation gain and a few really steep parts.
Rock Climbing: If you're into rock climbing, you'll love Squamish. The sheer granite face of the Chief is a popular climbing spot.
Whitewater Kayaking / Rafting: If you want even more thrills, hop on a white water rafting trip on the Cheakamus River.
Recommended by Nicole of Go Far Grow Close
Where to Stay in Squamish
For budget travellers, consider The Crash Squamish or Squamish Adventure Center (hostel). Both are within walking distance of everything in town, so you wouldn't need a car if you came up with the shuttle. Another option would be the beautiful Squamish Highlands Bed & Breakfast, however, you'll need a car to access it and get around.
---
3. Whistler
Time from Vancouver: 1 h 30 min
Whistler is probably the most popular weekend getaway from Vancouver. While I was living in Vancouver, this was the most common weekend trip we took. Whistler is often thought of as a winter destination due to the famous Whistler-Blackcomb ski hill. However, Whistler also has lots of summer activities and full-year activities too.
How to get to Whistler
From Vancouver, Whistler is a 1.5 hour drive north on the Sea to Sky Highway. Halfway through the drive, you'll pass through Squamish. If you need to pick up groceries or alcohol, I've found prices to be somewhat cheaper here than in Whistler. There is a bus and shuttle that goes to Whistler from downtown Vancouver. If you're going skiing/snowboarding, this is a great option since the village is so walkable. However, if you'll be hiking or visiting attractions outside the village, you'll want a car.
Things to do in Whistler
Skiing / Snowboarding: Whistler offers excellent skiing and snowboarding through Whistler-Blackcomb Ski Resort.
Scandinave Spa: This is an amazing spa a little north of Whistler. At the end of an active day, spend a few hours dipping in between hot tubs, cold plunges, infrared saunas and steam rooms. They also have massages and other spa treatments for an additional fee. I recommend going at night when they have ferry lights strung throughout the property.
Hiking: There are dozens of amazing alpine hikes around Whistler. I personally love the Iceberg Lake and Half Note – High Note.
Other activities: Whistler and the surrounding area also have ziplining and snowmobiling, dog sledding and mountain biking. This is definitely the place for adventure lovers!
Where to Stay in Whistler
For budget travellers, there are two hostels in Whistler: HI Whistler and Whistler Lodge Hostel, though neither of them is located in the village which is a little inconvenient if you don't have a car. For luxury hotels, you can consider The Westin Resort and Spa or The Fairmont Chateau Whistler. Both are located right in the village and in the winter, you can ski right to the doors.
There are literally hundreds of mid-tier hotels, plus tons of options on Airbnb. Regardless of what type of accommodation you're looking for, ensure you book very far in advance, especially in the winter.
---
4. Garibaldi Provincial Park
Time from Vancouver: 1 h 30 min
Garibaldi National Park is a wilderness park located on the coastal mainland between Whistler and Vancouver and is a fantastic weekend break from the city. The park is easy to get to from Vancouver located 70 kilometres, about a 1.5 h drive north of the city. Garibaldi National Park with more than 90 kilometres of well-marked trails is named after the glacier-ringed Mount Garibaldi (2,678-meters).
How to get to Garibaldi Provincial Park
Drive to Rubble Creek parking area to access Garibaldi Provincial Park. From Vancouver, take Highway 99 known as the Sea-to-Sky Highway. The trailhead can also be reached by public transport by taking the Parkbus from Downtown Vancouver.
Things to do in Garibaldi Provincial Park
The Garibaldi Lake hike is the most popular and the lake has a fantastic campsite to spend the weekend. The spectacular Garibaldi Lake with turquoise glacial waters is located 1450m above sea level, surrounded by snow-capped mountains, alpine meadows, and volcanic structures. Take enough water there are not many places to refill when hiking to the lake.
This is a popular place to camp for the weekend with plenty of fun activities such as swimming in the lake or doing the famous hiking routes to Black Tusk, Panorama Ridge or Elfin Lakes. The trailhead is located at the Rubble Creek parking area, located between Vancouver and Whistler and you can leave your vehicle here for the weekend. It is not an easy stroll to get to the lake, it is a 9km hike, uphill the whole way and takes most people about 3 to 4 hours. Reaching the beautiful campsite, a swim is a great reward and the perfect place to spend a weekend break away from Vancouver.
Recommended by Alya of Stingy Nomads
Where to Stay Near Garibaldi Provincial Park
Within the park, there is backcountry camping (hike-in campgrounds) and there is also the Kees and Claire Hut (also hike-in). Both camping options need to be booked well in advance. If you don't want to overnight in the park, there are Airbnbs and Hipcamp sites nearby. You can also check out the hotels mentioned in the Whistler section for nearby hotels.
---
5. Pemberton
Time from Vancouver: 2 h
This scenic village of fewer than 3000 people is set against a backdrop of beautiful mountains and offers year-round availability of outdoor adventure activities. With such a variety of active outdoor experiences, Pemberton is definitely worth a stop on a road trip through British Columbia and it makes a great weekend destination for adventure-seeking travellers.
How to get to Pemberton
It is located two hours north of Vancouver and can be reached by driving up Highway 99, the 'Sea to Sky Highway' which features panoramic views of the ocean coastline.
Things to do in Pemberton
Pemberton offers some of the best snowmobiling in Western Canada and there are several rental and tour providers in the area.
In the summer, try horseback riding, fishing, golf, mountain biking or rafting. For fun in the winter, consider cross country or backcountry skiing, snowshoeing and especially snowmobiling. The nearby Nairn Falls Provincial Park offers camping sites and picnic facilities along with a network of mountain biking and hiking trails that pass by a 60-metre high waterfall.
To sample some local food and drinks, stop by the Pemberton Farmer's Market from June to October, take a tour of the Pemberton Distillery for handcrafted organic spirits or consider an agri-tourism experience on a visit to a local farm.
Recommended by Claire of Claire Pins
Where to stay in Pemberton
---
Vancouver Weekend Getaways – 2 to 4 Hours Away
6. Victoria
Time to Vancouver: 3 h
Victoria is the capital city of British Columbia and is affectionately referred to as 'the garden city'… a quick stroll through downtown will explain why. The downtown wraps around the Inner Harbour, where boats of all shapes and sizes moor. Lining the waters' edge is the iconic Fairmont Empress and the parliament buildings.
How to get to Victoria
Drive south from Vancouver to the Twassassan ferry terminal – this should take about 30-45 minutes depending on traffic and where in Vancouver you are. From here you'll be able to catch the ferry to Swartz Bay, a total of 1.5 hours on the water. From there, it takes about 30 minutes to drive to downtown Victoria.
Things to do in Victoria
There is a ton to do in Victoria, and you can get a surprising amount done even if you only have a little bit of time for a weekend trip from Vancouver.
Go on a Whale Watching Tour – Victoria's located at the southern tip of Vancouver Island puts it in the perfect place for whale activity. Most tours are around about 3 hours long and you have a high likelihood of seeing multiple whales.
Wander around Butchard Garden – This is one of the best botanic gardens I've been to. It's absolutely huge and it's incredible to think it used to be a private residence.
Explore Inner Harbour – This is where the parliament buildings and Fairmont Express are. It's a really beautiful area with tons of restaurants.
Get lunch at the Fisherman's Wharf – This spot has awesome quick bites served from houseboats on a dock. Excellent lunch spot!
Read More: 25 Best Things to do in Victoria, BC + Travel Guide
Where to Stay in Victoria
We stayed at the Grand Pacific Hotel, which is right on Inner Harbour and was very nice. The Fairmont Empress is a block away and would be an excellent (and iconic) place to stay if you have the budget for it. For budget options, there is a good Ocean Island Inn, which has dorms for backpackers, and there are plenty of Airbnbs. Try to stay somewhere near Inner Harbour if you can.
---
7. North Cascades National Park (USA)
Time from Vancouver: 2.5 hours
If you're looking for a weekend getaway that offers mountain views and pristine wilderness, North Cascades National Park, located in Washington state, should be at the top of your list.
Given that most of the park is at high elevations, its roads become inaccessible for a significant part of the year due to snow, so the best time to visit the park for unencumbered outdoor exploration is from mid-July through early October. The park is at its most beautiful in late September through early October- its fall foliage, including its golden larches, is incredibly vibrant and offers some of the most unique autumnal landscapes in the United States.
How to get to North Cascades
Driving south from Vancouver, you'll go through Richmond, Delta and White Rock, arriving at Peace Bridge to cross into the US.
Things to do in and around North Cascades
If you're okay with a longer drive, consider making the charming town of Winthrop, 4.5 hours southeast of Vancouver, your home base. The town was established during the late 1800s gold rush and still retains many of its original boardwalks and Wild Western facades.
Check out some of the best hikes in the park, like the 7.2 mile Maple Loop Pass, which will lead you across a mountain ridgeline, with panoramic views of the surrounding Cascades, or the Blue Lake Trail, a 4.6 mile hike that leads you through dense pine forest to a vibrantly-colored alpine lake.
This highway runs across the south end of the park and is the primary way to access the park. It has access to tons of trailheads and campgrounds, but it also has some scenic viewpoints along the road. Check out Diablo Lake Vista Point, Ross Lake Overlook and Gorge Overlook Trail.
Recommended by Jessica of Uprooted Traveler
Where to Stay in North Cascades
North Cascades NP has lots of backcountry and front country campgrounds. You can find all camping options on the NPS website. The nearest non-camping accommodation to North Cascades would either be the Mt Baker Hotel, or a place in Winthrop like the Methow River Lodge.
---
8. Egmont
Time from Vancouver: 3 hr
Egmont is a wonderful hidden gem on the Sunshine Coast. This tiny town sits at the end of Egmont Road, at the opening of Sechelt Inlet. There's nearby hiking, paddling and the incredible, alternating rapid at Skookumchuck Narrows.
How to get to Egmont
Take the ferry from Horseshoe Bay to Langdale (1.5 h), and then drive north on the Sunshine Coast Highway towards Earl's Cove. Right before Earl's Cove, there is a turn-off onto Egmont Road. Follow Egmont Road until you reach the town. The driving component of this trip is 1.5 hours.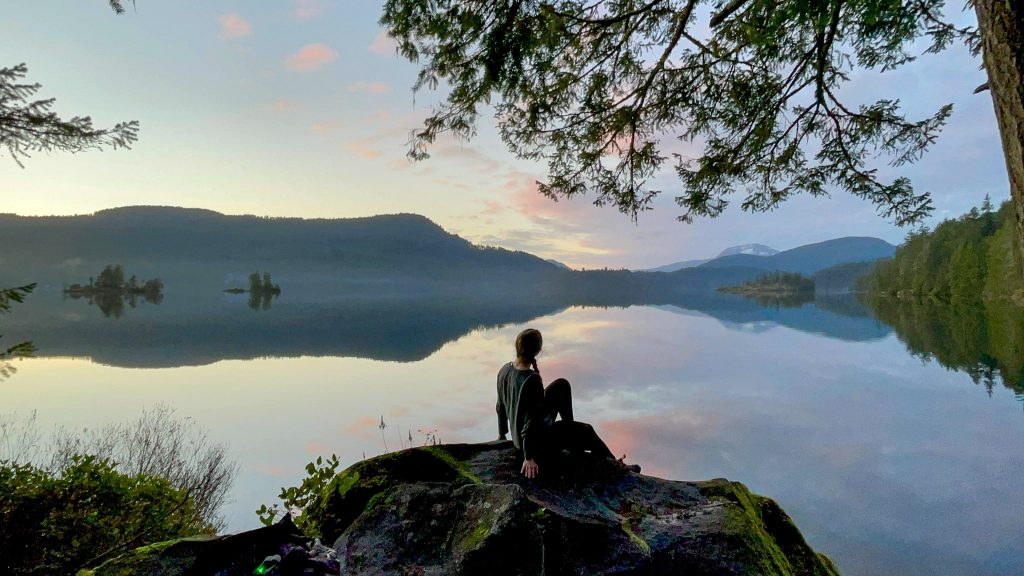 Things to do in Egmont
Hike to Skookumchuck Narrows Provincial Park: Here you can see Sechelt Rapids, which is a huge seawater rapids that changes direction twice per day.
Take a boat tour: Egmont is on the shores of Princess Louisa & Jervis Inlets, and a boat tour will bring you to Freil and Chatterbox Falls.
Take a kayak tour: Backeddy Resort & Marina offers kayak tours throughout Sechelt Inlet and Jervis Inlet that leave directly from their docks.
Go hiking: On your way to Egmont, stop at Smuggler Cove Marine Provincial Park for some easy hiking trails.
Where to Stay in Egmont
We stayed at Backeddy Resort & Marina in one of their rustic cabins (which conveniently has a kitchen set up). They also have geo-domes and modern cabins that have full windows on the ocean side. The West Coast Wilderness Lodge is next door and is a little more upscale; the rooms are larger and part of a lodge (rather than independent units) and they have a nice restaurant and lounge area.
---
9. Seattle
Time from Vancouver: 3 h 15 min
Seattle, Washington is such a fun weekend getaway from Vancouver, Canada. There are a ton of inexpensive things to do and many amazing places to eat. You can easily fill up a weekend with fun activities.
How to Get to Seattle
It is very easy to get to Seattle from Vancouver. Seattle is only a 2 hour and 40 minute drive from Vancouver straight down the I-5. You could also opt to take the train which will take about 3 hours. Tickets usually start at $27 each way.
Things to do in Seattle
Visiting the Space Needle and the Chihuly Gardens and Glass are a must. The Space Needle has a newly installed glass rotating floor that offers impressive views of the city. Get a CityPass to save money if you plan on visiting a lot of the touristy sites. Chihuly Gardens and Glass showcases the work of Dale Chihuly who learned his glassblowing techniques in Italy.
A trip to Seattle is not complete without a stop at Pikes Place Market for some food. Three Girls Bakery and Rachel's Ginger Beer are two favourite stops. Make sure to check out the fishmongers throwing fish around the market too!
Other fun things to do in Seattle include Pioneer Square, an Underground Tour, Klondike Gold Rush National Historical Park, and a day trip to Bainbridge Island.
Recommended by Francesca of Hometown Travel
---
Vancouver Weekend Getaways – 4+ Hours Away
10. Kelowna
Time from Vancouver: 4 h 30 min
Located in the heart of the Okanagan Valley, Kelowna is the perfect place to escape the hustle and bustle of Vancouver. The weather is warm, Okanagan Lake is stunning, and the city is surrounded by vineyards and orchards.
How to get to Kelowna
From Vancouver, Kelowna is a 4.5-hour drive away. Take Highway 5, which is an incredibly scenic route through the mountains. Alternatively, you can fly from either Vancouver or Abbotsford Airport to the Airport in Kelowna. Flights are frequent, usually pretty cheap, and take less than an hour.
Things to do in Kelowna
Wine Tasting: Go on a wine tour – Kelowna is full of amazing wineries and all year round wine tours are fun in Kelowna. You can check out boutique and award winning wineries that offer views of the city and Okanagan Lake.
Winter Activities: In the winter, hit up Kelowna's ski resort called Big White.
Summer Activities: In the summer, bicycle or hike in Myra Canyon. Or, get out and try some watersports such as wake surfing!
Where to Stay in Kelowna
Stay in downtown Kelowna to enjoy the views of the lake right at the doorstep of your hotel. Here, you will also find tons of amazing places to eat and drink, and well as unique stores for shopping. You will also find plenty of craft breweries (one of the things that Kelowna is known for having plenty.)
Recommended by Bailey from Destinationless Travel
---
11. Tofino
Time from Vancouver: 1 hr flight or 5 h drive
Tofino is world-renowned for its surfing and is one of the most romantic getaways near Vancouver. Ancient cedars and Douglas fir tower overhead in the lush rainforests; sandy beached and crashing waves stretch as far as the eye can see.
How to get to Tofino
If there's ever a time to splurge on a transportation option, it is definitely here. There's a one hour seaplane shuttle from downtown Vancouver to Tofino and the views over Vancouver Island are simply breathtaking. You can read more about the shuttle here.
Alternatively, you can take the ferry from Horseshoe Bay to Nanaimo (2 hours) and then drive from Nanaimo to Tofino (3 hours).
Things to do in Tofino
Here are my favourite things to do in Tofino:
Take a surf lesson: Tofino is best known for its surfing, so even beginners have to try it out! We did our surf lesson with Long Beach Lodge & Resort in Cox Bay and it was great.
Hike in Pacific Rim National Park: There are a few great hikes in the nearby park. The Rainforest Trail, Canso Plane Crash and Radar Hill trails were my favourites.
Take a flightseeing tour: If you don't opt to fly to Tofino, I still recommend taking to the sky. The mountains and coastlines around Tofino are gorgeous.
Read More: 17 Incredible Tofino Hiking Trails: A Hiker's Guide to Tofino, Ucluelet and Pacific Rim National Park
Where to Stay in Tofino
My top pick for places to stay would definitely be Long Beach Lodge & Resort, which is a little south of Tofino on Cox Bay. We stayed here for four nights and it was amazing – our window had a view of the ocean, the dining room is spectacular (and has amazing food too) and you're right on the beach.
For a mid-range option, I also recommend either Duffin Cove and The Shoreline. Unlike Long Beach Lodge & Resort, these two hotels are in the town of Tofino. That means restaurants, tours and stores are all within walking distance. The most budget friendly option is to camp. Although you can camp year round, it's most popular in the summer.
---
12. Port Renfrew
Time from Vancouver: 4.5 hours
Port Renfrew is a small community and has been called the "Tall Tree Capital of Canada". It is a true PNW outdoor paradise. It's often used as a jumping-off point for the West Coast Trail, but the area itself has plenty to offer.
How to get to Port Renfrew
Port Renfrew is located on the west coast of Vancouver Island. There is no direct connection to Port Renfrew. Traveling from Vancouver, you need to take the ferry from the Tsawassen terminal to Swartz Bay (Victoria). From there you will need to drive 109km (roughly two hours) to Port Renfrew.
Things to do in Port Renfrew
One of the most popular attractions in Port Renfrew is to visit Botanical Beach. Located in Juan de Fuca Provincial Park, when the tide is out, the rugged coastline is full of tidepools in the flat sandstone and granite outcroppings. The rock pools are filled with brightly coloured marine animals. You can find everything from starfish, sea urchins, sea anemones, and sea cucumbers, to name a few.
Do not miss Avatar Grove. Hike through some of the world's tallest trees overhead to find Canada's Gnarliest Tree; it sure is unique! Start the Juan de Fuca Marine Trail and there are several other trails for day hiking or multi-day camping adventures. It is a popular location for hiking in the rainforest wilderness; you are sure to exclaim WOW several times during each hike.
There are also many beaches to explore, including the popular Mystic Beach. Surfers will find giant waves along Jordan River.
Recommended by Debbie Fettback from World Adventurists
Where to Stay in Port Renfrew
For budget accommodation consider the Trailhead Resort. For higher-end accommodations, Wild Renfrew Seaside Cottages and the Port Renfrew Oceanfront Retreat are both great options.
---
13. Sun Peaks
Time from Vancouver: 5 hours
Sun Peaks Resort is Canada's second-largest ski area and with three mountains surrounding this European-style village, your options to spend your time here are endless.
If you're looking to do some outdoor activities such as skiing, boarding, golfing or hiking Sun Peaks Resort may be the perfect spot for your next weekend getaway from Vancouver. Many people think of Sun Peaks Resort as a winter destination but it is also a beautiful destination during the spring, summer and fall months as well.
How to get to Sun Peaks
Sun Peaks is a five-hour drive from Vancouver, making it better for long weekend getaways from Vancouver. Alternatively, you can take a quick flight to Kamloops followed by a 45-minute drive and you're there.
Things to do in Sun Peaks
Winter activities: During the winter, in addition to the ski slopes, you can go dog sledding or take a horse-drawn carriage ride through the village.
Mountain biking: In the summer months, Sun Peaks Resort turns into a mountain bikers haven, with over 65 kilometres of trails including a dirt jump park.
Other summer activities: Hiking and golfing in the summer is also a great way to see breathtaking views of Sun Peaks Resort's trails and surrounding mountains.
But no matter what time of year you visit Sun Peaks, there are many activities here for everyone in your group to enjoy such as spa treatments, concerts, shopping, and more. The European charm of this mountain village makes it a perfect weekend getaway from Vancouver.
Recommended by Casandra from Karpiak Caravan
---
14. Mount Rainier National Park (USA)
Time from Vancouver: 5 hours
One of the best weekend getaways from Vancouver is Mt Rainier National Park in Washington. This national park is a stunning part of the Pacific Northwest and one that's a perfect long weekend trip. With incredible hiking trails, beautiful alpine lakes and waterfalls, it makes for an incredibly scenic weekend.
How to Get to Mount Rainer NP
To get to Mt Rainier National Park from Vancouver, follow Highway 99 to the US border, which turns into Interstate 5. Head east towards Ashford, Washington just past Tacoma
Things to do in Mount Rainer NP
Hike the Skyline Trail – If you enjoy hiking, the most popular hike is the Skyline Trail located in Mt Rainier's Paradise area. It's a 5.5 mile loop that passes spectacular waterfalls and gets up close to the mountain herself. It's rated as a moderately strenuous trail and takes an average of 4.5 hours to complete.
Scenic Viewpoints – During your weekend in Mt Rainier National Park, be sure to check out Reflection Lakes, Bench and Snow Lake Trail, Narada Falls and Christine Falls.
Where to Stay in Mount Rainer NP
If possible, renting a hotel inside the park at Paradise or a vacation property in Ashford will put you conveniently located to the best features of the park. There are also tons of camping options.
Recommended by Nikki of She Saves She Travels
---