The Western Uplands Backpacking Trail is one of three backpacking trails in Algonquin Provincial Park. If you're looking for an easy way to get into the woods and spend a few nights in a tent, this is an excellent choice. The trail has three loops, the shortest being 32 km and the longest being 88 km.
In June of 2021, I backpacked the Inner Loop (the shortest) over three days / two nights. I brought my friend, Nadine, and it was her first backpacking trip ever. We both had a great time, enjoying the trail, the campsites and the company.
In this post, I'll go over everything you need to know about hiking the Inner Loop of the Western Uplands Backpacking Trail, including:
About the Trail
Trail Video
FAQs
Day-by-Day Trip Report
Reflections
Packing List
Highland vs Western Uplands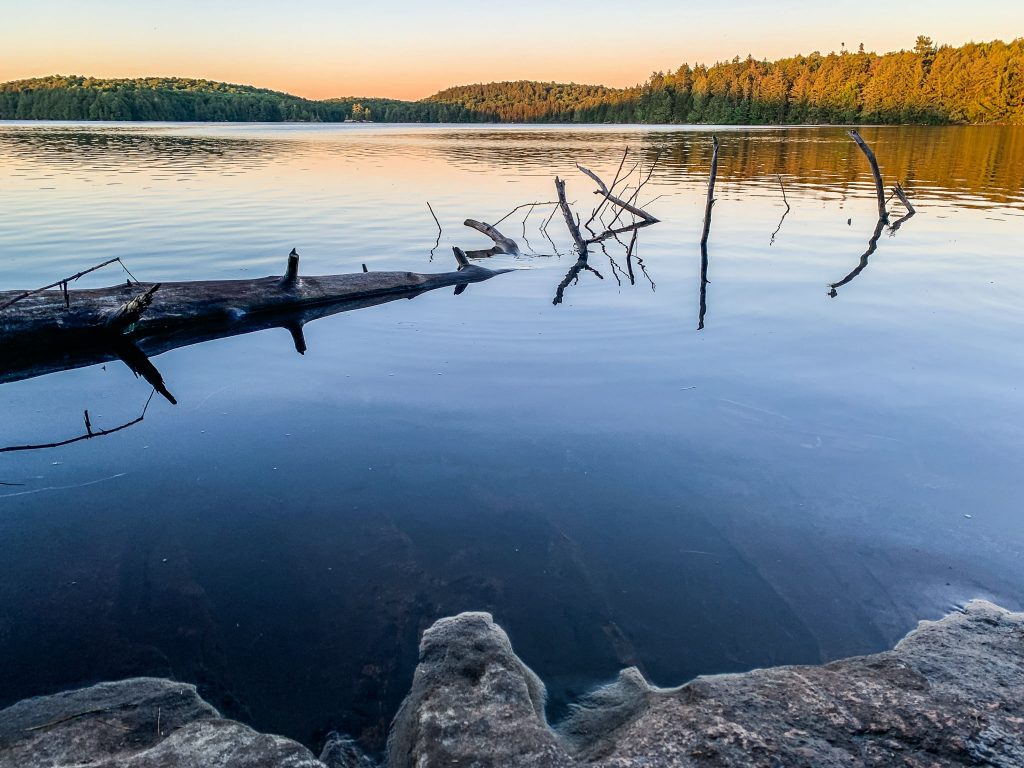 This post may contain affiliate links. If you make a purchase through one of these links, I may receive a small commission at no extra cost to you. Your support is much appreciated! You can learn more by reading my full disclosure.
---
About the Trail
Quick Facts
Distance: 36 km
Length: 2 nights, 3 days
Elevation Gain: 1081 m
Difficulty: Moderate-Difficult
Type: Loop
Day-by-Day Breakdown
There are a ton of places to camp along the trail. We chose to camp at Maggie Lake and Ramona Lake, as this would make the distance breakdown as follows:
Day 1: Trailhead to Maggie Lake West – 12 km
Day 2: Maggie Lake West to Ramona Lake – 15 km
Day 3: Ramona Lake to Trailhead – 8 km
---
Western Uplands Map
---
Western Uplands Backpacking Video
Here is the trip video I made about backpacking the Inner Loop. It shows the trail we took, the campsites we stayed at, where we swam, what we ate and more.
---
Western Uplands FAQ
How difficult is the trail?
The full trail – the 88 km Outer Loop – is considered difficult. The Inner Loop (32 km), on the other hand, is much easier and a great trail for novice backpackers with decent fitness.
The trail itself is very easy to navigate, with an obvious route and markers throughout. The elevation gain can be a little tricky in parts, but manageable if you take it slow. If you're unsure of how you'll manage, plan to take three nights so you can budget for fewer kilometers each day.
Do you need trekking poles?
Trekking poles are not necessary and neither of us used trekking poles. That said, if you're still getting used to hiking with a full backpack, you might like to use poles – especially on the hilly sections.
How are the campsites?
The campsites are pretty good. All of the campsites we stopped at or camped at had flat areas for at least two tents, a thunderbox and a good firepit. Both of the campsites we camped at had logs around the fire pit to serve as benches / tables. The swim spots weren't amazing, but everything else was good.
They're very popular sites, so there wasn't much firewood. There was still enough to make campfires for all of our meals, however, this was also in June. I imagine that, by the middle of August, there will be almost no firewood left.
Should you do the loop clockwise or counter-clockwise?
Honestly, I don't think it matters. The direction you hike will be mostly dictated by where you can get your campsite reservations each night.
The elevation gain is the same regardless of the direction you hike and it's distributed fairly equally on both sides of the trail. That means you don't have to decide between doing the tough section early in the trip (when you feel good but your pack is heavy) or late in the trip (with a lighter pack but tired from past kilometres).
Do you need to book campsites in advance or pick up permits?
You do need to book campsites in advance. Up until 2021, you booked by the lake and campsites at that specific lake were first-come-first-serve. Starting in 2022, specific campsites must be reserved. You can make the campsite reservations through the Ontario Parks booking portal.
At the time of writing, you don't need to pick up permits from the visitor's center before your trip. You can print them at home and carry them with you. If printing at home, print an extra copy to place on the dash of your car. I prefer to just go to the visitor's center and get mine from there, as it also gives me a chance to talk to the rangers and see if there's anything I need to know about the trail.
---
Western Uplands Backpacking Trail – Inner Loop Trip Report
Day 1: Trailhead to Maggie Lake West (12 km)
I arrived at the West Gate Visitor's Center at 12:45 pm to purchase a map. Then I drove to the trailhead and met Nadine at 1:00 pm. We went through our gear one final time, switching some gear between the backpacks. We went pretty lightweight for this trip – I carried a 36L backpack and all of that gear weighed 10 kg in total. By the time we hit the trail, it was 1:20 pm.
Trailhead to Maple Leaf Lake: The trail begins by crossing over the Oxtongue River on a large, sturdy bridge. After 600m or so, we can to the fork in the trail – the direction we went would dictate if we did the trail clockwise or counterclockwise. Our reservations had us going clockwise, so we went to the left.
From the fork, it was 4.4 km to Maple Leaf Lake. This section of the trail gained over 150 m of elevation rather quickly, so it immediately got our heart rates up. The trail was easy to follow and there were blue markers lining the way. There were boardwalks placed on the ground to help hikers cross Maple Leaf Creek without getting their boots wet. All of this took us about 1.5 hours.
Maple Leaf Lake has several campsites and we'd worked up quite a sweat thus far, so we took a snack and swim break here. Maple Leaf Lake had the best swim spot out of all of the lakes I swam in on this trip. After some oranges and a refreshing cool down, we continued on.
Maple Leaf Lake to Maggie Lake: The section between Maple Leaf Lake and Maggie Lake was quite hilly, but no section stayed steep for too long. It was about 6 km in total and took us about 2 hours to hike.
The trail passes by a few small lakes. There's a sharp descent leading to Little Hardy Lake and a steep ascent departing from it, but nothing overly challenging. The prettiest lake along this stretch is Steeprise Lake, which is the last landmark before Maggie Lake.
Maggie Lake to Maggie Lake West: There are a ton of campsites scattered around Maggie Lake, so depending on where your campsite is, you may have quite a walk following your arrival at Maggie Lake. Once we'd arrived at Maggie Lake, there was another fork in the trail: left for Maggie Lake West campsites and right for Maggie Lake East campsites. We'd booked our site on Maggie Lake West, opting for the campsite at the end of a peninsula. From the fork to the campsite, this walk took about 30 minutes.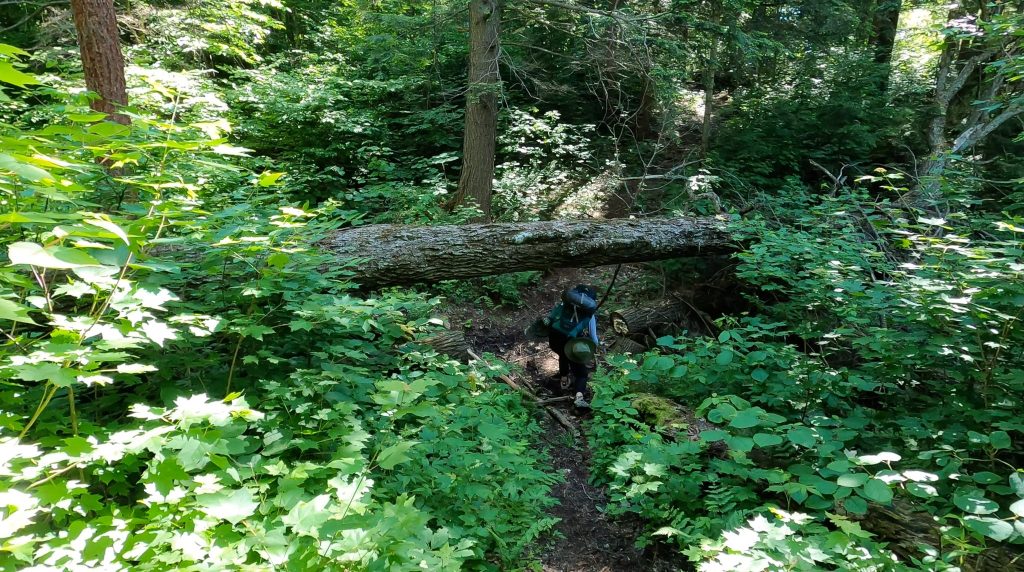 Campsite at Maggie Lake West: Despite the slog required to reach it, I like this site a lot in hindsight. I have written in my notes: "the walk to it wasn't worth the site", but I think that was tired Mikaela complaining. The site was very large and could easily accommodate three or four tents. There was a good fire pit with some logs around it to act as benches and makeshift tables. There was an opening where you could see a nice view of the lake. There were lots of broken logs in the water though, so it was a little uncomfortable for swimming. Despite this, we still went in the water before bed.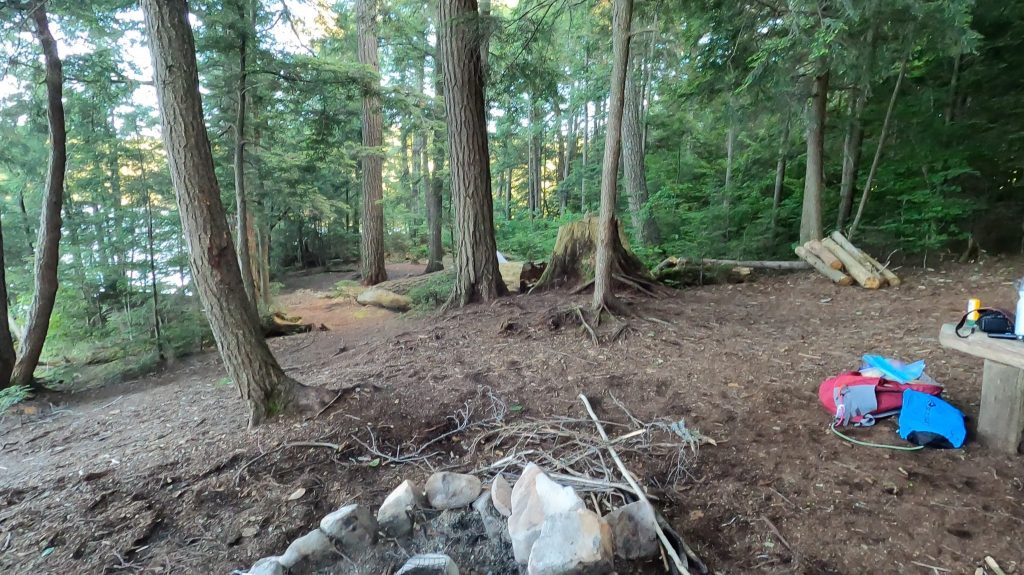 Day 2: Maggie Lake West to Ramona Lake (15 km)
We were up around 6:15 am, but took our time leaving the campsite. We cooked breakfast wraps with scrambled eggs and avocados, and each had a cup of coffee. While we were packing up, we saw a floatplane land on Maggie Lake and take off about 20 minutes later. I don't know what that was about, but it was pretty cool to see! We left the campsite around 9:15 am.
Around Maggie Lake West: Since we'd camped on the west side of Maggie Lake, it made sense to walk around the outside of Maggie Lake and meet back up with the main trail on the east side. This added about 4 km onto the total distance than if we'd camped at a site on Maggie Lake East.
Neither of us minded the extra distance, as the trail around Maggie Lake is very flat and easy. It stays at the same elevation the entire time and was a great warm-up for the day. There were a few openings in the trees where we could see the lake.
We took a little break when we reached the intersection of the Maggie Lake West trail and the Western Uplands Backpacking Trail.
Maggie Lake to Oak Lake: We started off this section by losing elevation, eventually crossing a creek and walking along a mashy area. There was a boardwalk bridge to help cross the creek and marshy sections. This area was a little buggy, but overall really beautiful.
After the creek, there was a sharp incline as we returned to higher elevation. It was around here that we came to a fork in the trail. To take the left trail would take us to the Middle and Outer Loops of the Western Uplands Backpacking Trail. We went right, however, staying on the Inner Loop toward Norah Lake.
The trail had very minor changes in elevation between the fork and Norah Lake, and this continued until we were 100 m or so away from Oak Lake.
We took a long break at Oak Lake, eating a late lunch and going for a cool-down swim. A part of me wished we could have camped here, as the site was really nice and the swimming spot was excellent. But then we would have had a ton of extra distance the following day, so the campsite reservations kept us on track.
Oak Lake to Ramona Lake: I found the section in between Oak Lake and Ramona Lake to be the most challenging section of the trail. Although only 3.7 km, it was quite hilly. Following Oak Lake, there was a decently steep incline of about 100 m immediately followed by a decline of about 75 m. Then there was one more hill to climb and then descend before we saw the sign for Ramona Lake.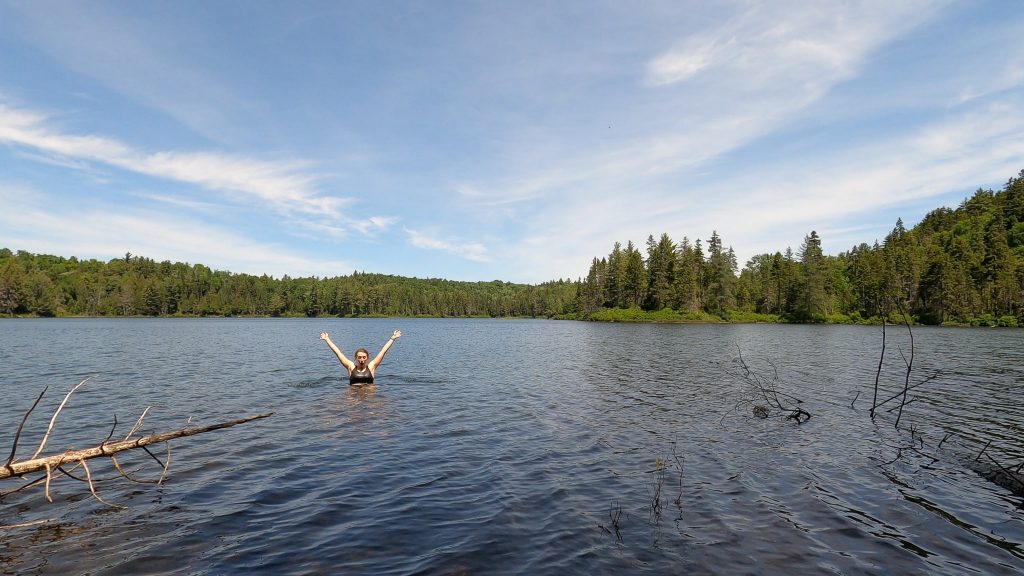 To reach the campsites at Ramona Lake, we had to leave the Western Uplands Backpacking Trail and walk along the side trail to the campsites. There were four campsites here and we checked out all of them before deciding on the one we'd take. I think the fourth site looked the best but was already taken. We took site number 1.
Campsite at Ramona Lake: Our campsite, like the others at Ramona, was perched above the lake. It was a small site, able to accommodate one or two tents. The fire pit was okay and there were benches around it. Water access, however, was quite challenging.
There was a short, muddy and very steep trail down to the water, which was very difficult to walk. I usually slipped once going down and it took everything in me not to spill my pot of water hiking back up the trail. The lake itself had a very muddy entrance, so for the first time ever in all my time in Algonquin Park, I didn't swim at a campsite.
To reach the thunderbox, we had to walk back to the Ramona side trail and past it. Although it was a little far, the privacy was nice for such a small campsite.
Day 3: Ramona Lake to Trailhead (9 km)
We woke up at 6:30 am and were faster at getting off the campsite today, leaving by 7:20 am after oatmeal and coffee.
Ramona to Trailhead: After leaving Ramona, we had a really easy hike back to the trailhead. It was mostly flat with a gradual descent to it – not enough of a descent to bother my knees, but enough to give us some forward momentum.
The only time we ever got confused about where the trail went was right after Guskewau Lake. We were tempted to walk along the river, but there was a short steep section to walk up instead. That's where the trail is. Sorry I don't have a better description than that!
After we found the trail again, it was a really easy trail back to Oxtongue River. The full 9 km took us about 2.5 hours and we didn't need to stop for any breaks.
---
Reflections
What Went Well
Delicious Food – We had some excellent food on this trip. We made pita pizzas and curry for dinner, breakfast sandwiches and oatmeal for breakfasts and pad Thai for lunch. We brought oranges, granola bars, dried fruit and nuts for snack. The highlight for me were the rice krispies we made for dessert on the final night.
Ultralight backpacking is wonderful – I've said this many times, but each time I do a backpacking trip I feel even stronger about it. I love backpacking with a small backpack and limited gear. Although there are some items I wish I had on this trip – like sandals or a change of hiking clothes or a book – I much prefer having a light backpack.
We narrowly missed the rain – It was pretty overcast for our final day, but the rain held off until we got to the car. After the hike, we went to the Portage Store for lattes and by then it was absolutely pouring! Some of the hardest rain I've encountered in the park.
What Could Have Gone Better
Underwhelming Swim Spots – Compared to my other trips in Algonquin Provincial Park, I found the lakes along the Western Uplands Backpacking Trail to have… underwhelming swim spots. I swam in Maple Leaf Lake, Maggie Lake and Oak Lake, but I couldn't bring myself to swim in Ramona Lake. Too muddy and difficult to get into! The others were nicer, but none of them had a great way of entering the lake.
Colder Than Expected – In my journey for ultralightweight backpacking, I experimented with using a sleeping bag liner rather than a full sleeping bag. My sleeping bag liner was supposedly good for 10C, but it ended up being much colder than that. As such, I was quite cold over night. I used my Nalgene has a hot water bottle and wore my base layers, but it was still chilly.
Ramona Lake wasn't the best lake for camping – If you don't mind having extra kilometers on the last day, I'd recommend staying at Oak Lake instead of Ramona Lake instead. Oak Lake was super beautiful while Ramona Lake was… fine.
---
Trail Packing List
Hiking Clothing
Merino Wool Sports Bra – Much mroe comfrotable than regular ones.
2x Wool Socks – Extra cushioning because my feet are prone to blisters.
Hiking Boots – I used the Merrell Moab hiking boots
Bug Net – One of my absolute must-haves on any trip.
Equipment
2 backpacks – between the two of us, we carried one 36 L and one 25 L
Sleeping pad and sleeping bag liner (but bring a sleeping bag instead)
Two nesting pots + utensils
Backpacking stove + fuel + lighter
Water bottles + aquatabs
Wilderness First Aid Kit
Map
Miscellaneous
Toothbrush + toothpaste
Face wipes
Headlamp
Journal + Pen
Book
Phone + Charger + Power Bank
Apple Watch + Charger – This is what I used to track our distance and pacing
---
Western Uplands Inner Loop vs Highland Backpacking Trail
The Highland Backpacking Trail and the Inner Loop of the Western Uplands Backpacking Trail are quite comparable. Both are 32-35 km long and have between 1,000 and 1,500 m of elevation gain. I hiked the Highland in 2020 under similar conditions, so here is how I feel they compared:
The Highland has greater elevation gain (1500 m in total) and I definitely felt it, especially the section in between Head Lake and Faya Lake. That section had a ton of steep inclines and sharp descents. The Western Uplands, on the other hand, didn't have too many difficult sections. The elevation gain is less (1000 m) and the climbs are better distributed throughout the trail.
I think the Highland Backpacking Trail had better campsites and better scenery, but the elevation above made it a more difficult trail. If you're new to backpacking, I'd suggest the Western Uplands' Inner Loop over the Highland for your first trip.
Read More: Complete Guide to Hiking the Highland Backpacking Trail in Algonquin
---
Western Uplands Backpacking Trail – Final Thoughts
I hope this post has been helpful and you're excited to hike the Western Uplands Backpacking Trail! Remember to book your campsite reservations as soon as they become available and keep your backpack weight as light as possible. Have a great trip!