If you've stumbled upon this article, I'm betting you're either brand new to canoeing or have taken some trips but are wondering how you can be even better prepared. Well, you've come to the right place. In this post I'll be going over what to wear canoeing. I've included information like the following:
What to wear while you're in the canoe
What to wear at the campsite
What to wear canoeing in cold weather
Footwear
And much more…
I'll also go over my top tips for choosing outdoor clothing, packing clothing to save space and additional items that, while not essential, make canoeing much more comfortable.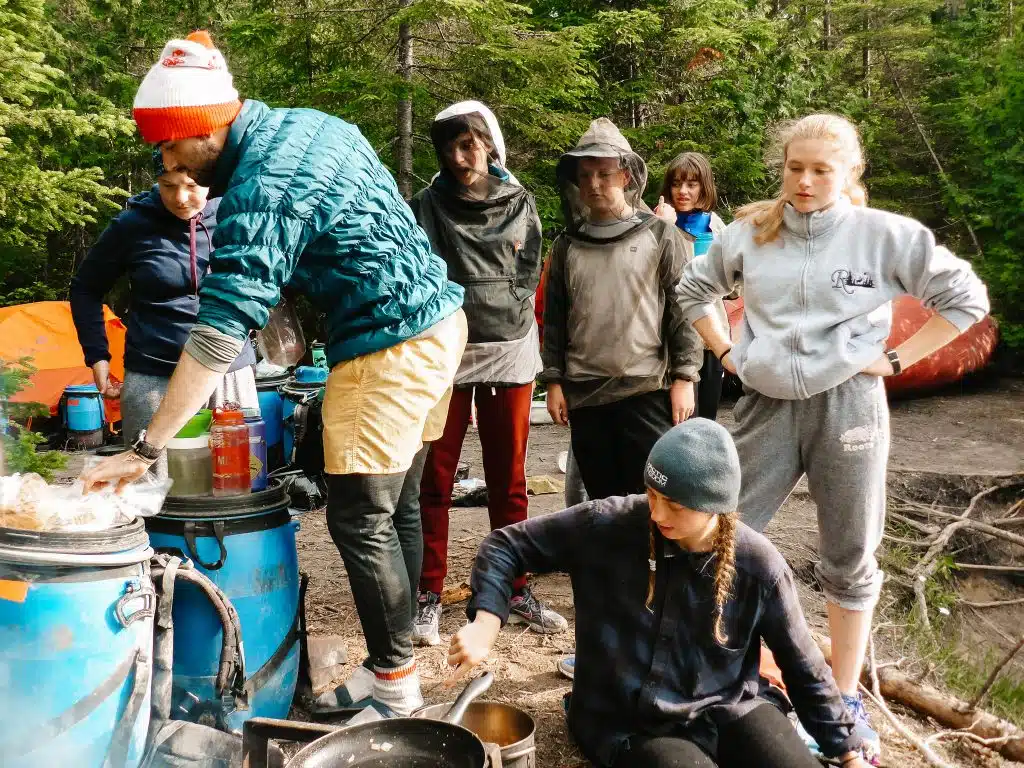 This post may contain affiliate links. If you make a purchase through one of these links, I may receive a small commission at no extra cost to you. Your support is much appreciated! You can learn more by reading my full disclosure.
Hi there! If you're new to Voyageur Tripper, welcome! My name is Mikaela and I previously worked as a canoe guide. I now do personal canoe trips and develop online resources to help others get into the backcountry safely and comfortably! Read more about me here.
---
What to Wear Canoeing
If you're new to canoeing, you'll likely be going in the summer. During warm months, there's a lot of flexibility with what to wear canoeing, however you'll still want to be prepared. Here is what I wear canoeing in the summer:
In the Canoe
When you're in the boat, you want all of your clothing to be quick drying. Canoes can tip, even in flatwater, or there can be spontaneous bursts of rain.
Quick Dry Athletic T-Shirt: I like to wear a non-cotton gym t-shirt while paddling. I typically bring two or three of these on a canoe trip.
Quick Dry Athletic Shorts or Lightweight Hiking Pants: Depending on the temperature, I either like to wear gym shorts or a pair of lightweight hiking pants. If you have a lot of portaging to do that day, I recommend wearing hiking pants to avoid getting your ankles and knees scraped.
Life Jacket: You should always, always, always wear a life jacket when you are in a canoe. Even if you are paddling flatwater. Even if it is a calm day. Life jackets look super cool, new models are really comfortable and it could save your life.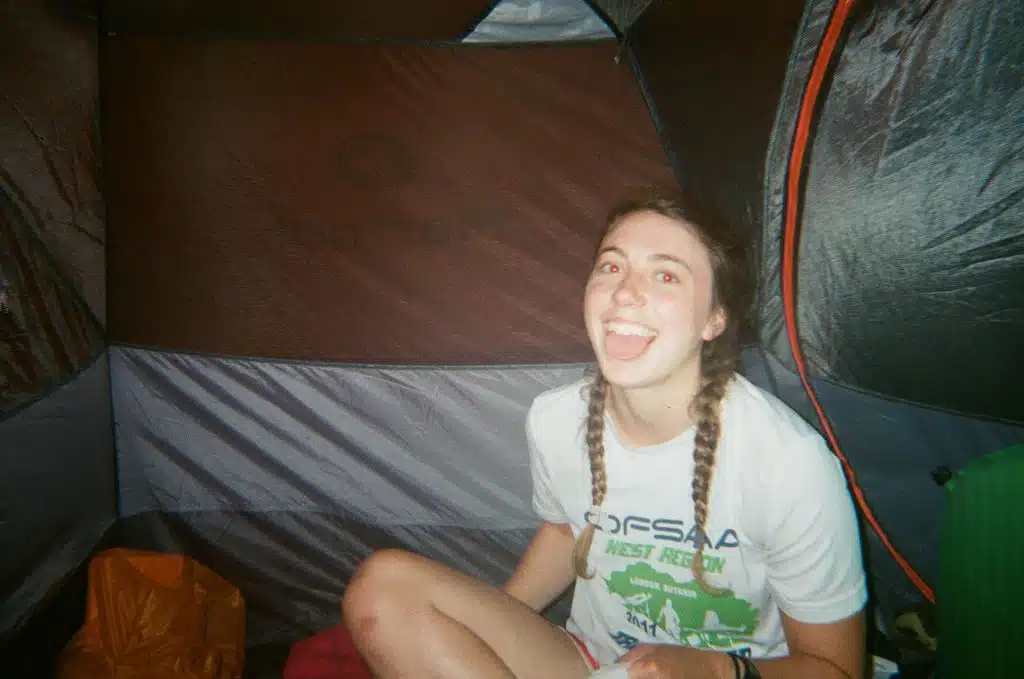 I'll also keep warm and waterproof clothing in the boat with me. I like to carry a 10 L dry sack and store a fleece sweater, rain jacket and rain pants in the dry sack.
Fleece Sweater: If you catch a strong wind or the sun moves behind the clouds, it can get really chilly. I always have a lightweight fleece sweater handy and will slip it on as needed. I don't go with anything too heavy, because I don't want to overheat and get sweaty.
Rain Jacket: I keep this at the very top of my 10 L dry sack. As soon as a few drops start to fall, I pull out my rain jacket and slip it on.
Rain Pants: Not everyone brings rain pants on a canoe trip, but I highly recommend them, especially if your trip is longer than a few days. Hiking pants are typically water resistant, but they are not waterproof. Wearing rain pants will keep you warm and dry even if it pours rain all day. The ones pictured below are fantastic, but SO pricey so I recommend the MEC Aquanator Rain Pants as an economic alternative (I used them for a few years and loved them).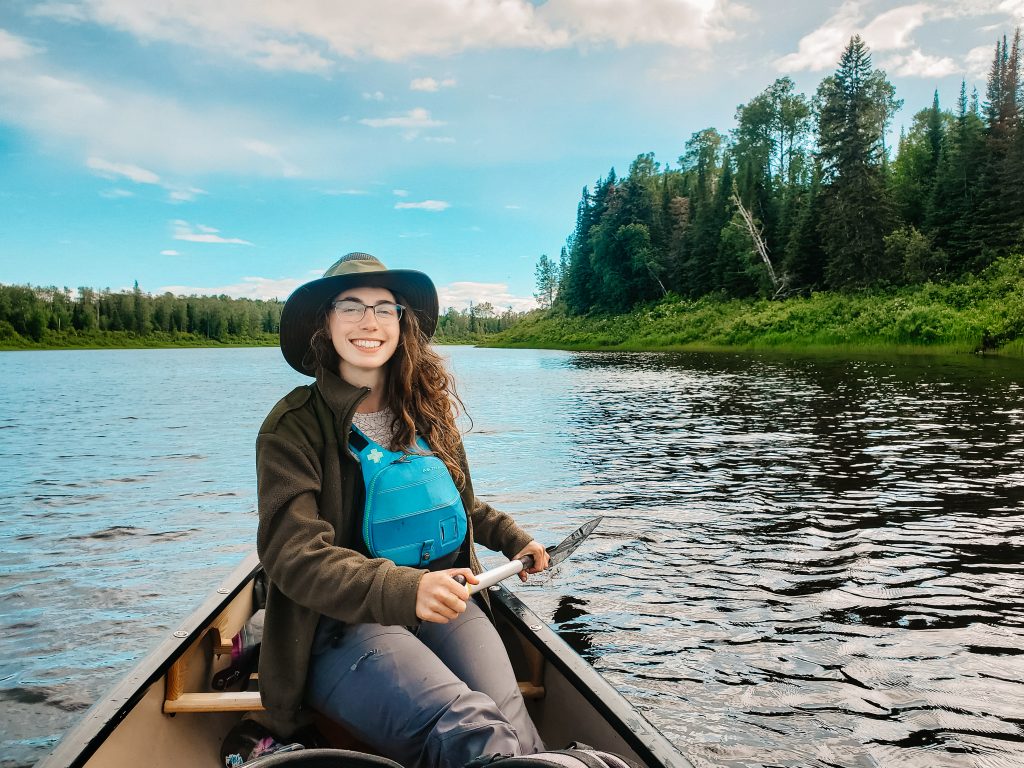 At the Campsite
Once you get to the campsite, you can either keep on what you're wearing or change into your "site clothes". Personally, I like to have a pair of site clothes I can put on after all the campsite chores are done.
For example, once the canoes are unpacked and the tents are up, sometimes I'll have time for a quick swim before I start making dinner. I don't want to put on the sweaty, dirty clothing I wore during the day, so instead I'll put on my site clothes. Site clothes are also great for rest days. But if it's still rainy or we get to site late, I typically just keep on what I'm wearing.
Here is what I wear as my "site clothes".
Flannel Shirt: Flannel is traditionally made out of carded wool, though it'll often be made from cotton or synthetic materials now. I have a lightweight and cozy wool flannel that I like for rest days or to wear over top of a T-shirt. Despite being wool, it doesn't dry very quickly so I don't wear it if it's rainy.
Wool Shirt: Flannel is super bulky, so if I'm limited with space I'll bring a wool base layer shirt instead. For example, I've recently taken to wearing the Smartwool Merino Wool 250 Base Layer Top underneath a synthetic down jacket when I get to the campsite.
In addition to the above, I might wear my fleece shirt at the campsite or bring a lightweight synthetic down jacket (more on that below).
Fleece Pants: These are my canoe tripping guilty pleasures. I LOVE fleece pants. I love sliding them on after drying off from a swim. Also, they tend to be thick enough that mosquitos can't bite through, making them excellent for chilling around the campfire at night. These are my favourite fleece pants.
The important thing to take from the above is that there are lots of options for campsite clothing. As you do more canoe trips, you'll get more familiar with what you prefer and continue to refine your system!
Pyjamas: In the summer, I like to wear a pair of synthetic long underwear and a synthetic base layer T-shirt. I used to sleep in cotton, but if they got wet at all (like there was a light drizzle when I went to pee or I sweat in my sleep), they would never dry.
Tip: Pack clothing in a compression sack so you can make it take up less space.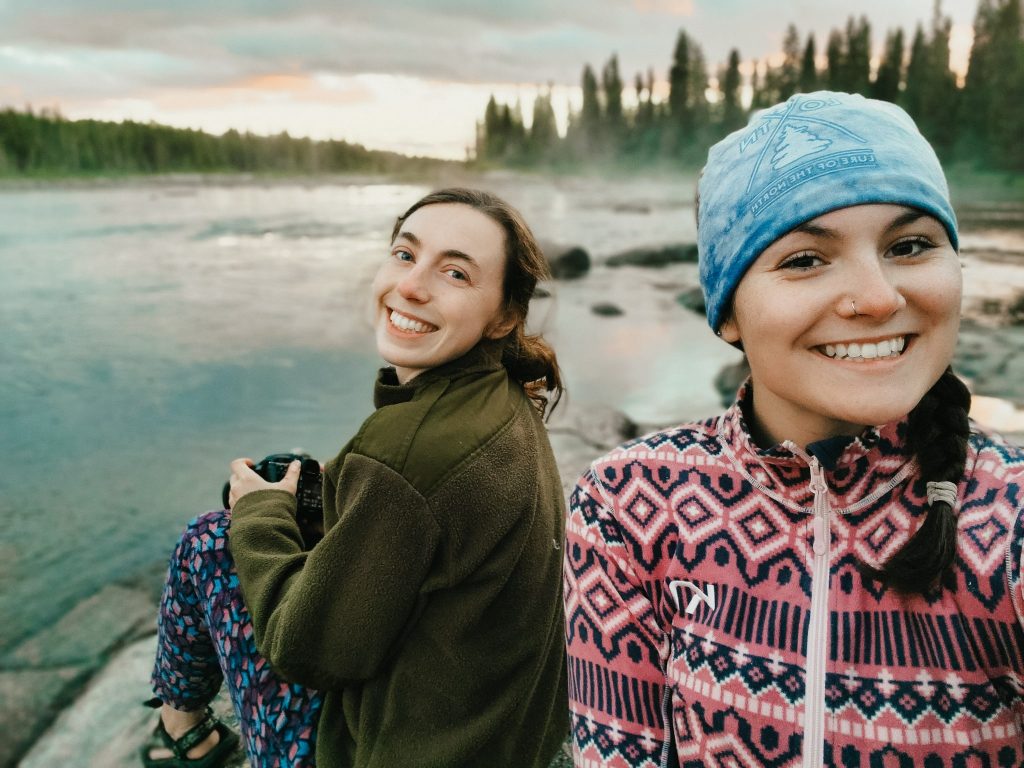 Footwear
Wet Shoes: Your wet shoes are the shoes you wear while canoeing. They will definitely get wet. I personally like to wear trail running shoes, because they dry somewhat quickly, offer excellent traction and don't let sticks or twigs inside on a portage. Sturdy sandals like Keens are a much more common option though.
My exact wet shoes are trail runners by Salomon have since been discontinued, but I'm due for a new pair and looking at either the Salomon Tech Amphib 4 Watershoes or the Salomon Tech Lite Shoe.
Read More: Best Shoes for Canoeing: What to Look For and What to Buy
Dry Shoes: These are the shoes you wear at the campsite, and you do your darn best to keep them dry (so if it's raining at site, keep your wet shoes on). I like a pair of open-toed sandals (specifically Tevas) because they allow me to wear wool socks underneath.
Wool Socks: You'll also want to bring a few pairs of wool socks with you. Cotton socks will get wet and stay wet for your entire trip, whereas wool socks will dry faster, and if they do get wet, still provide warmth.
Can you canoe in hiking boots or running shoes?
Technically yes. Hiking boots are sturdy, durable and excellent for portages. But if you tip and they get wet, they will be wet for a long time. Same with running shoes. Another consideration is that hiking boots are difficulty to swim with, so if you accidentally tip and need to swim to shore, you might have difficulty.
Hats & Head Gear
Sunhat: I prefer a full-brimmed hat that protects my face and neck from the sun. I so recommend getting a Tilley Hat – they are waterproof, practically indestructible and won't fade with sunlight or stain from sunscreen. If you do manage to break it, the company will send you a new one. I wear my Dad's from the 80s and it still looks great.
Sunglasses: I also suggest bringing sunglasses; when the afternoon sun hits the water, you get a ton of glare which can make paddling hard and strain your eyes.
Bug Jacket: At the campsite, I always like to have a bug jacket, or at least a bug hat. It maintains my sanity between May and July, when the black flies and mosquitos are out in full force.
If Paddling Whitewater, Helmet: This is only needed if you paddle in moving water. If there's a chance you'll be cruising down rapids, always wear a helmet! I used to wear the NRS Havoc Livery, but then upgraded to the WSRI Current, both of which are out of stock in most places. My next recommendation would be the Shred Ready Paddling Helmet.
---
What to Wear Canoeing in the Spring / Autumn
Once it starts to get colder, what you wear canoeing needs to change. In the late spring and early autumn, I like to wear quick dry hiking pants, a merino wool shirt and a fleece sweater.
Base Layer: Wear a moisture-wicking, long sleeve shirt on the top. There are a few materials this could be made from, though I personally prefer merino wool.
Athletic Long Sleeve: You could wear any non-cotton athletic long sleeve shirt if that's all you have, however I'd urge you to consider something warmer. Athletic shirts are moisture-wicking, however they're designed to cool you down as you sweat (so you don't overheat in a workout).
Merino Wool: Merino wool, on the other hand, will keep you warm even when wet. This is what I wear for all my spring and autumn hiking and canoe trips now.
Synthetic Base Layer: A synthetic base layer is similar to merino wool, though not quite as warm and moisture-wicking, but significantly cheaper. It'll keep you warmer than an athletic shirt, but not as warm as merino.
Sweater / Jacket: You'll want to bring a warm sweater or jacket (or both) to wear while paddling and at the campsite. Since it may get wet, don't bring a cotton sweatshirt.
Fleece: Fleece is made from brushed polyester and dries incredibly quickly while having excellent warmth for its weight. I always like to bring a fleece sweater on canoe trips, in all seasons.
Down Jacket: In the spring or autumn, I always bring a down or synthetic down jacket to wear at the campsite. I typically don't wear this while canoeing, because down / synthetic down doesn't dry quickly or keep you warm while wet. But if it isn't rainy and I'm chilling by the campfire, a down jacket is super cozy.
Hiking Pants: On the bottom you'll want to wear a pair of hiking pants and maybe a pair of long underwear underneath (see below). In the winter, I go with a thicker pair of hiking pants than I do in the summer. I also like a hiking pant that is treated with Durable Water Repellency (DWR). This doesn't make them waterproof, but it does make them water resistant. I specifically use the Arc'teryx Gamma LT though those are a little pricey if you're just getting started. The MEC Borderland Pants are much more affordable.
Long Underwear: If it's quite chilly, you might want a pair of long underwear underneath your hiking pants. I prefer merino wool over synthetic, especially when it gets really chilly. It will do a better job of wicking moisture (sweat) from your skin and keeping you warm even if it does get a little sweaty. I wear the Smartwool Merino 150 Baselayer Bottom.
Wool Hat / Merino Wool Buff: In the chilly months, I'll also bring either a wool hat or a merino wool buff (sometimes both). You can lose a lot of heat through your head, so I definitely recommend bringing one of them.
Gloves: I'll also bring water resistant gloves. These are great if I'm setting up the tent and it's windy or raining, or if it's chilly while I'm paddling. Some people like neoprene gloves, but I've never been a fan of these personally. I find I lose too much dexterity.
Neoprene Socks: Something I haven't tried yet is neoprene socks. These are like a wet suit but for your feet; they trap water around your feet, allowing your body heat to warm it up. So they'll keep your feet much warmer than wool socks.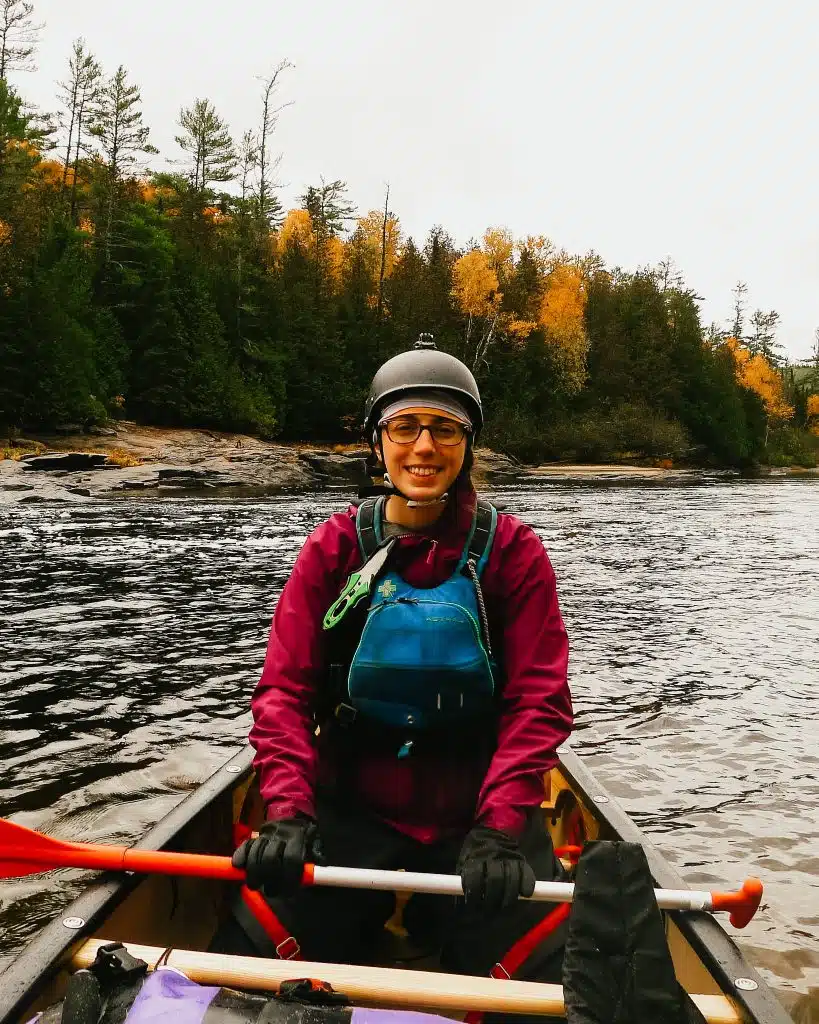 What to Wear Canoeing: Early Spring / Late Autumn
In early spring (March, April, early May) and late Autumn (October, November), consider how cold the water will be. Check out this table of cold water survival times. When the water temperature is less than 10 C, as is often the case in the early spring and late autumn, you have less than 60 minutes until unconsciousness. In water that's near freezing, you have less than 15 minutes.
If you are a beginner to canoe tripping, I highly discourage you from paddling at this time. If you are more experienced, please wear a dry suit. They're an expensive investment, but they can save your life. I didn't get a dry suit until 2020, and as such I did little-to-no cold water paddling prior to that.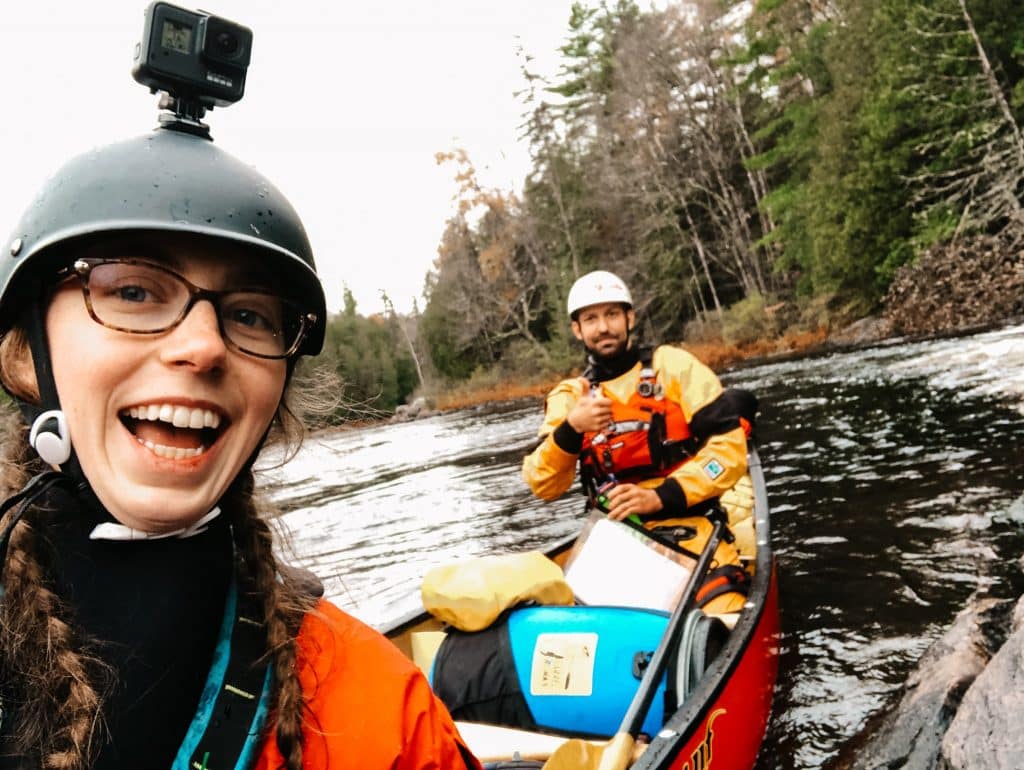 ---
What to Wear Canoeing – Final Thoughts
I hope you have found this helpful and now know what to wear canoeing. If you take nothing else from this post, here are my top two pieces of advice:
Do not bring cotton – Assume your clothing will get wet, so only bring items that dry quickly.
Acquire new gear slowly – Don't think you have to go out and buy every item on this list. Aquire high quality gear slowly and as needed. Over time you'll refine your clothing system as you learn what you like to wear and what you can go without.
And don't forget you can download my free canoe trip planner, which includes a canoe gear packing list with the clothing items to take. If you have any questions, please let me know!