New Zealand hiking is some of the best in the world, and this is especially true when you step foot on the South Island. During the six months I was living in Dunedin, I never grew tired of the seemingly endless hiking trails on the South Island.
While there are tons of multi-day hikes, in this post I'll focus on the best day hiking in South Island, New Zealand. Spanning five national parks and popular towns like Wanaka, Queenstown and Christchurch, any of these hikes could easily fit into a South Island itinerary.
In addition to listing the location of the hike, I've also included the distance, time required and difficulty. This should ensure you find the perfect hiking trails in New Zealand for your interests and abilities. So read on, my friends, and let's get hiking!
This post may contain affiliate links. If you make a purchase through one of these links, I may receive a small commission at no extra cost to you. Your support is much appreciated! You can learn more by reading my full disclosure.
---
Map of the Best Hikes
In the map below you'll find the locations of the best hikes in South Island, New Zealand. I've grouped the hikes roughly by their location. In addition to the hikes listed in the following section, I've also included surrounding hikes in the area.
---
12 Best Hikes in South Island New Zealand
Without further ado, here are the best hikes in South Island, New Zealand! I've tried to group the following hikes by their location, but you can always refer to the map above if you're looking for something specific. I hope you find your next great hike here!
---
1. Abel Tasman Coast Track
Location: Abel Tasman National Park
Time to Complete: 5 hours
Distance: 13 km
Elevation Gain: 250 m
Difficulty: Easy
The Abel Tasman Coast Track is a classic Abel Tasman hike that takes you on a one way trip from Awaroa Inlet to Marahau or vice versa. I've hiked both ways and would recommend a drop off by water taxi in Awaroa/Anchorage as then you can take all the time you need to hike back to Marahau, instead of rushing to catch the water taxi back.
The trail is quite wide and well paved, and on the way you'll mostly walk through the bush. Optionally, you can descend to various beaches and coves, which make great stops for a lunch break. Apple Tree is one of the best.
Upon arrival in Anchorage you'll wade through the water to get to the beach. You can resupply your waterbottle here before you start your track. With a bit of luck you'll see plenty of birds including the curious weka which will definitely chase you for your food.
Recommended by We12Travel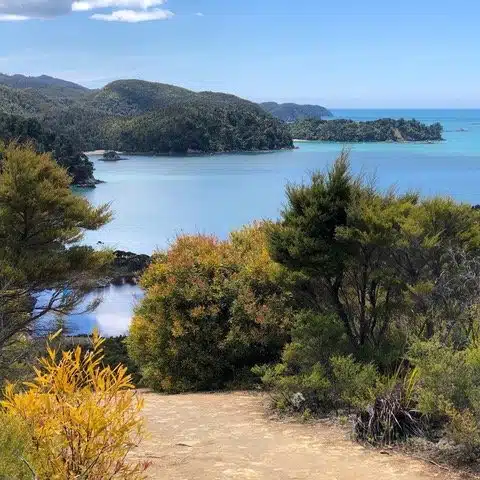 ---
2. Mount Robert Circuit
Location: Nelson National Park
Time to Complete: 5 hours according to DOC (but we did it in 2.5 hours)
Distance: 9 km
Elevation Gain: 600 m
Difficulty: Easy
This gorgeous day hike is in Nelson National Park. It is an easy hike with a gentle elevation gain. There are stunning views, but the trail is exposed, so you should only attempt it on clear days and wear lots of sunscreen. There is water sometimes available at the midway point, at the Bushline Hut, but there are also freshwater streams you can use (we'd recommend you use a filter water bottle though).
The hike takes 2.5 hours of steady hiking and you will need your own transport to get here, as there's no local bus stop. If you hike this in a clockwise direction you'll get glorious views of Lake Rotoiti on the way up and head down in the cool of the woodlands. Don't miss the historic KEA Hut. It's one a kind and although you can't go inside it makes a lovely photo – the hut was built by the skiers of the Nelson Ski Club in 1931.
Recommended by A Social Nomad
---
3. Roys Peak
Location: Wanaka
Time to Complete: 5 – 6 hours
Distance: 16 km
Elevation Gain: 1,258 m
Difficulty: Easy – Moderate
Ah, Roys Peak. This is one of the most popular New Zealand hikes, and definitely is the most popular hike on the South Island, largely thanks to its iconic lookout and its prevalence on Instagram. But thee hype is justified, because Roys Peak offers an absolutely stunning view.
The track begins at a car park, and unless you are hiking Roys Peak for sunrise (which I highly recommend), there isn't always parking spaces available. Definitely carpool, or consider walking from town.
The hike itself up Roys Peak is uneventful – switchback after switchback, surrounding by farmland. It isn't challenging, exactly, though it is quite tiring. The view of Wanaka and Lake Wanaka are pretty spectacular though and make it worth the effort.
Definitely wear hiking shoes, bring plenty of water, snacks and warm clothing (it gets chilly at the top). If hiking for sunrise, bring a headlamp.
---
Bonus: Isthmus Peak
Location: Wanaka
Time to Complete: 4 – 6 hours
Distance: 15 – 16 km return
Elevation Gain: ~1,000 m
Difficulty: Moderate
The Isthmus Peak hike is an alternative to the Insta-famous Roy's Peak hike in Wanaka.
The Isthmus Peak hike starts between Lake Hawea and Lake Wanaka with a consistent climb nearly the whole way. For the first kilometre there's some bush, but it's not long until you get the first views of Lake Hawea. And from there you're above the bush line for the whole walk with tussock riddled paddocks and shrubs too small to prevent the views. It's not until you get to the summit when Lake Wanaka comes into sight. And you won't be disappointed!
Lake Hawea doesn't have the street cred that Lake Wanaka does, but don't let that put you off exploring the surrounding peaks. They will leave you breathless and with endless photo opportunities.
Recommended by Jub of Chur New Zealand
---
4. Rocky Mountain Summit Track
Location: Wanaka
Time to Complete: 3 hours
Distance: 7 km
Elevation Gain: 775 m
Difficulty: Moderate
The Rocky Mountain Summit Track will provide you with some of the best views of Wanaka at over 700 metres up. You'll get to see the mirrored Diamond Lake at the beginning of the track, and as you climb higher you'll get to view Lake Wanaka and the surrounding mountains of the remarkable Mt Aspiring National Park
The trek will take you three hours return and is seven kilometres long, making it a moderate difficulty hike. It varies in terrain with steep stairs to begin with, to well-marked tracks. The track may be steep and slippery in wet weather, so plan to walk the Rocky Mountain Summit Track on a fine day.
For a shorter alternative, try the Diamond Lake Circuit Track. This short walk is only a 45-minute return, which makes it great for the young ones.
Recommended by Delilah of Our Travel Mix
[optin-monster slug="sa5blezpos7yu6l9ru8i"]
---
5. Ben Lomond Track
Location: Queenstown
Time to Complete: 4 – 6 hours
Distance: 11 km
Elevation Gain: 978 m
Difficulty: Moderate – Difficult
The Ben Lomond Track is easily one of the best day hikes on the South Island. One of the Queenstown day hikes, the adventure capital of the world, the Ben Lemond Track fits right in.
The hike starts from the top of Queenstown Skyline Gondola, but if you feel like it, you can walk up over the Tiki Trail instead of taking the Gondola up. The Tiki Trail adds about an hour each way and is rather steep, but as soon as you set off on it you're offered breathtaking views of Lake Wakatipu that only get better as you climb higher. Then after reaching the gondola the incline becomes a lot less straining until you reach the Ben Lomond Saddle. Here wide-open vistas show you Queenstown already quite far below you.
After the saddle, the climb up to the peak becomes very steep again, but all the sweeter is the taste when you've reached the summit and get to enjoy the 360 degrees views over the lake and the surrounding mountain ranges. Find out all the details on hiking the Ben Lomond Track here.
Recommended by Craving Adventure
---
6. Blue Pools Track
Location: Mount Aspiring National Park
Time to Complete: 1.5 hours
Distance: 3 km
Elevation Gain: 30 m
Difficulty: Easy
Blue Pools Track is a quick and easy hike in Mount Aspiring National Park and is a short drive from Wanaka. The trail takes you through beech and podocarp forest, and over the bright blue water of the Makarora River via a swing bridge. At the end of the trail you can go down to the water for a swim. It's incredibly chilly (as glacially fed rivers tend to be), but is refreshing on a hot day.
The well maintained trail and minimal elevation gain make this hike suitable for all levels of fitness and children.
---
7. Hooker Valley
Location: Mount Cook / Aoraki National Park
Time to Complete: 3 hours
Distance: 10 km
Elevation Gain: 198 m
Difficulty: Easy
Hooker Valley Track is easily one of the most popular day treks on the South Island. This half-day hike starts at the Hooker Valley car park and takes you through a sacred Topuni part of Hooker Valley. The trail culminates at Hooker Lake, where you'll be greeted by views of Mount Cook and Meuller Glacier, and may see mini icebergs bobbing in the water. Along the way, you'll navigate boardwalks and swing bridges all while taking in the Southern Alps around you.
Mount Cook is one of the most iconic landmarks in all of New Zealand, and Hooker Valley Track is the perfect way to experience it.
Although this is an easy hike, still be equipped with decent walking shoes, a water bottle and some snacks. There is camping in the national park near the car park, so after the hike, you can set up camp and try another hike the following day. This is a great option if you are travelling NZ by campervan. Tasman Glacier and Meuller Hut are both popular.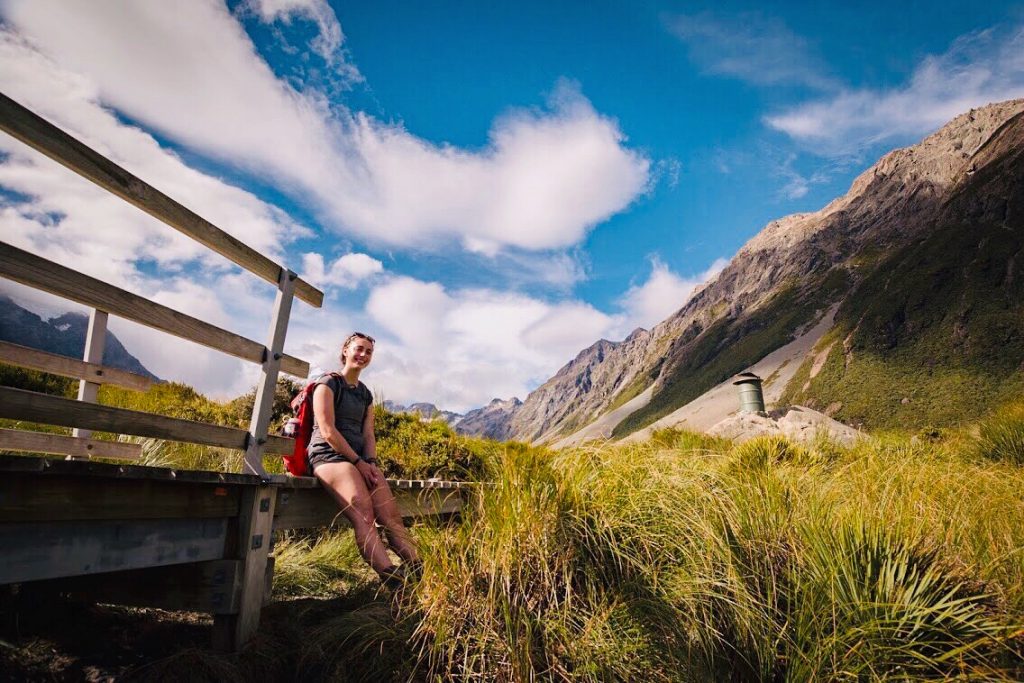 ---
8. Key Summit
Location: Fiordland National Park
Time to Complete: 3 hours return
Distance: 7.6 km
Elevation Gain: 423 m
Difficulty: Easy – Moderate
If driving to Milford Sound, make sure you take the time to stop and stretch your legs at the Divide carpark and go for a hike on the Key Summit Track. The Key Summit Track is located at the southern end of the Routeburn Track. As you make your way up the trail you'll get to enjoy spectacular views down the Hollyford Valley.
Once you reach the top there is a short Key Summit Alpine Nature Walk where you can follow the duck boards among the alpine bogs, tarns and stunted silver beech. Just before you start on the return journey down the Key Summit Track you will be treated to stunning views of Lake Marian perched in the alpine basin of the Darran Mountains.
The Key Summit Track is an extremely enjoyable hike along a well maintained trail with no drop offs. Bathroom facilities at the Divide carpark are limited to a particularly unpleasant drop toilet.
Recommended by Thrifty after 50
---
9. Franz Josef Glacier Hike
Location: West Coast
Time to Complete: 1.5 – 2 hours
Distance: 5.6 km
Elevation Gain: 265 m
Difficulty: Easy
Located on the West Coast of South Island, the Franz Josef Glacier offers you an opportunity to do one of the best day hikes in New Zealand and should definitely be a part of your New Zealand itinerary.
Although typically an easy hike, in rainy conditions it can be moderately difficult as you're walking through green forest patches and crossing actively flowing water streams.
Walking along the narrow trails in the lush forest, you hike across the Waiho river. On your way, you'll see a series of several spectacular waterfalls cascading down the green rocky cliffs.
Following the hike, you can rest your feet in the relaxing and therapeutic Franz Josef Glacier Hot Pools to top off the amazing experience.
Recommended by The Wandering Vegetable
---
10. Lake Marian
Location: Fiordland
Time to Complete: 3 hours
Distance: 6 km
Elevation Gain: 450
Difficulty: Easy – Moderate
Lake Marian is a glacial lake that glistens in the sun while being surrounded by mountains on all sides. Although it is not the longest hike, the trail up is rugged and challenging in sections. It can also be incredibly muddy (Fiordland does get a ton of rain, after all).
When I did Lake Marian, the trail itself was actually more beautiful than the lake because we encountered the thickest fog at the top and couldn't even see the lake. Thankfully I was able to find a photo of the lake fog-free, so you can see what it really looks like.
---
11. Godley Head
Location: Christchurch
Time to Complete: 3 hours
Distance: 9 km loop
Elevation Gain: 326 m
Difficulty: Easy
The Godley Head walk on the outskirts of Christchurch is a fantastic half day trek that takes in incredible beaches, WW2 remnants and natural caves.
You can start at the southern end of Sumner Beach (this will tack on an additional 5 km return), but the more popular option is to park at Taylor's Mistake and begin the walk from the car park there.
The hike a manageable loop walk and is suitable for kids or anyone with a moderate fitness level. Apart from a few climbs, it's fairly level around the headland. You'll be entertained by the expansive sea views (keep watch for penguins and dolphins!), roaming farm animals and landmarks on the way. Take a small detour down to Boulders Beach or to the historic Scott's Cabin – which has voyaged all the way from Antarctica!
Recommended by Le Long Weekend
---
12. Little Mt. Peel
Location: Christchurch
Time to Complete: 4 – 6 hours
Distance: 7 km
Elevation Gain: 1000 m
Difficulty: Easy – Moderate
Little Mt Peel is a great Canterbury walk, taking around 4 – 6 hours return. Let me premise this by saying, that Little Mt Peel, really isn't little. The summit is 1311m high and has incredible views over Mt Somers, Mt Hutt and the whole Canterbury coastline.
The hike spends the first ⅓ of the track in the bush before it climbs out onto the hillside. There is a good section of boardwalk (beware it can be icy at times) before a steep scramble to the summit.
The Tristan Harper Memorial Hut is just down from the summit, and is a great place to rest or shelter, however isn't a place to stay overnight. Here you can enjoy the views before you carefully head back down.
Little Mt Peel is about 20 minutes from the country town of Geraldine.
Recommended by Jennifer of Backyard Family Travel
---
What to Pack for Hiking in New Zealand
While some of the hikes on this list are fairly short and centrally located, others are quite remote and traveled less frequently. Weather on the South Island changes very quickly and there often isn't cell service on treks. So before you set off, ensure you're well equipped.
Review the 10 Essentials for Hiking & Camping for the basics of what to pack.
Backpack, preferably one with a frame and decent support (this is the one I use)
Water bottle and snacks
Rain jacket (this is mine)
Insulating mid layer (like fleece or down – this and this are the ones I use)
Trekking Poles – I recently got these trekking poles and I wish I'd had them when I was in New Zealand! They would have made the going down so much easier.
Optional Items:
Mittens and hat (if you'll be summiting or hiking outside of summer)
Headlamp (if hiking for sunrise)
Additional Resources
Perfect 14 Day South Island New Zealand Itinerary for Adventurers
The Ultimate 3 Week South Island New Zealand Itinerary
What to Pack to Survive Winter New Zealand (It's Colder Than You Think!)