Hi friends, Mikaela here with a guide to possibly my favourite destination in the world. New Zealand's South Island is a beautifully magical place. I spent over five months living in NZ and spent 95% of it on the South Island – I just couldn't bring myself to leave!
The most popular destinations are Mount Cook, Wanaka and the iconic Milford Sound. While this itinerary includes all of these destinations, I've also included some off-the-beaten-path destinations like Kaikoura, Abel Tasman National Park and more! So without further ado, here is the Ultimate 14 Day South Island, New Zealand Itinerary.
(If you have longer than two weeks, check out my three week itinerary here.)
This post may contain affiliate links. If you make a purchase through one of these links, I may receive a small commission at no extra cost to you. Your support is much appreciated! You can learn more by reading my full disclosure.
---
Logistics in South Island, New Zealand
Getting There
I would recommend starting and ending your journey in Christchurch, the largest city in the South Island. There are frequent flights between Auckland and Christchurch and it's easy to rent a car or camper van from Christchurch. (If you can spare some time on your itinerary, there are actually a ton of things to do in Auckland and it's definitely worth adding a buffer of time in between flights).
Getting Around
Although it is possible to get by hitchhiking and using public transport, I wouldn't recommend doing this. By renting a car or camper van you'll have significantly more freedom to explore destinations off the main highways.
Accommodation
You have a few options for accommodation in the South Island. I'd say the deciding factor will come down to your budget and comfort levels.
Camper van: Portable and (potentially) very cozy, more expensive than renting a car and also a bit more expensive for gas. The easiest way to find a camper van that meets your needs and budget is to use a camper van search site, like Camper Can Finder.
Car camping: There are a lot of campsite around New Zealand that you can access with a car, all you need is a tent!
Hostels: Cities and towns have hostels, which are comfortable and range in price (typically between $25 and $40 NZD for a dorm bed). I used Hostel World to find and compare options.
Airbnb: This was my favourite option because my boyfriend and I loved meeting Kiwis and getting their recommendations. Plus it's cheaper than a hostel if you have two people (rooms were as low as $35 NZD for a night, but we typically paid around $50 for the two of us).
Hotels: There are plenty of options for hotels, but we typically didn't stay in them because they were the most expensive option and we liked to have our own kitchen). I found Booking.com to be the easiest site to find and compare hotels.
---
14 Day South Island New Zealand Itinerary
Get ready for an adventure! Starting in Christchurch, this road trip itinerary will take you on a big loop of the Island. You'll visit South Island classics like Milford Sound and Aoraki/Mount Cook National Park, but also some hidden gems like Kaikoura and the West Coast.
Note: If two weeks feels a bit too long, my friend Caroline at CK Travels has written a good one-week itinerary for Christchurch to Queenstown.
Day 1: Christchurch to Kaikoura
Land in Christchurch, pick up your rental car or camper van and get on the road to Kaikoura. Kaikoura is a three hour drive north from Christchurch and situated on the east coast. Compared to Milford Sound or Wanaka, very few people go to Kaikoura.
I'd argue that the opportunity to swim with dolphins in the wild, out in the open ocean, makes Kaikoura worth the effort. That being said, if you choose to include this in your itinerary, it'll still be a relatively quick stop.
There's just so much to do in the South Island. Arrive in Kaikoura and in the early evening, walk along the Kaikoura Peninsula for some beautiful mountain and ocean views.
Night: Kaikoura
---
Day 2: Dolphins and Whales in Kaikoura
In the morning, get yourself on the water and with some wildlife. Choose between these two activities:
Snorkeling with dolphins – This is an absolute must-do; it is easily one of the best experiences of my life. The best part is that you're out in the ocean with WILD dolphins, not dolphins held in captivity. I wish I had photos of it, but I didn't have a GoPro at this time. Seriously, this is incredible.
Whale watching – I'd recommend snorkeling with dolphins over whale watching, but if you have time for both then whale watching is a great activity.
I'd recommend taking an early tour, so you leave yourself plenty of time to drive to your next destination in the mid-late afternoon. (You can find my complete list of recommendations for Kaikoura here).
Speaking of your next destination, you'll be going to Abel Tasman National Park! This is another destination often left off a South Island, New Zealand Itinerary because it's far away from Milford Sound and Wanaka.
But it isn't far away from Kaikoura, so we're making a stop. You won't actually be staying in the National Park, but there are plenty of options for accommodation in the towns outside the park.
We stayed at this Airbnb and it is in the top two best Airbnbs of my life (mostly because the place is beautiful and the host is incredibly interesting and friendly).
Night: Motueka (the main town outside of Abel Tasman)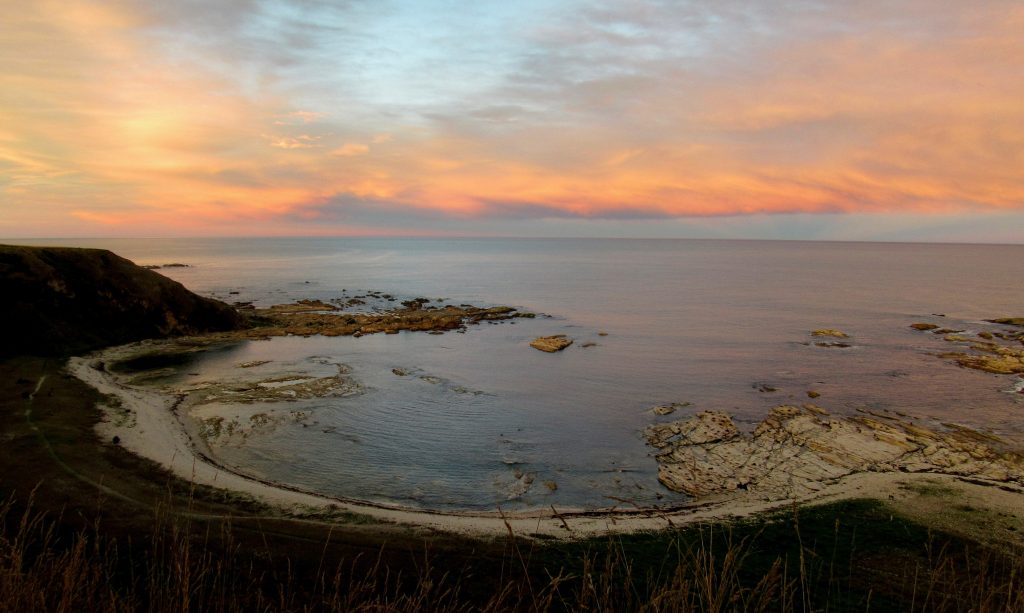 ---
Day 3: Kayak in Abel Tasman National Park
Abel Tasman National Park is best viewed from the water. I'd highly recommend doing a combined boat-kayak tour to get the most out of the park. If the conditions are right, you may be able to kayak into a secret harbour of baby sea lions.
Full day kayak and boat cruise – Kayaking is the best way to enjoy the park. The reason I like the combined kayak and boat cruise is that the cruise takes you further away from the town and into the heart of the park, and then you can kayak into the areas the cruise boat can't access. I'd highly recommend the tour that includes Shag Harbour, where the baby seals play.
What's really cool about Abel Tasman National Park (and the entire Northwest area of the South Island) is that it looks like a pre-historical jungle. It was actually used to film scenes from Jurassic Park!
Since the kayak tour will take the a good chunk of the day, stay in Moteuka for a second night.
Night: Motueka
---
Day 4-5: West Coast & Glaciers
After Abel Tasman, you'll make your way to the west coast. Take your time driving down the coast making stops whenever you find something eye-catching. There are a few destinations where you'll definitely want to stop, and I've listed them in the order you'd come across them driving south.
Between Motueka and the Fox and Franz Josef Glaciers is about 6 hour drive. Although it's a lot of driving, I'd suggest doing it all in one day with three hour-long breaks (one to walk about Punakaiki, one to walk to the Hokitaki Gorge and another break for lunch).
That way, you'll reach the glaciers by the early evening and be able to spend the entire next day in the area.
Two Nights: Fox or Franz Josef Glacier area
---
Day 6-7: Wanaka and Queenstown
Wanaka is a three hour drive from the glaciers and the road takes you through Mount Aspiring National Park. Some things to potentially stop for on the drive:
Blue Pools hike is an easy walk (one hour return trip), but leads to a beautiful swimming spot.
Blue Valley Track – I haven't done this walk, although I've heard it's a nice one. It starts at the car park for the Blue Pools, but continues into the valley. It's 2-3 hours each way, so do a little research on it before attempting.
Once you've arrived in Wanaka, there are a few things I'd recommend doing:
Hike Roy's Peak – this is that iconic hike you see a thousand photos of on Instagram, but it really is a spectacular view. The majority of people only go up as high as the view point (they take that iconic picture and go back down) – don't do this! Go to the actual top and you get a much better view! And highly (HIGHLY) recommend going for sunrise.
Visit the Wanaka Tree – no trip to New Zealand would be complete with out a visit to the Wanaka Tree.
Paddle on Lake Wanaka – in the late spring-early autumn, you can rent a kayak or stand up paddle board from the shore.
This is going to be a controversial opinion, but if you're short on time, I'd recommend only passing through Queenstown and focusing your time on Wanaka. If you have plenty of time, you can spend a lot of time in both, but Wanaka should be the priority (in my opinion).
Nights: Wanaka
---
Day 8-9: Fiordland National Park
Fiordland (home to Milford Sound) is probably the most popular destination in the South Island. This rugged and beautiful region is part of Te Wahipounamu, one of the UNESCO sites in New Zealand.
From Queenstown, it's a two hour drive to Te Anau. Once you reach Te Anau, it's another two hour drive to Milford Sound, however there are plenty of places to stop along the way (for views, not for services – fill up on gas ahead of time!).
You also have the option to take a shuttle bus from Te Anau to Milford Sound because in the summer the drive can get quite congested. I'd recommend spending a night at Gunn's Camp, rather than at a campsite, located along the drive from Te Anau and Milford Sound.
It's pricier (we paid $70 for a cabin), but I think it's very worth it. You're cozy, right on the river and the couple who runs the place is so friendly and interesting.
For your second night, stay in the Milford Sound lodge (a dorm bed is $40 NZD – just make sure you book early). This way, you're close to Milford Sound to catch the sunrise and/or sunset. Some things to do in Fiordland include:
If you have more than two weeks, I've included some add-ons in the next section of this post that you would do following Fiordland National Park and before moving onto Aoraki/Mount Cook National Park.
Nights: Milford Sound
---
Day 12-13: Aoraki/Mount Cook National Park
I hope you're well rested from your time in Milford Sound, because today is a heavy driving day. From Milford Sound, through Te Anau, to Aoraki/Mount Cook National Park is a 6 hour drive.
I'd recommend starting early in the morning to make the most out of the day. Here are some things to do in Aoraki/Mount Cook National Park:
Take a driving break at Lake Pukaki – there are beautiful views here.
Check out the Tasman Glacier – To be honest, everyone says to do this walk (it's only an hour return) but I didn't find the view that nice. It's not much of a time investment, so I guess it's worth checking out, I just didn't love it myself.
Hike the Hooker Valley Track – This is a three hour walk, but a very easy one with little elevation change. It gives you beautiful views of Aoraki/Mount Cook, Mueller Glacier and Hooker Lake.
If you have time for an overnight hike, go to Meuller Hut (only feasible in the late spring-early fall). Antonette from We12Travel has a super comprehensive blog post on this challenging, but spectacular hike.
Lake Tekapo – wonderful lake to make a stop at and take some pictures. If you're visiting about November, you'll have the chance to see the beautiful purple lupins.
You can camp in the park or there are hotels/inns near the park.
Nights: Aoraki/Mount Cook National Park area
---
Day 14: Christchurch
For the final day, it's a 3 hour drive back to Christchurch. You can linger in the park in the morning, or explore Christchurch once you arrive back to the city. Here are some things to do in Christchurch (I recommend visiting the International Antarctic Centre).
What you do depends on when your outbound flight is.
14 Day South Island, New Zealand Itinerary: Additional Resources
What do you think?
Have you been to the South Island before? What did you think of it? Haven't been but it's on your list? Send me a message or comment on the post if you have questions or just want to chit chat about one of the most beautiful countries in the world!