Hello and welcome to the Ultimate 3 Week South Island, New Zealand Itinerary! I'm so excited you're considering a three week (or longer) journey to the bottom of the world. The South Island was my home for five months in 2018, and where I think I'll eventually end up living.
I love this island and know you will too. The itinerary is fast paced and we will circle the entire island, but feel free to slow things down and cut out a destination or two. If you've already checked out my Ultimate 2 Week South Island, New Zealand Itinerary, you'll see a lot of repeat information.
You'll also see, however, recommendations for some very off-the-beaten-path destinations. These are destinations that don't get nearly as many visitors as Milford Sound or Wanaka, but still have charm and beauty. Off-the-beaten-path destinations like the Catlins and Dunedin and the Otago Peninsula are some of my favourite places.
So without further ado, let's get moving!
This post may contain affiliate links. If you make a purchase through one of these links, I may receive a small commission at no extra cost to you. Your support is much appreciated! You can learn more by reading my full disclosure.
---
How to Get Around & Where to Stay
Getting Here
In this guide, we're going to make a big loop around the island by starting and ending in Christchurch, the largest city in the South Island. Christchurch has frequent flights to and from Auckland, and there are even some direct flights to Australia.
Getting Around
Although it is possible to get by hitchhiking and using public transport, I wouldn't recommend doing this. By renting a car or camper van you'll have significantly more freedom to explore destinations off the main highways.
Accommodation
There are a quite a few options for accommodation in the South Island, depending on your budget and desired comfort level.
Camper Van: Portable and (potentially) very cozy, more expensive than renting a car and also a bit more expensive for gas. The easiest way to find one that meets your needs and budget is to use Camper Van Finder.
Car Camping: There are a lot of campsite around New Zealand that you can access with a car, all you need is a tent!
Hostels: Both cities and smaller towns have hostels, which are comfortable and range in price (typically between $25 and $40 NZD for a dorm bed). However, this isn't the case in some of the really small destinations. I typically used Hostel World to find and compare options.
Airbnb: This was my favourite option, because my boyfriend and I loved meeting Kiwis and getting their recommendations. Plus it's cheaper than a hostel if you have two people (rooms were as low as $35 NZD for a night, but we typically paid around $50 for the two of us).
Hotels: There are plenty of options for hotels, but we typically didn't stay in them because they were the most expensive option and we liked to have our own kitchen. In the few cases we did stay in hotel, I found Booking.com the most helpful.
---
3 Week South Island New Zealand Itinerary
In this itinerary, you will swim with dolphins and kayak with seals, go on day hikes and maybe even try out an overnight hike or two. You'll visit all the main destinations and towns like Christchurch, Dunedin, Queenstown and Wanaka, but also relax in Akaroa and watch the sunrises on the east coast, take surf lessons and boat cruises.
If three weeks feels a bit too long, I also have a 2 Week South Island Itinerary and my friend Caroline at CK Travels has written a good one-week itinerary for Christchurch to Queenstown.
---
Day 1-2: Whale Watching & Swimming with Dolphins in Kaikoura
You'll land in Christchurch, pick up your rental car or camper van and get on the road to Kaikoura. Kaikoura is a three hour drive north from Christchurch and situated on the east coast.
Compared to Milford Sound or Wanaka, very few people go to Kaikoura. I'd argue that the opportunity to swim with dolphins in the wild, out in the open ocean, makes Kaikoura worth the effort.
That being said, if you choose to include this in your itinerary, it'll still be a relatively quick stop. There's just so much to do in the South Island.
Things to do in Kaikoura
If you arrive in the afternoon: Stiff from the flight and driving? Stretch your legs with a little hike at Mount Fyffe. There are four options: a 45 min, 1 hour 45 min, 8 hour and 2-3 day routes.
Alternatively, you could go whale watching (the most popular activity in Kaikoura though I'd recommend snorkeling with dolphins over whale watching).
You can either take a whale watching cruise or go whale flight-seeing (plus get an incredibly view of the mountains). I did the flight-seeing over the cruise.
In the early evening: Walk along the Kaikoura Peninsula for some beautiful mountain and ocean views. (Here you can find my complete list of recommendations for Kaikoura). You will probably see some seals lounging on the boardwalk.
In the morning: Go snorkelling with dolphins – this is an absolute must-do; it is easily one of the best experiences of my life. The best part is that you're out in the ocean with WILD dolphins, not dolphins held in captivity. You'll want to book with Dolphin Encounter in advance. The groups are small and they book up quickly.
In the afternoon: Unfortunately we don't have much time in Kaikoura and already have to get back on the road – it's a four hour drive to our next destination (the entire trip won't be like this, I'm just front-loading most of the long drives for you).
Speaking of your next destination, you'll be going to Abel Tasman National Park! This is another destination often left off South Island, New Zealand itineraries because it's far away from Milford Sound and Wanaka.
It isn't far away from Kaikoura though, so we're making a stop! You won't actually be staying in the National Park, but there are plenty of options for accommodation in the towns outside the park.
We stayed at this Airbnb and it is in the top two best Airbnbs of my life (mostly because the place is beautiful and the host is incredibly interesting and friendly).
Night 1: Kaikoura
Night 2: Motueka (the main town outside of Abel Tasman)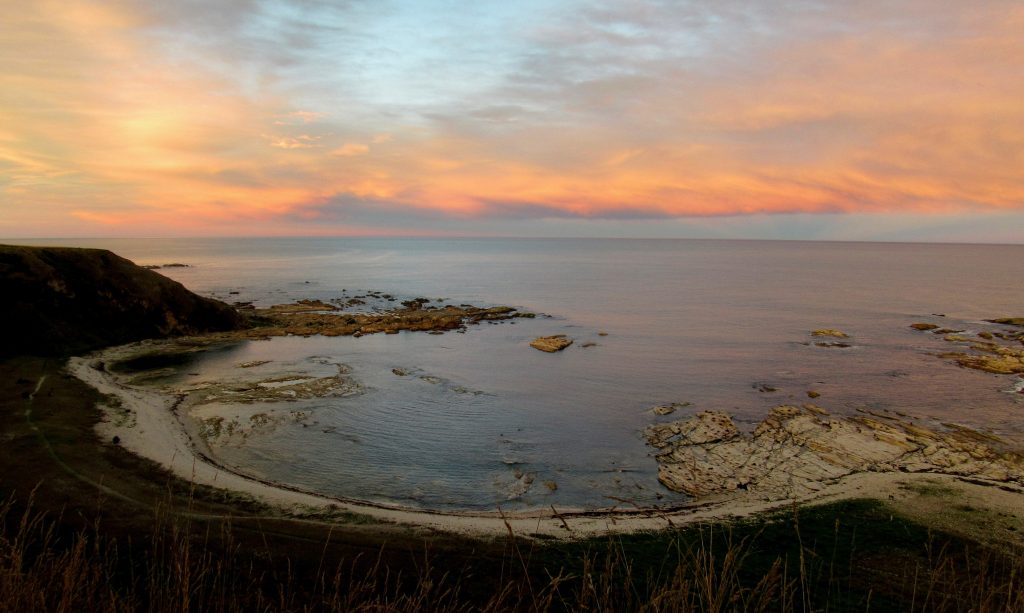 ---
Day 3-4: Kayaking in Abel Tasman National Park
Abel Tasman National Park is best viewed from the water. I'd highly recommend doing a combined boat-kayak tour to get the most out of the park. If the conditions are right, you may be able to kayak into a secret harbor of baby sea lions.
Things to do in Abel Tasman National Park
In the evening: Check into your hotel or Airbnb, grab some dinner and relax a little. Today will be a full day!
On the first day: Take a full day kayak and boat cruise. Kayaking is the best way to enjoy the park. The reason I like the combined kayak and boat cruise is that the cruise takes you further away from the town and into the heart of the park, and then you can kayak into the areas the cruise boat can't access.
I'd highly recommend the tour that includes Shag Harbour, where the baby seals play. At the strong recommendation of my Airbnb host, I went with Kaiteriteri Kayaks and had an amazing time.
On the second day: Today let's do some hiking. Abel Tasman National Park has many options for hiking, but I recommend choosing one of the Totaranui walks as these bring you up close with Abel Tasman's sprawling golden sand and prehistoric jungle.
If you want to get up early, you could do to 5.5 hour trek from Gibbs Hill to Whariwharangi. Otherwise you could choice from a variety of shorter 1-2 hour hikes.
If you want to slow things down: You could either hike in the morning and leave Abel Tasman in the afternoon / evening for your next destination, or you could relax in the park and Moteuka and get moving in the morning. Either works in this itinerary!
2 Nights in Motueka or 1 Night in Motueka & 1 Night on the West Coast
---
Day 5-7: Drive the West Coast & Visit Glaciers
After Abel Tasman, you'll make your way to the west coast. The first part of the drive is through the mountains to the coast. There aren't a lot of stops here, but the views are excellent the entire way. Once you're on the coast, you can refuel / pick up food and supplies in Westport.
Things to do on the West Coast
As you drive south along the west coast, there are a few places worth stopping. The first is Paparoa National Park where you can check out Punakaiki, known as the pancake rocks (30 minutes) and do an easy 1.5 hour walk at the Poporari River.
Continuing south, you can make a stop at Hokitaki Gorge Walk for a quick walk to a beautiful gorge (the track is 650 m each way).
Things to do at Fox and Franz Josef Glaciers
The main attractions on the west coast are Fox and Franz Josef Glaciers. The area has some good hiking and the opportunity to go on a heli-hike. Some people find they only need one day at the glaciers, while other people never want to leave.
In the afternoon / early evening: Do the 1.5 hour hike to Lake Matheson, where you'll see gorgeous mountain reflected in a crystal clear lake. It's especially beautiful when the sun is going down.
Full day activity: If you are an experienced hiker, you can hike the Alex Knob Track. It takes about 4 hours to reach the summit for a round-trip time of a little under 8 hours (or, almost 9 km each direction). Check out the DOC website for important information regarding safety on the track.
Half day activity: Join a guide heli-hike for the opportunity to see the glacier from the air and then walk on it. It's pricey ($500) so I didn't do it, however it's the top item on my bucket list for the next time I go to the island.
Half day activity: Skydiving is another activity I haven't tried myself (it's also expensive), but if you can afford it, I've heard it's absolutely incredible. I know you can also go skydiving from Queenstown, but I've heard it is better at Fox Glacier.
Three Nights: Fox or Franz Josef Glacier area
---
Day 8-10: Explore Wanaka and Queenstown
Wanaka is a three hour drive from the glaciers and the road takes you through Mount Aspiring National Park. Some things to potentially stop for on the drive:
Things to do around Wanaka
I've written an entire post about things to do in Wanaka – here are some of the highlights. On the drive into Wanaka:
Blue Pools hike is an easy walk (one hour return trip), but leads to a beautiful swimming spot.
Blue Valley Track – I haven't done this walk, although I've heard it's a nice one. It starts at the car park for the Blue Pools, but continues into the valley. It's 2-3 hours each way, so do a little research on it before attempting.
Once you've arrived in Wanaka, there are a few things I'd recommend doing:
Hike Roy's Peak – this is that iconic hike you see a thousand photos of on Instagram, but it really is a spectacular view. The majority of people only go up as high as the view point (they take that iconic picture and go back down) – don't do this! Go to the actual top and you get a much better view! And I highly (HIGHLY) recommend hiking Roys Peak for sunrise (or sunset).
Visit the Wanaka Tree – no trip to New Zealand would be complete with out a visit to that Wanaka Tree.
Paddle on Lake Wanaka – in the late spring-autumn, you can rent a kayak or stand up paddle board from the shore.
So I generally recommended Wanaka over Queenstown – I just didn't like Queenstown that much. That said, everyone else raves about it so definitely worth checking out if you have extra time. (I actually spent so little time in Queenstown, I wouldn't feel good giving you recommendations. Check out my friend Aimee's post on 24 Hours in Queenstown if you want a complete download on what there is to do!)
Three Nights: Wanaka and/or Queenstown
---
Day 11-13: Kayaking and hiking in Fiordland National Park
Fiordland (home to Milford Sound) is probably the most popular destination in the South Island. From Queenstown, it's a two hour drive to Te Anau.
Once you reach Te Anau, it's another two hour drive to Milford Sound, however there are plenty of places to stop along the way (for views, not for services – fill up on gas ahead of time!). You also have the option to take a shuttle bus from Te Anau to Milford Sound because in the summer the drive can get quite congested.
I'd recommend spending a night at Gunn's Camp, rather than at a campsite, located along the drive from Te Anau and Milford Sound. It's pricier (we paid $70 for a cabin), but I think it's very worth it. You're cozy, right on the river and the couple who runs the place are so friendly and interesting. For your second night, stay in the Milford Sound lodge (a dorm bed is $40 NZD – just make sure you book early). This way, you're close to Milford Sound to catch the sunrise and/or sunset.
Things to do in Fiordland National Park
Many of the hikes in my Best Hikes in South Island New Zealand are in Fiordland. This area is just so incredible for hiking!
Half day activity: Hike to Lake Marian (3 hours). This is best done on a clear day, otherwise you won't see any of the view at the top (which happened to me). Here's a really good guide for what to expect on the Lake Marian hike.
Half day activity: Hike to Key Summit (3 hours) – this trek is also best done on a clear day.
Half day activity: Join a Boat Cruise through the Milford Sound. This is the best way to explore the entire fiord.
Three Nights: Milford Sound
---
Day 14-15: Waterfalls and more in The Catlins
Here is where the two itineraries deviate. In the 2 Week South Island, New Zealand Road Trip Itinerary, you drive directly to Mount Cook after Fiordland. However since you have more time we're going to make stops in Southland and Otago.
After leaving Milford Sound and Te Anau, drive south to The Catlins (I have a guide to visiting the Catlins for more info). The drive from Milford South to the Catlins is 4 hours, so I'd recommend leaving Milford in the morning, driving to the Catlins, do some exploring and then spend the night in the area.
The next day you can do a little more exploring in the Catlins before moving on. There are dozens of places to explore in the Catlins, and I've spent my fair share of time in this area. This map outlines all of the possible destinations you could visit, but here are the ones I'd most recommend.
Cathedral Caves – When the tide is in, these caves are underwater. But when the tide goes out, you can walk in and around the caves. Be sure the check the website for tide times in advance though – you don't want to show up and learn the caves are underwater! There is a small park fee (something like $5 NZD).
Waterfalls – There are a number of nice waterfalls in the Catlins region (Purakaunui and McLean Falls are my favourite).
Nugget Point – This place is especially beautiful at sunrise, but worth a stop any time of day (see below). The lighthouse is a 25 minute walk from the car park on a very easy and well maintains trail.
I'd recommend either camping at Purakaunui Bay or in the town of Owaka.
Night: The Catlins
---
Day 16: Beaches in Dunedin
A little north of The Catlins is the town of Dunedin, my home for five months in 2018. While many people glass over the town, I think there are many great things to do in Dunedin.
Things to do in Dunedin
In the early morning: Tunnel Beach is my favorite place in Dunedin to catch a sunrise. From the car park, it's a twenty minute walk down to the view point (which is really pretty) and you can walk over this land bridge and stare out into the ocean. What gives tunnel beach its name however is that you can go through an actual tunnel to get from the cliff shores to a secret little beach.
In the morning: Dunedin has some of the best surfing in New Zealand, and St Clair Beach is a great place to take some surf lessons. If you're more into lounging on your own secluded beach, Aramoana is personal favourite of mine.
In the afternoon: Drive out to the Otago Peninsula. It has a few great walks, like Lover's Leap. I'd also recommend going to Sandfly Bay if you want to try spotting some sea lions (remember to stay at least 10 meters away from them).
If you have extra time: As this itinerary is already full of so many things to do, I've only left one day in Dunedin but I think two full days would be perfect. Here you can find a complete list of my recommendations for things to do in Dunedin.
One Night: Dunedin
East Coast Sunrises
And since you're spending time on the East Coast again, I'd highly recommend getting up early each day to catch the sunrise (even if it means going back to bed afterwards). Here are some of my favourite destinations for sunrises (plus Nugget Point as mentioned above).
---
Day 17-19: Hike in Aoraki/Mount Cook National Park
After some time in Dunedin and the Otago Peninsula, drive from Dunedin to Mount Cook. I would highly recommend driving the route that takes you through the town of Alexandra.
I've done the Dunedin-Mount Cook drive many, many times and this is by far the most scenic route. It takes a little longer than shooting up the east coast to Timaru, but it is such a nicer drive.
Things to do at Aoraki / Mount Cook National Park
Take a driving break at Lake Pukaki – there are beautiful views here.
Check out the Tasman Glacier – To be honest, everyone says to do this walk (it's only an hour return) but I didn't find the view that nice. It's not much of a time investment, so I guess it's worth checking out, I just didn't love it myself.
Hike the Hooker Valley Track – This is a three hour walk, but a very easy one with little elevation change. It gives you beautiful views of Aoraki/Mount Cook, Mueller Glacier and Hooker Lake.
If you have time for an overnight hike, go to Meuller Hut (only feasible in the late spring-early fall). It's a challenging hike, so important to be prepared (I recommend reading this detailed post by We12Travel for how to prepare).
You can camp in the park or there are hotels/inns near the park. Three Nights: Aoraki/Mount Cook National Park area
---
Day 20-21: Wander Lake Tekapo, Christchurch and Akaroa
From Mount Cook National Park it's a four to five hour drive to Christchurch. Make sure you stop by Lake Tekapo on the way.
Lake Tekapo – Wonderful lake to make a stop at and take some pictures. If you're visiting about November, you'll have the chance to see the beautiful purple lupins. You can also stop by the photogenic Church of the Good Shepard.
Christchurch has some nearby hikes and so many great restaurants or check out the International Antarctic Center which was so cool. A very underrated destination is, in my opinion, Akaroa. Akaroa, meaning "long harbour", is a little town outside of Christchurch on the Pacific Coast.
I will admit that after the dramatic scenery of Milford Sound and Mount Cook (and even Dunedin and the Catlins), Akaroa will feel pretty anti-climatic. There aren't mountains or stunning beaches or anything.
What I like about Akaroa is that it's a great place to really slow things down and relax a little. Have you ever ended a vacation that was so much go-go-go that you need a vacation afterwards? I have, so I like to spend two days at the end of a trip just chilling before I have to travel again.
And Akaroa is great for this. There are cute shops and some good places to eat and nice cafes. You can take a boat cruise along the entire length of the harbour and see seals and sea lions and albatross.
Although, if you do want a little bit of adventure, the Banks Track is a nice three day hiking trip from Onuku to Akaroa.
Two Nights: Akaroa or Christchurch
---
Bonus: Stewart Island
I unfortunately didn't make it to Stewart Island during my time in New Zealand, in a guide claiming to be the 'Ultimate South Island, New Zealand Itinerary' I'd be doing you a disservice to not at least mention it at.
Stewart Island is New Zealand's third largest island (New Zealand has three islands? Yeah, I didn't know either). Stewart Island is considerably smaller and almost entirely protected as a National Park/nature reserve. I can't speak to what you should do or how long you should visit, since I haven't been there myself, but keep it in mind when you're planning your trip.
Additional Resources