If you've been reading Voyageur Tripper for more than a minute, you'll know I prefer canoeing to kayaking. However, I can't deny that some destinations in Canada and much better suited to kayaking than canoeing.
Kayaking tends to be better for routes with big water (like oceans or the Great Lakes) and especially routes that involve tracing coastlines or weaving in between islands. So today I'd like to share the best destinations for kayaking in Canada!
I've taken care to feature destinations from across Canada: there are 4 on the West Coast, 2 on the East Coast, 2 in the North, 3 on the Great Lakes / Ontario.
---
11 Best Destinations for Kayaking in Canada
And without further ado, here are the best destinations for kayaking in Canada!
How were destinations selected? I've kayaked only a few of these destinations myself, so this list is sort of a bucket list for me. I have a ton of experienced kayakers in my Facebook and Instagram communities so I asked them what they considered to be the best places for kayaking in Canada. Then I hit the internet, reading up on dozens of locations, routes and tours. Once I've paddled them all myself I'll update the list again!
This post may contain affiliate links. If you make a purchase through one of these links, I may receive a small commission at no extra cost to you. Your support is much appreciated! You can learn more by reading my full disclosure.
Baffin Island, Nunavut
Baffin Island, located in eastern Nunavut, is the fifth largest island in the world and features hundreds of kilometres of rugged arctic, coastline. That, combined with icebergs and the opportunity to see wildlife, makes Baffin Island one of the best places to kayak in Canada.
There are a few places on the island for kayaking. If you'll only be in Nunavut for a few days or don't have the budget for an arctic safari, you can go kayaking in Iqaluit. Inukpack Outfitting offers guided kayaking tours on Frobisher Bay in the summer. You won't see huge icebergs or much wildlife, but you will see tundra, mountains and be paddling on the arctic ocean.
If you have the time and budget for a longer trip further north, you can go on an arctic safari with Arctic Kingdom. Their tours are scheduled around seeing wildlife, so it's much more likely you'll see polar bears, beluga whales and narwhal (depending on the tour you choose).
Many of their tours have kayaking day trips – I got to guide one when I was working for AK back in 2015.
Explore Frobisher Bay on this Day Trip
Haidi Gwaii, British Columbia
Haida Gwaii is perhaps the most magical place in all of Canada. This archipelago sits off the coast of northern British Columbia and has been home to the Haida since time immemorial. Much of the islands remain covered in old-growth forest; animals like wolves, bears and bald eagles roam freely.
The Haida Gwaii tourism board puts it perfectly: "Once you've reached the end of your world, ours begins."
The area spans 10,000 square kilometres of rain forests and rocky coastline, making this an amazing place to go kayaking. Gwaii Haanas National Park, on the south end of the archipelago, is the perfect place for a guided kayaking tour.
Kingfisher offers an interesting kayaking tour of the park – kayakers paddle to destinations like the Burnaby Narrows, Haigi (an abandoned Haida village) and UNESCO World Heritage Site of Ninstints among other places.
Kayak Southern Gwaii Haanas on an 8 Day Guided Tour
Discovery Island, British Columbia
If Haida Gwaii is a little too remote for you, the Discovery Islands are an excellent alternative. The Discovery Islands lie between Campbell River (a town on the east side of Vancouver Island) and the mainland of British Columbia. Among these islands is Desolation Sound Provincial Park.
There are dozens of islands – small and big – to paddle around here, and as such, there are a variety of different route options.
For example, there are kayaking tours that go northeast towards the mainland (like a tour Orford River where grizzly bears frequent) or one that goes deep into Toba Inlet with snow-peaked mountains on either side. Wherever you choose to paddle, you'll encounter beautiful mountains, rugged coastline and abundant wildlife.
Paddle through Desolation Sound on a 6 Day Guided Tour
Ucluelet, British Columbia
Out next kayaking destination in British Columbia is a stone's throw from Ucluelet, on the west side of Vancouver Island. Broken Group Islands lie south of Ucluelet and offer an excellent destination for a multi-day kayaking trip.
There are just seven campsite options in the Broken Group Islands, and depending on weather and tide conditions, it's possible you'll stay at one campsite and make day trips to different parts of the area. With less distance to cover and less setting up / taking down camp, this trip is more suitable for beginners than some of the ones listed above.
Explore Broken Group Islands on a 5 Day Guided Kayaking Trip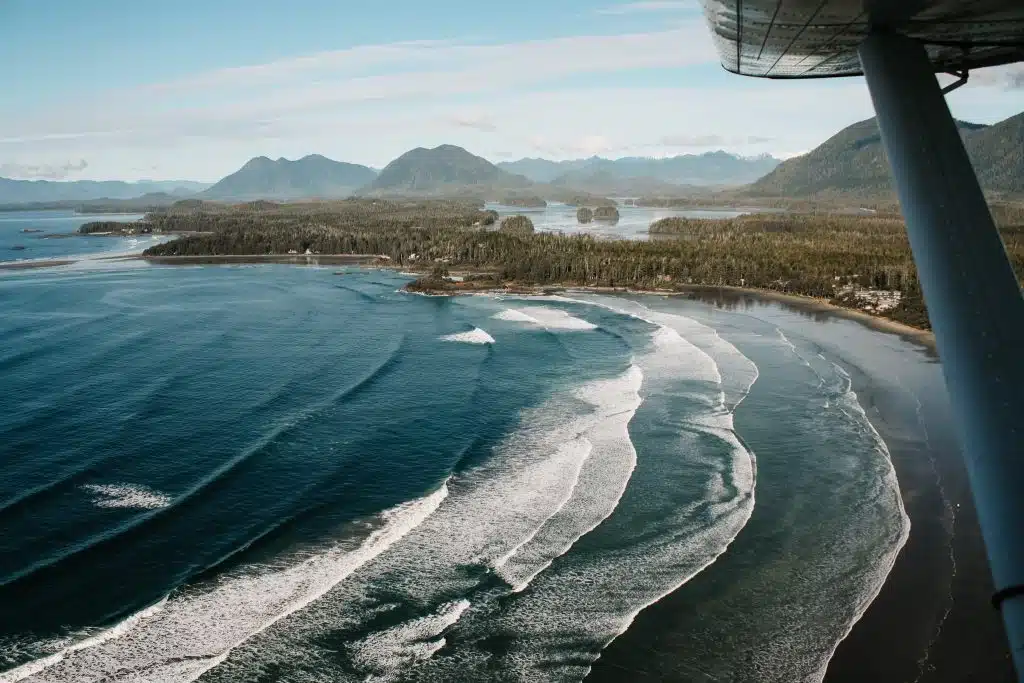 Deep Cove, British Columbia
If you're looking to do some kayaking in British Columbia, but want something a little shorter and closer to home, Deep Cove is perfect for you. Deep Cove is a neighbourhood in Vancouver that is about 25 minutes from downtown. It faces onto Indian Arm, which is a long inlet off of Vancouver Harbour that stretches north.
On Indian Arm you'll find very few other boats and few buildings or signs of human activity, especially as you paddle further into the arm. If you only have a day, you can paddle from Deep Cove to Jug Island or Twin Islands (that's what I did when I was in Deep Cove).
If you have more than a day (and have the skills to do a self-guided trip), you can paddle all the way to the end of Indian Arm and visit sites like Granite Falls. There are a few campsites throughout Indian Arm.
Churchill, Manitoba
Churchill, Manitoba is the polar bear capital of the world, but did you also know they have a thriving beluga whale population? If you're unfamiliar, Churchill sits on the shores of Hudson Bay, just south of the Manitoba-Nunavut border. The area is frequented by beluga whales and Sea North Tours provides visitors with the opportunity to paddle among them.
Meet Belugas on this 3-hr Kayaking Tour in Churchill
Georgian Bay, Ontario
Georgian Bay is easily one of the best places for freshwater kayaking in Canada. The bay encompasses more than 30,000 islands for you to paddle in and around.
The scenery is breathtaking. Rocky islands of granite and quartz stick out of the green-black water; tall pine trees bend to impossible angles under the force of the wind. Georgian Bay is where I spent all of my summers as a kid. As such, it remains one of my favourite places on earth.
I'm only aware of a few guided kayaking trips on Georgian Bay, however there are some outfitters that offer kayak rentals and shuttle services.
The Ontario Sea Kayak Centre offers a 1.5 hour tour leaving from Snug Haven, near Parry Sound. Wild Women Expeditions offers a 5 day guided trip, with a mixture of kayaking and yoga.
Lake Superior, Ontario
Lake Superior is the largest freshwater lake in the world and has enticed paddlers for centuries.
The northern shore is characterized by rugged coastline; the rocks of the Precambrian Shield are covered in mosses, lichen, wildflowers and pine trees. The water is as cold as it is expansive (they don't call lake Superior the "Little Sea" for nothing).
There are popular kayaking routes in both Lake Superior Provincial Park and Pukaskwa National Park. Naturally Superior Adventures is based in Wawa and operates a few kayaking tours on Lake Superior, ranging from 2 to 10 days. (Personally, I'm interested in the 10 day Pukaskwa Coast Wilderness Tour.)
Paddle the Coastline of Pukaskwa National Park on a 10-day Tour
There is a trip report on my Trip Reports website by a group that canoed a very similar route in Pukawskwa National Park. You can read about it here.
Ottawa Valley, Ontario
Most of the destinations on this list are for sea kayaking, but there is also phenomenal whitewater kayaking in Canada. Ottawa River, and many of the rivers in the Ottawa Valley – like the Magnetawan River and Petawawa River – are perfect for thrill-seeking kayakers. There are big technical rapids to paddle down with huge volumes of water.
Due to the necessary skill and the risks inherent with whitewater kayaking, rivers in the Ottawa Valley should only be paddled by experienced whitewater kayakers.
There are tons of outdoor schools in the area that provide lessons and short, guided trips. I've worked with both the Madawaska Kanu Centre and the Paddler Coop, both of which are located on the wonderful Madawaksa River.
Bay of Fundy, New Brunswick
The Bay of Fundy is the large body of water that separates New Brunswick from Nova Scotia. Twice per day, 100 billion tonnes of water moves in and out of the bay.
This corresponds to a tidal range of 16 m – the largest in the world – and means that you can walk along the ocean floor in the morning and then kayaking on the surface, 16 m higher, in the afternoon.
The best place in the Bay of Fundy, and one of the best places for kayaking in Canada, is around the Hopewell Rocks. These flower pots rocks stand in isolation from the main coastline; years of erosion has separated them and carved caves and tunnels in the soft sandstone.
You can actually paddle inside some of the caves and tunnels (kayaking with the Hopewell Rocks was the focal point of my road trip in New Brunswick)!
As of my visit, there is only one tour operator that provides kayak tours around the Hopewell Rocks and that is Baymount Adventures. They offer 1-2 tours per day (depending on the tide schedule) and the tour runs about 3 hours.
Kayak around the Hopewell Rocks
East Coast, Newfoundland
Newfoundland is such a wonderfully underrated province. The rocky landscape is dotted with colourful wooden homes; icebergs can be seen meandering in the distance, along with the occasional pods of whales.
And all this makes the East Coast of Newfoundland an excellent place to go kayaking in Canada.
Most of the guided kayaking excursions are half-day tours, and outfitters can be found along the coastline. There are a few tours departing from St. John's.
However, I'm most intrigued by tours in destinations a little further north, like those of Trinity Eco-tours & Lodge. It's common to see humpback whales and orcas (and lots and lots of sea birds) on their trips!
---
Final Thoughts on Kayaking in Canada
I hope this post has inspired you to plan a kayaking trip in Canada. Our country is home to some absolutely beautiful scenery, and some of it is just perfect for exploration by kayak.
Have you paddled any of these destinations? Any places I left off the list that should be included? Leave a comment below!
Related Adventures