I have slowly become a huge fan of Icebreaker. I love merino wool for moisture management and comfort, and I love responsibly-made clothing and ethical brands. So I thought it was time I do a proper Icebreaker review and discuss each of the Icebreaker shirts designed for hiking.
Realistically, there are six Icebreaker hiking shirt designs. When you account for variations (i.e. 1/4 zip vs crew, T-shirt vs long sleeve) and print design, there are a lot more. But for this list, we'll stick to the basics. I've also left off their shirts that are better suited to casual wear.
I personally own every single Icebreaker shirt on this list. (That sounds excessive, but keep in mind I do a lot of hiking and my everyday style is 'about-to-go-on-a-hike', so they all get a lot of use). Everything I'm writing in these reviews comes from personal experience.
Here are the Icebreaker shirts I'll be reviewing.
100% Merino Wool Hiking Shirts:
Merino Wool Blend Hiking Shirts:
At the end of this post, I go over a few additional topics, like why I hike in merino wool, how to take care of merino wool clothing and why I like Icebreaker so much.
This post may contain affiliate links. If you make a purchase through one of these links, I may receive a small commission at no extra cost to you. Your support is much appreciated! You can learn more by reading my full disclosure.
---
Icebreaker Shirts Comparison Chart
---
Icebreaker Shirts Made with 100% Merino Wool
This hiking t-shirt sits right at the top of this list because I find it to be the best Icebreaker hiking t-shirt. The t-shirt feels super soft on the skin and the merino wool keeps the sweaty odour away.
The merino wool used in this t-shirt also aids moisture-wicking so the shirt feels dry and comfortable throughout your outdoor adventure. I also find the fit of this shirt perfect for active use; it's not too snug nor too baggy. Plus, the shoulder seams don't rub with my backpack.
The t-shirt is also fairly versatile and can be used for casual outings over and above its conventional hiking and backpacking use. You can easily layer it with a jacket or a sweater and still not feel too stuffy.
In my opinion, if you just had to buy one Icebreaker hiking t-shirt, you shouldn't look beyond this one!
---
Top Pick
Icebreaker Merino 200 Oasis Thermal Top
Material: 100% Merino wool
Style: Long sleeves crew top
Pros:
Versatile - great as a stand-alone hiking shirt or as a base layer

Gusseted underarms and frictionless seams

Lightweight, breathable and soft material
Cons:
Gets a little smellier and sweatier than other Icebreaker shirts
Find on Icebreaker
The Oasis Long Sleeve is a fantastic hiking shirt and serves a few purposes in my outdoor wardrobe. For starters, the material is lightweight and form-fitting, making it excellent for layering underneath a sweater. Since it's a long sleeve, I also find it comfortable to wear directly under a raincoat when it's raining, but not cold.
I most often wear this shirt in the autumn and spring, when it's a little too cold to go with just a T-shirt, but not cold enough to justify a sweater while moving. I also love that this shirt is soft and not scratchy, especially since it's so form-fitting. The gusset underarms also contribute to comfort, as they allow for greater arm mobility.
One thing I don't love about the tighter Icebreaker long sleeve shirts is that, in my experience, they end up holding onto more moisture. I think this is because the shirt is right against your body, absorbing ALL of your sweat.
The other shirts, on the other hand, are more loose-fitting so they don't come in contact with as much sweat. The shirt doesn't stay wet for long, but it does start smelling faster than any of my other Icebreaker shirts.
What do the numbers mean? The numbers in the names represent the thickness of the material, measured in grams per space meter. The higher the number, the thicker (and warmer) the material. For summer hiking, look for 100-150. For spring or autumn hiking, you might prefer 150 – 250. I only wear 250+ as a base layer in the winter or at night in the spring/autumn.
---
Top Pick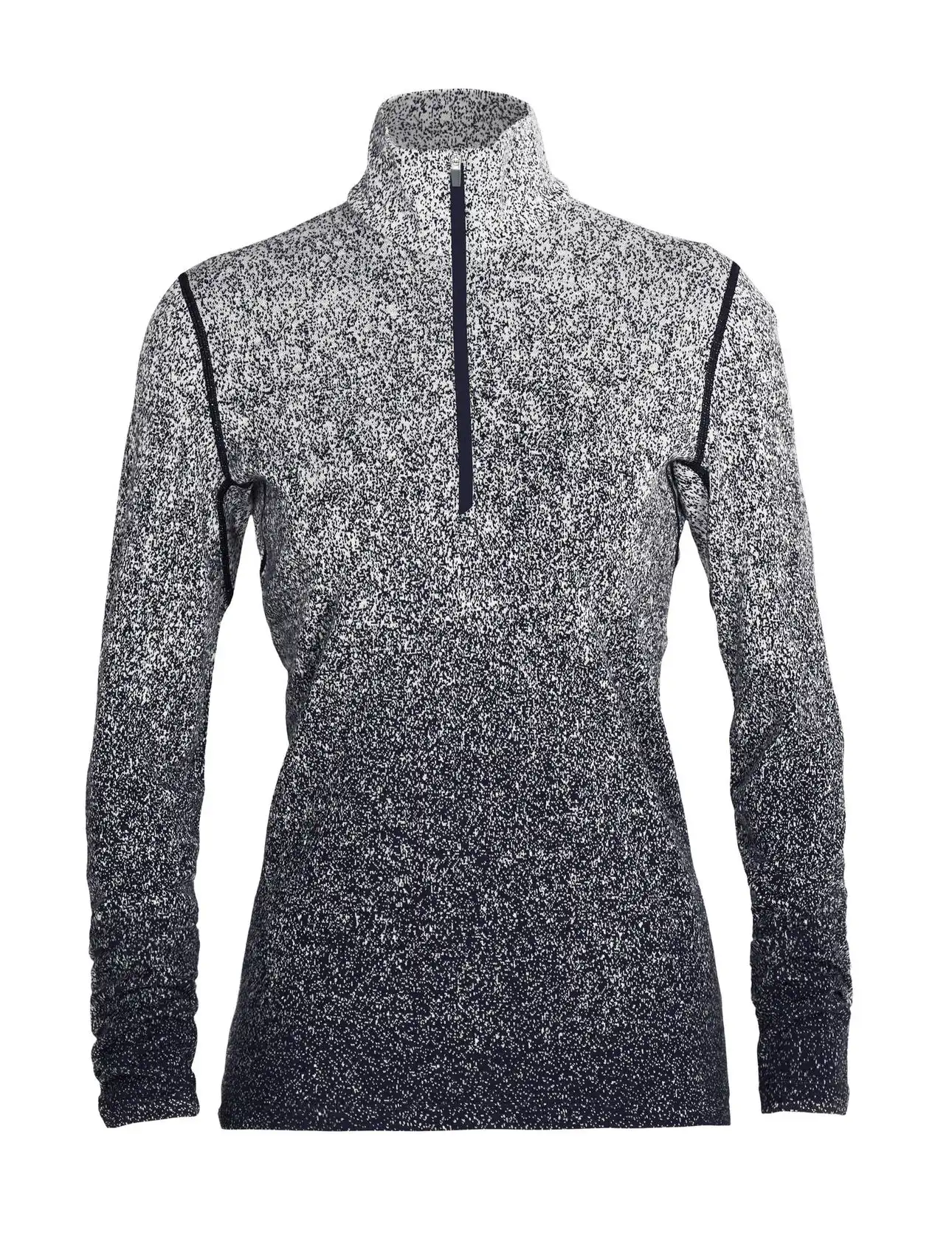 The Vertex is my go-to base layer top in the winter. This shirt is made of 100% merino wool with a thickness of 250 gsm. That technically makes it a midweight base layer, however, I find it has sufficient warmth for layering in cold months.
The shirt is available as a crew instead of a half zip, but I really like having the option to zip it all the way up to keep my neck warm. Other features include gusseted underarms for mobility and some special method for doing the seams that minimize friction.
The only issue I have with this shirt is that it is a little bit scratchy. I don't notice it while hiking, though I did notice it when I tried to use it as a sleep shirt on an overnight trip. Without a bra between the shirt and my… sensitive points, I noticed the slightly scratchier material. For overnight trips, I always wear the Smartwool Merino Wool 250 Base Layer Top now.
---
Icebreaker Shirts Made with a Merino Wool Blend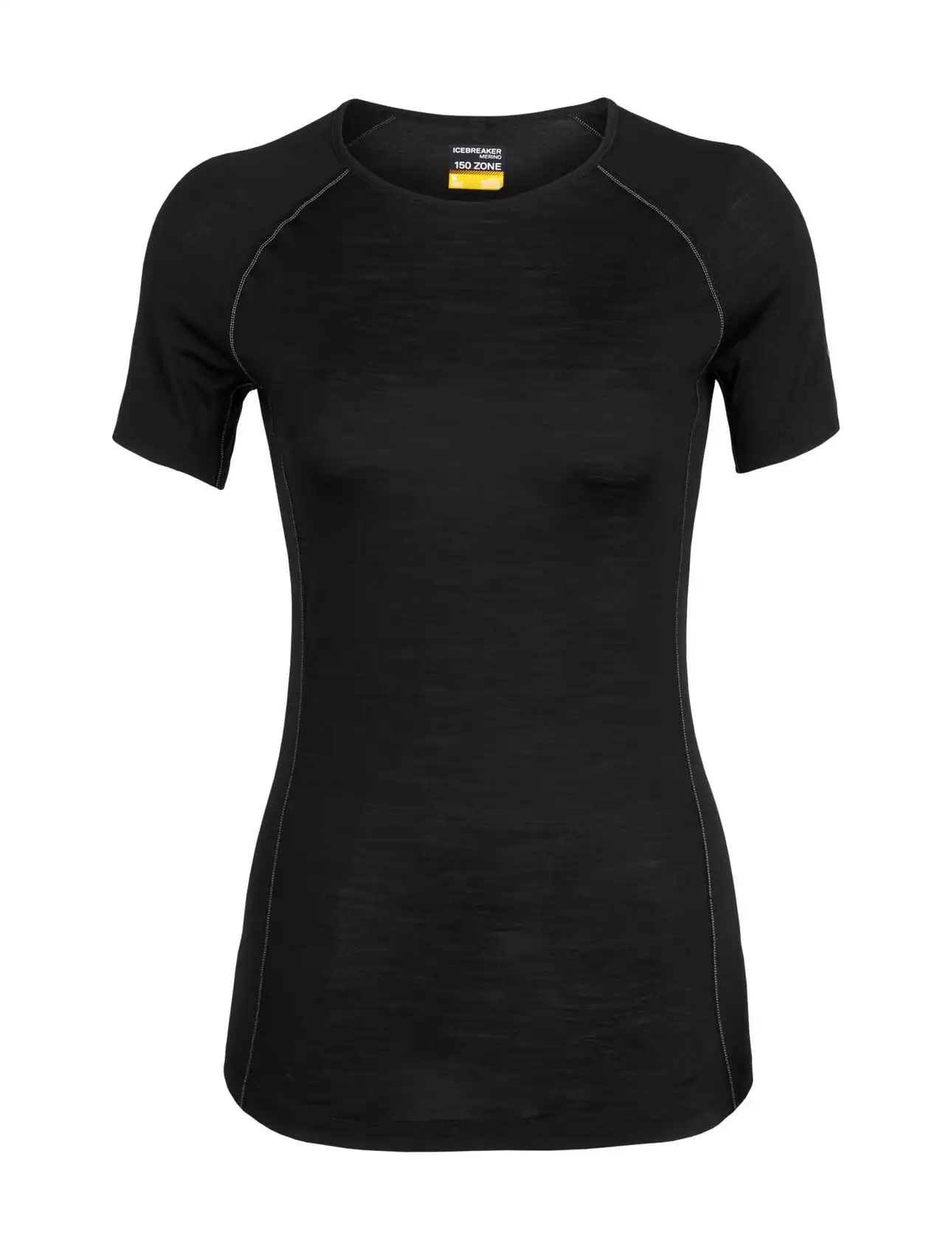 What makes this hiking shirt unique is the material: an elastane-nylon-merino blend. This blend makes the shirt form-fitting yet comfortable and the softest shirt on this list.
The Raglan style also prevents any chances of friction between the shirt and the backpack. But I did notice that the shirt stretched in areas where it made contact with the hip belts of my backpack. But I also have this t-shirt in a bigger size making the stretched areas bunch up together a lot more than they would on a form-fitted size.
The use of elastane and nylon with merino also makes this Icebreaker shirt naturally versatile. Out of all of the hiking shirts I've tested, this one has the best odour resistance and moisture-wicking.
---
This Icebreaker shirt is a lot like the Icebreaker Merino Spector T–shirt (Find the review of the same below) in terms of its look and style. But this t-shirt is not a pure merino wool t-shirt.
It is a mix of merino, nylon and tencel. This construction makes the t-shirt feel comfortably form-fitting. This means that even if it looks figure-hugging, it is not tight at all and promotes movement. The t-shirt also helps you feel dry thanks to its moisture-wicking and thermal regulation properties.
The addition of tencel to the fabric mix also adds durability and it can last you a long time without demanding too much maintenance.
Overall, I think it's a great t-shirt for day hikes – it looks great and keeps you comfortable.
---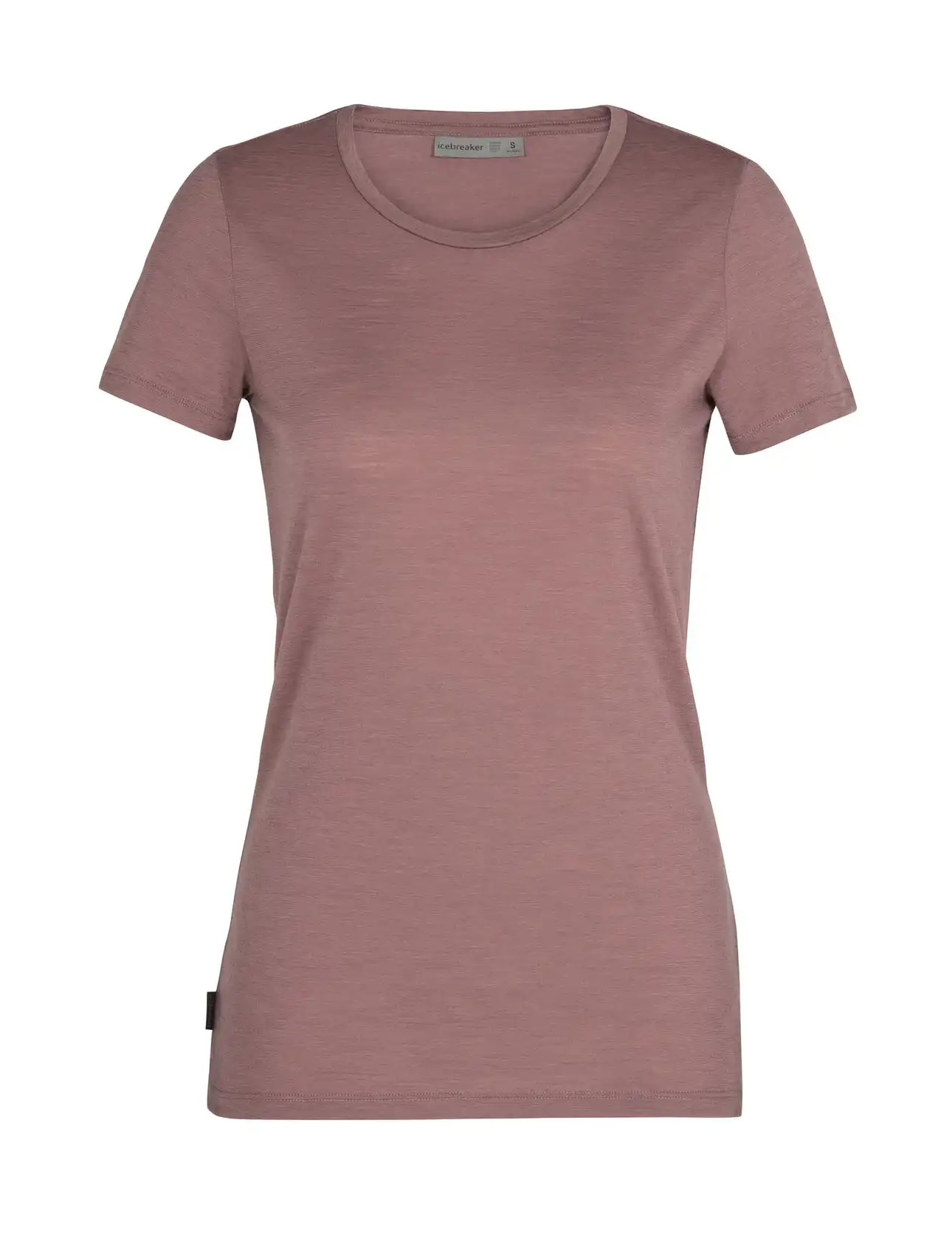 A running theme amongst all Icebreaker t-shirts is that they all are comfortable. In fact, one of the main reasons why I love this t-shirt is that it feels really soft on the skin thanks to its beautiful merino wool texture. Its simple round neck design and a casual fit that's not too tight makes it suitable for everyday wear and casual outings. It can also be easily layered up.
But that said, I wouldn't recommend using this t-shirt on long multiday backpacking trips. This is because the t-shirt is not as moisture-wicking as most of the t-shirts listed above. This means that you can feel sweaty if you wear it for too long on hot, humid hikes.
But other than this small drawback, this t-shirt is one of the best Icebreaker t-shirts for versatile, casual use.
---
Why Merino Wool for Hiking?
Moisture Wicking
Moisture-wicking quality of fabric means the property of the fabric that allows it to soak moisture. The more moisture a fabric can soak, the more you feel dry provided the moisture moves to the outer end of the fabric and evaporates. Thus, for moisture-wicking to work effectively, you need relatively warm and dry weather and moisture-wicking fabric.
Thankfully, merino wool naturally wicks moisture. But what truly makes it suitable for hiking is that it is odour resistant too. So if you want to feel clean and dry on long hikes, opting for a merino wool shirt makes perfect sense.
Warmth While Wet
I started wearing merino wool hiking shirts for one very particular reason: sweat.
During a hike, I usually sweat a lot. While I'm hiking, this isn't a problem because I'm moving my body and generating heat. But the moment I stop moving, either to take a break or at a lookout, I'm no longer generating heat.
When wearing synthetic shirts, I would get very chilly as soon as I stopped moving. Synthetic shirts don't dry as quickly as merino wool and they cool you down while they dry. This is great for a workout shirt, but I really didn't like it on a hike.
Merino wool, on the other hand, keeps you warm even while it's drying. So I no longer get cold when I stop hiking. This is a really particular reason, I know. But maybe you've experienced the same thing? Either way, once I got that first merino wool T-shirt I fell in love and now I only hike in merino wool shirts.
Naturally Odour Resistent
The USP of merino wool, the singular ground now which it beats synthetic fabrics is its inherent odour-resistant property. Thus, even if it absorbs sweat, the fabric hardly stinks.
Most synthetic activewear needs to be artificially enriched with odour resisting properties to prevent them from stinking.
But unfortunately, even with these additions, synthetic t-shirts stink way more than merino wool t-shirts do. Plus, since synthetic is not naturally odour-resistant, the added odour-resistant coating can wear off after a few washes.
And anything that keeps you feeling clean, dry and smelling fresh after a long hike is instantly going to become your favourite, right? That's exactly why I love merino wool t-shirts.
---
Other FAQs About Merino Wool / Icebreaker Clothes
How do you wash merino wool?
Always read the washing instructions on the label inside your clothing, but in general, merino wool is pretty easy to wash. You can put it in the washing machine on a cold water cycle. I haven't seen anything about whether the detergent you use matters, but I try to use an environmentally friendly detergent free of harsh chemicals.
When it comes to drying your clothing, merino wool items should be hung to dry. They will likely shrink if you put them in the dryer. Even if they don't shrink, they will lose some of their softness. This doesn't affect the warmth or performance of the shirt, but it does affect the comfort. In addition, merino wool (especially from lower quality brands) can be quite delicate; putting it in a tumble dryer can cause tears (this happened to me with a pair of merino wool tights).
So to recap: wash in cold and hang to dry.
Can merino wool only be used for base layers?
Usually, when people talk about base layers, they are imagining long underwear that goes underneath their insulating layers as part of the layering system. This long underwear is often made from merino wool or a synthetic alternative.
Merino wool can be used on its own though; it doesn't have to be used under something else. In the summer, it is perfectly acceptable to wear a merino wool t-shirt on a hike, without anything else over top. In fact, I only hike in merino wool shirts now.
That said, I wouldn't recommend doing a hike in only merino wool pants. While manufacturers have come a long way in making merino wool clothing more durable, the material is simply not strong enough to withstand constant contact with the ground, rocks and branches. You're better off wearing hiking pants.
Why Icebreaker clothes?
As you may have gathered, I buy a lot of Icebreaker clothing. I don't remember making the conscious decision to like the brand; but whenever I'm looking for a base layer or hiking shirt, I found myself scrolling through their website.
Now that I've been using the brand for a couple of years though, I can confidently say they make my favourite hiking shirts.
They don't make my favourite base layer bottoms though! That honour goes to Smartwool and Kari Traa.
Performance: I started buying merino wool hiking shirts because I had a sweaty/chilling problem and Icebreaker's shirts do an excellent job at keeping me warm while the sweat evaporates. The clothing is also very durable and holds its shape well (there are a few merino wool makers where the clothing loses shape over time and becomes droopy – I haven't experienced this with any Icebreaker clothing).
Environmental Sustainability: I try to choose products from brands that align with my own values, and environmental sustainability is one such value. I like that Icebreaker treats its sheep with respect and harvests wool in a way that doesn't harm them. And I like that they go through efforts to have low carbon and low waste supply chain.
Comfort: The final reason I keep buying Icebreaker shirts is that they are just so gosh darn comfortable. Lower-quality merino wool can feel a little scratchy, but I've never found this with Icebreaker.
---
Icebreaker Shirt Reviews – Final Thoughts
I hope you've found this post helpful! To recap, my favourite shirt for hiking is Merino Tech Lite II Short Sleeve T-Shirt, though my favourite everyday shirt is Icebreaker Merino Spector Short Sleeve Crewe T-Shirt.
That said, any of these Icebreaker shirts would make for an excellent hiking shirt. If you have any questions, leave a comment!