One of the most beautiful places in Ontario, Killarney Provincial Park holds a special place in my heart. I've had the pleasure of paddling and portaging many of its lakes on various trips, so I definitely have a few recommendations for Killarney canoe routes.
In this post I'll introduce you to a few iconic Killarney canoe trip ideas, in addition to a few lesser known options. My favourite is #6 – a full 8 – 12 day routes that takes you through most of the park. The rest of the routes are all between 2 and 4 days long, perfect for a weekend or long weekend trip.
Want a map for the routes? I have made a Killarney canoe routes map for most of the trip listed below. You can find them all on my sister-website here.
This post may contain affiliate links. If you make a purchase through one of these links, I may receive a small commission at no extra cost to you. Your support is much appreciated! You can learn more by reading my full disclosure.
---
1. George Lake to O.S.A. Lake
Put In / Take Out: George Lake
OSA Lake is my one of my favourite lakes in all of Killarney. On my very first Killarney canoe trip, I camped at Campsite #29 – a beautiful island site with plenty of room and an excellent swim spot. I still dream about that site. On my most recent trip, we stopped at the island across from the east of the portage for lunch, and then headed to Campsite #28, another great site.
This route to OSA Lake is perfect for beginners. From Bell Lake, it's 11 km each way and with a total of three portages: 50 m, 430 m and 130 m. The longest portage is largely wide and flat, making it suitable for novice paddlers.
Highlight: OSA Lake is one of the most beautiful lakes in all of Killarney Provincial Park. Try to get Campsite #29 (the main island site) – that's my favourite one.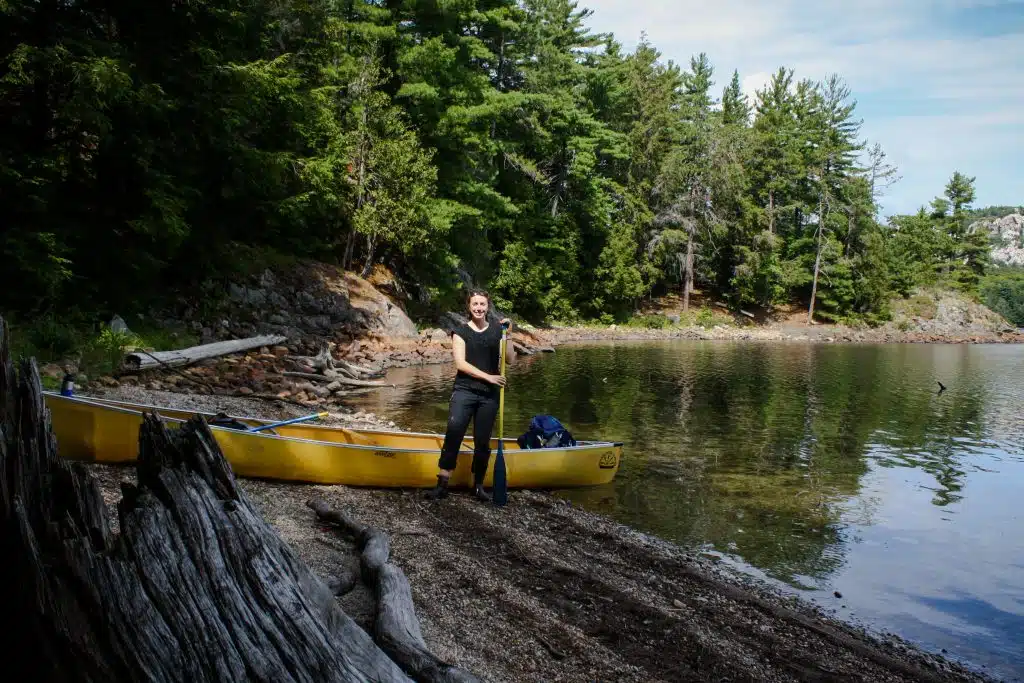 ---
2. Bell Lake to David Lake
Put In / Take Out: Bell Lake
This is the most classic 3 day canoe trip in Killarney. There is a trailhead to Silver Peak leaving from David Lake, so it's popular to spend two nights on David Lake and use the rest day to hike Silver Peak.
The route is about 10 km in each direction and requires two portages each way (40 m and 620 m in length). Novice paddlers should not underestimate the time it takes to cover 10 km in a canoe – ensure you give yourself plenty of time before dark, or add an extra night to your trip and stay on Three Mile Lake or Balsam Lake for your first night.
However you get there, the hike up Silver Peak is absolutely stunning!
Highlight: Use your rest day to hike to the top of Silver Peak for amazing views of the park. On a clear day you can see all the way to Georgian Bay.
Read the full trip report here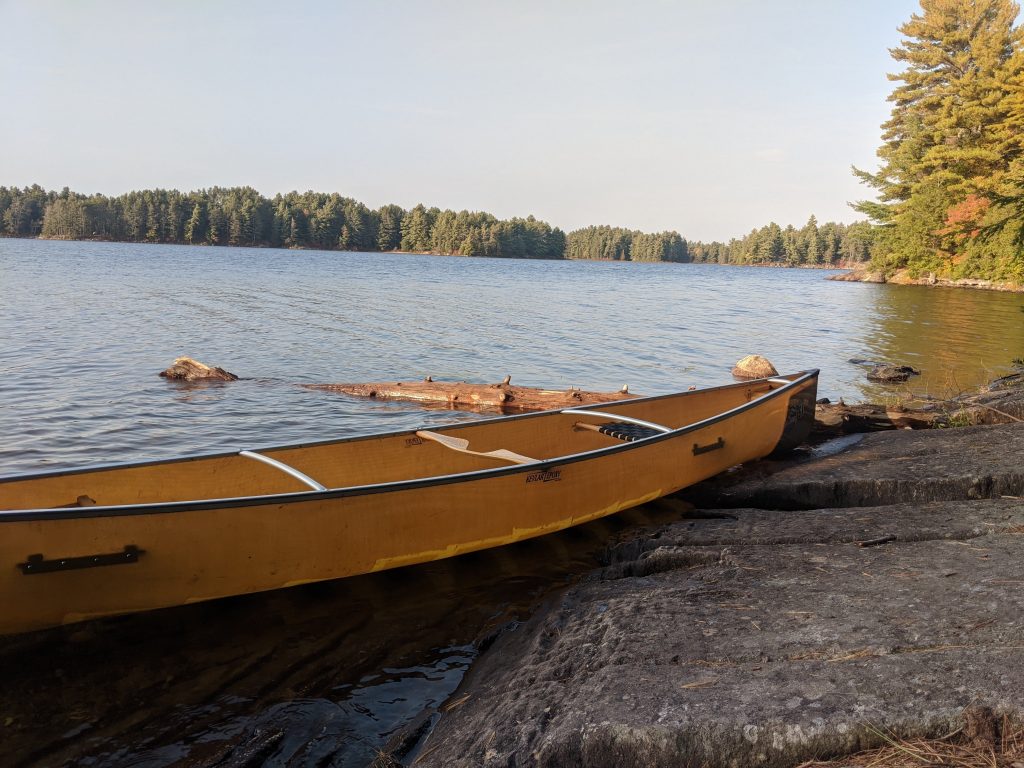 3. Bell Lake to Harry Lake
Put In / Take Out: Bell Lake
Here is another 3 day canoe trip in Killarney, only this one isn't quite as busy.
Harry Lake is a beautiful lake in Killarney, and yet I rarely hear of anyone visiting it. I think this is due to its proximity to David Lake – if you were going to travel in this area of the park, why wouldn't you go to the famed David Lake and set your sights on Silver Peak.
Well, if solitude is what you're after – or an alternative destination if you can't get a permit for David Lake – then Harry Lake is a great option, as it has just four campsites (including one island site). Accessing Harry Lake can be done by portaging from Balsam Lake into Pike Lake, and then portaging into Harry Lake.
Highlights: There is relatively less canoe traffic in this area of the park, making it more likely you'll have the park to yourself. In addition, Harry Lake is located in the northern part of the park, and thus further from the white quartzite of La Cloche Mountains. If you've paddled in Killarney before, this area offers a different type of scenery.
4. Charlton Lake to Nellie Lake
Put In / Take Out: Charlton Lake
This route is centred around Nellie Lake, one of the most beautiful lakes in all of Killarney. Notoriously difficult to reach, there are three portages into Nellie – all of them painstakingly long and rugged in their own right.
Charlton Lake isn't a particularly popular access point for Killarney, however starting here allows you to get to Nellie Lake in as few as two portages. The first one, from Cranberry Lake to Grace Lake, is a straight forward 1600 m. The second, from Grace Lake to Nellie Lake, is longer (2010 m) and the rugged terrain makes it more challenging.
I know that sounds like a ton of work, but Nellie Lake is totally worth it. Just try to book two consecutive nights on the lake – it's far too much work to only stay a single night.
Highlights: Nellie Lake is slightly acidic, meaning algae and other organisms don't grow in the water, making Nellie the clearest lake in the park. You can see 20 m through its gatorade blue water, all the way to the lake bottom. It's beautiful.
5. George Lake to Kakakise Lake
Put In / Take Out: George Lake
This Killarney canoe trip is a great route for combining a paddle with a trip up the park's most popular hike, The Crack.
The route starts on George Lake, and within two portages you're on Killarney Lake. From here, most people go west to OSA Lake, but instead go east toward Norway Lake. After Norway, you can go south to Kakakise and eventually meet up with the trailhead to the Crack, before returning to George Lake.
Highlight: Make a detour off of Kakakise Lake to hike The Crack. This trail takes about 3 hours round trip and is the most popular hike in the park.
Read the full trip report here
6. All of Killarney Provincial Park
Put In / Take Out: Johnny Lake / George Lake
This is the route I did for my first trip in Killarney Provincial Park, back in 2014, and I think it's a great route for seeing all of what the park has to offer.
From Johnny Lake, the route traces through a few lakes toward David Lake, where you can join the trailhead to Silver Peak – the highest point in the park. After passing through an additional cluster of lakes (and a few difficult portages), you reach Nellie Lake which is the clearest lake in the park and a beautiful place for a rest day.
We did the route in 12 days, but we had some inexperienced paddlers and were pretty slow. I think the average paddler could do the route in 8 days.
Highlight: You get to see all of the highlights! Hike Silver Peak, stop by Nellie Lake, camp on OSA Lake, make a detour to Topaz Lake, paddle on McGregor Bay. This route really does show you all that Killarney has to offer.
Read the full trip report here
---
Killarney Canoe Routes – Final Thoughts
I hope you've found this post helpful and have a better idea of where exactly you want to take a Killarney canoe trip. Honestly, all of the routes in the park are great in their own way, so you can't go wrong.
Happy adventuring!
Read more about Killarney:
Find Outfitters in Killarney: