Killarney Provincial Park is easily one of Ontario's most beautiful provincial parks. The scenery is absolutely stunning, there are several hiking trails and dozens of canoe routes – meaning there are plenty of opportunities for excellent wilderness camping in Killarney. Plus, it's the perfect distance from Toronto (close enough to be accessible, but far enough to deter large crowds).
I first visited Killarney Provincial Park in 2014 and since then I've had the pleasure of camping throughout the park and have stayed in the town of Killarney. I've paddled its lakes, hiked its trails and slept under its stars.
So if you're planning to do some camping in Killarney Provincial Park, you've come to the right place!
This post will cover:
This post may contain affiliate links. If you make a purchase through one of these links, I may receive a small commission at no extra cost to you. Your support is much appreciated! You can learn more by reading my full disclosure.
Note: If you're specifically looking for canoe routes in Killarney, read this post instead: Canoe Routes in Killarney Provincial Park.
---
Map of Killarney Provincial Park
Everything I mention in this post you will find labelled on the map below. The map is helpful for seeing where the Killarney Provincial Park access points are, plus the trailheads and other major features. I've also included four trip ideas.
To simplify the map, click on the icon in the top left corner. This will let you filter what you see on the map.
I'd also recommend heading over to Killarney Outfitters' online map where you can see portages, campsites and distances marked.
The markings on the map below are illustrative. You should still use a proper map when designing your route.
---
About Killarney Provincial Park
Killarney Provincial Park encompasses 645 sq kilometres of wilderness on the northern shores of Georgian Bay. Covering the La Cloche Mountains, whose quartzite ridges sparkle silver and white in the sunshine, Killarney is a spectacularly beautiful park. It includes over 50 turquoise and sapphire blue lakes, some of which are so clear you can see right down to the bottom.
Before it was a park, the region served as an inspiration to The Group of Seven, some of the most famous artists in the country's history. They were so captivated they petitioned the government of Ontario to establish Killarney Provincial Park, forever protecting the area from development.
Just outside the park is the town of Killarney. Established in 1820, it once served as a trading post for furs (namely, beaver furs).
You will find a fantastic backdrop for canoeing, hiking and camping in Killarney. It has long been my favourite park in Ontario (and, in my humble opinion) is the most beautiful park in the province.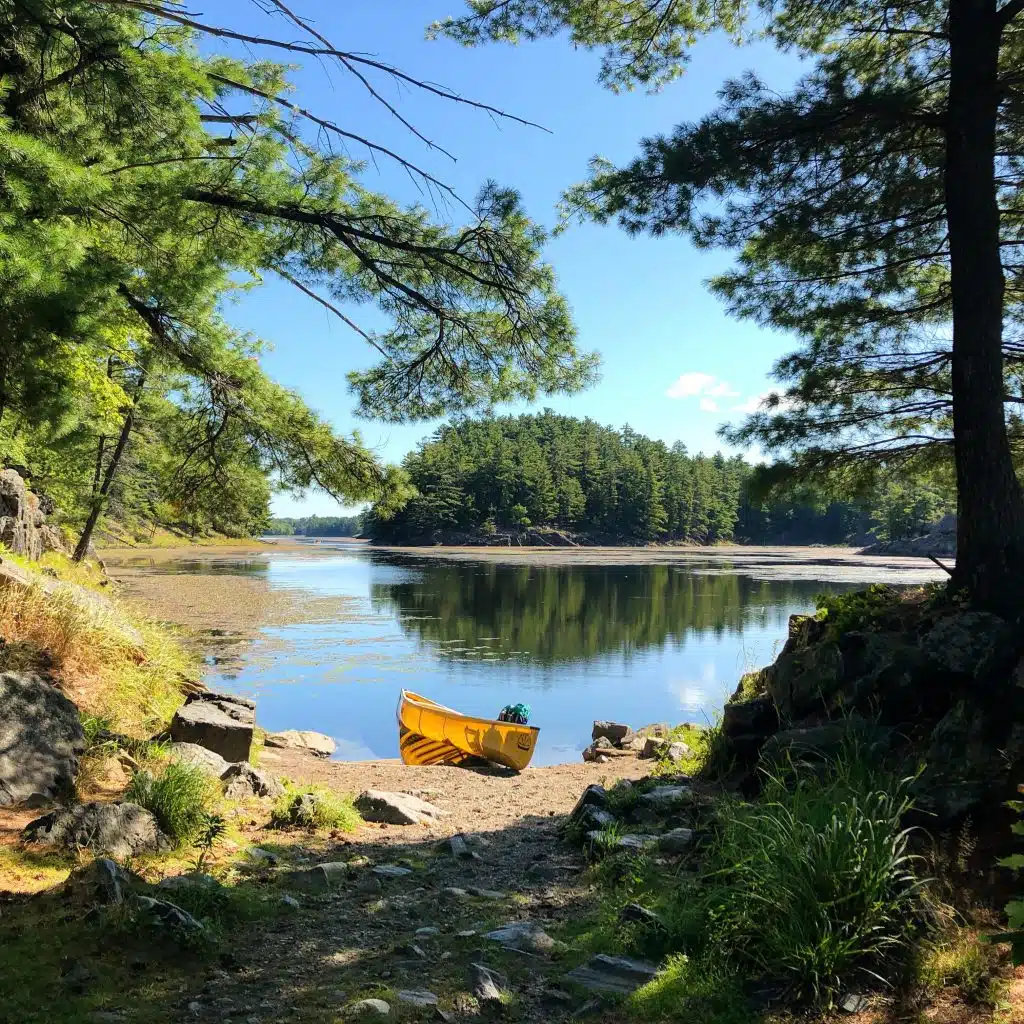 ---
Planning Resources
Killarney Guidebooks
In addition to the Official Killarney Provincial Park Map, here are a few books you might find helpful in planning your trip. I most strongly recommend the first one, A Paddler's Guide to Killarney and the French River.
Killarney Trip Reports
Canoe Trip Planner
---
Getting Here
Getting to Killarney Provincial Park
Killarney is located on the northern shores of Georgian Bay. Here are the rough directions if you're heading to the Visitor's Center at George Lake Campground.
From Toronto: 4 hour drive (north on the 400 and then west on the HWY 637)
From Ottawa: 6 hour drive (west on the the 417 HWY, southwest on HWY 64, north on the 400 and then west on HWY 637).
Once you're on Highway 637, you'll pass a few access points along the way; the highway ends at the town of Killarney.
Killarney Access Points
Getting to Killarney will look a little different depending on your access point. The first access point you'll pass along Highway 637 is Bell Lake Access Point; from the highway, you'll see Bell Lake Rd on your right and the lake is halfway down the road. This is a popular access point and where Killarney Kanoes is located.
Continuing on Highway 637, you'll next pass Johnny Lake Rd, which is the turn-off for Johnny Lake Access Point, which isn't a very popular access point (though my first trip launched from here). Next up is Carlyle Lake Access Point, which isn't particularly popular either so a good choice if you have your own canoe and don't want to see people.
The fourth and final access point along Highway 637 is George Lake Campground, where the Visitor's Centre, car campground and Killarney Outfitters are located. If you are hiking the La Cloche-Silhouette Trail, the two trailheads are at George Lake as well.
You can also access Killarney Provincial Park from the north and west sides via Panache Bay Marina and Widgawa Lodge, respectively. The access points are much further from Toronto / Ottawa but will bring you into a less travelled area of the park (and my favourite areas, but more on that below).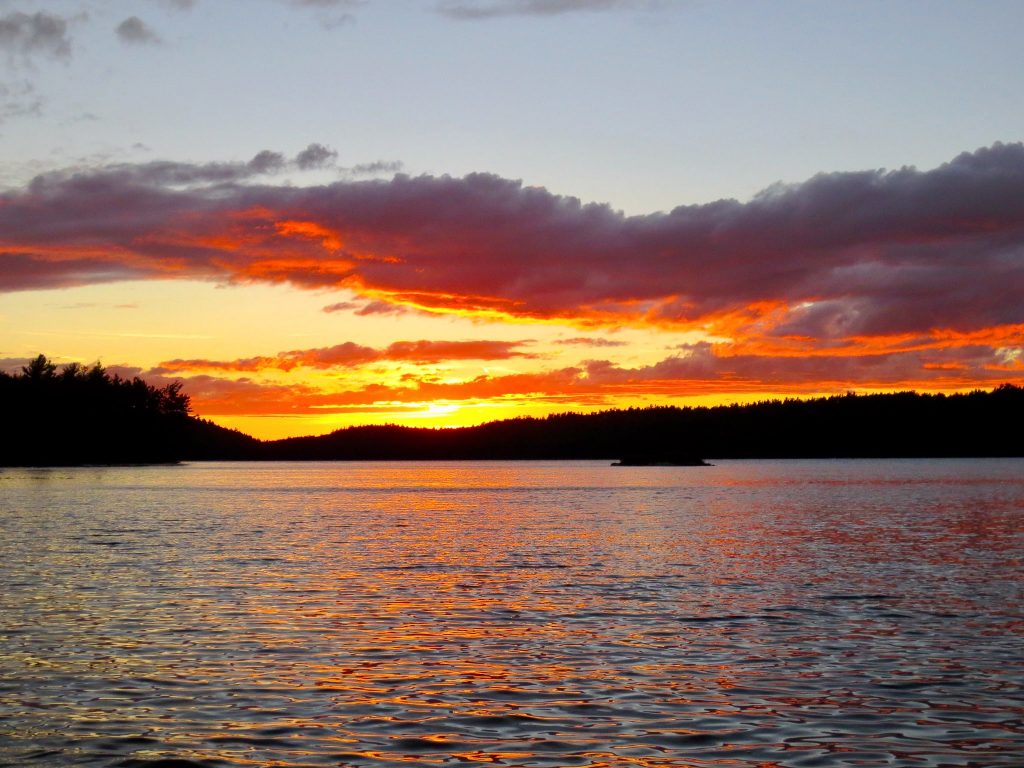 ---
Things to do in Killarney Provincial Park
There is a myriad of things to do in Killarney. The peak season runs from June to October, but there are still activities to do in the off-peak (winter) season as well.
Day hiking or overnight backpacking
Canoeing (for the day or overnight)
Swimming
Camping
Photography
Biking
Snowshoeing (in the winter)
Cross-country skiing (in the winter)
The two main activities are canoeing and hiking (with camping and photography thrown into the mix). In the following sections, you'll find detailed information about canoeing, hiking and camping in Killarney.
---
Hiking in Killarney Provincial Park
Killarney Provincial Park offers some fantastic trails. I absolutely love Silver Peak (though, admittedly, it's a tricky one to get to). I haven't done the 78 km La Cloche Silhouette Trail myself, but my friends highly recommend it.
Silver Peak
Silver Peak, the highest point in Killarney Provincial Park, is a challenging hike offering stunning views all the way to Georgian Bay. The trail is 5.5 km each way, and you should give yourself a full day to complete the hike. Ensure you bring plenty of water and sturdy hiking boots.
There is no road access to the trailhead for Silver Peak, making it a little tricky to access. But this means there aren't very many people on the trail on any given day.
If you are already hiking the La Cloche Silhouette Trail: The Silver Peak trail is a side trail off of the Silhouette Trail and is easy to find.
If you are canoe camping in Killarney: You can access the trailhead from either Bell Lake, David Lake, Boundary Lake (via portage into David Lake) or Johnny Lake (via portage into Clearsilver Lake).
If you are doing Silver Peak as a day hike: Rent a canoe from Killarney Kanoes at Bell Lake Access Point. From there, it's a short paddle northwest to access the trail.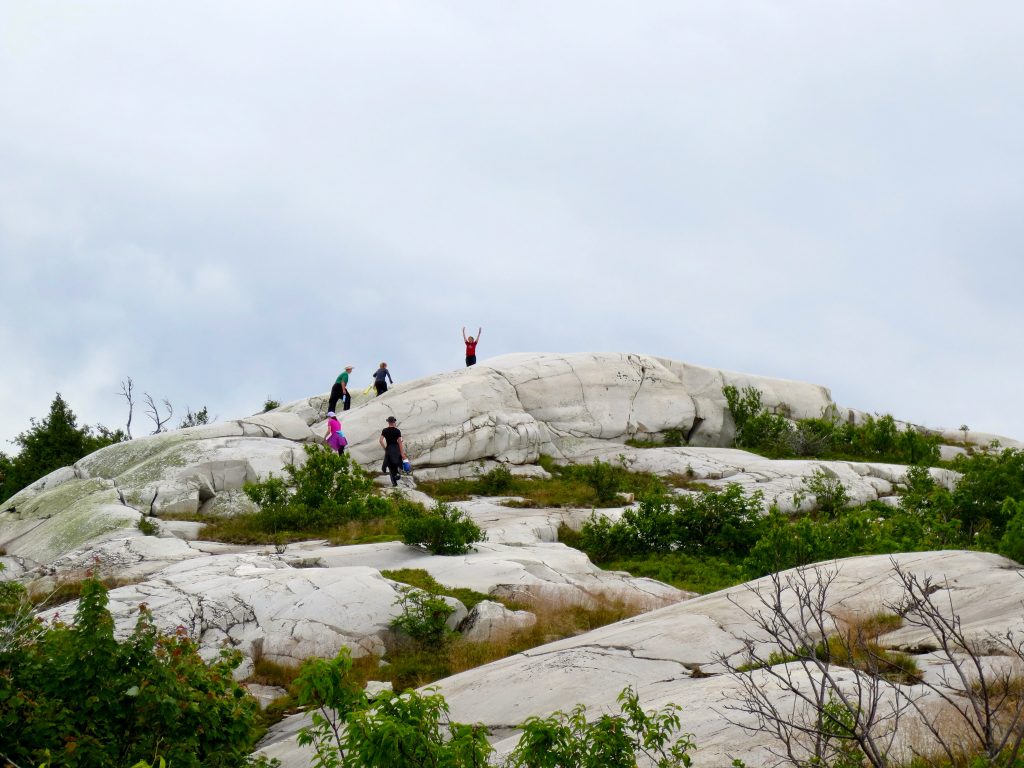 The Crack
The Crack is the most popular hike in Killarney. Although just 6 km round trip, it will take you approximately 4 hours to complete. The Crack is a steep and rocky hike of moderate-high difficulty. Ensure you wear proper hiking boots!
The parking lot is located on Highway 637, 7 km east of George Lake Campground and 1.5 km west of Carlyle Lake Access Rd. I have it marked on the map above which should help you find it!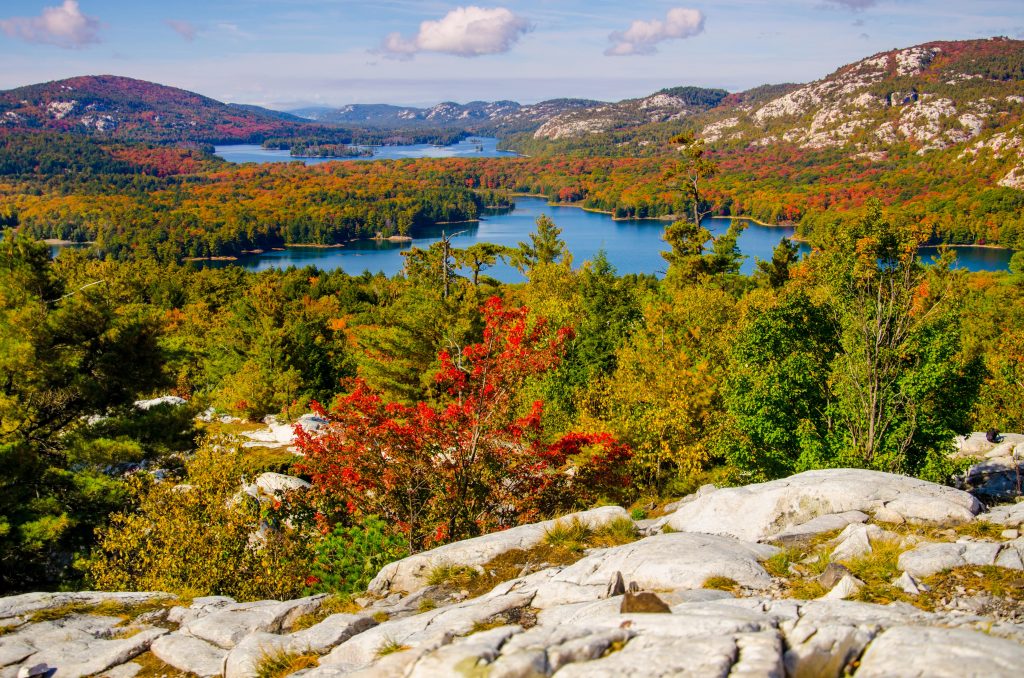 La Cloche Silhouette Trail
The Silhouette Trail is 78 km and loops around Killarney Provincial Park. It usually takes 7 to 10 days to complete depending on your hiking speed (though some people have done it in as little as four days and some people have run it in a single day!).
Don't underestimate the distance! There is a lot of up and down elevation change, which makes the trail challenging and the actual distance is more than just 78 km. This is a difficult, but rewarding, hike and those considering it should read Killarney Outfitter's guide and contact them to start planning the trip.
Here is a trip report about doing the trail. Also, Hailey Sonnag from Wild Canoes has done the full thing twice and has posted about it a lot.
Photos by Map for Maple, who wrote the trip report linked above. You can find them on Instagram.
---
Canoeing in Killarney Provincial Park
There are dozens and dozens of possible routes for canoe routes in Killarney. To help you, I recommend getting a copy of A Paddler's Guide to Killarney and the French River for route planning and the Official Killarney Provincial Park Map for navigation.
Access Points
As alluded to above, Access Points are locations where you can drive to the water and start your canoe trip, and Killarney has four main access points: George Lake, Johnnie Lake, Carlyle Lake and Bell Lake (they're all labelled on the Google Maps I created at the top of this post). In addition, the park can be accessed from less conventional access points like Panache Bay Marine and Widgawa Lodge, in the north and west sides of the park, respectively.
George Lake is the main access point and is also where George Lake Campground is (the car camping campground).
Tip: If you're renting a canoe, think about where you want to start and end your trip. Killarney Kanoes is located at Bell Lake and is a convenient option if you want to start about there. Meanwhile, Killarney Outfitters is located at George Lake and is perfect for canoe trips starting there.
Day Trip Killarney Canoe Routes
There are quite a few possible canoe routes for a single day trip, although my favourite (especially for first time visitors to the park) is George Lake – Freeland Lake – Killarney Lake – OSA Lake.
This isn't a loop route, so you'll have to retrace your steps to get back to George Lake. Depending on your skills, that will probably take an entire day of paddling and you'll want to start early.
If you want something slower pace, you can do George Lake – Freeland Lake – Killarney Lake (so you don't do the last portage into OSA Lake).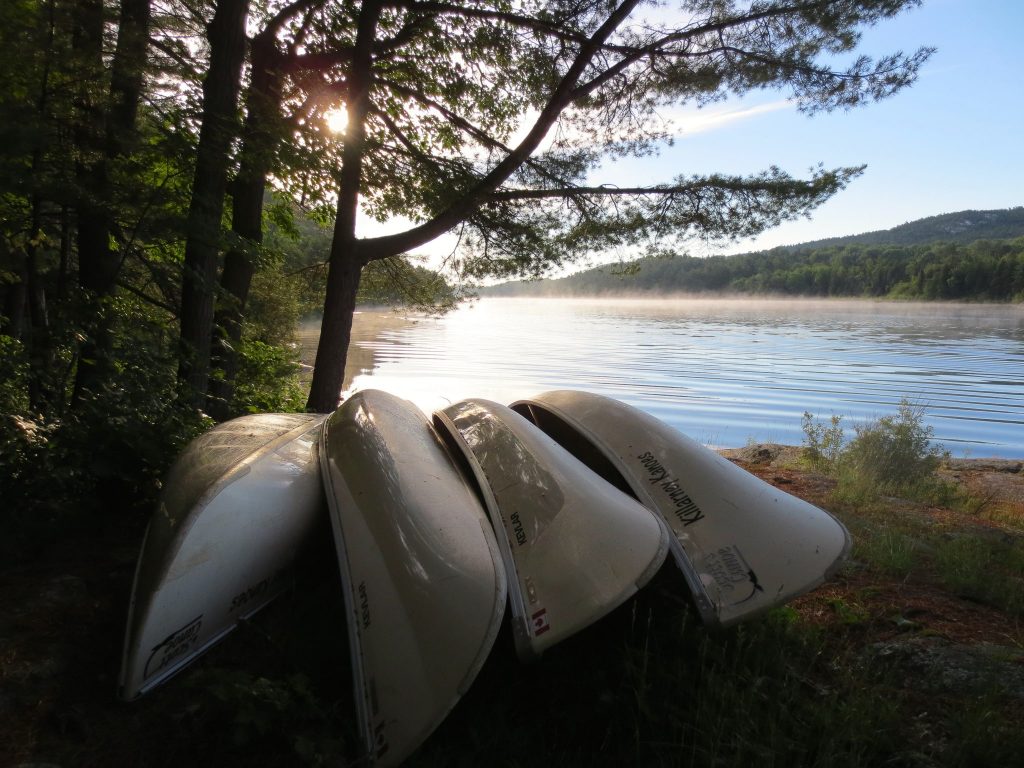 Weekend Killarney Canoe Routes
If you have a weekend for camping in Killarney, there are a few different canoe routes or hiking / paddling itineraries you can follow.
For example, you could do Johnnie Lake – Clearsilver – David Lake, and camp at David Lake for two nights. On the rest day, you can do the 10 km round trip hike to Silver Peak.
Another weekend trip would be a Nellie Lake Loop in the west side of the park. When I went to Nellie Lake, I came in from Murray Lake and there was a brutal portage. I recently learned that you can launch from Widgawa Lodge and paddle Charlton Lake – Frood Lake – Grace Lake – Nellie Lake.
There are a ton of additional Killarney canoe routes you can browse through here.
Weeklong Killarney Canoe Routes
If you have a week or more to spend in Killarney – oh my goodness, I am jealous! Definitely purchase a copy of A Paddler's Guide to Killarney and the French River and the Official Killarney Provincial Park Map.
You'll be able to plan an excellent route in with these tools. I recommend a canoe route that takes you into either OSA Lake or Nellie Lake, as these are my favourite two lakes in Killarney.
If you're interested, here is the route I took when I did a full loop of the park over 12 days. We started at Johnny Lake and ended at Geroge Lake, going through gems like Nellie Lake, Great Mountain Lake, OSA Lake and climbing Silver Peak.
Canoe & Gear Rentals
Renting gear in Killarney is incredibly easy. For day trips, you can rent a canoe, paddles, life jackets and bailers. For multi-day camping in Killarney, you can also rent food barrels, equipment packs, tents, sleeping bags and any other gear you might need.
Killarney Outfitters: I used Killarney Outfitters the last time I was in Killarney. Give them a call and they'll help you get sorted with what you need. They'll also give you advice on what route to take based on the amount of time and experience you have.
Killarney Kanoes: Killarney Kanoes outfitted my group when I was leading a two week canoe trip in the park. The canoes were insanely light (and considering how many portages we had, I very much appreciated it).
If you aren't experienced with canoe camping, I have an entire blog post dedicated to everything from route planning to portaging.
Read more: The Ultimate Guide to Canoe Camping
---
Camping in Killarney Provincial Park
Depending on the degree of roughing it you prefer, there are a few options for camping (or not camping) in and around Killarney.
Backcountry Camping
All of the sites for backcountry camping in Killarney are accessible either by hiking the La Cloche trail or by canoe. The campsites are all very well maintained and typically have a thunderbox, a fire pit and designated tent spots.
In Killarney, you need to reserve your campsite in advance. This can be done on the Ontario Parks Online Reservation Portal. Starting in 2022, you need to reserve a specific campsite. You can find a list of campsites and their corresponding numbers on this website.
My Favourite Backcountry Campsites in Killarney
If you need a little inspiration planning your canoe trip, these are the best Killarney campsites in my opinion. (As I said, I haven't done the La Cloche Silhouette Trail, so all of the below campsites are for canoe camping.)
OSA Lake – Most beautiful lake in the park (in my opinion)
Baie Fine – Only campsite on Baie Finn which opens to the west (excellent sunsets)
Nellie Lake – Gatorade blue water with 20+ meters of visibility (you can see the bottom of the lake!)
Great Mountain Lake – Beautiful island campsite (and it's right after a 3 km portage, so an excellent reward for your portaging efforts)
David Lake – Close proximity to Silver Peak hike
Front Country Camping
If backcountry camping isn't your thing, there is another option for Killarney Provincial Park camping: front country camping (car camping) at George Lake Campground. Each site has a picnic table and fire pit, and there are washroom and shower facilities. At George Lake there is a beach for swimming or you can launch a canoe here for a day paddle.
Lodges
You actually don't need to be camping in Killarney to enjoy its beauty. On my most recent visit to Killarney, I was with my parents and we opted for a room at Killarney Mountain Lodge rather than roughing it at a campsite.
I must admit, after a long, hot and sweaty day of canoeing and portaging with my dad, it was really nice to take a warm shower. Many of the rooms have recently been refurbished and renovated, although my family stayed in one of the older (more economical) Pine Rooms.
Definitely the best part of the lodge was the dining room – the food was delicious – and great views of the bay.
Blue Mountain Lodge is also an option, however I haven't stayed here myself. This lodge is right on the lake, whereas the Mountain Lodge is located just outside the town of Killarney.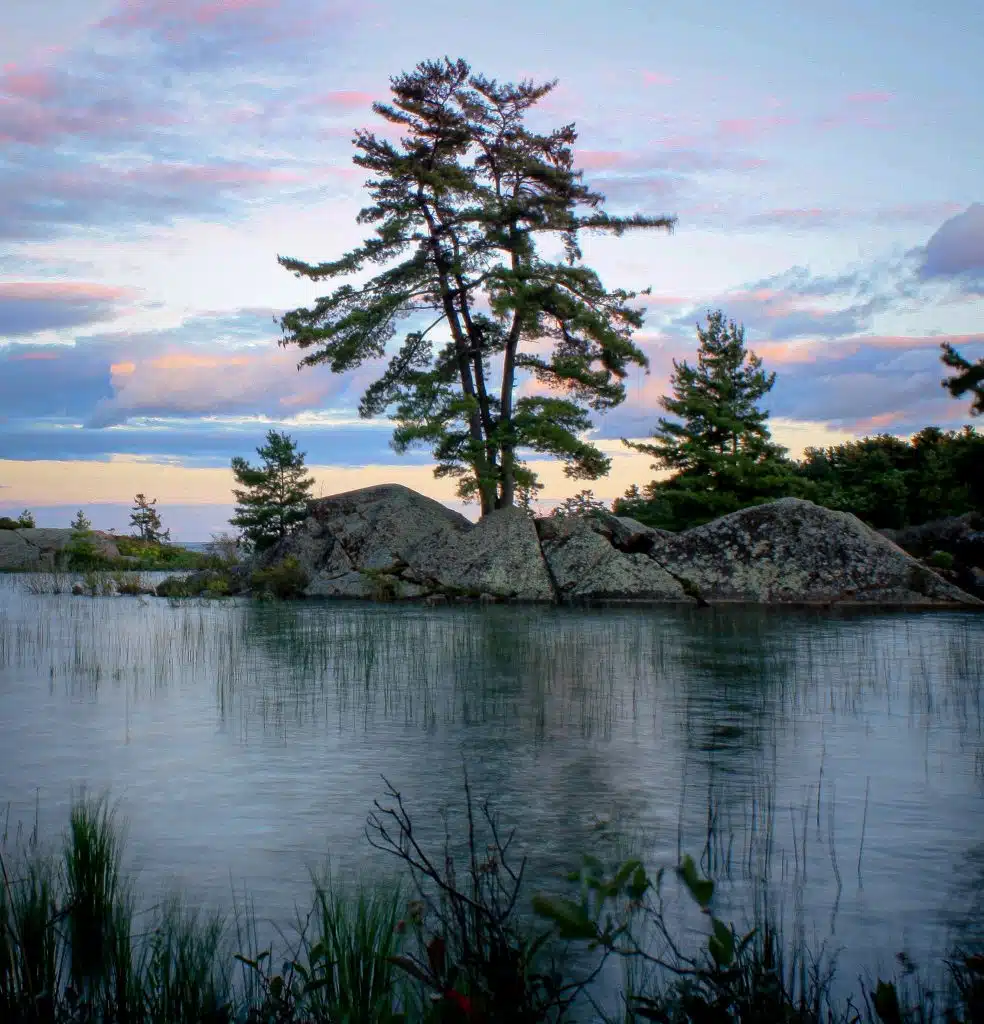 ---
Killarney Provincial Park Itineraries
Honestly, there are so many itinerary options in Killarney! I've included a few ideas below, how much you can do in a given time frame is contingent on your hiking and paddling speeds. Take these as inspiration, but do your own planning to see what is reasonable. These could be either too easy or too difficult for you.
One Day – Hike the Crack
If you only have a single day, I would recommend hiking The Crack. You'll get a spectacular view of the park (especially in autumn when the colours are in full swing).
One Day – Canoe from George Lake
However, if you're really keen for a paddle, then launch from George Lake and paddle to either OSA or Killarney Lake for a picnic lunch.
One Weekend – The Crack & Canoeing Front Country Camping
Friday: Arrive at your accommodations at either Killarney Mountain Lodge or George Lake Campground
Saturday: Starting at George Lake Access Point, canoe to Killarney Lake for a picnic (pack a lunch).
Sunday: Hike the Crack
Depart either late afternoon Sunday or Monday if a long weekend
One Weekend – Silver Peak & Canoeing Backcountry Camping
Friday: Pick up your canoe at Bell Lake and camp on a campsite on the northeast side of Bell Lake.
Saturday: Canoe / portage to David Lake and then hike Silver Peak. Camp on David Lake
Sunday: Canoe portage back to Bell Lake.
Depart either late afternoon Sunday
One Week or More
I recommend a canoe route that takes you into either OSA Lake, Great Mountain Lake or Nellie Lake, as these are my favourite two lakes in Killarney. In addition, with a trip this long you can get into the heart of the park and some of the lesser-travelled lakes. I paddled a full loop of Killarney in 12 days, however my route could easily be done in 8 or so days.
Alternatively, with that much time you can hike the entire La Cloche Silhouette Trail.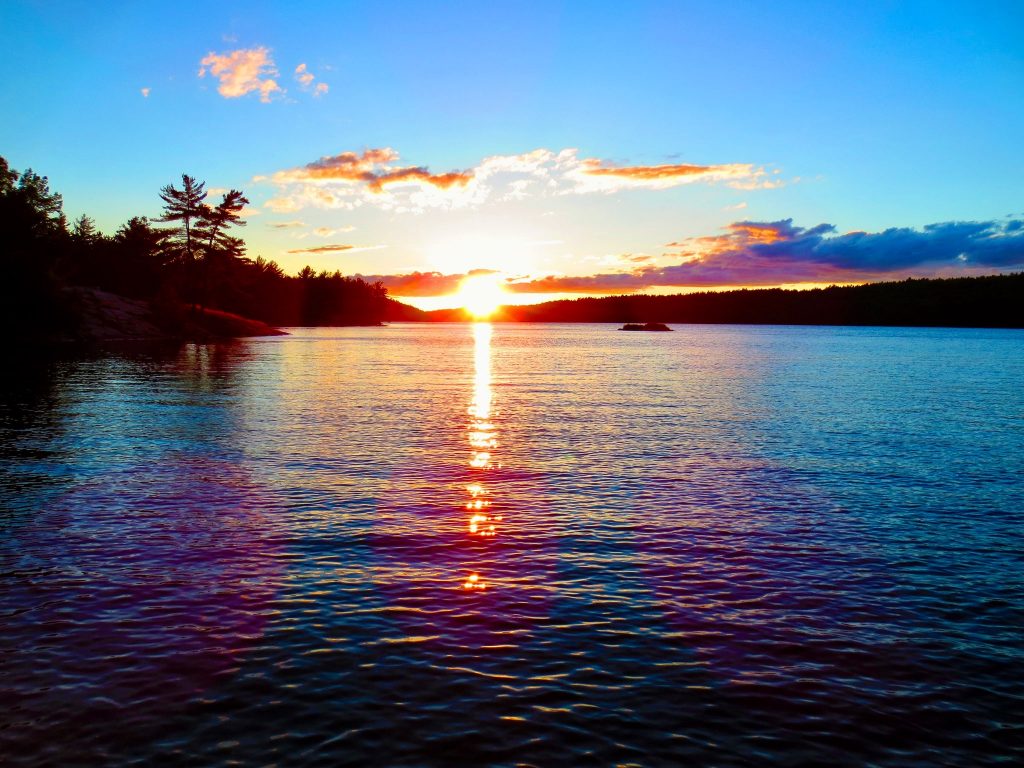 ---
FAQs about Camping in Killarney
How do I book a canoe trip in Killarney?
Perhaps the most challenging part of camping in Killarney is just securing a reservation! To camp at any lake in the park, you must have a reservation, which can be made through the Ontario Parks Reservation Portal.
Reservations open 6 months prior to the first day of your planned dates. So if you want to camp from July 1-4, reservations open on January 1 at 6 am EST. The park is very busy so you'll want to book your campsites at 6 am on the first available chance.
Tip: If you're unable to book the dates you want, try to visit Killarney on a weekday (which is usually easier to book) or choose an access point that isn't along Highway 637 (campsites around here are less busy).
Is camping in Killarney suitable for beginners?
Yes! Killarney is definitely suitable for beginners (and I have a whole post about why Killarney is perfect for beginners here).
Here are some beginner canoe routes to get you started:
If you're new to canoe camping, ensure you read Ultimate Guide to Canoe Camping before you plan your trip.
Are there bears in Killarney?
Bear sightings are not as common in Killarney as they are in Algonquin, however, there are definitely bears out there. You'll want to bear-proof your campsite, ensuring you keep your campsite clean and store your food appropriately.
---
More Resources for Killarney Provincial Park
I hope this has been a helpful guide! Here are some additional resources you might find helpful! Please comment below if you have any questions or share this guide with your adventure buddies!