Oh boy – I've just returned from backpacking the Ohlone Wilderness Trail and let me tell you… this trail is not for the faint of heart. Between the Del Valle and Stanford Staging Area trailheads, you'll hike 28 miles and climb 8300 ft of elevation gain.
But if you're up for a work out, rolling hills and the occasional (many) cows, you'll have a great time on the Ohlone Wilderness Trail. Plus it's a short drive from East Bay, making it one of the Bay Area's most accessible backpacking trails.
This guide covers the following topics:
About the Trail (location, time of year, time to complete, notable features)
Trip Video
Route Map
Getting to and from the Trailheads
Permits and Reservations
Campgrounds
Safety
Day-by-Day Trip Report
Reflections (what went well and what didn't)
---
About the Ohlone Wilderness Trail
Quick Facts
Length: 28 miles
Elevation Gain: 7200 ft (other reports say 8300 ft, but my GPS claims it's less than that)
Average Time to Complete: 2 to 3 days
Difficult: Quite Difficult!
Location
The Ohlone Wilderness Trail is located in East Bay. It passes through four different parks: Del Valle Regional Park, Ohlone Wilderness Park, Sunol Wilderness Park and Mission Peak Wilderness Reserve.
This post may contain affiliate links. If you make a purchase through one of these links, I may receive a small commission at no extra cost to you. Your support is much appreciated! You can learn more by reading my full disclosure.
Best Time of Year
The best time of year to hike the Ohlone Wilderness Trail is in the spring, specifically in the first week of April when the wildflowers are at their peak. In the spring the temperatures are moderately warm – comfortable, but not too hot.
The wildflowers are incredible – like goldfields, bird's eye gilia, purple owl's clover and popcorn flower – and sprout from the ground, painting the hillsides in a mosaic of bright colors.
During the summer the route gets incredibly hot. There is little to no shade throughout several sections of the trail, so you'll be exposed to the sun for the entire day. This increases the risk of dehydration, sunburn and heat stroke.
Fall and winter are both decent. It isn't as hot, you'll see fewer people on the trail but you won't get many wildflowers.
I did the hike at the beginning of February. The temperature was around 70/80 F in the afternoon and dropped down to 40s F at night. There were a few wildflowers but not that many.
Time to Complete
The Ohlone Wilderness Trail is best completed over two or three days. Although it can be done in a single day, you'll have a long and difficult day of hiking and won't get to enjoy the trail as much. Plus, you'll miss out on sunset, stars, and sunrise from one of the campgrounds.
I did the trail in two days, with the first day being 11.5 miles and the second day being 17.5 miles (my detours added a mile to the total). I'd only recommend doing the Ohlone Wilderness Trail in 2 days if you have a high level of fitness and experience with backpacking. It's a tough trail!
Notable Features along the Trail
Rose Peak – This is the (second) tallest peak in the west section of the trail. It sits at 3815 ft and provides a 360 degree view of the area. Discovery Peak is 22 ft taller and you could make a little detour to this peak if you wanted.
Murietta Falls – After a big rain this is a beautiful flowing waterfall. If it hasn't rained recently, it's just a trickle. But the landscape around it is still nice!
Mission Peak – This is the a super popular hiking destination in the east section of the trail, sitting at 2500 ft. Since it's such a popular day hike, this will likely be the busiest part of your hike.
---
Ohlone Wilderness Trail Map
You can see the official park map here: Ohlone Wilderness Trail Map.
Here is a GPS track for my route when I did the hike.
I didn't capture the detour I made to climb Rose Peak after I'd set up camp at Maggie's Half Acre. There's a great view from the top! Nor do I have the detour to Murietta Falls on the map above.
In addition, the route includes going to the top of Mission Peak which technically isn't park of the Ohlone Wilderness Trail (the trail goes around the peak but not to the actual top). You're so close to though – make a detour to the top of the peak!
Note: The AllTrails map only includes the section in between Del Valle Regional Park and Sunol Regional Wilderness. This is not the full trail!
---
Trip Video
Here is the video I made about the trip. It will show you the campsites and the terrain throughout the Ohlone Wilderness Trail!
---
Getting to and from the Ohlone Wilderness Trail
Since this trail is a point-to-point trail (rather than a loop), there is the question about how you'll get to and from the different trailheads. Generally speaking, there are three options.
Getting a Ride
The easiest way to access the trailhead is to get a ride on either or both sides of the trailhead. If you have a friend or family member willing to drop you off and pick you up, no further steps are needed.
However, if you'll be dropping a car off at one trailhead and getting a ride to the other, you'll need to get an overnight parking permit when you book your backpacking permit (more on this below).
Self-Shuttle
If there are two of you backpacking Ohlone Wilderness Trail, you can do a self-shuttle. Park one car at the final trailhead and then drive together to the first trailhead. Once you've completed your hike and arrived at the final trailhead, you can hop in your car and drive to the first trailhead to pick up your car.
For this option, you need to get an overnight parking permit when you book your backpacking permit.
Overnight Parking Permits: This is the number to make a permit reservation: 1-888-EBPARKS, option 2. When you're booking your camping permits, specify that you'd also like an overnight parking permit. Personally, I'd feel more comfortable leaving my car at Del Valle, as the Stanford Staging Area is adjacent to a residential neighbourhood.
Public Transportation
Since I have neither a car nor any friends willing to drive to East Bay, I elected to take public transportation paired with a short Uber ride.
Getting to Del Valle Regional Park – I took public transportation to the Dublin BART Station. From there, I took an Uber to Del Valle Regional Park (30 minutes and $35).
Getting to Stanford Ave Staging Center – There are AC Transit buses running to Grimmer and Mission Blvd. From there, it is an 0.8-mile walk to the trailhead. I lucked out, and someone I met hiking was going to my area and was able to give me a ride back.
---
Permits and Reservations
Permits are required for camping on the Ohlone Wilderness Trail. In addition, there is a section of the trail that passes through private property and you'll need a permit if you're passing through this section. No one inspected my permit on my specific trip, but it could happen and there is a fine if you don't have a permit (according to the signs on the trail).
You can book your permits by calling: 1-888-EBPARKS, option 2.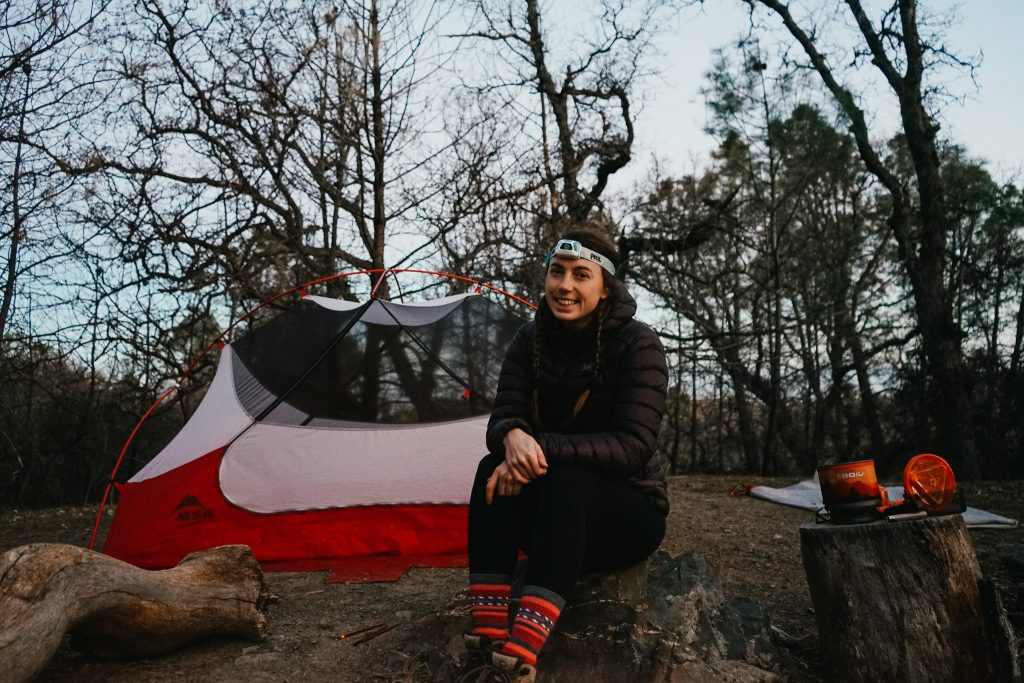 ---
Campgrounds
From east to west, here are the campgrounds:
Please note: campground milage is approximate and according to my GPS.
Campground Tips
Boyd Camp – I wouldn't recommend this site. It's less than 2 miles from the trailhead and it isn't a very nice campground. Plus, at the time of writing, the water pump there is broken.
Stewarts Camp – This one looked okay. I passed by it on my way to Rose Peak but didn't make the detour to check out individual sites.
Maggie's Half Acre – I didn't like this site very much, but I did like its proximity to Rose Peak (which had an amazing sunset). Between the three sites, #1 was the best and most secluded. It was taken so I had #2 which was fairly exposed.
Sunol Backpack Camp – This site looked pretty good. It was in the section of the trail that was farm land and rolling hills, though it did have its own tree coverage.
Eagle Spring Backpack Camp – If I was to do this trail again, I would book a second night at Eagle Spring. You're close to Mission Peak and I bet the sunrises and sunsets look amazing from there.
---
Safety on the Trail
Sun Exposure
Much of the trail is exposed and the sun can feel quite intense. Reapply sunscreen often (and if you're pale like me, bring SPF lip chap for your lips). I didn't bring a hat and regretted it on the second day. Consider wearing a long sleeve shirts and take breaks when you feel tired. Stay hydrated! Speaking of water…
Water
Each campground has a water pump, but the water supply is seasonal and, occasionally, not guaranteed. I carried 3 L of water at all times and filled up whenever there was an available pump.
The water is not treated. I carried water purification tablets (Aqua-tabs) so I could treat the water as I hiked.
Steep Terrain
A few sections of the route are on steep fire roads. While the road is wide and even, they can be really steep (more than 20% grade at times). These sections can be exhausting.
Animals
There are a few types of animals along the trail. The most concerning animal would be mountain lions, however they are very uncommon in this area. There are also occasionally rattlesnakes; if you see one, give it space and let it pass.
The most numerous animals will most definitely be cows. I expected to see the occasional cluster of 2-4 cows throughout the trail, but in reality I saw easily more than 100 cows. At one point, there were some 30 or 40 cows lingering around the trail and at the gate I had to pass through – I thought for sure I was to be the first person in California history to be strampled to death by cows!
But sure enough, I walked by them, speaking calmly and they all moved out of the way. Don't try to touch them (duh) and also don't get in between a mother and her calf.
---
Ohlone Wilderness Trail: Trip Report
Here is the trip report about my two day backpacking trip on the Ohlone Wilderness Trail.
Day 1: Del Valle Regional Park to Maggie's Half Acre via Murietta Falls (11.5 miles)
Del Valle Regional Park to Murietta Falls (6.4 miles)
Time: 12:00 pm – 3:00 pm
The trail starts with an aggressive ascent to Boyd Camp. The first 2.4 miles gains more than 1600 ft!
Bteween miles 2.3 and 3.3, the trail descended to a stream. This part was very narrow and more like felt more like hiking – I liked this section a lot.
But after the stream we were back to climbing – between miles 3.3 and 5.5 the trail ascended another 1700 ft with almost no pauses. This was another tiring section. Thankfully, the trail was mostly wide and even, making it easy to hike.
Around mile 5.2, there is a turn off the Ohlone Wilderness Trail to Murietta Falls. This is one of the most popular day hikes from Del Valle, so I made a little detour to check it out. Unfortunately, the stream was pretty died up so the 'falls' were only a trickle.
Murietta Falls to Maggie's Half Acre (5.1 miles)
Time: 3:00 pm – 5:00 pm
After Murietta Falls there's minimal elevation gain for the remainder of the hike (at least, compared to what I'd done before). Here I was really able to catch my stride and was hiking quickly, listening to my audiobook.
There were more trees around this part and the trail was a little more narrow than it had been.
I didn't see any other hikers in between the falls and my campsite.
Sunset at Rose Peak
By far the highlight of the day was hiking to the top of Rose Peak for the sunset. The peak provides a beautiful 360 degree view of the surrounding mountains. I could even see the city lights of East Bay and a little bit of San Francisco Bay.
Campsite: My campsite at Maggie's Half Acre was okay. It was somewhat sheltered, with burnt trees offering some protection from the wind on the north side. There was an outhouse, garbage bin and a water pump (with water).
Day 2: Maggie's Half Acre to Stanford Staging Area via Mission Peak (17.5 miles)
Maggie's Half Acre to Sunol Wilderness Park Lot (9.5 miles)
Time: 7:30 am – 11:45 am
This section of the trail is characterized by gradual (and sometimes steep) descents, the occasional climb and a whole lot of cows. There were very few trees – just rolling hills for miles.
Periodically, the trail would pass through a gate with barbed wire fenses on either side. Remember to close the gate! They control how wildlife move around.
I was a bit nervous hiking around SO MANY cows (watch the video about for evidence), but if you go slowly and stay calm, they'll leave you alone.
Sunol Wilderness Park Lot to Mission Peak (5.0 miles)
Time: 12:00 noon – 2:00 pm
The section between Sunol Wilderness Park and Mission Peak was perhaps my least favourite part of the trail. It kicks off with a section through the trees, following a fire road. This was tiring but not challenging, and the trees on either side provided shade.
About halfway through this section it opened up into fields. Here there was no shade and the occasional cow. The trail followed what I imagine to be a road for tractors / farm equipment.
Once I'd reached Eagle Nest Backpackers Camp, there was a sharp ascent to the top of Mission Peak. The final 600 ft was quite rocky.
Mission Peak, although busy, was great. Despite having stood on Rose Peak the day before (which is 1200 ft taller), standing with the famous sign felt like a great way to wrap up the Ohlone Wilderness Trail.
Mission Peak to Stanford Staging Area (3.1 miles)
Time: 2:30 pm – 3:45 pm
Surprisingly, I found the last section of the trail to be the hardest. It is 5 km from Mission Peak to the Stanford Staging Area (also known as the Mission Peak Parking Lot), but descends 2116 ft during that time.
The trail was mostly wide and flat with open grassy fields on either side. However, the sharp decline took its toll on my almost-blistered feet.
At last I saw the gate in front of me, signalling the end of the hike and the arrival of vehicles! It took me about 1.5 hours to do this section.
---
FAQs
Is there cell service on the Ohlone Wilderness Trail?
Cell phone service is spotty. There is absolutely no cell phone service at Del Valle Regional Park. There is some cell service between the park and Rose Peak. I had cell service at Rose Peak and Maggie Half Acre Campground. Sunol Regional Park did not have service, but once I was close to Mission Peak I had cell service until the end of the hike.
Are there bathrooms along the Ohlone Wilderness Trail?
There are outhouses at all of the campgrounds, though they aren't very nice. Bring your own toilet paper and plug your nose (I kept the door open).
Do you need trekking poles?
My trekking poles were absolutely necessary. The trail has a lot of ups and downs – especially at the beginning and end. I found the trekking poles were essential for getting myself up the hills easily and down the hills without my knees hurting.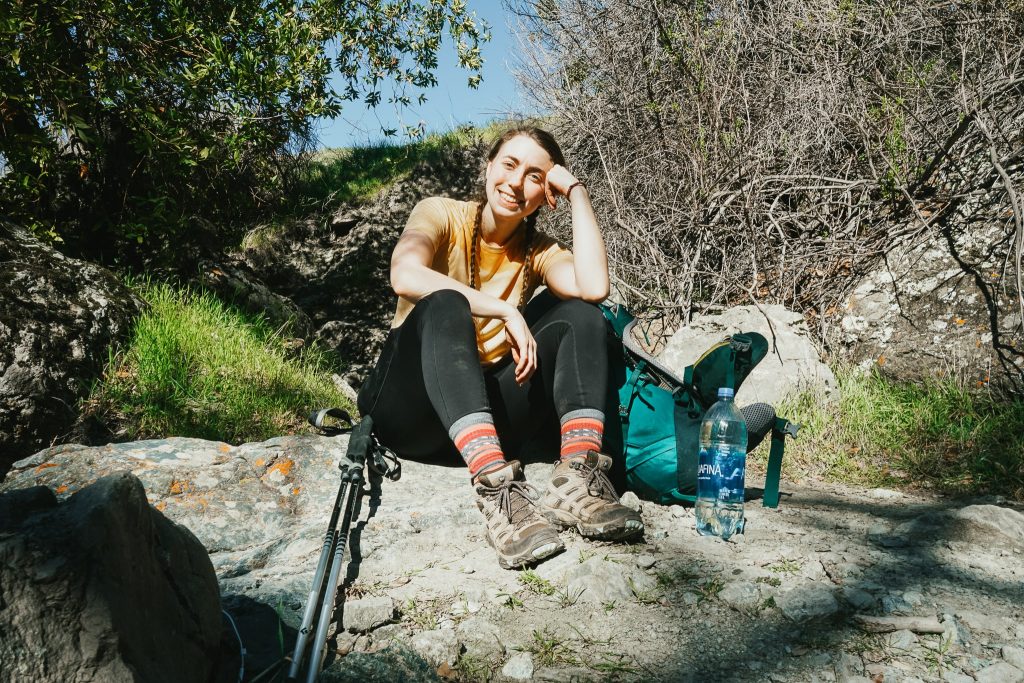 ---
Ohlone Wilderness Trail – Final Thoughts
I hope you've found this guide helpful and are ready to tackle the trail yourself!
Other Hiking Guides You Might Like