At last – my long-awaited Local's Guide to Vancouver is finally complete. I moved to Vancouver in August 2020 and have spent the last two years exploring all that Vancouver has to offer. I absolutely love this city so I hope this guide will help you plan the perfect trip (or if you already live here, I hope it helps you find something new to do!).
Here is how the guide is organized:
My Favourite Things to do in Vancouver
My Favourite Beaches in Vancouver
My Favourite Hikes
My Favourite Day Trips from Vancouver
My Favourite Restaurants in Vancouver
Over-Hyped Things
And if you'd like more information, check out these other posts on Vancouver:
---
Map of Vancouver
---
My Favourite Things to do in Vancouver
All Things Seawall and Stanley Park
Walking the Sea Wall
I have to put this first on this list because this is the Vancouver activity I do the most often. Honestly, I don't think a single day goes by in Vancouver that I don't walk on the Sea Wall. During the pandemic, I started every day off with a 6 km walk along the Sea Wall while listening to a podcast. I still walk at least a small section each day.
If you're a visitor to Vancouver, I recommend walking along the Sea Wall to get to different places on your itinerary, where possible. If I had to recommend a section, however, I'd suggest the part around Yaletown and False Creek or the part from English Bay to Second Beach. And if you're up for a longer walk, you can go all the way around Stanely Park (it's about 9 km).
This post may contain affiliate links. If you make a purchase through one of these links, I may receive a small commission at no extra cost to you. Your support is much appreciated! You can learn more by reading my full disclosure.
Biking to Prospect Point
Prospect Point is one of the best viewpoints in Vancouver. It's one of the highest points in Stanely Park and offers views of the North Shore mountains and Lion's Gate Bridge. You can take a car or Uber to Prospect Point, but one of my favourite activities is biking the perimeter of Stanely Park to Prospect Point. Get your heart rate up and then reward yourself with gelato at the point (in the summer).
If you don't have a bike, there are plenty of places to rent one around Coal Harbour. They ever have electric bikes if you're intimidated by biking up to Prospect Point.
---
Deep Cove and Indian Arm
This is such a special area of Vancouver – you're only about 25 minutes from downtown but it's so quiet and minimally developed, you'll feel you're on Vancouver Island. Deep Cove is a small neighbourhood at the junction between Vancouver Harbour and Indian Arm. There's minimal boat traffic (at least compared to the harbour) and it's mostly small passenger boats and sailboats.
Kayaking to Jug Island
To get to Indian Arm, drive or take the bus to Deep Cove. This is a cute little neighbourhood with some good shops and food. You can rent kayaks from Deep Cove Kayak Center. We rented a tandem kayak for two hours and paddled from Deep Cove around Jug Island.
It was really beautiful and there were almost no boats on Indian Arm (in contrast to when we went kayaking on False Creek and there were TONS of boats).
Eating on Gallant Ave
There are a few good food joints on Gallant Ave (basically the main street of Deep Cove). My favourite is Secret Coffee Co. (formerly Bluehouse). They have excellent buckwheat crepes and green smoothies. Oh and delicious baked goods. I like the Forage crepe, which has spinach, mushroom, goat cheese and tomato. But there are less vegetable-y ones than that. There's also a nice garden and patio in the back.
There are also a few ice cream shops, a donut shop that always has a line, a pizza place and a nice sit down restaurant, among others.
Boat Tour to Granite Falls
A single day of kayaking only shows you a small part of Indian Arm. If you want to explore the northern part and visit Silver Falls and Granite Falls, you'll need a boat. There are a few companies that offer tours of Indian Arm aboard medium-sized vessels, however, there's an individual operator, Captain Mike, who does charters in a small boat and I recommend taking this option.
Silver and Granite Falls are definitely the highlight. At Granite Falls, Mike gave us the option to get off the boat and do a short (10 min) hike to the base of the waterfall which was beautiful.
As far as stack ranking goes, I wouldn't recommend this tour unless you live in Vancouver or will be there for more than 4 days. Instead, I'd choose something on Howe Sound.
---
Exploring Howe Sound
Boat Rentals from Horseshoe Bay
A few months ago, my boyfriend and I rented a boat from Sewell's Marina in Horseshoe Bay for a few hours. The process was very easy and suitable for inexperienced boaters – a few papers to sign and a short orientation – and then we were off.
We motored out to Anvil Island, one of the large islands in Howe Sound. Behind the island there is a fantastic spot to stop and swim. Here the water is bright green and calm. After that we drove toward Gibson and around Bowen Island. We did a little more swimming off the side of the boat and had a picnic before going back to the marina.
Last month, when my friends from California were visiting, we brought them out on the boat again and they had an awesome time. Howe Sound is absolutely stunning, with its bright water and mountains that rise right out of the ocean.
Jet Skiing from Granville Island
While I preferred the boat, my boyfriend prefers jet skiing on Howe Sound. We rented the jet ski from Vancouver Water Adventures on Granville Island and took them across English Bay and out to Howe Sound.
We rented the jet skis from Vancouver Water Adventures and you can rent them for 1-, 2-, 4- or 8-hours. We did 2 hours, which was a little tight considering how far up Howe Sound we went. 8 hours would definitely be too long in my opinion, so either 2 or 4 hours is good, depending on your propensity for water activities.
The rental company also provided wet suits and life jackets, and a waterproof case for our phones. They also provided a little "how to" tutorial (great for me as it had been years since I'd driven one). It was a ton of fun and he does it whenever he has friends visiting Vancouver for the first time. It's an exciting way to experience Howe Sound's beauty.
Whale Watching
The final way to explore Howe Sound is on a whale watching tour, perfect for the animal lovers or slow-paced travelers. Yohann absolutely loves whales, so we do a whale watching tour everywhere we go.
The first tour we did was actually a bust – no whales! The tour company we went with says that happens about 5% of the time (but seems to happen to us quite regulalry – see my New Zealand blog posts lol). But if that happens, they give you a voucher for another tour for free. So you're all but gauranteed to see a whale.
Anyways, on our second tour we saw tons of orcas. The boat took us all the way out to Gibson, where we saw two families of orcas not too far from the boat. In another area, we saw some males (I think they were hunting). Overall it was wonderful!
---
Granville Island
Granville Island can be super busy and touristy, so I don't go very often. That said, I do think it's a great place to visit if it's your first time in Vancouver or if you can go on a weekday. The market has tons and tons of food stalls (there's a vegan Vietnamese place I adore and a fantastic chocolate shop). If you're coming from downtown, take the Aquabus or False Creek Ferry across – this will save you from driving over the bridge and trying to park. There are also some quirky stores, sourvenir shops and art galleries around here.
---
Capilano Suspension Bridge
I know, I know. This is a super touristy thing to do. I don't care. I've been to the Capilano Suspension Bridge a few times and I really like it.
The suspension bridge is pretty cool, though there's a similar (and free) one at Lynn Canyon, so I don't recommend Capilano solely for its bridge. Across the bridge, there are rope swings to bring you up close and personal with the huge trunks and branches.
Another thing I like about Capilano is that the owners have done a lot of work to communicate the ecological and indigenous history of the area, something you don't get at Lynn Canyon.
---
Sunset Spots
I have an entire blog post on the best viewpoints in Vancouver, many of which are excellent for sunset. However, there are two new spots I've recently found and I want to mention them here.
Iona Beach
Iona Beach is quite far south of Vancouver – it's almost at the airport – and requires a car to reach. There's a 4 km jetty sticking out into the ocean and you can walk along it. The jetty faces west, so you have an incredible lookout for the setting sun.
Since it's so far away from the city, I don't recommend Iona Beach if you only have a couple days in Vancouver. But if you've been here a few times or live here, definitely check it out!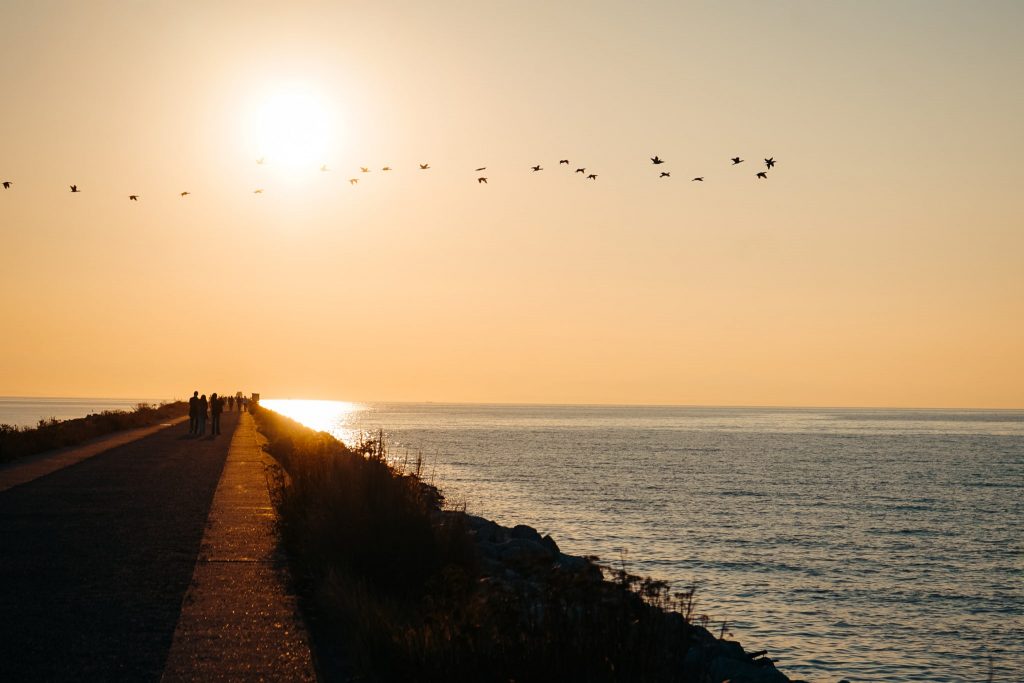 Caulfield Park
This is a super tiny park just east of the well-known Lighthouse Park (another great viewpoint, by the way). You usually can't see the actual sun setting from this park, but you do get a view of the city as the light golden and then pink and finally blue. It also doesn't require much walking to access – you can park on Dogwood Lane and was about 100 m to the water.
---
Flightseeing Tour
One of my favourite things I've done since coming to Vancouver is a flightseeing tour. We found the experience on Airbnb and met the pilot in Richmond (just south of Vancouver). We flew over Lake Alouette and Stave Lake (which had the most luscious blue water, see below) and then in between the mountains (which was a tad scary but I was too distracted by the mountains to focus on the fear).
Halfway through, we landed in an area that used to be used for logging and did a short hike (and saw a large male black bear), then we got back in the plane and flew over the snow capped mountains. Finally, we flew over Vancouver before the tour ended. It was a magical experience and so wonderful to see the area from this perspective.
---
My Favourite Hikes in Vancouver
Eagle Bluffs
Location: Cypress Provincial Park
Length: 8.2 km round trip
Elevation Gain: 435 m
This is one of the most famous hikes around Vancouver. It starts at the parking lot of Cypress Mountain, so you don't have too much elevation to gain before getting amazing views. That said, 435 m is nothing to scoff at – especially when it's all at the beginning.
Tip – After hiking to Eagle Bluffs Lookout, make a slight detour to Yew Lake Lookout. While Eagle Bluffs provides views of How Sound and Bowen Island, Yew Lake provides views of the Lions and North Shore Mountains.
Goat Mountain
Location: Grouse Mountain
Length: 7.1 km round trip
Elevation Gain: 393 m
Goat Mountain is probably my favourite hike on this list. It starts from the top of Grouse Mountain (you can take the gondola or the Grouse Grind to the top). From there is goes high into dense alpine forest before reaching exposed rocks. The first time I did this hike we actually saw a black bear!
The top has the most incredible 360-degree view! I can't believe we were the only people at the top. The layers and layers of mountain ranges were beautiful.
Quercus Point Lookout
Location: Murrin Provincial Park
Distance: 2.4 km
Elevation Gain: 161 m
Despite being such a short hike, Quercus Point offers amazing views of Howe Sound and the Sea to Sky Highway. The view is similar to The Chief (though not nearly as panoramic), but considering the length, it's much more accessible to novice hikers or those with limited time.
Warning – the parking lot fills up quickly on weekends. Most of those people are hanging out by the lake and not hiking to the lookout. On the day pictured below, we had the whole lookout to ourselves.
Read Next: 21 Best Hikes in Vancouver – Can't Miss Vancouver Hiking Trails
Dog Mountain
Location: Mount Seymour Provincial Park
Distance: 5.6 km
Elevation Gain: 165 m
This hike starts from high on on Mount Seymour, so you get beautiful views without having to climb a lot of elevation. The hike is short (I took me about 1.5 hours) and ends with a beautiful view of the city below. Excellent bang-for-your-buck.
---
My Favourite Beaches in Vancouver
Spanish Banks Beach
Vancouver has a lot of beaches, and I could recommend all of them. But I do have a favourite beach and that is Spanish Banks. The beach is located near the university but faces north toward Vancouver and the North Shore mountains (unlike the nearby Wreck Beach which faces southwest). The sunsets here are just incredible.
I'll admit it's far from downtown and you can get similarly beautiful sunsets from Kitsilano or English Bay, but they're still not as nice as Spanish Banks.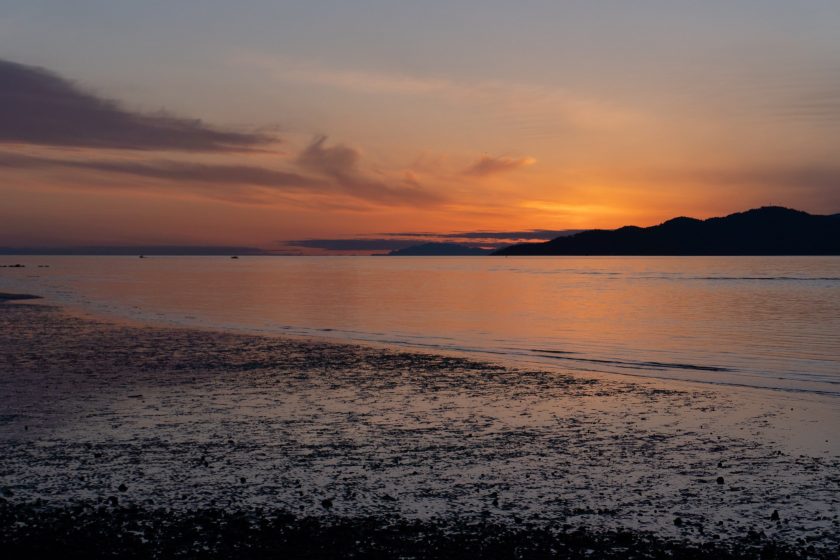 Other Beaches I Like and What They're Best For
Kitsilano Beach – Often the busiest, tons of nearby food and drinks, beach volleyball, good swimming.
English Bay – Closest to Vancouver, very close to a lot of restaurants, sand feels rougher than at other beaches and it feels a little more urban than the other beaches.
Jericho Beach – A little out of the way, no nearby food / drinks, excellent for swimming and nice sunsets.
Wreck Beach – The most wilderness-y beach, beautiful sand and driftwood, clothing-optional, a lot of stairs to get down to the beach.
---
My Favourite Restaurants in Vancouver
Although I'm not a food blogger, I love trying new restaurants. I can't count how many Yohann and I have tried since moving to Vancouver, but here is a shortlist of my favourites. It's a little biased to Yaletown because that's the neighborhood we live in, but I've also included restaurants from other areas.
Also, apologies for the terrible photos! I try not to photograph my food (I make the people around me put up with enough photo taking that I try to draw the line at meal times).
Cafes
Small Victory – This is a cafe in Yaletown that has great espresso and incredibly baked goods. The cinnamon bun is heaven (highly recommend) and the almond-crusted croissant is also fantastic. They have seating for about a dozen people inside and a small patio in the front.
Pallet – I haven't been to Pallet in ages because they aren't open on the weekends, but they have excellent espresso and breakfast sandwiches. I think I've now tried over 50 cafes in Vancouver, and this one stands out as having the best latte.
Honolulu – If you want authentic Hawaiian coffee, come to Honolulu. They have a variety of coffee blends, including 100% Kona blend which is the most expensive, luxury coffee in the Hawaii. It's $10 for a cup! But if you're a coffee connoisseur, try it at least once.
Breakfast / Brunch / Lunch Restaurants
Cafe Medina – This is a cute restaurant downtown and, hands down, it has the best waffles I've ever had in Vancouver. Actually, the entire menu is fantastic. The last time I went, we split Le Complet, the Saumon Fumé and a Palella (a lot, I know) and each dish was delicious and unique. We ended the meal with a liege waffle and maple syrup. Now, because Cafe Medina is so good, there is often a long wait. Go early, put your name on the list and come back. It's definitely worth it.
Heirs Pears – If you're gluten-free, this is the best breakfast place. The entire restaurant is gluten-free (check out my full list of gluten-free restaurants in Vancouver). I'm not gluten-free, but I absolutely love their breakfast bowl (chorizo, poached egg, roasted potatoes, cheese, avocado).
Maxine's Cafe – This is another great breakfast spot. It's a French menu and the omelet is absolute perfection. It's filled with a cheese they make in-house (though ask for a salad instead of the French fries it comes with). Also, the coffee cocktails look amazing, though I haven't tried them myself. The patio and restaurant is beautiful as well.
Dinner Restaurants
Botanist – This restaurant is on the second floor of the Fairmont Pacific Center, at Waterfront, and is aesthetically plant-themed. The food and drinks are great and the atmosphere is light and airy.
There is a long list of floral-themed and creative cocktails – I've tried most of them and can recommend all except for ¡QUÉ PADRE! (Poetry in Motion and Meadowland Tonic are my favourites). As for food, my two favourites are the Vegetable Ragu and the Seared Striploin Gnocci. I've also been to the Botanist for brunch, and it was good, but I think they do a better job of dinner.
The Greek by Anatoli – This restaurant has the best lamb I have eaten in my entire life. I'm not exaggerating when I saw jaw-dropping – upon taking the first bite of the Country Lamb Platter I found myself unable to chew my food because of how startling the taste and texture was. The lamb is marinated for 48 hours and I'd never tried such a rich and tender lamp before. For starters, the Spanakopita is delicious, as is the Greek Honey & Baked Feta.
I go to the Yaletown location, but there is also one in North Vancouver and another in Gastown. I think the menus differ by restaurant location, so I recommend the Yaletown location!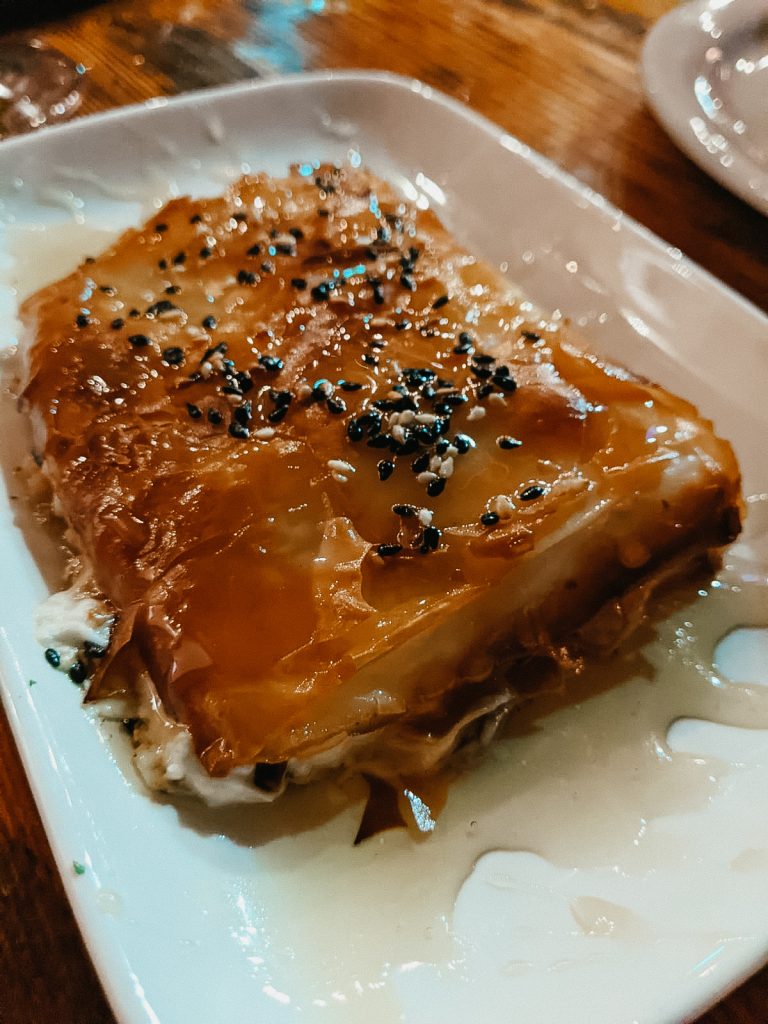 Ahn and Chi – This is an incredible Vietnamese restaurant near Mount Pleasant. They have a great patio and a huge menu of interesting and authentic Asian cuisine. I love the spring rolls, the beef salad, the mango salad and the yellow curry. Yohann lives and dies for the Wok Fried Rice.
Per Se Social Club – This isn't a burger restaurant and yet – I kid you not – Per Se Social has the best hamburger I've had in my life. It is perfection – they have their own sauce, caramelized onions, and a perfect slice of cheese. I recommend adding bacon. Also, they have some good pizza and drink options. There's a small but lovely patio and the inside is beautifully decorated.
Elisa – This is the restaurant we go to when celebrating something. I'm not going to sugarcoat it – Elisa is pricey. But it's the best steakhouse in all of Vancouver. They have a long list of steaks from different farms (including a lot of Wagyu, priced by the ounce!) in addition to other meat entrees.
On my 26th birthday, we came here and I got a 4 oz Wagyu steak and it is the most delicious (and most expensive) thing I've ever eaten. Normally I just get the tuna tartare and risotto though, as these two dishes are much more budget-friendly.
Elisa is located along the stretch of Yaletown which always has super fancy cars driving by. While you're walking here you'll almost always see at least one Rolls Royce or Ferrari.
Cocktails / Bars
Bartholomew – If you like charcuterie you need to come to Bartholomew. They have a huge menu of various meats and cheeses, crackers and dips, and other charcuterie toppings. I usually get the Butcher's Board – the butcher will select six types of meat and six kinds of cheese, plus a variety of crackers/dips/nuts/etc. Mix that with a crafted cocktail (I like the Moscow Mule) and you're set up for a good evening.
They now take reservations, which you should definitely do. The bar is small, cozy and intimate – aka, it has very limited seating.
Dessert / Snacks
Rain or Shine Ice Cream – This is the best ice cream spot in Vancouver. It's handmade and they have a long list of interesting flavours, plus some seasonal flavours. I'm not normally a fruit person, but the Blueberry Balsamic ice cream is one of the best I've ever tasted. London Fog and Cracked Mint are also super tasty.
Cartem's Donuts – My boyfriend is a donut connoisseur and this is his favourite donut shop. We will walk 45 minutes (each way!) just so he can get these donuts. I'm not a fan of donuts and even I like these ones. There's an option between cake donuts and yeast donuts, which offer different textures and levels of sweetness. Both are very good.
Oh, and if you're wondering if you should wait in line for over an hour for Lucky's donuts, definitely don't. Get Cartem's instead – short line and much better! More on that below.
Trafiq – This is a fancy cake place that has amazing slices of cake.
West Oak – THESE ARE THE BEST CHOCOLATE CHIP COOKIES I HAVE EVER EATEN IN MY LIFE. It's so unexpected. West Oak is a fancy dinner and brunch place. I've actually never eaten at the restaurant. You can order the cookies from the hostess at the front door (6 or 12 cookies, chocolate chip or white chocolate macadamia). They have them ready in 10 minutes for you to take home. YOU WILL NOT BE DISAPPOINTED.
Thierry – I'm torn between putting this in the Recommended Desserts list or in the Over-Hyped list. Thierry is a fancy dessert place near the Tiffany and Mont Blanc stores (relevant because they indicate the kind of people you see at Thierry). The cakes and pastries are beautiful and intricate, they just aren't my style of dessert (I like simple).
---
My Favourite Day Trips from Vancouver
Whistler
When we have friends visiting Vancouver, even if only for a few days, I have us take a drive on the Sea to Sky Highway toward Whistler. If you don't mind driving in the dark, you can start early in the morning and return in the evening, getting almost a full day in Whistler.
In the summer, I recommend taking the gondola up to the top of Whistler Peak. It's expensive, but it's the fastest way to the top and the views are incredible. There are a few short- and medium-length hikes from the top. This has an excellent return-on-time-invested!
Bowen Island
The other day trip I love is Bowen Island. You can take the ferry here from Horseshoe Bay and get a little peak at Howe Sound and the North Shore Mountains without renting a boat. Once you're on Bowen Island, there are a few good restaurants and some nice hiking trails.
Mount Gardner is the tallest peak on Bowen and a good hike. I've still never to the top when there have been clear skies, but I hear it's beautiful! For something more laid back, the trails around Killarney Lake are really nice as well.
Read More: Things to do on Bowen Island: Hiking, Restaurants, Accommodations & More
---
Over-Hyped Vancouver Activities I Don't Recommend
Having been in Vancouver for so long, I've tried many of the most popular activities and restaurants. Many were fantastic. Others… not so much. Here are some of the top Vancouver recommendations that I think you can skip. I'm not saying these are bad – I'm just saying they aren't worth the hype they get.
Vancouver Aquarium
I don't know why this tops the list of everything "Things to do in Vancouver" list. I'm not a fan of aquariums to begin with, but even if I was, I don't think this is a worthwhile thing to do if you have limited time in the city. Vancouver is all about the mountains and the ocean (and the food).
Vancouver Lookout
The Vancouver Lookout is a tower in the downtown core that stands 168 m above ground. At the time of writing, it costs $18.25 per adult to go up. From the lookout, there is a 360-degree view of the surrounding city and North Shore Mountains.
The lookout definitely isn't bad, but I think there are better views that can be accessed for free. I prefer Prospect Point at Stanely Park for views of the North Shore Mountains, Queen Elizabeth Park has a better view of the skyline and Dog Mountain has a great view of the entire city. Save a little time and money by skipping the Lookout and heading to one of these viewpoints instead.
Read Next: 15 Best Viewpoints in Vancouver: Skyline, Mountains, Beaches & More
Over-Hyped Food
Mister Ice Cream
Mister Ice Cream popped up in Yaletown and was immediately a hit. They have a great concept. At Mister Icecream, they use liquid nitrogen (which has an insanely low freezing point of -210C) to make the ice cream in front of you. It's incredible to watch.
Their specialty is the Creme Brule Ice Cream Sandwich. It's a regular vanilla ice cream sandwich, except they blow torch the sides so you have a burnt, crispy exterior to the ice cream. It's a cool novelty, but the actual ice cream and sandwiches aren't that great. It's good, but the only thing special is the process, not the food itself. Pair that with a long line to get in and I consider it to be overhyped.
Lucky's Donuts
My boyfriend loves donuts. We rarely pass a donut shop and don't stop. So obviously we had to try Lucky's. The only problem is that the Lucky's on Granville Island constantly has a humungous line – people wait over an hour to purchase donuts! (You can also buy them from 49th Parallel Cafe which is usually much faster.)
It took us over a year to finally try Lucky's and they were a disappointing "pretty good". Don't get me wrong – they were tasty, but definitely not "stand in line for an hour" good. We'd also already tried Cartem's which, in our opinion, is significantly better. In fact, the BF says Cartem's is the best donut he's ever had in his life. Overhyped? I think so.
Nero Waffles
Nero Waffles is one of the most popular breakfast spots in Vancouver. I used to live in the building beside it and there were often 30 people waiting in line for a table. I've been a few times and my verdict is that the waffles are great, but not worth the wait. If you can go super early in the morning or on a weekday, then try Nero. But honestly, I think the waffles at Cafe Medina are way, way better.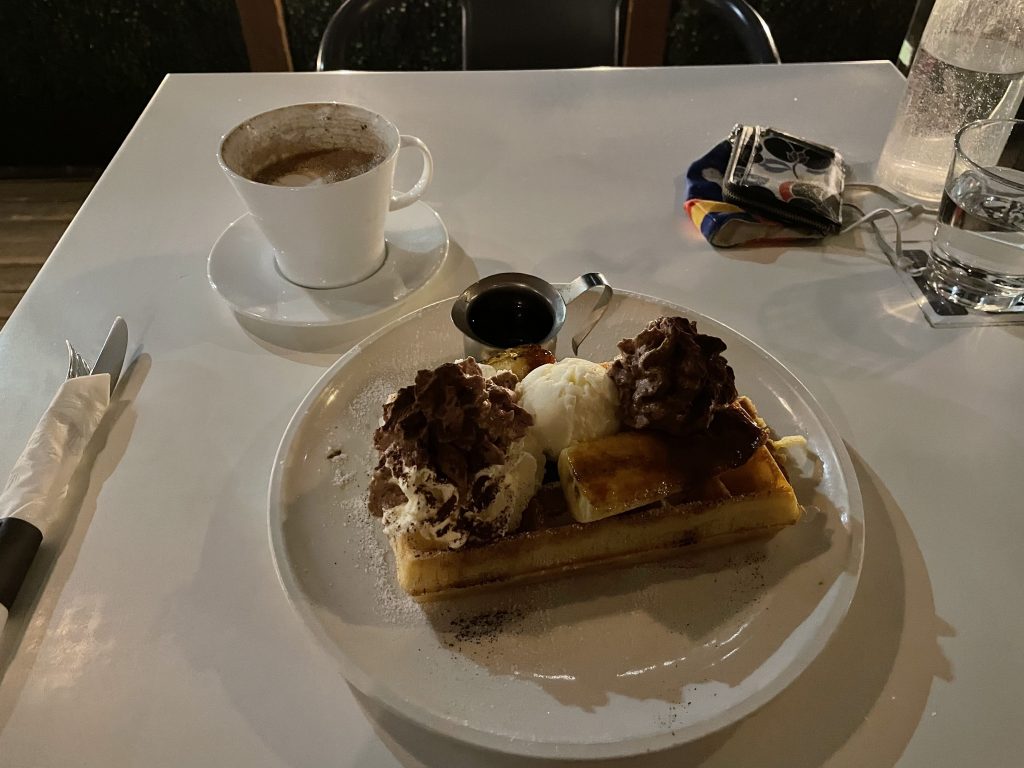 ---
Things to do in Vancouver – Final Thoughts
I hope this guide is helpful and you'll be able to explore some new places in Vancouver. I'll update this list periodically with new experiences and discoveries. If you've been to Vancouver already and have some recommendations, please let me know in the comments and I'll check them out.