If you like hiking, Vancouver is the place to be. There are literally hundreds (thousands?) of hikes within a short drive of the city. While many of the hikes are difficult, there are also a handful of excellent and easy hikes in Vancouver that are perfect for novice hikers.
In this post, I'll introduce you to 11 easy hiking trails. I've personally hiked 35 or so trails around Vancouver of varying difficulty, and these are the trails I think are most suitable for beginners while still offering excellent views.
---
Easy Hikes in Vancouver – Before You Leave
Tell Somewhere Your Plans: As someone who has been solo hiking for 5+ years and has run into trouble before, please always tell somewhere where you are going, when you will be back and what to do if you aren't back on time.
Be Prepared: If you're doing one of the wilder hikes (i.e. Dog Mountain, Goat Mountain, Norvan Falls), ensure you have ample water, snacks and ideally the 10 Essentials.
Leave No Trace: Please always, always, always pack out what you pack in. Be careful not to drop food wrappers; don't leave dog poop bags on the trail (you will forget about them). Bring a bag so you can pick up any trash you see. Beautiful British Columbia will only stay like this if we all do our part.
This post may contain affiliate links. If you make a purchase through one of these links, I may receive a small commission at no extra cost to you. Your support is much appreciated! You can learn more by reading my full disclosure.
---
11 Best Easy Hikes in Vancouver
Dog Mountain
Location: Mount Seymour Provincial Park
Distance: 5.6 km
Elevation Gain: 165 m
Dog Mountain is my #1 pick for easy hikes in Vancouver. The trail begins at the parking lot for Mount Seymour Provincial Park, which is already some 1,000 m in elevation – so you're able to get the jaw-dropping mountain views of summit hikes, without having to hike up the whole summit yourself.
Dog Mountain is about 2.5 km from the parking lot, and the terrain is relatively flat – there is a total elevation gain of 165 m. The average hiker will need a little over an hour to complete the hike.
I've included a video I made about the hike below, though I did the hike in the spring when there was still snow on the ground. If you hike Dog Mountain between May and November, you shouldn't encounter any snow.
Watch my video from hiking Dog Mountain in the spring!
Quercus Lookout
Location: Murrin Provincial Park
Distance: 2.4 km
Elevation Gain: 161 m
This is my most recent easy Vancouver hike and although it's a little north of the city, the views are 100% worth it. The views are quite similar to The Chief (another hike I love), but this hike is significantly shorter and easier.
Drive up the Sea to Sky Highway for about 45 minutes (a little south of Squamish). There's a parking lot on the west side of the highway and the trailhead. It was difficult to get parking on a late sunny Saturday, so get there early. This hike is a little over one kilometre each way from the trailhead and took less than an hour in total. We had the most beautiful views of Howe Sound and surprisingly, there was no one else on the lookout. Highly recommend it!
---
Quarry Rock
Location: Deep Cove
Distance: 4 km
Elevation Gain: 225 m
Quarry Rock is a lookout a little north of Deep Cove, overlooking the neighbourhood and Indian Arm. The area is one of my favourite areas in Vancouver – it's so quiet and charming that it's hard to believe you're just 20 minutes from a bustling city.
There are two routes to Quarry Rock. The first is along the Baden Powell Trail, and begins where the trail intersects Mt Seymour Road. The second begins at Deep Cove and follows a trail called Cove Runner. Both routes are about 4 km total and have elevation gains between 210 and 250 m.
Read More: My Experience Moving to Vancouver from Toronto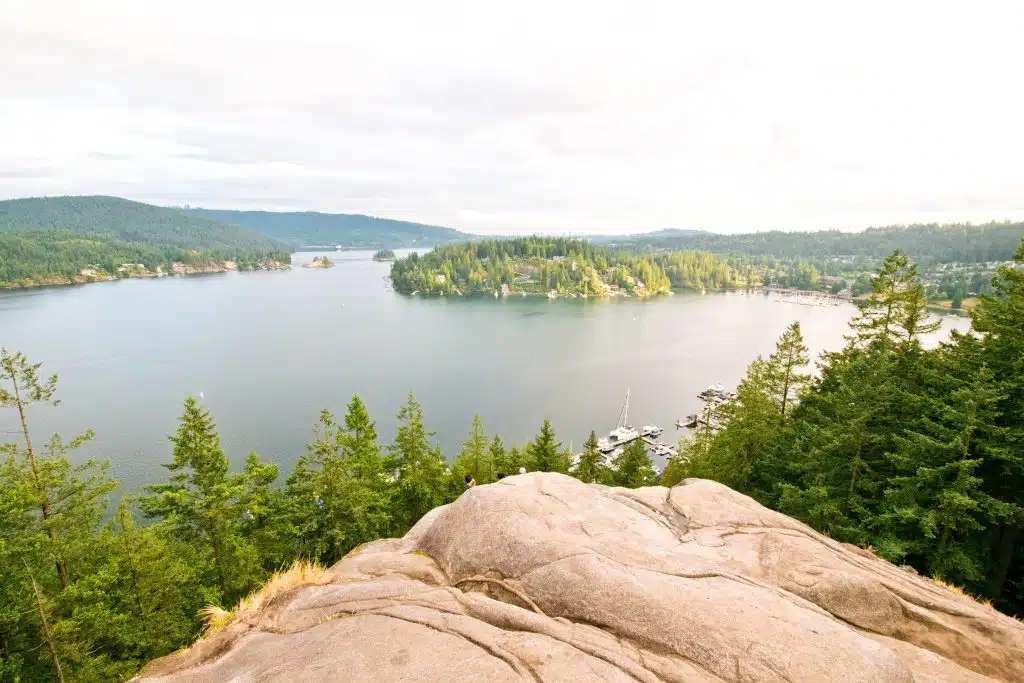 ---
Stanley Park
Location: Downtown
Distance: Various, between 3 km and 9 km
Elevation Gain: Less than 100 m
Stanley Park is Vancouver's counter to New York's Central Park. It's kind of hard to believe that such a large area of old-growth forest has been protected from development. Ponder that wonder as you walk one of the park's many trails. I visit Stanley Park almost weekly, and I'm always finding a new corner or side trail not yet explored.
There are several easy trails, dependent on how much walking you'd like to do. For example, you could walk the full sea wall – that's about 9 km and has a negligible amount of elevation gain – which takes you around the perimeter of Stanley Park. Alternatively, you could take the inner loop and go through the park up to Prospector Point (my personal favourite). That option would be about 8 km and 80 m of elevation gain.
I'd also recommend making little detours to the Totem Poles, the Rose Garden and Lost Lagoon.
---
Lower Gold Creek Falls
Location: Golden Ears Provincial Park
Distance: 5.5 km
Elevation Gain: 100 m
This is by far one of my favourite hikes in Vancouver. Although it's an hour's drive from downtown Vancouver, it is well worth the trip.
The hike starts in the northernmost parking lot for Golden Ears Provincial Park. From there you can follow the East Canyon Trail north. This will take you through a lovely section of the rainforest with relatively easy terrain. The trail then descends quite quickly to meet Gold Creek – this is the most difficult section because the trail is very uneven and you kind of need to climb down the last 50 m.
But once you're down you'll be greeted by the incredible Lower Gold Creek Falls! The trail then goes south, tracing Gold Creek for ~2 km. If you are concerned about the steep 50 m section, you can to the second part of the trail both ways (there-and-back) rather than doing the loop.
Read More: 15 Best Viewpoints in Vancouver: Skyline, Mountains, Beaches & More
---
Norvan Falls
Location: Lynn Headwaters Regional Park
Distance: 14 km
Elevation Gain: 355 m
This hike runs parallel to Lynn Creek, in between the peaks around Grouse Mountain and the peaks around Mount Seymour Provincial Park. While it doesn't offer any city or mountain views, it does bring you to Norvan Falls, a beautiful waterfall deep in the valley.
A lot of people will classify Norvan Falls as an intermediate/moderate level hike, but I consider it to be an easy trail for anyone with a decent level of fitness. The trail is well-marked and very easy to follow; the elevation gain isn't much for how long the length of the hike. The average hiker will need 3.5 hours to complete the hike.
---
Lynn Canyon
Location: North Vancouver (Lynn Canyon Park)
Distance: 3 or 5 km
Elevation Gain: 140 m
Lynn Canyon offers a free alternative to the Capilano Suspension Bridge and is one of the most popular easy hikes in Vancouver. In the summer, it's common to see dozens of other people on the trail – especially on the bridge.
There are two trail options depending on how much you'd like to walk. The shorter loop is 3 km total, however I recommend doing the 5 km loop as this will bring you to Twin Falls and the 30 Foot Pool. It's a great place to go swimming (and cliff jump, apparently, though I'm not endorsing that).
---
Burnaby Mountain
Location: Burnaby
Distance: 3.5 km
Elevation Gain: 156 m
Burnaby Mountain has a park and a series of trails around it. Some of the trails are intermediate difficulty but a few of them, like the Pandora Trail, are much easier. Adjacent to the Pandora Trail is the Velodrome Trail, which is less of a trail and more of a nature-inspired staircase down the side of the mountain. Going down is super easy, although getting back up is tedious and tiresome.
Unless you have a car and have done the other trails on this list, I don't recommend Burnaby Mountain personally (though my boyfriend really liked it). There is almost a nice view of the North Shore, however, the view is quite obstructed by trees. I don't blame the trees – good for them for growing! – but it does make the view less "wow" than that of other trails on this list.
---
Lighthouse Park
Location: West Vancouver
Distance: 4 km
Elevation Gain: 190 m
Lighthouse Park is home to one of the best easy hikes in Vancouver. The trail is just four kilometres but circles the entire park, offering views of huge trees, a lighthouse and downtown Vancouver (specifically the Lion's Gate Bridge and Stanley Park).
Although you can't see it from the photos, you can actually go all the way down to the water. When I was at the park, part of the trail was cut off (due to COVID maybe?) so we didn't complete that part of the trail.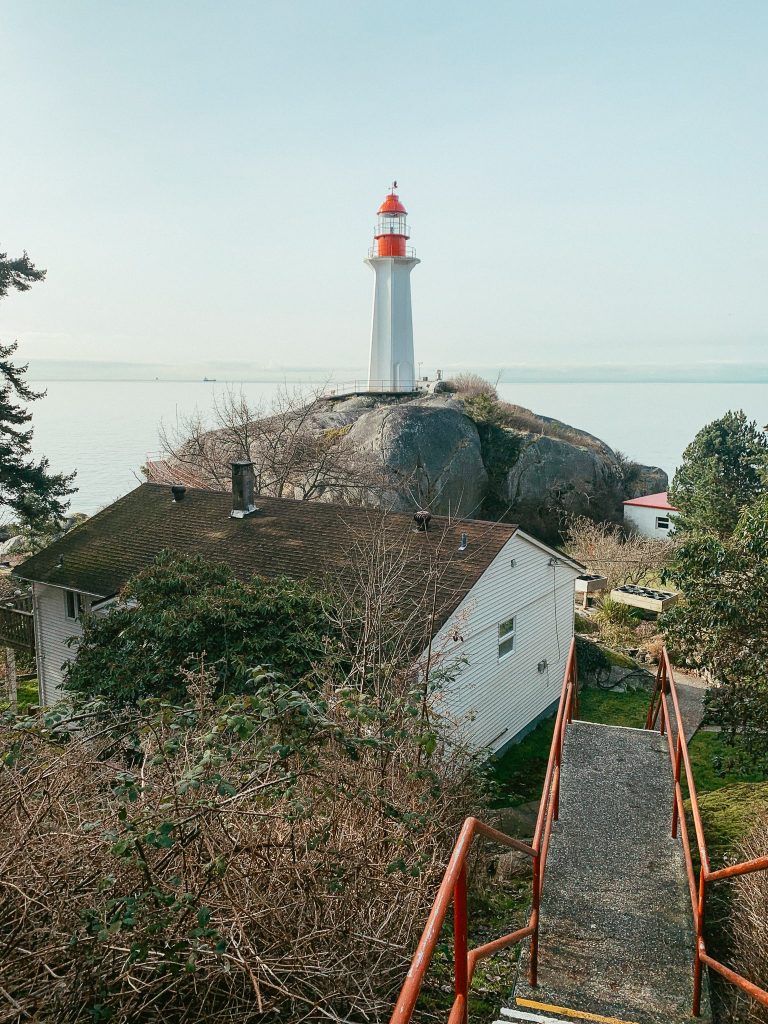 ---
Buntzen Lake
Location: Coquitlam
Distance: 11 km
Elevation Gain: 300 m
Despite being a little long, this is a fairly easy hike in Vancouver, though it's a little bit out of the way if you don't have a car. Buntzen Lake Recreation Area sits nestled in between two sections of Indian Arm Provincial Park. The lake is actually a reservoir for BC Hydro, and they maintain a picnic area, dog park and trail in the area.
The trail itself is nice, though it definitely isn't one of my favourite hikes in Vancouver. It takes about 2.5 hours to complete and is mostly flat until you reach the northeast corner of the lake. Here it is a little rocky and, if you're a novice hiker, you'll want to take this section slowly.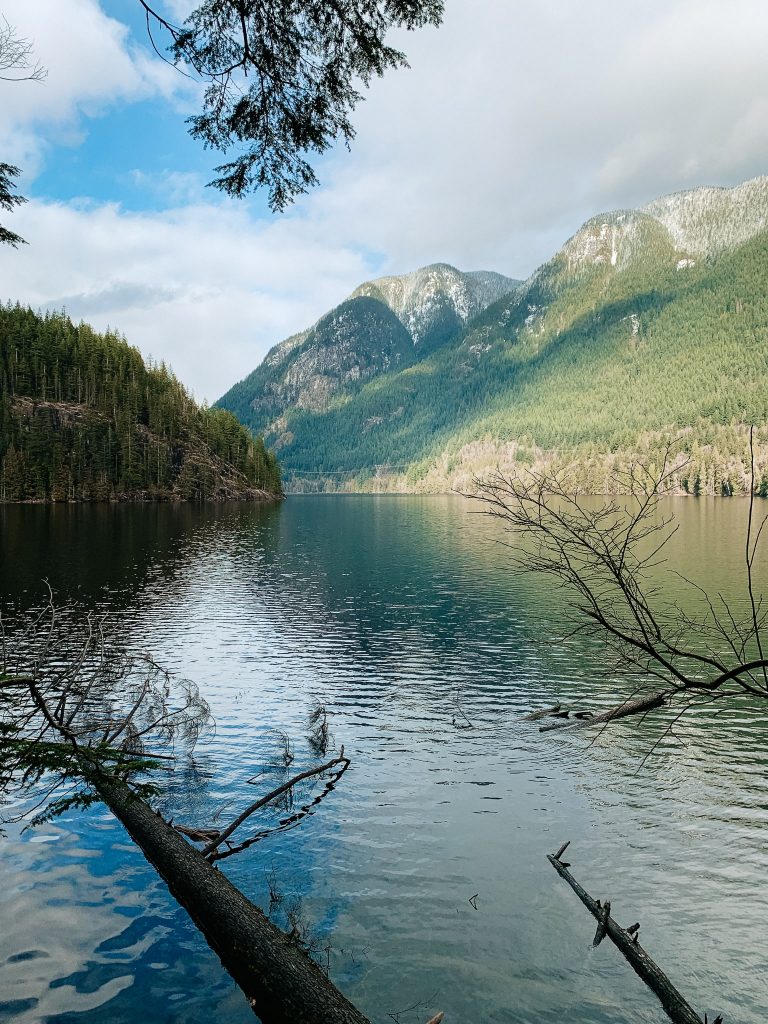 ---
Goat Mountain / Thunderbird Ridge
Location: Grouse Mountain
Distance: 6 – 7 km
Elevation Gain: 380 m
If you're looking for a hike that's harder than "Easy" but not as difficult as "Intermediate", then either of these hikes will be perfect.
Goat Mountain and Thunderbird Ridge are two hikes that start at the top of the Grouse Mountain gondola. A gondola ticket is $45 (last time I checked) or you can avoid the gondola by hiking the Grouse Grind (though that is an intermediate level hike in itself).
From the gondola, both trails go past the grizzly bear habitat and along the ridgeline to the west of Grouse Mountain. The trail splits as it approaches Dam Mountain. The right trail will take you to Thunderbird Ridge, while the left trail will take you to Goat Mountain. The trails are fairly similar in stats: Thunderbird Ridge is 6.4 km and 370 m of elevation gain; Goat Mountain is 7.1 km and 390 m. I personally recommend Goat Mountain.
Read More: 21 Best Hikes in Vancouver – Can't Miss Vancouver Hiking Trails
Note: This is the most wilderness-y / remote hike on this list. When my boyfriend and I did it we saw a bear and lost cell service a couple of times. While this may not be a physically demanding trail, you definitely need to be prepared. Let someone know where you're going and when you'll be back, and bring the 10 Essentials in your backpack.
---
Easy Hikes in Vancouver – Final Thoughts
So which hike are you going to do first? I hope this post has been useful and you've found some information on where to hike next. Remember to always follow Leave No Trace principles, be prepared and tell someone your plans before you head out. Happy hiking!
Additional BC Guides: