One of the burning questions new hikers have is on what to wear when hiking. What materials are best? Do you really need hiking pants? How can you get all the hiking clothing without forking over your entire paycheck?
In this post, I'll go over what each piece of hiking clothing is for, the different clothing materials, what to wear hiking in common environmental conditions and more. I've also included my gear recommendations (including budget gear).
Use the links below to jump to the sections you're most interested in: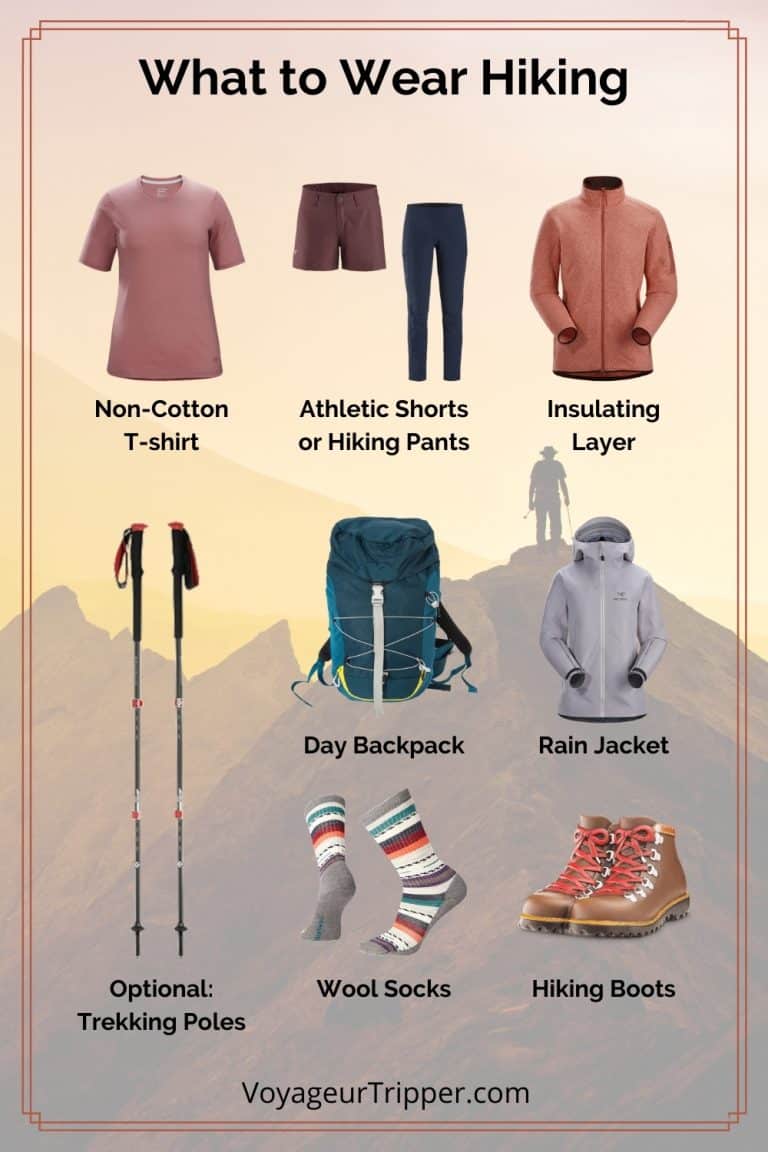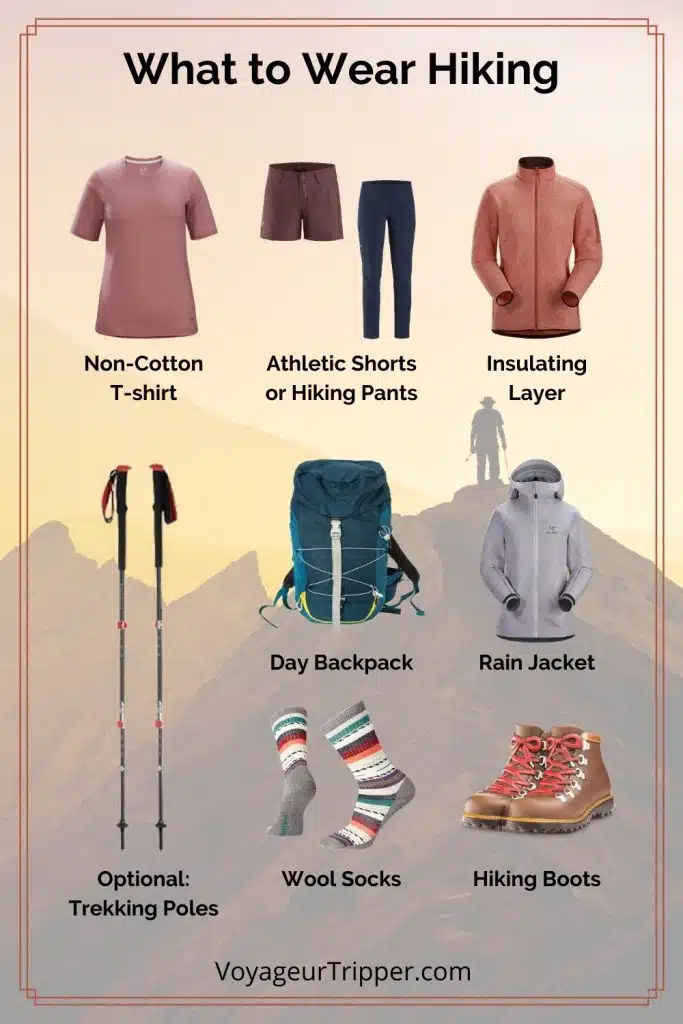 This post may contain affiliate links. If you make a purchase through one of these links, I may receive a small commission at no extra cost to you. Your support is much appreciated! You can learn more by reading my full disclosure.
---
What to Wear Hiking: My Top Picks
If you want to skip all the text below and get right to the best hiking clothing, here is what I recommend. Now, this is the best of the best, so if it's out of your price range keep reading for substitutes and places to buy good gear for cheap.
One thing to note: This is what I view to be the best hiking clothes for women. I imagine the men's versions are also great, but I can't personally attest to them.
Left photo: Hiking Shorts, Trekking Poles, Backpack. Right photo: Hiking Boots, Leggings, T-Shirt.
---
Budget Hiking Clothing for Beginners
The gear in my Top Picks is pricey, and not necessary if you're a beginner hiker. So here is great hiking gear for beginners – it's still high quality, but much more affordable.
Left photo: Hiking Boots, Leggings, Sweater.
---
Quick Summary: What to Wear (and NOT wear) Hiking
Regardless of what brand your hiking clothing is or how much it costs, there are a few golden rules of hiking clothing you should follow. Following these will ensure you are warm, dry and comfortable throughout your hike.
Avoid all denim and cotton. Denim and cotton absorb moisture. This means they will be sticky and cling to your skin if they are sweaty. And if they get wet, they won't keep you warm and will take a long time to dry.
Wear sturdy and supportive footwear. Depending on the length and difficulty of the hike, you could wear hiking boots, hiking shoes, trail runners or another type of shoe. Regardless of the style, the shoe should have good traction and support for your foot.
Dress in layers. Wear a non-cotton base layer (the layer that goes right against your skin), and pack a warm insulating layer (like fleece or down) and a rain jacket. You might not need all the layers, but better to be prepared!
Be prepared for the environment. If you're hiking in a super sunny, buggy and chilly environment, you'll want to bring specific clothing items to stay comfortable. Further down in this post I have tips for what to wear in different conditions.
---
Hiking Clothing: Key Considerations
Safety: This is the most important consideration. Above all, what you wear while hiking needs to keep you safe. This means keeping you warm and dry in whatever situation you encounter. For important items like your hiking boots and rain jacket, go for the quality. The quality of other items, like t-shirt and shorts, is important, but not as important.
Comfort: Next, you want your hiking clothing to be comfortable. It should allow for plenty of movement and not irritate your skin. As you do more hiking you'll better understand what works for you.
For example, I long hiked in quick dry polyester t-shirts. But I'd get the shirt wet with sweat, and then I'd stop moving and it would make me chilly. Now I hike in a merino wool t-shirt because it doesn't cool you while it dries.
Durability: Outdoor clothing isn't exactly cheap. And you're using it in a rough environment. So in order to make the gear last as long as possible, choose clothing that is durable. When looking at hiking pants (which will get brushed and scraped against rocks) or down jackets (which have thin outer shells) judge how the material would fare on the kinds of hikes you want to do.
Weight: You want to keep weight to a minimum, especially if you are new to hiking and not used to carrying a backpack for long stretches of time. Bulky and heavy clothing should be avoided.
Note: There tends to be a trade-off between durability and lightweight. The more durable, the heavier the product. For your particular hike, decide which is more important to you and choose clothing based on that.
Budget: Some outdoor clothing brands can be very expensive, so you'll want to consider your budget when choosing what to wear hiking. In order to get quality pieces at better prices, try to shop at the end of the season when sales are on. Or go to websites like Altitude Sports, which have great brands at discounted prices.
---
Hiking Clothing: Each Piece of Gear Explained
In the previous section, I listed what to wear to go hiking but didn't explain why it's important or how to choose a piece of clothing. So in this section, I've written a brief description of each piece of gear.
Hiking Shirts
There are a lot of different styles of hiking shirts, and usually, hikers find they prefer a specific style and stick to it.
Athletic Quick-Dry Shirt: If you're new to hiking and not looking to spend a lot on gear, any quick-dry t-shirt you would wear to the gym will do. Just read the label to ensure it doesn't have any cotton. Up until this year, I did all my hiking in quick-dry t-shirts.
>>I love this shirt for hiking. (No matter how sweaty I get, it never seems to smell.)
Merino Wool Shirts: Another great option is a shirt made out of merino wool. Merino wool is quick-drying (though not as quick as polyester shirts), moisture-wicking and naturally odour resistant. A merino wool hiking shirt will be super comfortable and is especially nice if hiking in cooler weather. The drawback is that they can be a bit pricey.
>>Check here for an awesome merino wool T-shirt.
I have two merino wool hiking shirts and absolutely love them. For long hikes or multi-day hikes, I find them a lot more comfortable than athletic shirts.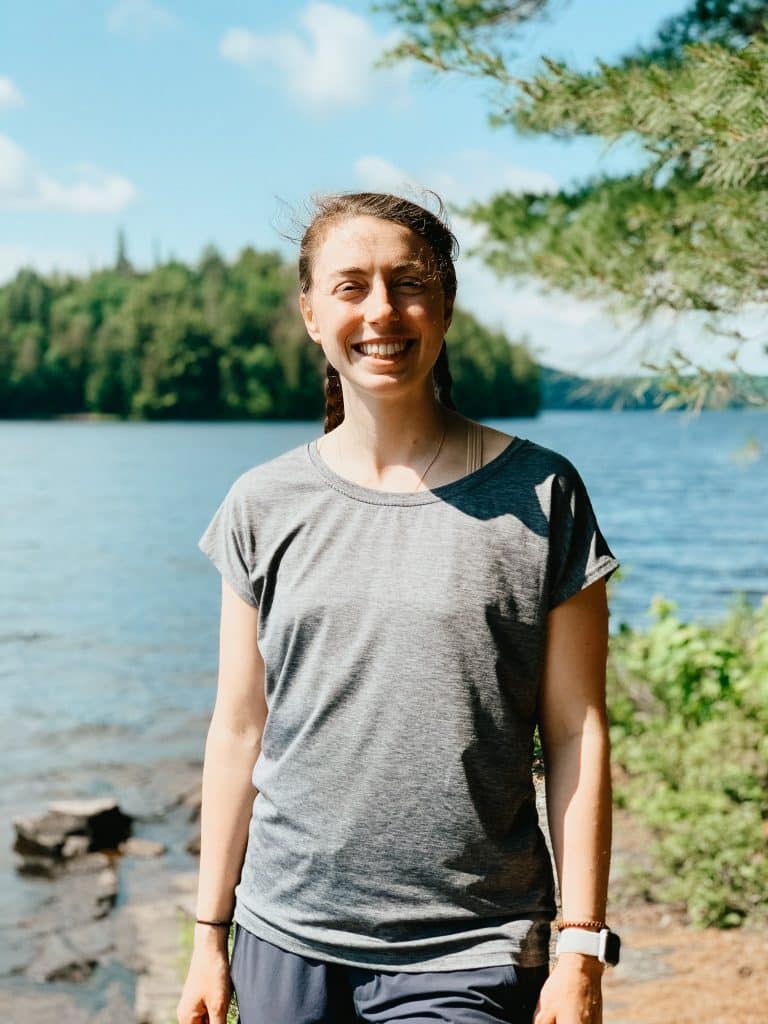 Left photo: Hiking Pants. Right Photo: Long Sleeve, Headband.
Hiking Pants
There are a few different options for what pants to wear hiking, and it comes down to what type of hike you're doing and your personal preference. For multi-day hikes, I always wear hiking pants. For day hikes, I'm much more likely to wear hiking leggings or shorts.
Traditional Hiking Pants: If you're doing a long or multi-day hike, you'll probably want a pair of traditional hiking pants. These are made from a durable material that is breathable while being weather resistant. Typically, that material is a polyester-nylon blend. Another distinguishing feature of hiking pants is that there are usually lots of pockets.
Some hiking pants are treated with DWR to be water-resistant, however, hiking pants are not waterproof. If you think you'll be hiking somewhere with tons of rain, consider bringing rain pants.
Hiking Leggings: There are also lots of leggings designed by outdoor brands specifically for hiking. They are made with durability and comfort in mind, and many have reinforcements around the knees, butt and seams to prevent tears.
I like leggings for day hikes because they aren't as bulky or thick as hiking pants. Though admittedly, I don't wear a hiking-specific pair of leggings anymore. >>These are the leggings I wear on all my hikes now.
Read More: Best Hiking Leggings
Shorts: If it's warm and not buggy, hiking in shorts is totally acceptable. Any pair of athletic shorts works. Though I still recommend packing a pair of pants in your backpack in case it gets cold (it's also part of the 10 Essentials).
>>I really like these shorts and wore them on every hike this summer.
Insulating Layer
Your insulating layer keeps you warm in case the temperature changes. For insulating layers, most hikers typically bring either a down/synthetic down jacket or a fleece sweater.
Down / Synthetic Down Jacket: When it's a little chilly, I bring a synthetic down jacket on hikes. Most pack into a pocket to about the size of a water bottle, so they're small and easy to pack. These jackets are made with a nylon shell and insulated with down feathers or synthetic down feathers, which provide warmth. Unless you're doing autumn or winter hiking, you don't need anything thick.
>>I recommend this down jacket for cold days.
>>And I recommend this synthetic down when it's less chilly.
Fleece Sweater: On warmer hikes, I bring a non-bulky fleece sweater. Fleece is a fabric made from polyester that is soft, warm, quick-drying and breathable, making it perfect for the outdoors. I tend to get chilly on mountain summits or if the hike is in the shade, so I'll bring a light fleece for those moments. >>This is my favourite fleece sweater.
Left photo: Jacket, Boots. Right photo: Buff, Sweater.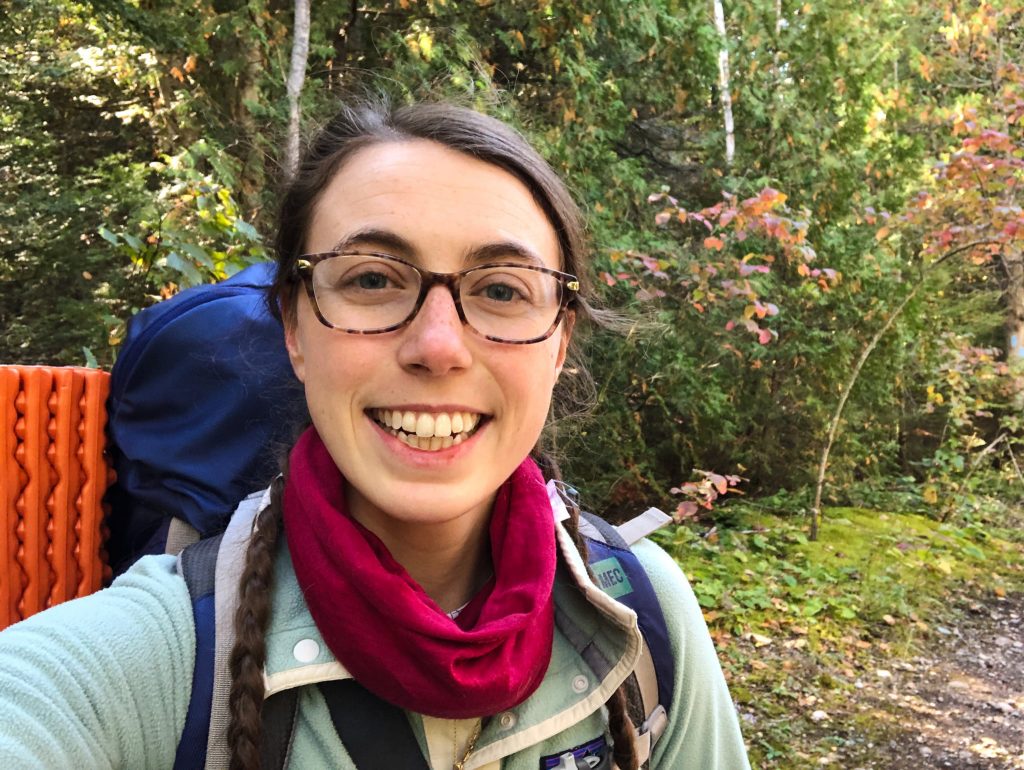 Left photo: Sweater, Buff. Right photo: Jacket.
Rain Jacket
Even if the forecast says 0% chance of rain, always pack a rain jacket. Weather, especially in mountains, can change on a dime. Or, if something happens and you are stuck on a hike overnight, the rain jacket will help keep you warm. >>Click here to check out the best rain jacket.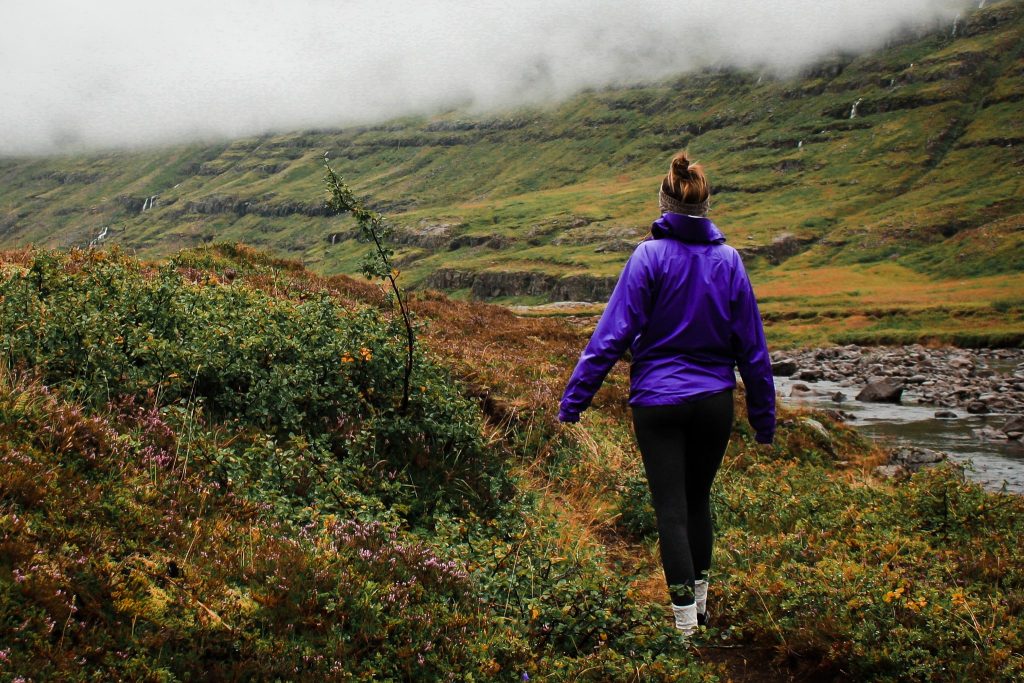 ---
What Shoes to Wear for Hiking
Depending on the type of hike and your preferences, there are a few different types of shoes to wear for hiking.
Running Shoes
If you are just getting started hiking and won't be doing difficult hikes, a pair of running shoes is acceptable. Once you start doing longer hikes, hikes with elevation gain or you may be hiking in the rain you will want to upgrade to a hiking shoe or boot.
Hiking Shoes
Hiking shoes have better traction and stability than running shoes. They also tend to be more waterproof (or at least water-resistant) and have more cushioning.
Hiking shoes don't offer as much durability or support as a hiking boot, but they also aren't as stiff and don't take as long to break in.
Hiking Boots
Hiking boots are very similar to hiking shoes except that they have a higher ankle, which provides more ankle support than hiking shoes. They tend to be stiffer and take a while to break in. They are also heavier, which can be tiring when you have a lot of distance to cover. I have weak ankles, so I always hike in hiking boots.
If you are doing multi-day backpacking, hiking boots are usually better than hiking shoes because the ankle support stabilizes your foot so your muscles don't have to do as much. This prevents the muscles around your foot from getting tired. >>These are my hiking boots.
Read More: 10 Best Hiking Boots + Guide to Buying Beginner Hiking Boots
Photo: Hiking Boots, Socks.
Trail Runners
Train runners are like a cross between running shoes and hiking shoes. They have more support and stability than a running shoe, and they are quick drying.
Unlike a hiking shoe though, trail runners tend to be much more breathable and lightweight. >>These are the trail runners that I have.
---
Accessories for Hiking
Daypack
You'll need something to carry all your extra gear in! You don't need a fancy daypack to get started – any backpack will do. If you decide to buy a backpack specifically for day hiking, go for something with good back support and a hip belt. The hip belt transfers weight from your shoulders to your hips, making it easier to carry.
Read More: 10 Best Hiking Daypacks
Trekking Poles
Trekking poles help reduce the pressure on your knees when you hike. They can also help with stability. I use trekking poles on any hikes that have significant elevation gain. They're especially helpful on the downhill, which can be really difficult if you have bad knees. >>Click here to check out trekking poles.
Photo: Hiking Boots, Trekking Poles, T-Shirt, Shorts, Backpack.
---
Hiking Clothing vs Backpacking Clothing
Got long-distance hikes on your mind? The attire for hiking isn't that different than the clothes for backpacking. The main difference is that you'll want
The best clothes for backpacking are very durable, quick-drying and weather-resistant. You want clothing items that won't rip or tear if you brush up against rocks; you want base layers that will effectively wick sweat away and dry quickly. Finally, you'll want your backpacking clothing to be more resistant to bad weather. This means a good quality rain jacket and a pair of rain pants.
Oh, and you'll definitely want a pair of hiking boots you've broken in. I've made that mistake before!
---
Fabrics for Outdoor Clothing
Wool
Wool, specifically merino wool, is a common material for base layers, underwear and socks – really anything that directly touches your skin. This material is moisture-wicking and quick-drying and is naturally odour resistant. It's also very breathable, which is great for reducing sweat. Even when wet, wool will continue to insulate and keep you warm.
Fleece
Fleece (which is made from polyester) is commonly used as an insulating later, most often for sweaters but also for pants. Fleece is made out of polyester that is brushed (to make the fibres thicker) to provide excellent warmth. It is also incredibly quick drying.
Polyester / Nylon
Both of these materials are used for various pieces of outdoor clothing. Most quick-drying athletic wear is made from polyester. Synthetic base layers are also made from polyester. Hiking pants are usually made from polyester too.
Nylon, on the other hand, is used for down- and synthetic down jackets. Nylon might also be used in a polyester-nylon blend for hiking pants / shirts.
Polyester-nylon blends are also used for rain jackets, "hard" shells and other outer layers.
Both of these materials are great at moisture wicking and drying quickly. They are much more affordable than merino wool.
Cotton
Cotton is an atrocious material for the backcountry. It absorbs sweat, which in the summer will leave you feeling sticky, and in the winter can chill you to the point of hypothermia. If it gets wet, it will be wet for the rest of your trip. Don't bring cotton into the backcountry.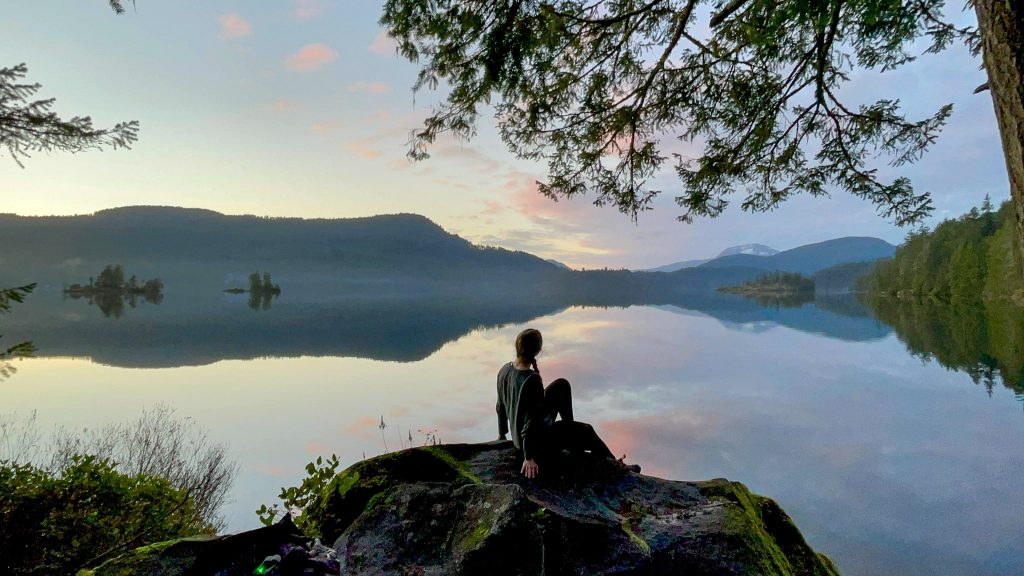 ---
Layering Clothing for the Outdoors
So how does all the above clothing come together? When you dress for the outdoors, you want to dress in layers.
The base layer goes right against your skin. Its job is to take moisture (namely, sweat) away from your body.
The mid-layer, also called the insulating layer, is what keeps you warm. People typically wear either a fleece sweater or a down jacket as the insulating layer (I've occasionally worn both if it's really cold!).
Finally, the outer layer is what protects you from the elements. You want this to be both breathable and waterproof (not water-resistant).
Read More: Layering Clothing for Hiking: The Most Comprehensive Guide
---
What to Wear for Different Hiking Seasons
What to Wear Hiking in Summer
What to wear hiking in hot weather? If it's super sunny outside you might be tempted to hike in a tank top and shorts. While this comes down to personal preference, I recommend covering up to avoid sunburns.
A wide brimmed hat
A UPF-rated long sleeve shirt
Hiking leggings, breathable hiking pants or shorts
Thin wool socks
Pro Tip: Tilley Hats are the best outdoor hats I've ever tried. Virtually indestructible, they are perfect for keeping the sun off your face and neck. I think they look rather stylish too!
What to Wear Hiking in Winter
What to wear hiking in cold weather? The tricky part about hiking in the cold is that you'll work up a sweat when exerting yourself, but then the sweat will chill you when you stop moving. For this reason, base layers are especially important in the winter.
Merino wool shirt
Hiking pants (with wool leggings underneath if really cold)
Fleece or down mid layer
Outer layer shell jacket is needed
Wool hat
Gloves or mittens (insulated and waterproof if it's really cold)
Read More: What to Wear Hiking in the Winter
---
What to Wear Hiking in Different Conditions
What to wear if it's Rainy
Rain can quickly turn a great hike sour if you're unprepared. Here is what I recommend wearing when hiking in the rain. I'd also encourage you to read all the tips in this post.
Merino wool shirt
Hiking pants
Rain jacket
Rain pants
Waterproof hiking boots
Wool socks
Read More: Tips for Hiking in the Rain
What to Wear if it's Buggy
If you're hiking in a forest that's buggy, there are some special considerations to make. Mosquitos can bite through thin clothing, and you want to protect yourself from ticks. Here is what to wear when it's buggy:
Long sleeve, polyester hiking shirt
Hiking pants (bugs can bite through leggings)
Bug hat
Wool socks that cover your ankles
---
What to Wear Hiking: Final Thoughts
I hope this post has been helpful in explaining exactly what to wear while hiking. Above all, you want to be prepared for whatever weather might come your way. It's better to stuff your backpack full of clothing you don't end up needing than it is to not bring something and need it later. Always bring a raincoat and avoid wearing cotton. Follow these tips and you should be good to go!
If anything about hiking clothing has been unclear, leave a comment below and I'll clarify.