I am a sucker for a good set of merino wool base layers. They're warm and soft and cozy and perfect for the wilderness (and nice to wear around the house).
As a result, I own way too many. While bad for my wallet, it's good for you, as I'm going to provide you with a detailed review of five pairs of base layers (tops + bottoms) that I personally own.
There are dozens of other articles on the internet that go into detail about the tech specs and fabric properties, so I won't speak too much about that. Instead, I'm going to focus on what those details mean for the person wearing the base layers.
Is the fabric soft or scratchy? Is it good for sleeping or hiking or skiing or winter? Are they durable or will they rip after a single season? Are they saggy or see-through? What's the value for money?
So let's dive into, what I deem to be, the best merino wool base layers for women!
---
Here are My Top Picks:
Shoulder Season (Spring and Autumn) Hiking:
Winter Hiking or Skiing:
Sleeping on Camping Tips:
---
Comparison Chart: Best Merino Wool Base Layers
I've summarized the merino wool base layers reviewed in the table below. Weight refers to the weight of the item in a size large. Fabric weight is the weight of the merino wool fabric itself, measured in grams per square meter (the higher the number, the warmer the fabric).
This post may contain affiliate links. If you make a purchase through one of these links, I may receive a small commission at no extra cost to you. Your support is much appreciated! You can learn more by reading my full disclosure.
---
Why Merino Wool Base Layers?
I'm an advocate for versatile warmth when you're in the outdoors. As such, I'm a huge fan of the layering system. Base layers are the foundation of your layering system and are meant to wick away sweat off your body and keep you warm.
Base layers are typically either made from merino wool or synthetic fabric. I used to use synthetic base layers, almost exclusively – merino wool was more expensive and less durable (I believed).
But then I discovered a few merino wool brands that make high-quality, affordable pieces and discovered the wonderful properties of merino wool: excellent moisture-wicking, quick-drying and odour-resistance. So now I wear merino wool almost exclusively.
The Wonderfully Superior Advantages of Merino Wool
| | |
| --- | --- |
| Advantages | Disadvantages |
| Excellent warmth-to-weight ratio – meaning you get lots of warmth within a smaller garment | More expensive than synthetic base layers – well worth the investment though |
| Wicks moisture efficiently and dries quickly – helping sweat evaporate off you | Not as durable as synthetic – More prone to tears, snags and sagging |
| Naturally odour-free – high-quality merino will stay odour-free after multiple days of use | Can be scratchy – some merino wool fabrics can feel scratchy on the skin |
Since base layers fit snug, having an odour-free, moisture-wicking fabric right next to the skin keeps me feeling fresh and warm longer. That's why, even though merino wool is a bit more pricey than synthetic clothing, I end up opting for it, especially for base layers.
---
Best Merino Wool Base Layer: Reviews 2022
Best Icebreaker base layer for winter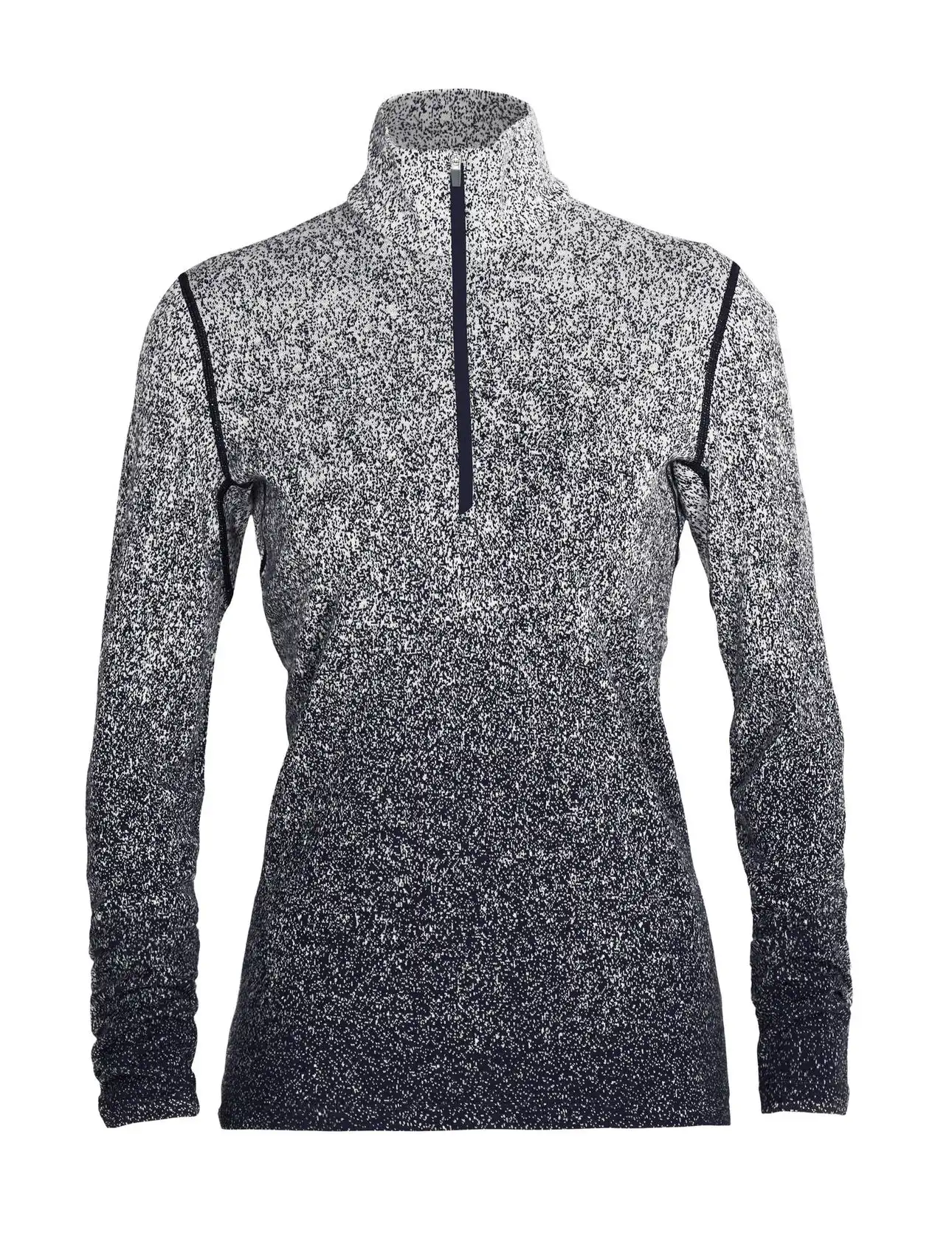 The Icebreaker Merino 250 Vertex Long Sleeve Half Zip is my most used base layer top for hiking in the winter. I like that it has a high neck, so I can keep my neck extra warm and avoid drafts, but that there's a zipper so it's still breathable. The half zip makes it more versatile for changing weather conditions.
The top also offers top-notch warmth – this is the warmest base layer top on the list – and is the best base layer for winter hiking or winter camping. This merino thermal base layer feels pretty soft and is comfortable against the skin – my only critique is that it is a little scratchy on the sensitive parts (so I don't love wearing it without a bra at night).
In addition to camping and hiking, you can wear the Vertex when skiing as the gusseted underarms enable full mobility.
Overall, this is an excellent merino wool base layer top for cold weather.
Top Pick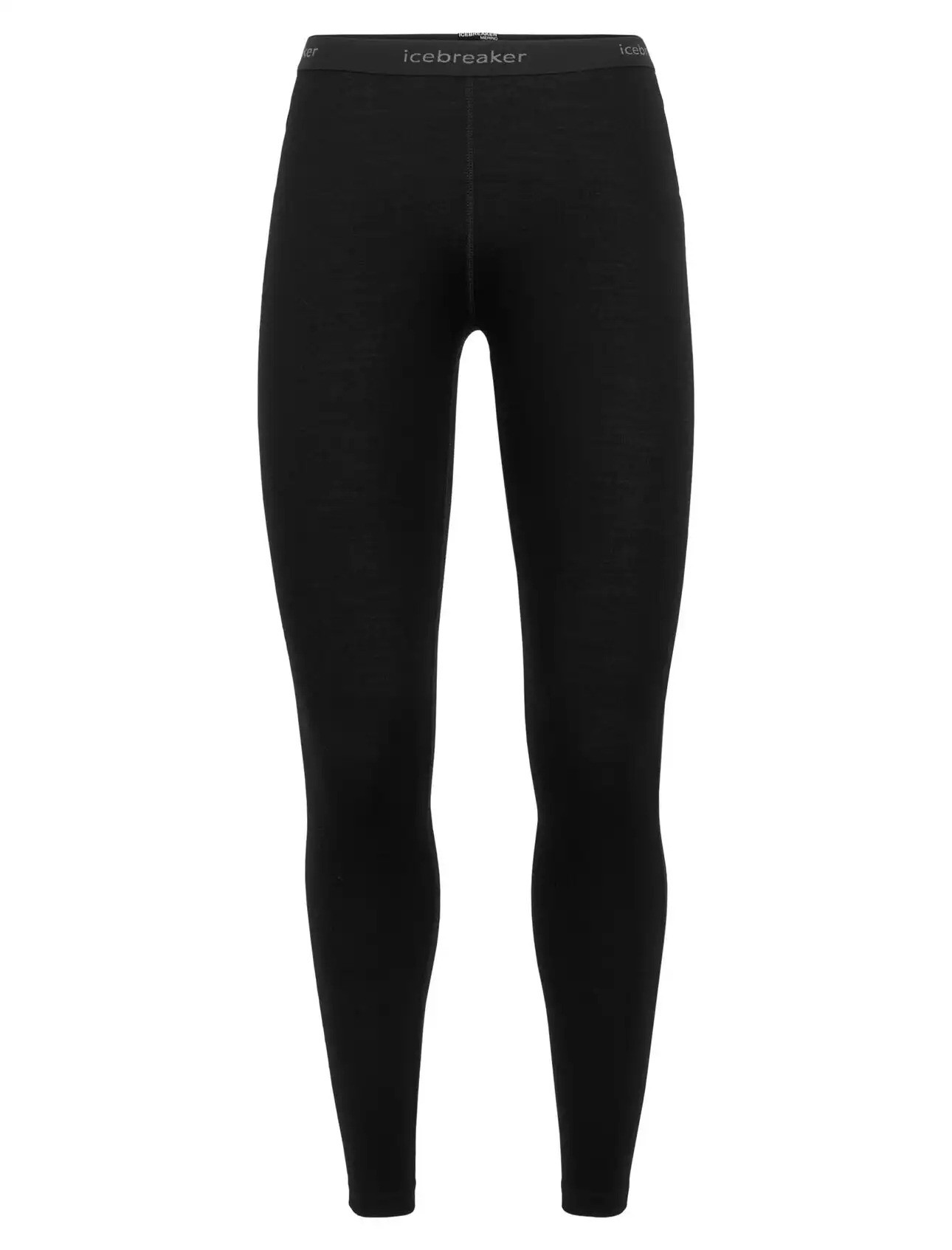 The Icebreaker Vertex is best paired with the Icebreaker Merino 260 Tech Thermal Bottoms. Both the shirt and the bottoms are made with 260 gsm merino wool and provide amazing warmth.
When I'm hiking in colder months, I can use these with a single outer layer (usually winter hiking pants) over top. I've also worn them as a single layer under snow pants when I've been winter camping. Even in freezing weather and my legs stay warm and dry throughout!
I do find the bottoms a bit scratchy, so I haven't been using them lately. But if warmth and fit are your top requirements, you can safely rely on the Icebreaker 260 Bottoms and the Vertex for your winter hike.
---
I consider the Kari Traa Rose Half Zip to be the best merino wool base layer for its price point (especially because it always seems to be on sale on some outdoor website). The four-way stretch makes the top very comfortable, even while moving around.
The fit is snug but not restrictive (I find it to be super form-fitting without being tight). Since it fits against the skin so well, it's a really good top to wear under other layers, without feeling bulky or causing chaffing.
Overall, it's pretty comparable in fit to the Icebreaker Merino 250 Vertex Long Sleeve Half Zip, however, it's not as warm or durable.
The Kari Traa Rose Half Zip may not be my favorite, but it is an excellent choice for those that want maximum value for money.
Best Value
The Kari Traa Rose Thermal Leggings are excellent, inexpensive merino wool base layer bottoms. And these leggings are one of my favorites right now. I particularly love them for sleeping; I have been using them on almost all of my warm weather multi-day backpacking trips since I got them.
They're warm without being bulky (so they pack into my backpack very easily) and they're form-fitting without being tight or scratchy. They have all the odour-free, moisture-wicking qualities of merino wool and come in at a super attractive price point.
But they aren't perfect. When I got the leggings, they fit really well, although after two years they are starting to sag at the bum a bit. But they don't shift or ride up when worn under layers. The design is also very girly (as is with all Kari Traa products) so some people will like or dislike that.
They aren't the most durable leggings either. Mine now have a small hole in the crotch. The bottom has become a little see-through over the years. But, as I said, I've been using them very regularly for two years now.
So they definitely aren't the best quality leggings, but they get the job done and are significantly cheaper than some of the other base layer bottoms on the list.
---
Top Pick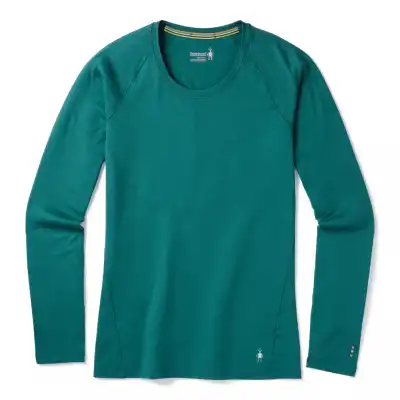 The Smartwool Classic Base Layer Top is the best merino long sleeve base layer in my collection (and the first pair of merino wool base layers I ever got, so you've likely read about them in other blog posts).
By far without a doubt, this is the softest merino wool I've worn. It sort of has the feeling of a soft jersey cotton sweater, but rest assured, it's 100% merino wool.
In addition, the fabric stays odour-free, fresh and dry for multiple days. I've worn this shirt for more than a week at a time and it doesn't smell.
The fabric weight reviewed here is 250 gsm, but it also comes in 150 gsm (and I also own that shirt). Both are excellent and provide abundant warmth on cold nights or chilly days.
That said, I rarely use this shirt for active activities. I find it doesn't quick sweat away as well as Icebreaker merino wool.
Instead, I've been using it as a sleeping base layer for so long that I know only ever think of it as a warm sleeping shirt for cold camping nights. It'd also make for a great hiking shirt, I just don't use it for those purposes.
If you're unsure of what you want by the end of this post, just get the Smartwool Classic Base Layer Top. You will not be disappointed!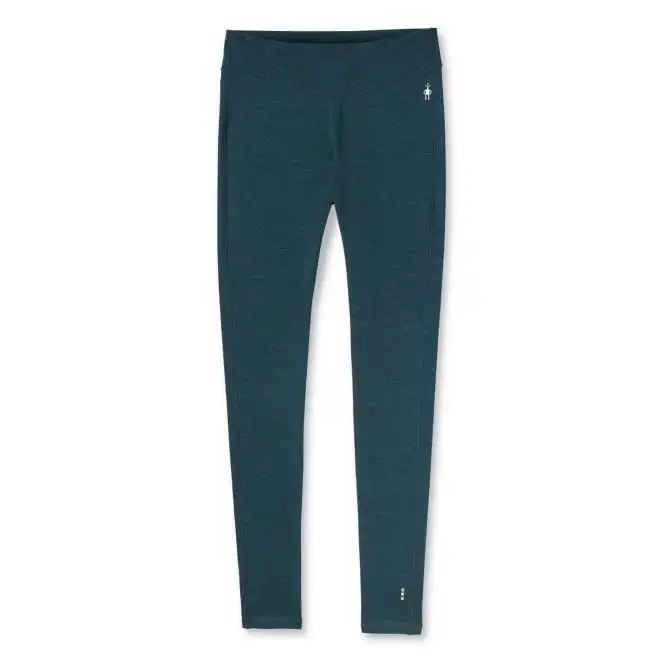 Like the Smartwool merino wool shirt above, the Smartwool Classic Base Layer Bottoms are definitely the softest bottoms on this list. Again, these are available in both 150 gsm and 250 gsm, though I only own the 250 gsm pair.
The 250 gsm pair is very warm and great for cold nights at the campsite and an absolute go-to for my long camping trips.
Another pro is that they are surprisingly inexpensive (as far as base layers go).
That said, they do have a few flaws. Even wearing what I know to be my size, the leggings just aren't very form-fitting. They hang loose and have gotten looser over time. And I don't find they wick sweat away as well as other bottoms on the list, so I don't wear them when I'm active.
For those reasons, I don't wear them under hiking pants or use them during the day anymore. Like the shirt above, these have become reserved for cold night sleeping (and I've been wearing them less often in favor of the Rose Thermal Leggings and Icebreaker Merino 260 Tech Thermal Bottoms.
While I found they lost their shape a bit, I can't deny that these leggings are very durable. I've put holes in so many merino wool bottoms and yet these ones are still going strong (after five odd years). There's no pilling, no thinning, no tears or anything.
Despite the negatives, I absolutely love these leggings for their warmth, softness and durability.
---
Top Pick for off-season hiking
The Icebreaker Oasis 200 Base Layer Top is one of the most versatile baselayers by Icebreaker. It's made from 200 gsm merino wool, so it's suitable under layers in the winter, but it's also suitable as a stand-alone hiking shirt in the shoulder seasons.
It's made from what feels like a thin material and is form-fitting, which makes wearing it under fleece sweaters comfortable. However, it is incredibly durable. I've had this shirt for several years and have worn it on dozens of hikes and overnight backpacking trips. It has retained its shape, shows no sign of wear or pilling and is still very warm.
The top can also be used for outdoor activities like skiing as the sleeves promote full mobility. The design is neat and the long hem prevents layers from riding up when worn under a heavy backpack.
Overall, this is my #1 base layer recommendation for high-activity outdoor adventures!
Also, the Oasis was featured as one of my favorites on my list of the best hiking shirts!
Occasionally I'll match my Icebreaker Merino 200 Oasis Top with the Icebreaker Oasis 200 Thermal Leggings.
Honestly, I haven't found much use for these leggings. I don't usually wear base layer pants when I'm hiking in the summer or shoulder seasons, and in the winter I choose other leggings instead.
What do I like about the leggings? The fit is excellent as they sit snug but not too tight or restrictive. They allow ample circulation and the moisture-wicking keeps your legs dry throughout the day.
What don't I like? Well, I find them a little scratchy and quite see-through in the but. This isn't a deal-breaker, as I'm usually wearing base layer bottoms underneath other clothing or in my sleeping bag. And they've lost some of their form-fitting shape over the years in the booty.
When it comes time to pack for the outdoors, I just don't gravitate toward the Icebreaker Oasis 200 Thermal Leggings. I tend to choose other leggings over them.
---
Best for warmer weather
Ibex is the newest-to-me merino base layer I've encountered. The Ibex Woolies 2 Crew is a 100% merino wool top that works as one of the best base layers for warmer climates.
The shirt strikes a nice balance between being lightweight and providing warmth. It's made with high-quality 240 gsm merino wool, making it great for colder months. But the fabric doesn't feel bulky, so it's also good for layering.
The IBEX Woolies 2 Crew is kind of like a cross between two of my other favorite base layer tops: it's got a weight and warmth similar Smartwool Classic Base Layer Top, but it has a snug feel like the Icebreaker Oasis 200 Crew.
That said, there are a couple of things I don't love about it. The fabric isn't as soft as the Smartwool Classic and I didn't find the shirt wicked sweat away as well (especially where my backpack straps were). I'm also surprised by the price point; this is the most expensive shirt on the list.
Best for warmer weather
The Ibex Woolies 2 Bottoms pair perfectly with the Woolies 2 Crew. Put together they deliver great breathability even when hiking on sweaty, humid days. That said, I don't own these base layer bottoms so I can't speak to them personally!
---
What to look for when buying a merino wool base layer?
Material
Even though this post is specifically about merino wool base layers, it is important to know that not all 'merino wool' fabrics use 100% merino wool. Some use a blend of majority merino with a small blend of nylon and other synthetic fabrics.
I personally prefer 100% merino wool when looking for the best base layer for warmth. That's why all the base layers listed above are made using pure merino wool. Pure merino guarantees the best warmth-to-weight ratio and its inherent odour-free properties suffer when synthetic is added to it.
But you can opt for a merino wool-synthetic blend if:
you want a cheaper base layer
you want a more durable base layer
you want slightly better moisture-wicking properties
you are hiking in moderately warm to hot conditions
Fabric Weight
Fabric weight is different from the weight of the garment. The fabric weight signifies how much warmth the merino wool will provide. Thus, a higher number indicates greater warmth. Here is a quick guide:
| | | |
| --- | --- | --- |
| Fabric Weight Range | Weight Level | Warmth |
| 120-150 | Ultralightweight merino wool base layer | Not warm suitable for warm to hot weather conditions |
| 150-200 | Lightweight merino wool base layer | Moderately warm, suitable for round the year use and versatile layering |
| 200-300 | Midweight merino wool base layer | Warm, suitable for cool and cold weather conditions |
| 300+ | Heavyweight merino wool base layer | Very warm, suitable for extreme cold (but it is best to use multiple midweight layers instead) |
Fit
When choosing a merino wool base layer, or for that matter, any base layer, it is best to opt for a snug fit. i.e. a fit that is close to your skin but not too tight.
Some annoying things that can happen when base layers don't fit you well: leggings can get saggy at the buttocks or the waistline elastic can roll down while moving. They can bunch up under your insulating layer or cause chaffing. Super tight base layers can feel restrictive.
Since the fit largely depends on your body type and shape, it is best to try out different brands while giving particular attention to how the base layer fits you at your chest, arms, waist, hips and thighs.
Getting the fit right not only ensures comfort and mobility but also keeps you much warmer by preventing unwanted air circulation between your skin and the base layer.
Other Features
In addition to the above, you can consider the following factors as well:
Style and Design: Some people just want plain black base layers and that's totally fine. Personally, I like to wear colorful base layers with patterns.
Neck Opening: Having a zip on the shirt allows you to let some air in when you start to feel toasty. Whereas a turtle neck or a high neck midweight are great choices for cooler weather.
---
FAQs about Merino Wool Base Layers
Is merino wool a good base layer?
Merino wool is an excellent material for base layers. Merino wool is excellent at wicking moisture and drying quickly, so it'll keep you warm even if you sweat. It provides better warmth for its weight when compared to synthetic fabrics. Merino wool is soft, durable and naturally odor-resistant, so it'll keep you comfortable in your outdoor activities.
Should base layers be tight?
Base layers should be form fitting without being restrictive. Base layers should fit snug against your skin, without bunching or sagging anyone. However, base layer should not be so tight that you feel your movement is restricted.
Which base layer material is warmest?
Merino wool is the warmest base layer material. Merino wool fabric is made in different weights, measured in grams per square meter. The higher the number, the warmer the base layer. For the warmest merino wool base layers, choose a fabric with a weight of at least 250 gsm.
Do you wear anything under a base layer?
The only thing you wear under a base layer is underwear (and a bra, if you wear one). Base layers are meant to sit right against your skin, wicking away sweat as you move around. For that reason, you don't need to wear any clothing underneath your base layer.
Does merino wool shrink?
Yes, merino wool can shrink. Many quality brands will preshrink their merino wool base layers, so they won't shrink after you purchase them. However, you should still wash merino wool base layers in cold water and hang them to dry. This will prevent them from shrinking further. It also keeps the fabric from pilling or being damaged.
Is a base layer the same thing as thermals?
Base layers and thermals are the same thing. They are two different terms for the same thing: form-fitting clothing that wicks away moisture while retaining heat.
Can you wear two base layers?
If it's really cold, technically you can wear two base layers. However, you'll want to ensure the larger base layer is on top so it doesn't fit too tightly. That said, you'll likely find it warm and more comfortable doubling up on mid layers instead of base layers – for example, wearing a fleece sweater and a down jacket.
---
Final Thoughts on Merino Wool Base Layers
As is evident from this post, the best base layers depend on what you'll be using them for. No base layer is the perfect base layer for all activities and conditions – even my favorite items have some drawbacks.
If you have the resources, you can invest in a few pairs each suited to an activity. That's what I've done. If you've only got the budget for one, choose a lightweight base layer that fits you well and add additional layers for more warmth.
If I could only have one base layer top… that's a tough one. But I think I'd choose the Smartwool Classic Base Layer Top – it's just so soft!
If I could only have one set of base layer bottoms… surprisingly, I would choose the Kari Traa Rose Leggings. I do think the Icebreaker Merino Tech 260 Leggings are objectively better… I just really like the Kari Traa ones right now.