Killarney Provincial Park holds a special place in my heart. Perhaps it's the granite peaks that rise out of the water and sparkle in the sunlight. Maybe it's the way the windswept pine trees bend to impossible angles; an intricate silhouette when the sun sets in the distance. Or maybe it's because the first long trip I ever guided was a Killarney canoe trip.
This landscape inspired some of the most iconic art ever created by Tom Thompson and the Group of Seven; who would even attempt to resist the magnetic pull of the park? Of all the places to paddle in Ontario, I think a canoe trip in Killarney is in a league of its own.
And I believe the park is an ideal destination for novice paddlers or those new to canoe tripping. For the reasons I'll explain below, I have found Killarney to strike the perfect balance between wilderness and accessibility, making it an ideal destination for the beginner canoeist.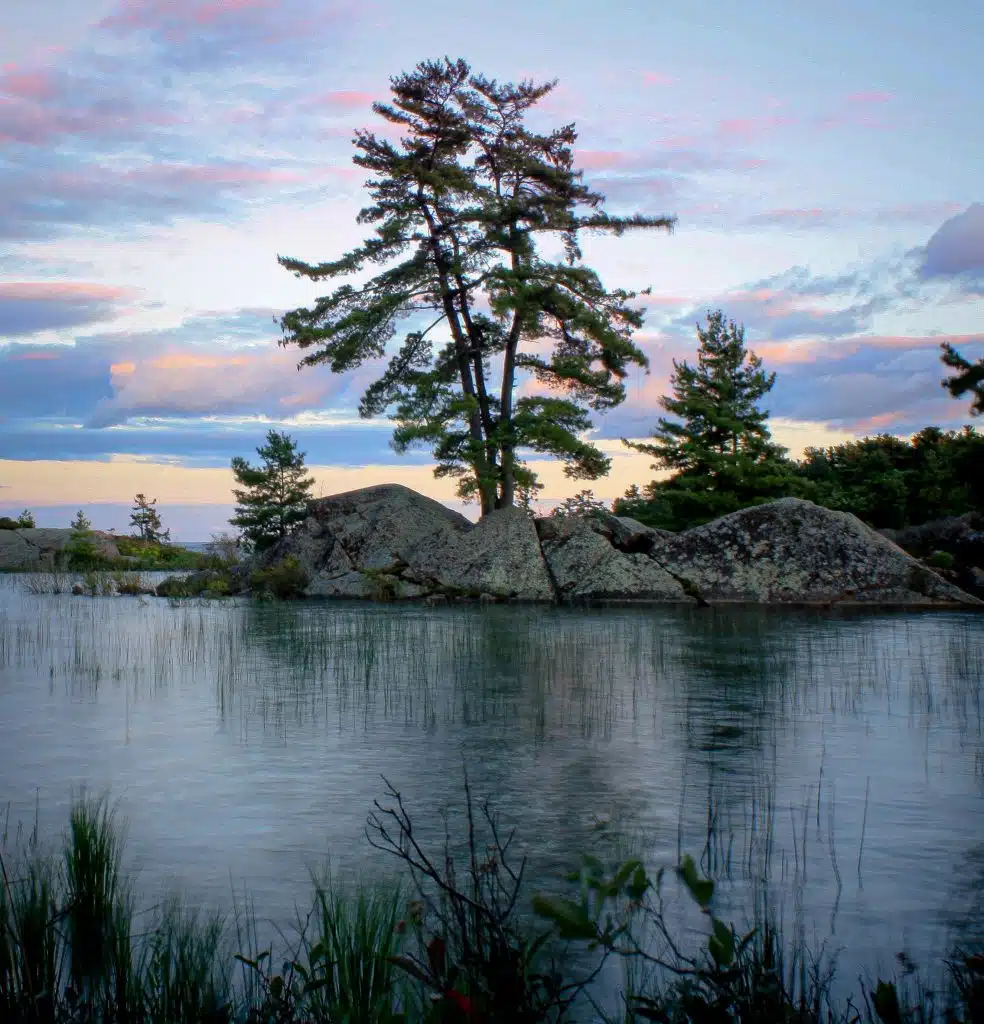 This post may contain affiliate links. If you make a purchase through one of these links, I may receive a small commission at no extra cost to you. Your support is much appreciated! You can learn more by reading my full disclosure.
---
Why Killarney is the Perfect Destination for Your First Canoe Trip
The scenery in Killarney is breathtaking
Killarney Provincial Park lies on the north shore of Georgian Bay and stretches across nearly 500 square kilometres of interconnecting lakes. Some of those lakes, like Nellie Lake, for example, are too acidic for algae growth and cause the water to shine bright like blue Gatorade. With more than 25 meters of visibility into the water, you can see the individual rocks and sunken logs along the underwater ground.
Above ground, you'll find turquoise water splashing onto a pink granite shoreline. Look higher and you'll see white quartzite cliffs shimmering when the light is right. All throughout the park, you will find pine trees bent over from the strong bay winds. These windswept pines are a staple of the park's geography, yet each one appears totally unique.
Killarney Provincial Park is the crown jewel of Ontario Parks. Take your first canoe trip in a park with incredible views at every turn.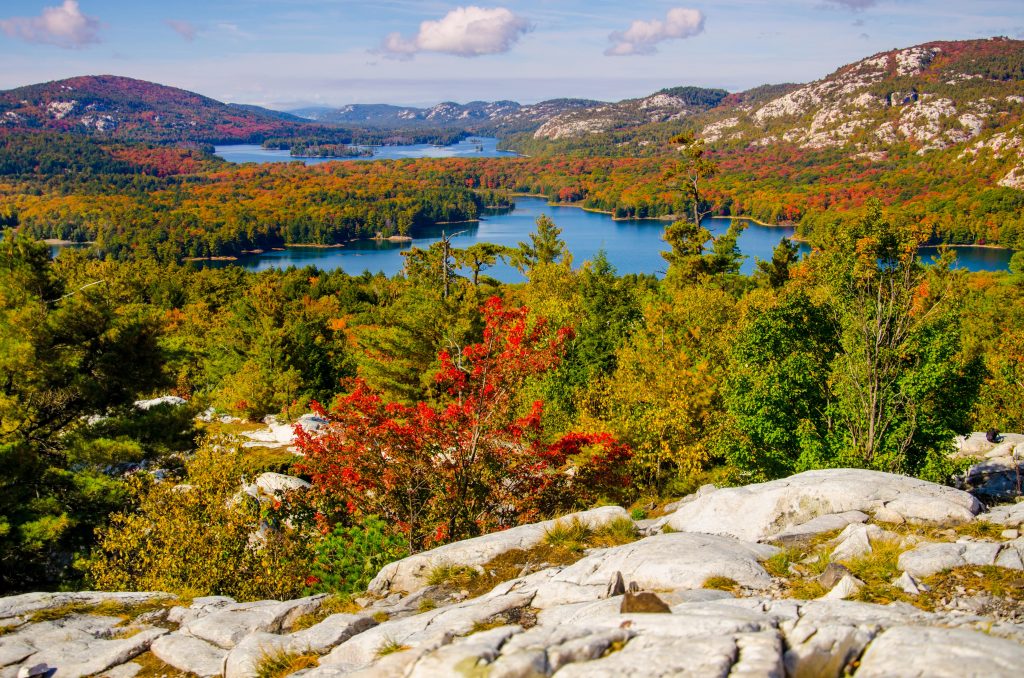 Killarney Provincial Park is (relatively) close to Toronto
You want your first canoe trip to be in the wilderness, but you probably don't want to drive ten hours to get there! Killarney strikes the right balance between distance and accessibility. The park is located 4.5 hours from downtown Toronto; far enough that it doesn't get too, too many people from the big city (though it does get busy on fall weekends and long weekends!). Yet, it is close enough that it's reasonable to drive up on a Friday afternoon.
Regardless of where you go, beware Friday afternoon traffic on the 400 highway! It gets slow (especially before a long weekend) so budget for extra time on the road.
Tip: When planning the route for your Killarney canoe trip, be careful not to be too ambitious on how much you can paddle on the first day. Keep in mind that there may be delays in getting to the put-in.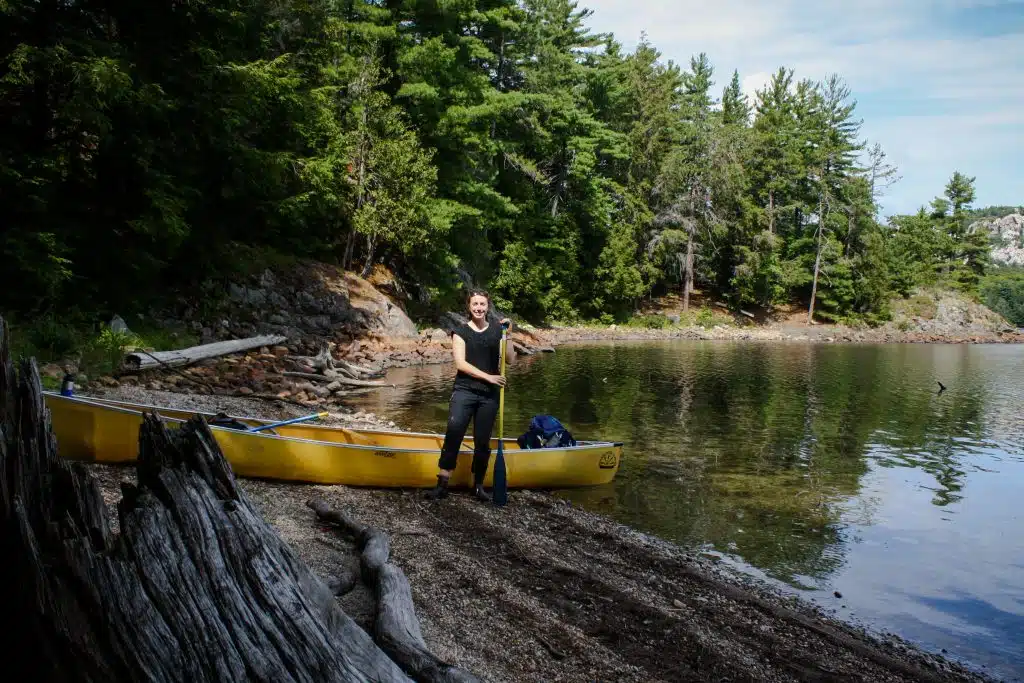 Killarney has excellent campsites
You don't want to bushwhack a makeshift campsite on your first canoe trip. And thankfully, Killarney has none of that. At every campsite, you can expect flat tent spots under the cover of trees, a solid fire pit you can put a grill on, and a thunderbox to do your business. And many of the campsites also offer spectacular views. The sites are so nice you'll feel like you're glamping in Killarney.
The campsites in Killarney also aren't far from one another, so beginner paddlers could have a beautiful canoe route without having to cover more than 8 km on any given day.
There are lots of options for outfitting & guides
If you're new to canoeing, you probably don't have all the necessary gear. Thankfully, there are two excellent outfitters that service Killarney Provincial Park. I typically use Killarney Outfitters if launching from George Lake, and Killarney Kanoes if launching from Bell or Johnny Lake.
If you want to go with a guide for your first canoe trip, MHO Adventures (an outfitter I've worked with before) offers a guided trip in the park.
Here is a Killarney route that leaves from George Lake
And here is a Killarney route that leaves from Bell Lake
Although there can be some long portages
Some routes for Killarney canoe trips – especially the further into the park you go – can have a lot of portaging. The area is very rugged, so don't underestimate the difficulty of the portages. For beginners, I'd recommend not choosing a route with portages longer than ~800 m.
I think this is an excellent beginner canoe route in Killarney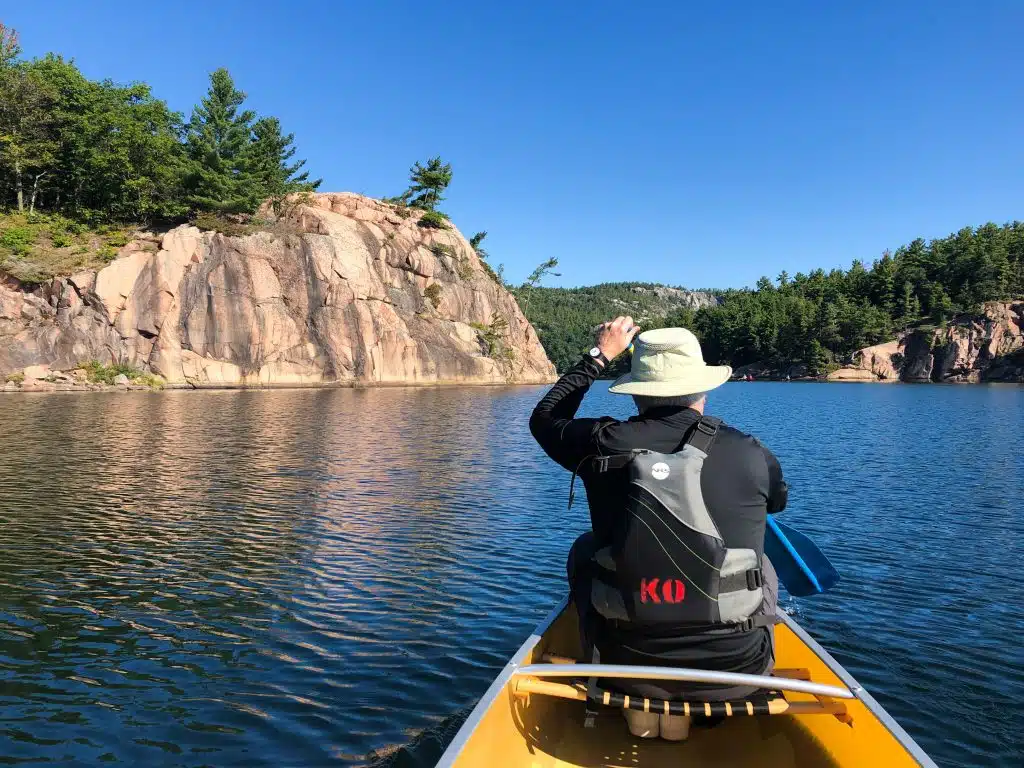 The wilderness is never too far from help
The final thing I love about Killarney for novice canoeists is that you can experience excellent wilderness – and even solitude – without being too far from help. Many lesser-visited lakes have very few campsites, so it's possible to get the whole lake to yourself.
On the other hand, you're never too far from other paddlers and emergency services. If something happened – say, you got lost or injured – rescuers could find you quickly and easily.
Note: In order to make a rescue quick and easy, you should always carry an emergency communication device and map of the park. Killarney does not get much cell reception.
---
Killarney Canoe Trip Essential Resources
Here are some helpful resources for planning a canoe trip in Killarney Provincial Park. These are especially helpful if you're new to canoe camping / choosing a paddling route.
Killarney Trip Reports – A collection of trip reports for various routes in the park. These are helpful for knowing the campsite and portage conditions on different routes.
Killarney Provincial Park Canoe Map – This is a digital version of the canoe routes map. It isn't the most recent edition, but it is still very accurate and insanely easy to use.
Paddler's Guide to Killarney and the French River – This guidebook is insanely helpful for route planning and preparation for your trip. The author is also super funny and there are tons of entertaining canoeing-anecdotes.
---
Final Thoughts on Killarney Provincial Park
I hope this post has demonstrated just why Killarney Provincial Park is such a great place for a beginner's canoe trip. If you're interested in learning more about camping in Killarney, you'll find these posts helpful: