Hello friends – Mikaela here with another post about my two favourite topics: outdoor adventures and food. To the uninitiated (i.e. my boyfriend prior to meeting me), hiking is 'just walking' and not a serious form of exercise. Who cares what snacks we bring? Oh, how they couldn't be more wrong.
Hiking can be a strenuous activity and it's important we stay fueled throughout the duration of the hike. If you don't you may get cranky and lightheaded from low blood sugar or hunger pains.
So to help you avoid all that, in this blog post I'll be going over what makes a good hiking snack and a list of the best hiking snacks. We'll go beyond the obvious (trail mix) and touch on some creative foods to mix things up. What foods had you not thought of? Any you'd add? Let me know in the comments!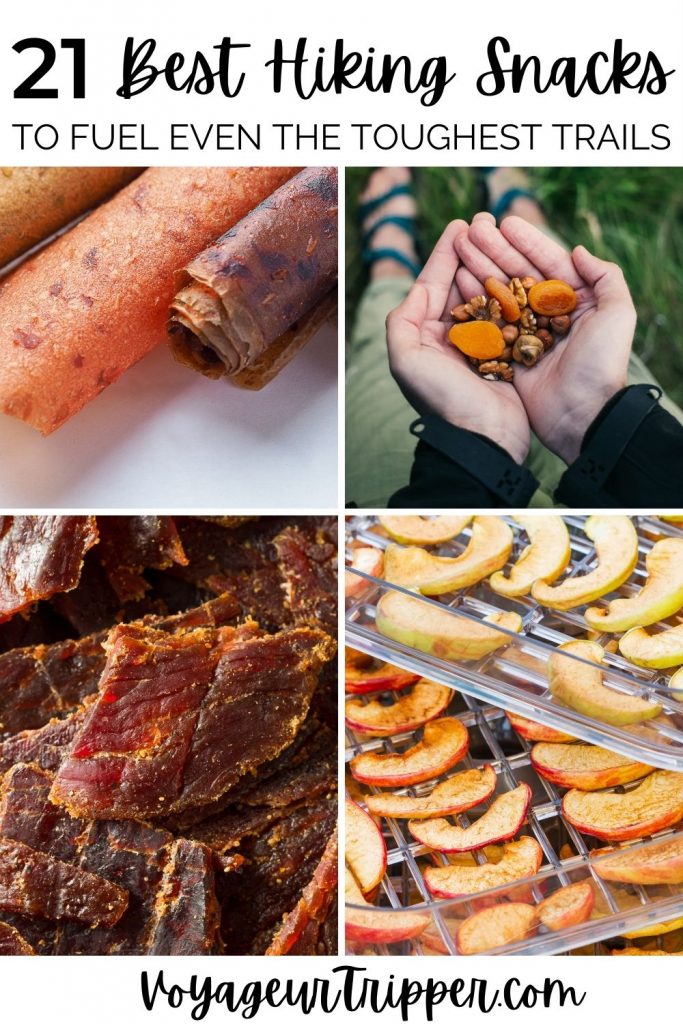 This post may contain affiliate links. If you make a purchase through one of these links, I may receive a small commission at no extra cost to you. Your support is much appreciated! You can learn more by reading my full disclosure.
---
What to Consider When Choosing Hiking Snacks
Not all hiking snacks are created equal. There are a few considerations you should keep in mind when packing your backpack.
Calories
While hiking may not have the sudden burst of intense energy like squash or wrestling, it is a full-body activity that will draw on your energy resources substantially. I track my hikes with a fitness tracker and found that on some hikes I'm burning up to 600 calories an hour, for each hour of the hike.
All that to say, you're going to want to pack hiking snacks that are calorically dense. This is especially true if you're on a full-day hike or a backpacking trip. Look for dense foods (like protein bars) or food with a high-fat content (like nuts). These foods will give you sustained energy over the course of your hike, but what if you need immediate energy?
Immediate Energy
Also consider snacks with a high glycemic index. The 'glycemic index' measures different foods for their effect on raising your blood sugar. Food will have a high glycemic if it raises your blood sugar quickly (i.e. dates) and a low glycemic index if it raises your blood sugar slowly (i.e. sweet potato).
I like to always have a snack with a high glycemic index to eat when I feel energy levels crashing. My favourite foods for this are dates, dried pineapple and dried mango. When I feel my energy dropping, like when it's really hot out and we have one more final push to the top of a mountain, I'll eat some of these. They give my blood sugar a quick spike, giving me an energy jolt and the fuel I need to reach the top.
Nutrition
Sugary drinks and candy bars will also raise your blood sugar quickly, but consider the nutritional value of the hiking snacks you're packing. Vitamin and mineral content might not directly impact your performance the day of the hike, but they will impact your general health over time and contribute to how you feel on hikes in the future.
And since hiking can be very calorie intensive, it can be tempting to pack a lot of unhealthy treats and sweets. However, many of these food items (like chips, chocolate bars and pop) have harmful chemicals in them that accumulate in your body (google the effects of 'emulsifiers' and you'll never look at a chocolate bar the same again!).
Weight
On a full-day hike or a backpacking trip, every pound matters. Consider the weight of the snacks you're packing relative to the calories they provide.
Taste
Last but certainly not least, bring hiking snacks you genuinely enjoy eating. Hiking can be hard work and you don't want to get halfway through a challenging hike and realize you have nothing tasty to look forward to eating. I love bringing dark chocolate and these cocoa coconut balls. They satisfy my calorie and energy requirements while being enjoyable to eat. If you aren't a sweet tooth, you can bring tasty savoury snacks like beef jerky, cheese or crackers.
---
21 Best Hiking Snacks
Trail Mix
Oh trail mix, the OG hiking snack. Trail mix is as diverse as the landscape itself. You can buy prepackaged trail mix or make your own. Personally, I love making my own with almonds, cashews, peanuts and chocolate chips. I also like the trail mix you find at bulk foods stores that are all seeds and dried fruit.
Protein / Energy Bars
There are easily hundreds of different types of protein / energy bars available. There are plenty of excellent ones… and some that aren't so great. Try to find one that has a balanced amount of protein, fat and sugar – some bars will be crazy high in protein (beyond what most people need) or have a ton of added sugar. Here are a few I like:
Dark Chocolate
Dark chocolate is one of my favourite things to bring on a hike. It's got lots of healthy fats, antioxidants and is very tasty. I typically bring Zimt chocolate because it's made locally with all-natural, organic ingredients and tastes delicious.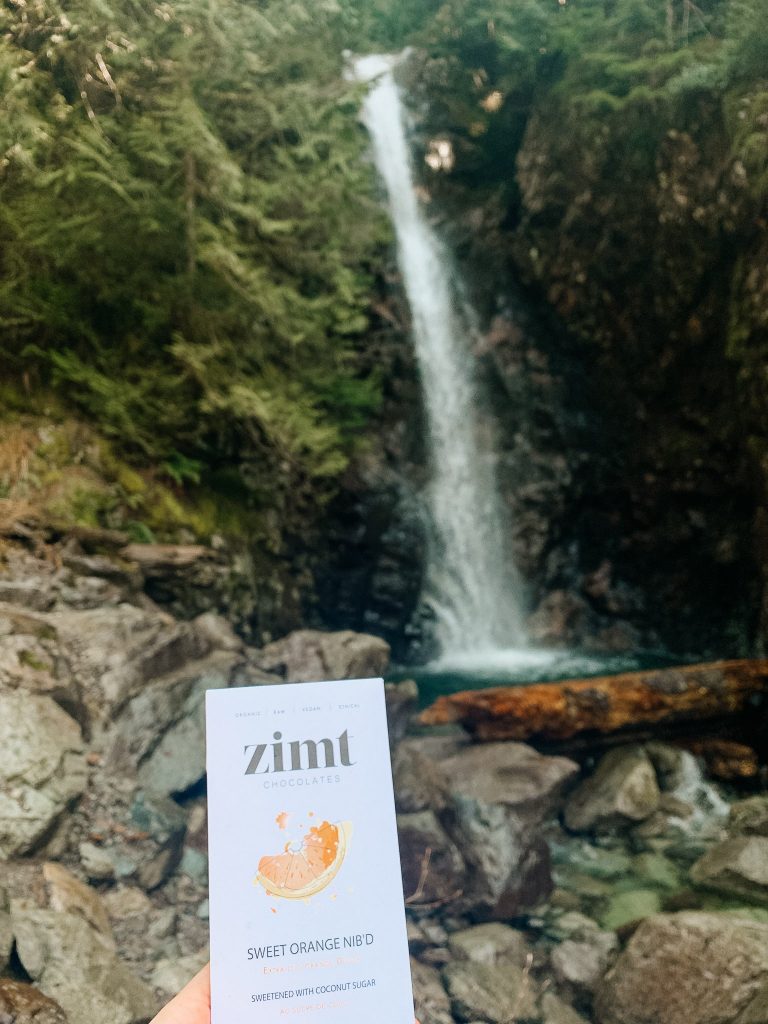 Chips and Guacamole
This snack requires a little effort but is an excellent way to get those healthy fats in during a hike. The night before your trip, prepare some guacamole (white onion, tomato, avocado, line juice, salt and pepper). You can also buy pre-made guacamole, but I don't find it takes as good. Pack a bag of your favourite chips (I like black bean tortilla chips and plantain chips).
Tip: Pack the guacamole in a plastic bag and force as much air out of the bag as possible. Don't open the bag between packing the guac and eating it on your hike. This will minimize the browning of the avocado.
Beef Jerky
There aren't a lot of options for shelf-stable and easily packable meat, but this is one area where beef jerky shines. High in protein, fat and salt, beef jerky is great for sustained energy and a tasty alternative to the normally carb-heavy hiking snacks readily available. This nutrition profile is what makes beek jerky one of the best backpacking snacks.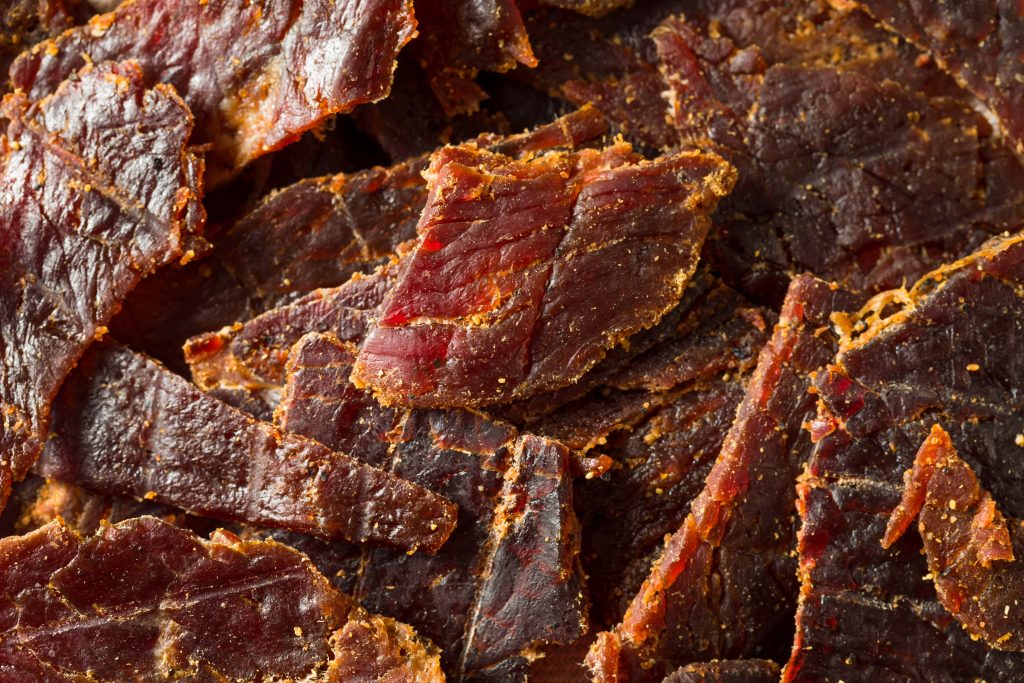 Pepperettes
The sister to beef jerky, pepperettes are another meat that is easy to pack and doesn't need to be refrigerated while you're hiking.
Dates
Hands down, dates are one of the best hiking snacks because of their insane glycemic index (I believe they have the highest of any natural food). I always pack a bag of dates on hikes and camping trips for when I need an immediate pick-me-up. No matter when you're energy levels are, a handful of dates will liven you up!
Granola
I think of granola like grain-based trail mix. There are a ton of different varieties, though most of them are composed of oats, nuts or seeds and something sweet, like chocolate or dried fruit. High in both quick sugars and complex carbohydrates, granola keeps you fueled for hours.
Bonus: You can make this cereal by packing some powdered milk. Simply add water to the powdered milk and stir, then add in the granola. Bam!
Cashew Clusters
1000% my favourite snack right now is Cashew Clusters from Costco. I can't even articulate why or how these things are so tasty. In addition to cashews, the clusters also have almonds and pumpkin seeds. I'm not sure what holds it all together (corn syrup, probably), but it's the perfect balance between sweet and salty. Try them at least once – you won't be disappointed.
Dried Fruit
I'd consider dried fruit to be the runner-up to dates. They also have a high glycemic index and will provide quick energy to fuel you up the last leg of the mountain. My favourites are dried mango and dried pineapple, but I also enjoy strawberries, blueberries, peaches, bears and apple slides. You can buy dried fruit in stores (though check the ingredients because a lot have added sugars and chemicals). Or you can dehydrate fruit in the oven – it's more effort but way more economical.
Read more: How to Dehydrate Food for Camping Meals (without a dehydrator)
Apples
Another classic hiking snack are apples. They're tasty, nutritious, easy to pack and won't squish in your backpack. They're great for day hiking, but I wouldn't recommend apples for backpacking snacks because of how bulky they are. Though you could dehydrate apple slices and those would be great for backpacking!
If you are packing an apple, please do not throw your apple core into the forest! Either each the apply core (yes, you can actually eat the core!) or bring a bag to pack out it out.
Veggies and Dip
Although this isn't a high calorie or energy intensive snack, it is nutricious. I like sliced cucumber, red pepper and carrots. Add in a little ranch dressing… yum. Or, next time you order pizza, order a few extra dipping sauces and save them for your hike. Suddenly eating raw vegetables isn't so bad!
Ants on a Log
Did anyone else eat Ants on a Log as a kid? Despite the questionable name, they are actually delicious (and I still like it now). Basically, you cover a celery stick with peanut butter (or any nut butter) and stick some raisons on top (or chocolate chips, if you're weird like me).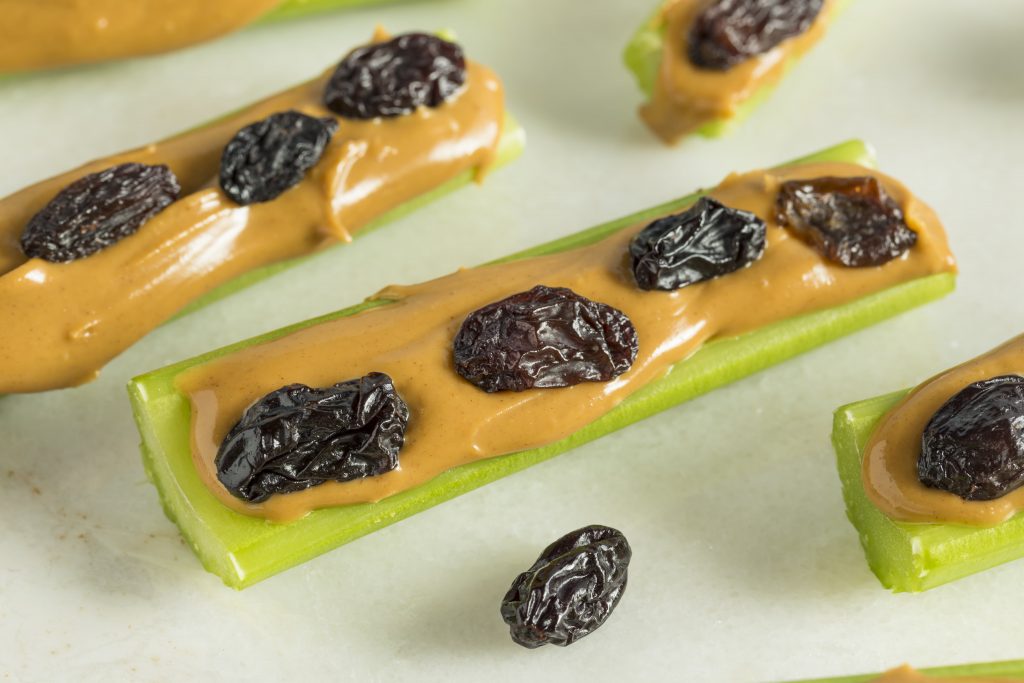 Koukla Coconut Macaroons
These Koukla Coconut Macaroons are one of my favourite hiking snacks right now. They're made with dates, cocoa powder, coconut and maple syrup… and they are delicious. Plus, the ingredients are all-natural and organic.
Charcuterie Board
Grab some prosciutto, sliced cheese, crackers and grapes to make your own charcuterie board. Once you've reached the peak, waterfall or viewpoint, you can assemble your board and feast while you rest. Hands down this is the fanciest snack to bring on a hike.
If you want something you can eat on the go, you could wrap pieces of cheese in prosciutto and store them in a plastic bag. This makes it really easy to eat.
I was on one trip (canoeing, not hiking, so we could bring way more stuff) and look at this board we made – get creative!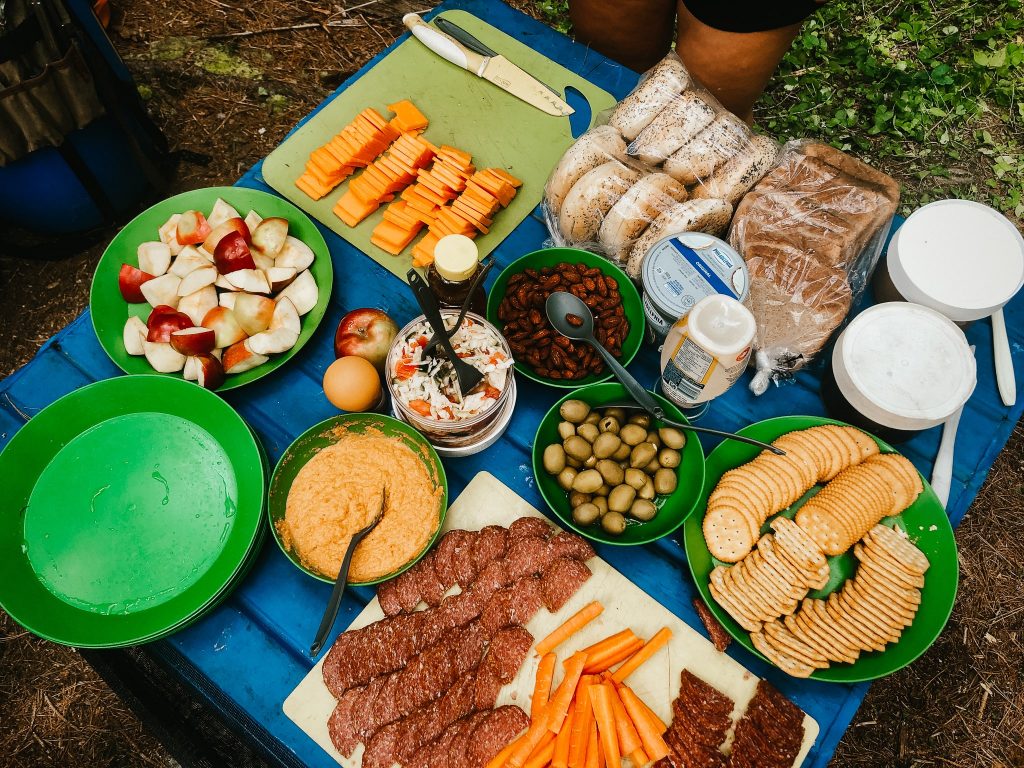 Tuna and Crackers
Tuna and crackers are an excellent hiking snack because they combine healthy fats, protein and quick carbs together for an immediate and prolonged energy boost. You can make your own tuna spread with canned tuna, a little mayonnaise and chopped celery and green onion. You can also buy Tuna Snack Kits which have tuna spread and crackers all in a quick-grab package.
Hummus and Crackers
Similar to the above, but instead of tuna spread, it's hummus! Again, you can make your own hummus (or transfer store-bought hummus into a smaller container) or you can buy individually packaged hummus snacks with crackers. Hummus is one of my favourite foods (on a hike or in life) so this is one of my most common hiking snacks.
Fruit Leather
If you have a copy of my backcountry cookbook, you'll know that fruit leather is one of my favourite snacks. You can buy fruit leather in stores (Fruit on the Go, for example) or you can make your own. I make mine by dehdydrating apple sauce in the oven. Sometimes I'll add cinnamon and nutmeg to mix things up a bit. However you get yours, fruit leather is a tasty snack that'll give you a quick boost of energy (though it isn't very filling).
Stroopwaffle
I first tried Stroopwaffles in Amsterdam a few years ago and my mind was blown. These dutch treats are "syrup waffles" made from two wafers held together with a caramel filling. And holy crap, they are addictive. You can now find them in stores across North America and they make for a great hiking treat. They're calorie-dense, tasty and provide a quick hit to the blood sugar. So. Good.
Cheese Crisps
I recently tried Moon Cheese on one of my hikes and was quite impressed. I was a bit confused – how can cheese be crispy? Well, here is what my research revealed: "using a patented dehydrating process that combines radiant heat and vacuum drying technology – which can be best described as 'crunchifying'". Whatever that means.
I've also tried Whisps, which are like crackers made from oven-dried cheese. They are also really tasty.
In both cases, you're getting a tasty snack high in protein and healthy fats, and low in carbs (if you're eating Keto, this is a good snack for you).
Bonus: Summit Beers
When you've reached the summit (or waterfall, veiwpoint, whatever) it can be so satifying to pull out a can of beer . cider / mixed drink. Double check you're allowed to bring alcohol and cans to the location of the hike before you do, though. Some places have restrictions.
I do wish I had an easy way of keeping drinks cold throughout the hike, but I'm usually too tired to be that picky!
Alternative: For an alcohol-free alternative, I love packing a bottle of komboucha for the viewpoint of a hike.
---
How to Pack Hiking Snacks
Minimize Packaging
Many of the hiking snacks mentioned in this post will come in their own packaging. If you (like me) are trying to reduce your plastic consumption, consider making your own snacks from scratch rather than buying individually packaged snacks (homemade protein bars, jerky and fruit leather). You can pack these items in tupperware containers or reusable bags. I really like Stasher bags. They're made from silicone and free of plastic, and they're more durable than plastic bags. You can throw them in the dishwasher when you're back from your hike and they'll be clean and ready to use on your next hike.
Pack Out Garbage
If you do bring individually wrapped snacks on your hike, please remember to pack out what you pack in. (This is also true for 'organic waste' – don't through apple cores or orange peels in to the forest!).
---
Hiking Snacks – Final Thoughts
I hope you have enjoyed this blog post and have a little inspiration for what snacks to bring on your next hike! If you're interested in reading more about backcountry food, check out any of the posts below!