When you're on a difficult hike, having a delicious lunch break or a steady stream of hiking snacks can make all the difference. I'm not a fan of simply bringing a generic bag of trail mix and an assortment of protein bars. I like to have a variety of tasty and nutritious home-cooked food. Personal pizzas… taco bowls… charcuterie boards… dried fruits and homemade fruit leather – that's just a sample of the best hiking lunches included below.
In this post, I'll go over seven hiking lunch ideas – including a combination of cooking and no-cooking recipes. In addition, I've also included nine hiking snack ideas, which you can mix and match to fuel your hike. Don't read this on an empty stomach! Let's get started…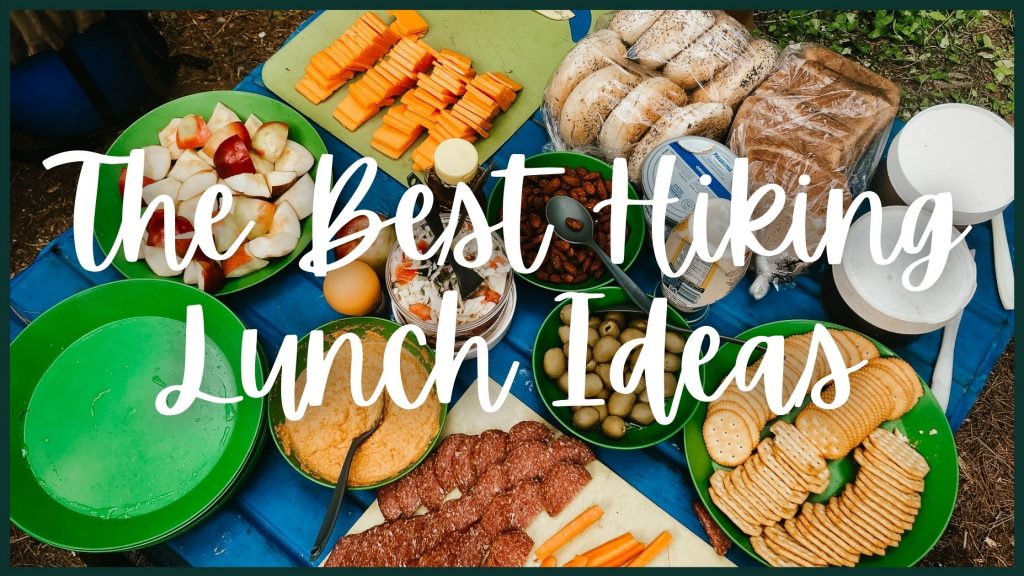 This post may contain affiliate links. If you make a purchase through one of these links, I may receive a small commission at no extra cost to you. Your support is much appreciated! You can learn more by reading my full disclosure.
---
Best Hiking Lunch Ideas
I'm going to start off this post by going over my favourite day hike lunch ideas that are a little more… elaborate than what you might be used to. They each require a little bit of preparation, and a few of them require a backpacking stove, but they are definitely worth the effort. If you'd prefer a lower maintenance hiking lunch, skip to the next section.
Taco Bowls
Here is a tasty and unconventional no-cook hiking lunch. You can combine most of the ingredients in a single container the night before your hike. I like to keep the salsa separate, so nothing gets soggy. Once you reach your lunch spot, it only takes a few minutes to add salsa, and maybe add in an avocado or lime juice if you're fancy.
Ingredients: Tortilla chips, black beans, rice (optional) shredded cheese, lettuce, salsa, avocado (optional), lime, taco spice, sundried tomatoes (optional).
Instructions:
Night before: Rinse black beans and combine with shredded cheese, shredded lettuce and tortilla chips in a container. You can also add the lime juice here if you'd like.
At lunch, add in sundried tomatoes and chopped avocado (if using).
Stir in the salsa and taco spice.
Tip: Sometimes take-out deliveries come in nice, lightweight plastic containers. We like to save them and use them on hiking trips.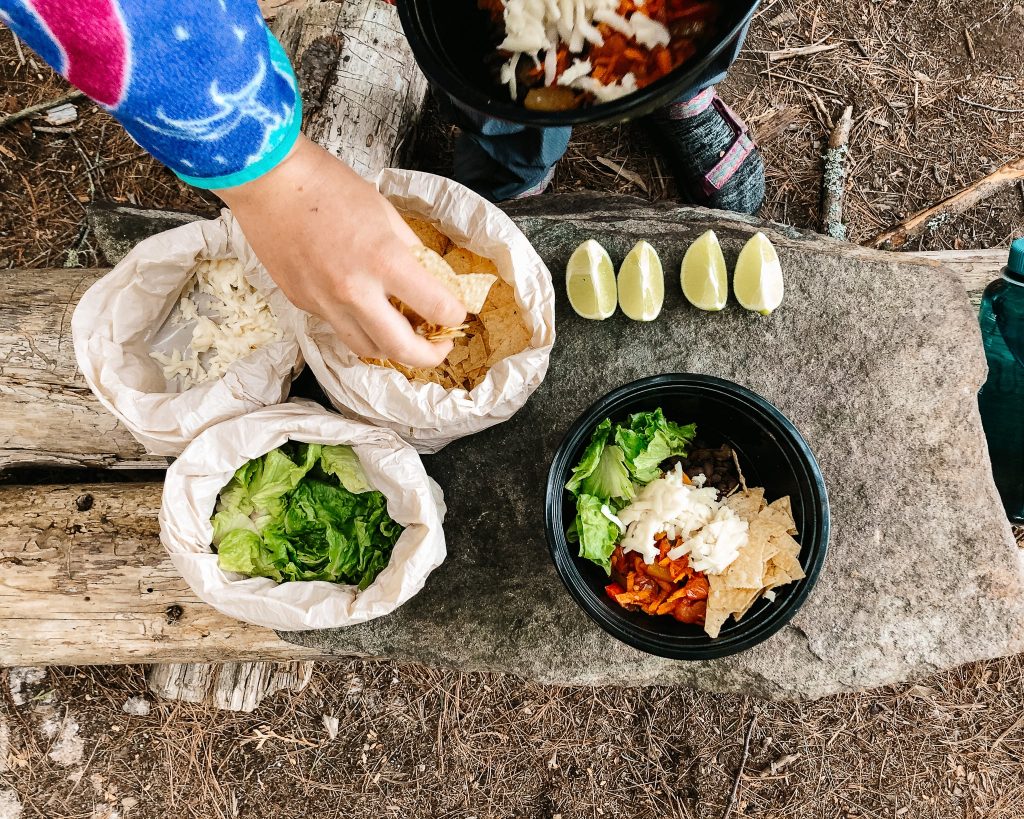 ---
Lox (Bagels with Cream Cheese + Smoked Salmon)
Here is a glamorous, yet surprisingly easy, day hiking food. While cream cheese and smoked salmon are both perishable, they'll be fine in a backpack during the day.
Ingredients: Bagel (option to toast it), cream cheese, smoked salmon, chopped onion, capers (optional), sliced lemon.
Instructions:
The night before your hike, finely chop red onion and thinly slice some a lemon. You can either store them in small plastic containers or small plastic bags. If you're bringing capers, you can store them with the red onion.
Transfer the smoked salmon from the package to a small plastic bag or container. Likewise, transfer some of the cream cheese from the container to a small plastic container.
In the morning before your hike, you can toast the bagels if you'd like. I usually do this.
When you stop for lunch, spread the cream cheese on the bagel, add the smoked salmon and sprinkle on the red onions and capers. Squeeze a little lemon juice on top and dig in!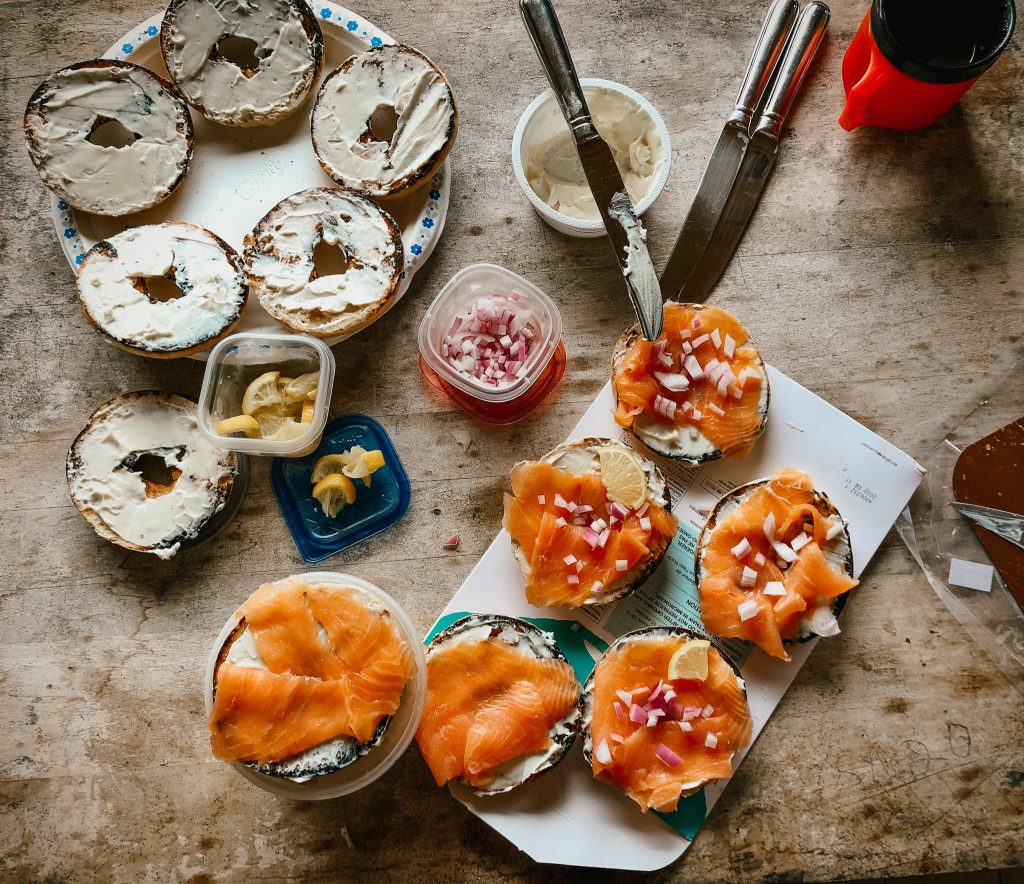 ---
Pita Pizzas
This is a recipe best made when you've summited a mountain or reached a viewpoint and want to take a longer lunch break. This is a hot lunch, so you'll need a backpacking stove and a small frying pan.
Ingredients: Wraps, pizza / tomato sauce (remove from the can and put in a plastic bag to reduce weight), shredded cheese, pre-sliced veggies (green peppers, red onion, mushrooms), pepperoni slices and oil / butter.
Instructions:
First, get out your wrap and smother it in pizza / tomato sauce.
Sprinkle half of the shredded cheese on half of the wrap, and then add your other toppings (veggies + meat). Only putting toppings on one half of the wrap makes it easier to close.
Next, sprinkle the rest of the shredded cheese on the toppings.
Fold the wrap so the side without toppings is covering the toppings. Depending on the size of your frying pan, you may need to fold the whole thing in half once more.
Light your stove and put some olive oil or butter on the frying pan.
Once hot, put your folded wrap on the frying pan and cook each side until the wrap is brown and cripsy and the cheese is melted. Enjoy!
Tip: If you're using gluten-free wraps, you may not be able to fold it in half since the wraps are so brittle. In this case, cook the pizza open-faced.
---
Pasta Salad
Here is one of the easiest non-sandwich hiking lunch ideas. Pasta salad is something you can prepare the night before and quickly enjoy on the trail. I've included a standard recipe I use, but feel free to experiment with other ingredients too.
Ingredients: Pasta noodles (I like spirals), olive oil, pesto, feta cheese, black olives, sundried tomatoes, pine nuts.
Instructions:
Cook the pasta noodles according to the directions on the box.
Strain the water and give the noodles a rinse (to remove the starchiness).
Add in the amount of pesto you'd like (I usually add a little extra olive oil too).
Add in sliced black olives, chopped feta cheese, sundried tomatoes and chopped pine nuts (each is optional, but taste great).
Pack in a container to take on your hike!
Read More: Canoe Camping Meals: 10 Easy Canoe Trip Recipes
---
Tuna Melts
This is another recipe that is best made when you know you'll be taking a longer break partway through the hike, as you'll want to heat this one up (though it's not necessary). If you want it hot and crispy, you'll need a backpacking stove and a small frying pan.
Ingredients: Wraps, tuna (canned or bagged), shredded cheese, pre-sliced veggies (green peppers, red onion, black olives) and oil / butter. Optional: ranch dip.
Instructions:
First, get out your wrap and cover it with shredded cheese.
Open the tuna and spread over the cheese.
Sprinkle the rest of the veggies on top.
Next, fold the wrap. You can either fold it in half or quarters (like a quesidilla or pita pizza) or like a burrito. I prefer it folded like a burrito.
Light your stove and put some olive oil or butter on the frying pan.
Once hot, put your folded wrap on the frying pan and cook each side until the wrap is brown and cripsy and the cheese is melted.
Optional: Dip each bite in a little ranch dressing! Even better would be the ranch dipping sauce from a pizza joint.
Note: Depending on your location, you may have access to a fire pit (as we did on the hike below). There was even a communal grate, so we didn't have to dirty a pan!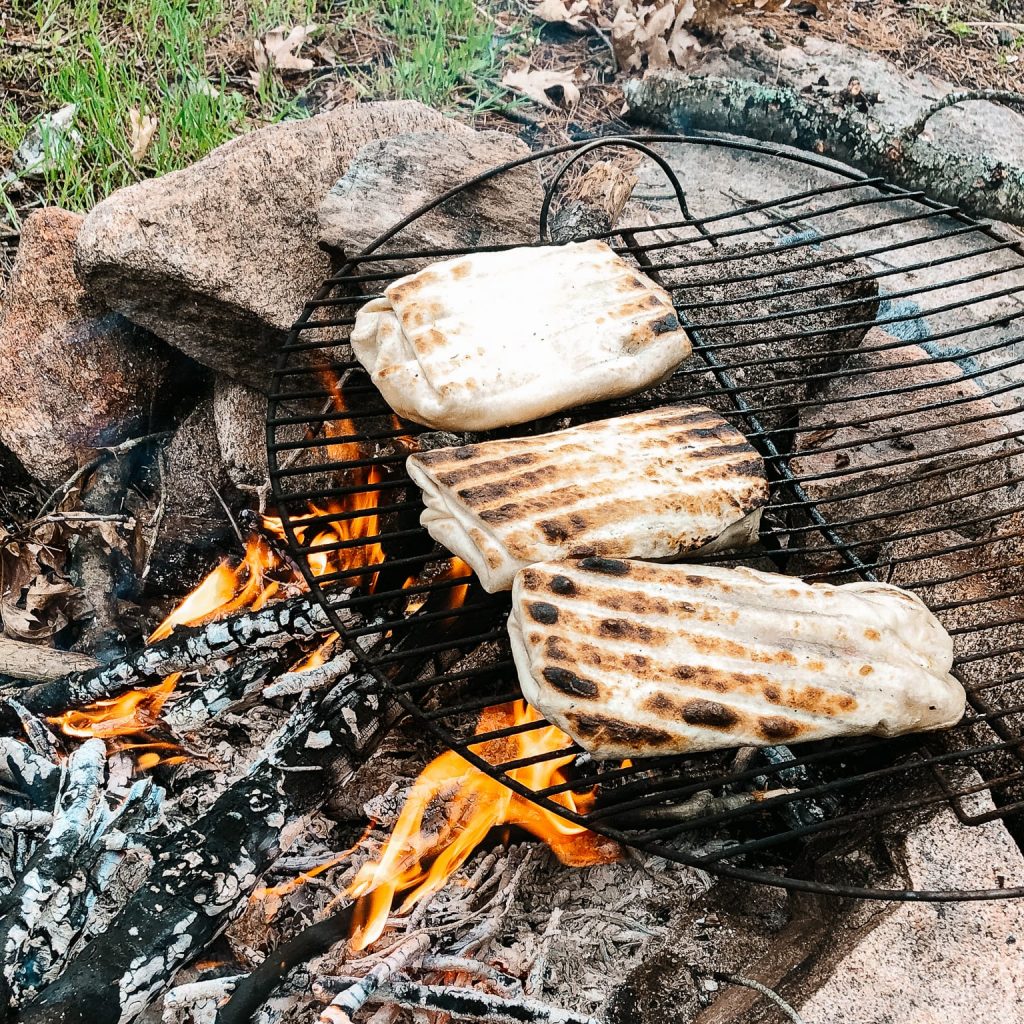 Various Sandwiches for Hiking
It never hurts to return to the basics and pack a good old-fashioned sandwich. Here are a few types I enjoy bringing.
Ingredients:
Peanut butter and jelly (classic)
Nutella, banana and sliced strawberries
Bacon, lettuce, tomato, mayonaise, cheese and mustard
Hummus
Tuna salad (canned tuna, mayonaise, chopped celery, chopped onion)
Cucumber and cream cheese
Instructions: You know what to do!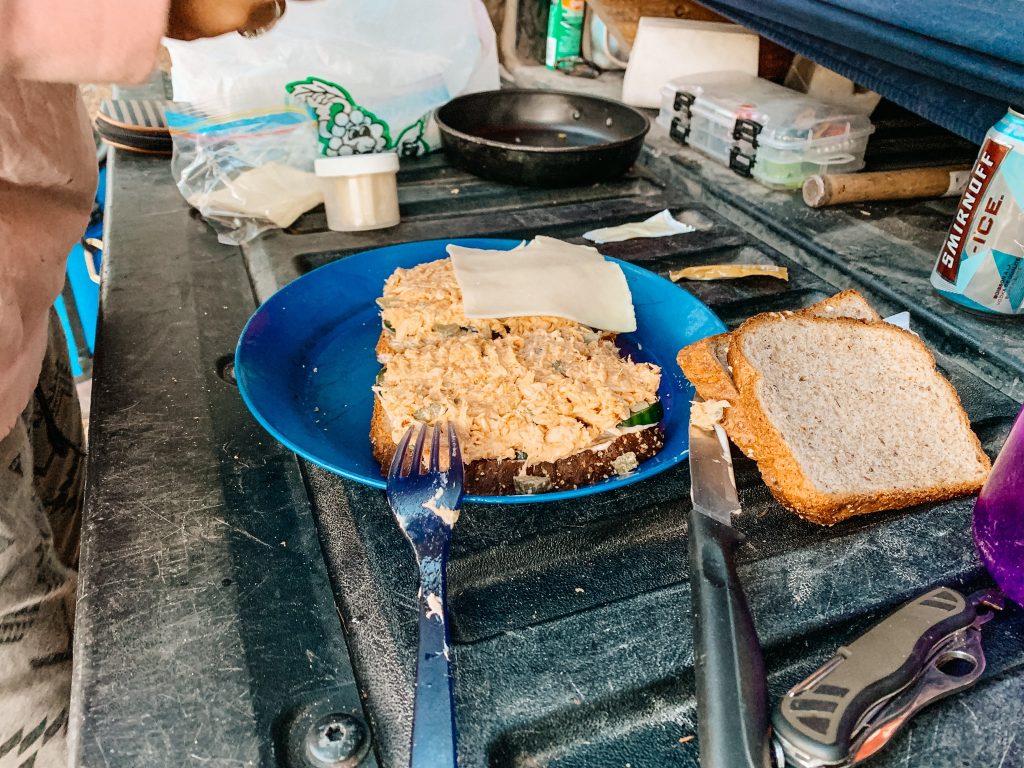 ---
Pre-Packaged Dehdyrated Meal
If you want a warm and delicious meal, but don't want to go through the hassle of packing your own ingredients, you can always bring a pre-packaged dehydrated meal. These are really easy to make – most of them only require you to add boiling water, let sit and then stir / shake. Now, it does mean you have to bring a backcountry stove and a pot to boil the water with.
Ingredients: Depends on the meal you buy.
Instructions: These will be on the package. Usually, it involves boiling water, pouring a specific amount in, waiting and then stirring or shaking the package.
---
Hiking Snack Ideas
Some people don't like to eat a simple big meal on a hike and prefer their hiking lunches to be a series of snacks throughout. There are a ton of easy-to-pack snacks that are filling and nutritious. Here are a few day hiking food ideas for thought.
Nuts // Seeds
Ah trail mix… this may not be the most novel hiking lunch idea, but it's delicious, easy to pack and filling. Combine different types of nuts and seeds in a bag. You can also add some chocolate – like M&Ms or chocolate-covered almond – or some dried fruit – like craisins or banana chips.
Apples
Apples are another classic food for a day hike. You can bring them whole or slice them to cut down on space. You can also dehydrate them in the oven (slice them, sprinkle cinnamon and nutmeg on them and put them in the oven on the lowest temperature setting – more on that below). Dehydrating them means they will take up far less space and weight in your backpack, but they aren't nearly as refreshing.
Cheese Slices
You can either slice and chop your own type of cheese (and maybe bring crackers to go with them) or buy some cheese strings. This is a tasty way to get a little fat and protein on your hike, plus they go great with crackers.
Sliced Salami // Pepperoni // Beef Jerky
This is a great way to get some protein on your hike without worrying about meat being out of the refrigerator. Most curred and smoked meats can be out of the fridge for days (or weeks) at a time. Just check the label before you buy it. Pepperettes and pepperoni sticks are two of my favourites.
Olives
A lot of the typical hiking snack ideas are high in carbohydrates. If you're following the ketogenic diet, this can be frustrating. In addition to the meat and cheese options above, you can also pack a small container of olives. Olives are high in Omega-3 fatty acids, a staple nutrient in the keto diet.
Tip: Bring a few types of cheese, some salami and pepperoni, olives, grapes and a little dried fruit, and you can make your own charcuterie board!
Hummus + Crackers
I absolutely love crackers and hummus. I prefer to choose a cracker high in fibre and protein (like these seed crackers). For day hikes, I usually bring hummus in a plastic container. However, you can also dehydrate hummus in advance (spread it on a parchment paper-lined baking sheet and bake at the lowest temperature your oven will go – more details here). It's pretty easy to rehydrate (just add water and stir), and this will make the hummus easier to pack, especially on longer trips.
Tuna + Crackers
You can actually by packaged tuna (comes in a wrapper, not in a can), which significantly cuts down on weight (and the need for a can opener). Usually, it's flavoured and creamy tuna, which goes really nicely on crackers. This is a great way to get a little protein if you're a pescatarian.
Read More: 10 Best Camping Cookbooks: Resources for Excellent Backcountry Meals
Dried Fruit // Fruit Leather
I can't believe I'm putting dried fruit last on this list! It's my absolute favourite day hike food. I love dried fruit – namely, mango, peaches, pineapple and kiwi. But banana chips, craisins and apple slices are great too. I find it easiest to dehydrate my own dried fruit in large batches and then store them in plastic bags until the hike (much cheaper too). You can read about dehydrating fruit here.
If you don't want to dehydrate your own fruit, you can also purchase it in stores. Just check the ingredients level, as some brands add a lot of extra sugar and random chemicals. I often buy dried mango from this brand, as they don't use any ingredients other than mango.
Dates
Fun fact: Dates have one of the highest glycemic indexes of any natural food. That means it'll spike your blood sugar very quickly. When it's really hot in the afternoon and you've been hiking for a while, you may feel a sudden drop in energy (and sometimes this is the result of dropping blood sugar). Keeping a bag of dates in your backpack is a great way to pick up your energy in a tasty way.
Note: The picture below was lunch for 8 people – you don't need to bring nearly as many items on your hike!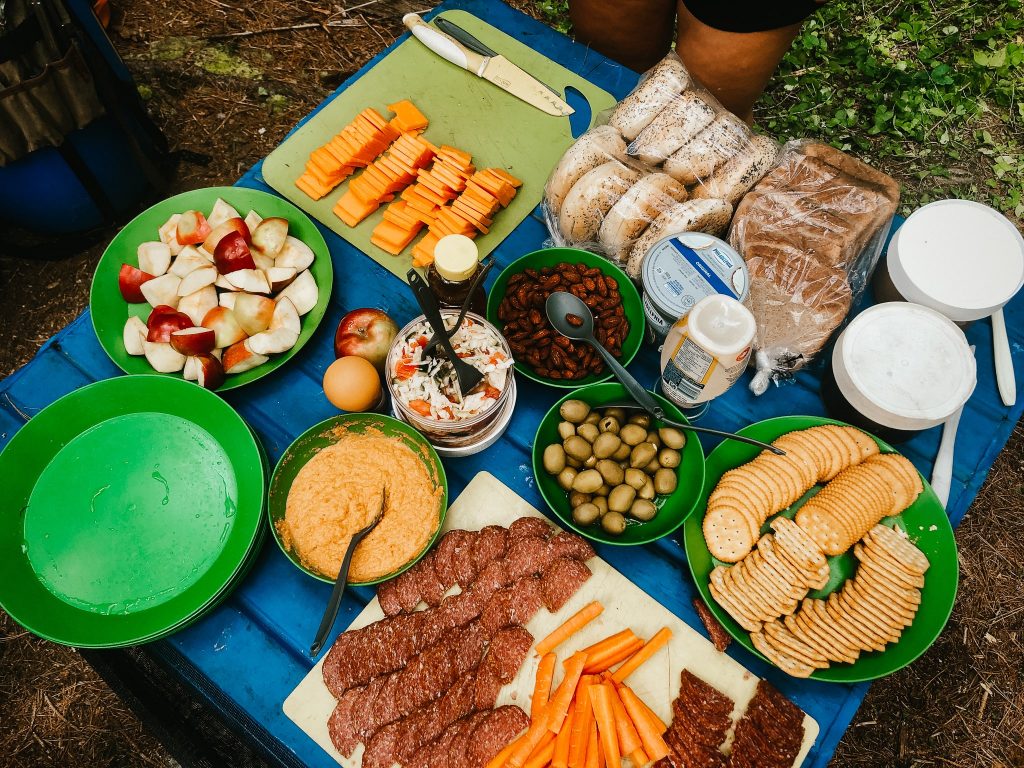 ---
Best Hiking Lunch Ideas – Final Thoughts
I hope you've found this post helpful and have a little inspiration for your next hiking lunch. If you're looking for other resources around backcountry cooking, check out the posts below or consider downloading The Voyageur's Backcountry Cookbook where I've laid out all of my favourite recipes.
Related Resources