Most people know the basics of what to wear hiking: quick-dry shirt and pants, and a sweater in case it gets cold. While that can be sufficient for a lot of hikes, in this guide I'll go over what to wear hiking based on a variety of different conditions.
I've covered 11 different hiking outfits for women for conditions like summer vs off-season hiking, raining and buggy hikes, peaks and fitness hikes, and more.
Additional Hiking Clothing Guides I've Written:
---
Guiding Principles for Women's Hiking Clothing
Layers on Layers on Layers
Have you heard hikers talk about the layering system before? It's basically a system for ensuring you can adjust your clothing according to changing conditions and maintain the perfect body temperature throughout the day.
In practice, this means layering multiple pieces of clothing. As you exert yourself and heat your body, you can remove layers to prevent yourself from getting too sweaty. If the temperature goes down (be it because you're gaining altitude or the weather is changing), you have something warm to add.
There are three 'layers':
Base Layer – These goes directly against your skin, so they should be quick drying. This could range from a quick dry t-shirt in the summer to a merino wool sleeve in the winter.
Insulating Layer – This is the layer that provides the most warmth. It might be a fleece sweater or a down jacket. If it's really cold, you may bring more than one.
Outer Layer – This is the layer that protects you from the elements, so it should be waterproof and windproof. Typically this will be a rain jacket and a pair of rain pants.
For more information on the layering system, check out the following guide:
---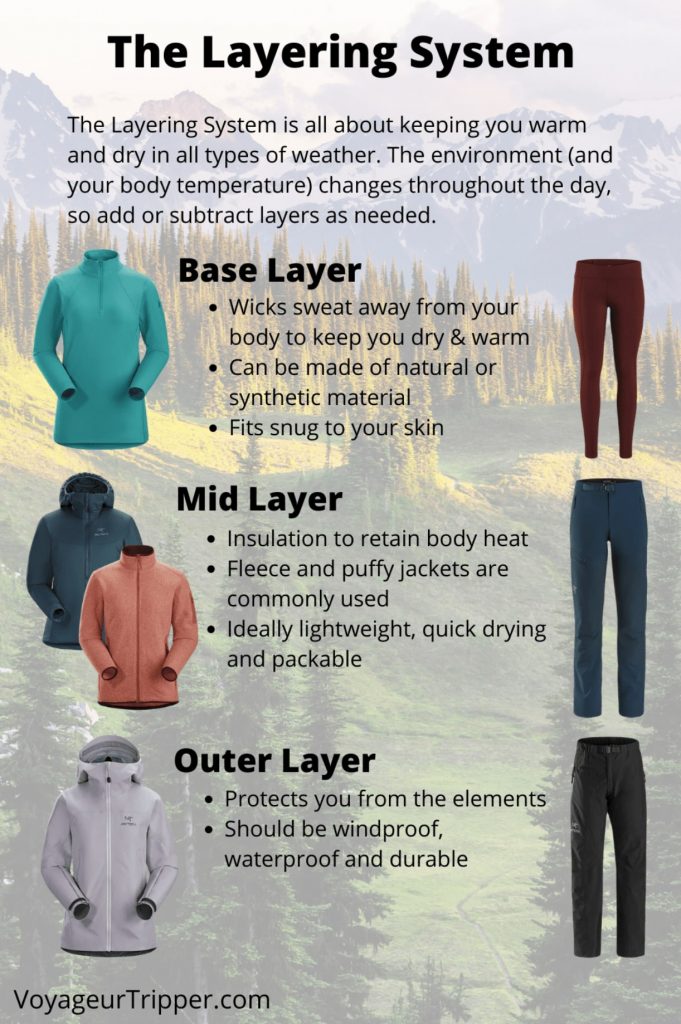 This post may contain affiliate links. If you make a purchase through one of these links, I may receive a small commission at no extra cost to you. Your support is much appreciated! You can learn more by reading my full disclosure.
Choose Your Fabrics Carefully
I alluded to this above, but it's so important that it warrants repeating. Choose fabrics that are quick drying. Hard as we try to avoid it, clothing will inevitably get wet (whether from sweat, rain or snow).
Some fabrics hold onto moisture, and when placed against your skin it will decrease your body heat quickly. Other fabrics are quick-drying, moisture-wicking and will keep you warm even when wet.
Here are some great fabrics to look for when buying hiking clothing:
Wool – One of the best natural materials out there for outdoor activities. Most often used as merino wool in base layers and in hats.
Polyester – Typically used in athletic clothing (like t-shirts and shorts) and as a blend in base layers and hiking pants. Brushed polyester is called fleece and is used in sweaters and pants.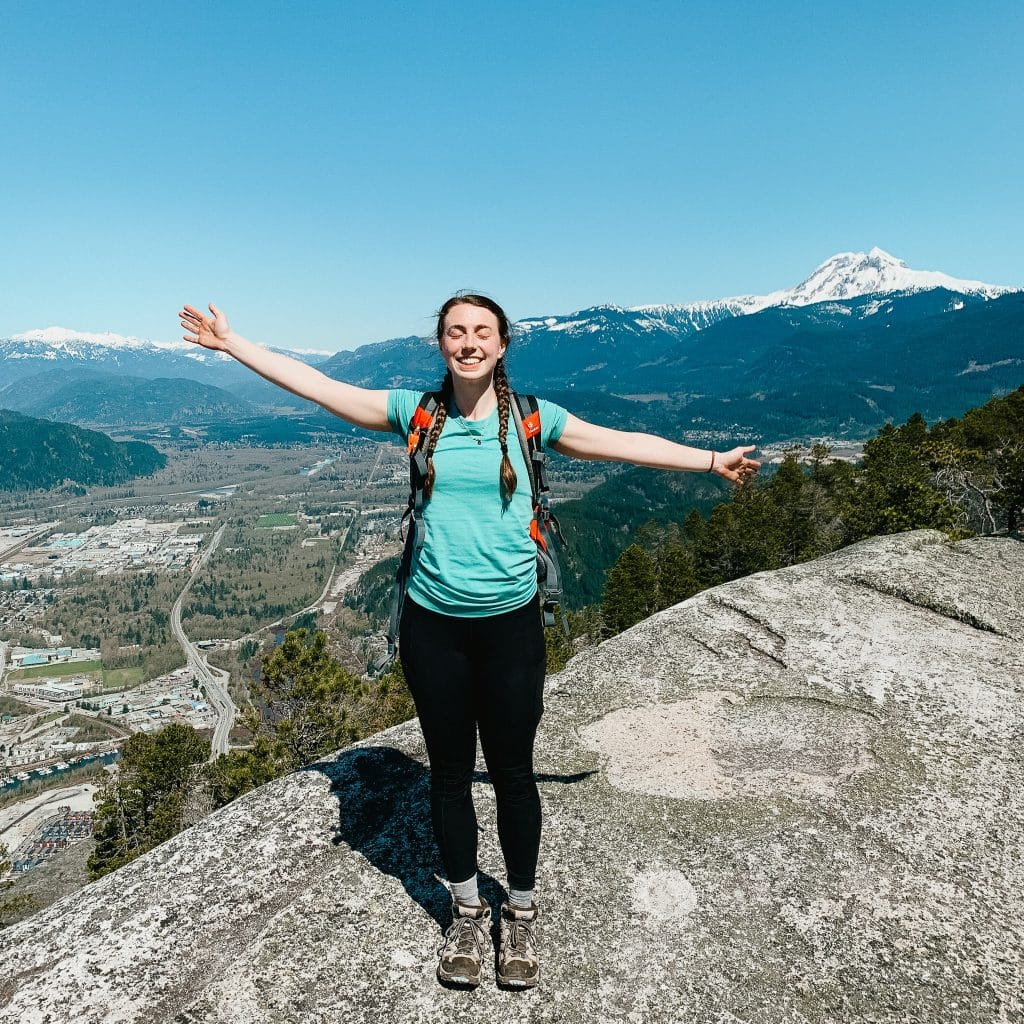 Nylon – Most often used for rain jackets, puffy jackets and as a blend in hiking pants.
Down or synthetic down – Insulation for puffy jackets. Down is warmer and compresses better, but clumps and loses warmth if it gets wet. Synthetic down performs better when it gets wet.
Canvas – Less common in outdoor clothing as it is heavy, but waxed canvas is water-resistant and used in old school coats and backpacks.
And here are some fabrics you should avoid:
Cotton – Holds onto moisture so once it's wet, it'll take forever to dry! There's a hiker's saying "cotton kills" because it holds onto so much moisture and can lead to hypothermia (this article goes over technical reason why cotton is so bad).
Denim – Made from cotton!
Up for debate: Silk – A small minority of people like silk, as it has modest moisture wicking properties. But it doesn't add much warmth and is quite delicate. Personally, I recommend choosing wool over silk.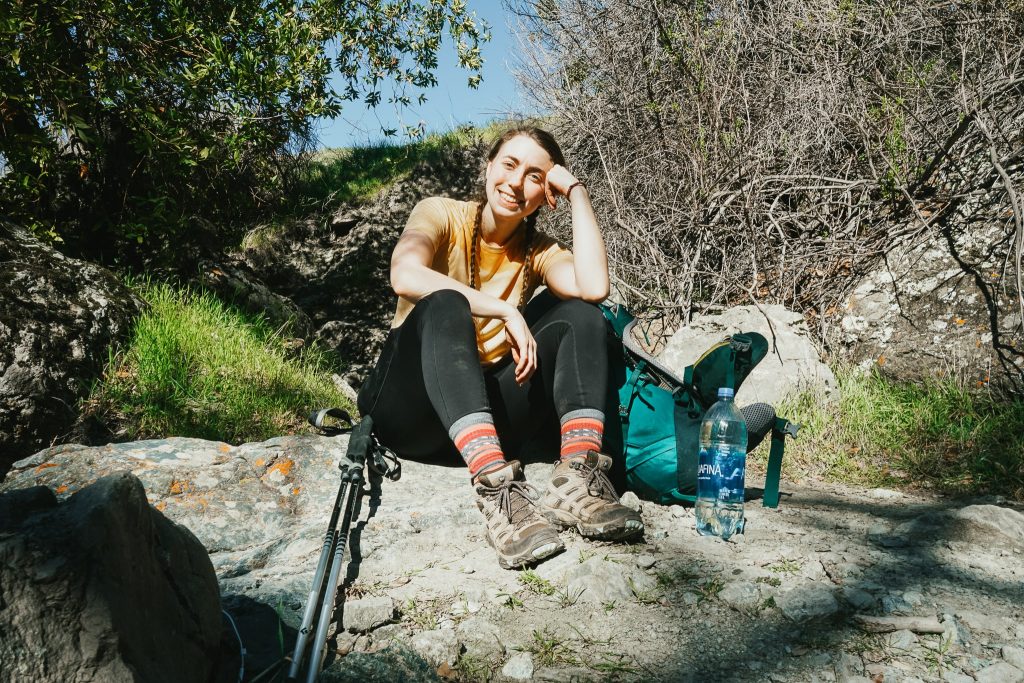 Choose Comfortable and Durable Clothing
This will mean different things for different women. For me, I don't like wearing shorts on most hikes since my thighs rub together and this gets uncomfortable. Also, I typically avoid hiking pants with zippers, buttons and clasps – I find stretchy waists to be way more comfortable. >>These are my go-to hiking pants right now.
Likewise, a lot of women avoid wearing bras that have a clasp, as this can dig into their backs while they're carrying a backpack. >>This is a great bra for hiking.
Whatever clothing you choose to hike in, ensure you have a full range of motion.
That said, also consider how durable the clothing is. You may be sitting on the ground and brushing up against trees or rocks. If the clothing isn't durable, you might not get very many uses out of it before it rips or breaks… and then you'll have to repair it and that's annoying.
For items I will rely on for big hikes, like base layers, hiking pants, rain jackets and puffy jackets, I choose brands I recognize and know have a history of durability (for fleece and athletic t-shirts and shorts, I'm less picky). In addition, I like to choose high-quality gear that has been on the market for several years and has reviews from people who have been using the gear for multiple seasons.
While some of this gear can be expensive, if you take care of it, you'll have it for many, many seasons!
---
11 Hiking Outfits for Women for All Weather & Conditions
Now that we've laid out the basic principles of hiking clothing, let's jump into some specific hiking outfits for women.
Hiking Outfit #1: Standard Full Day Hikes
The majority of my hikes are your run-of-the-mill standard day hikes. For these hikes, I'm on the trail for anywhere from 6 to 10 hours and I bring a few items of clothing so I can adjust my layers as needed.
On the top, I'll wear a standard hiking shirt (usually made of merino wool). On the bottom, I typically choose leggings unless the trail is particularly rugged, in which case I'll opt for hiking pants.
I'll start the hike off with a light fleece sweater and I may take it off during the hike. In most cases, I keep a rain jacket in the bottom of my backpack in case the weather changes. For hikes in the mountains or if the forecast is predicting rain, I'll also pack a pair of rain pants.
(Further down in this post I have a hiking outfit specific to hikes where I'm summiting a peak, as I pack a little differently for these.)
Since I'm out for the full day, I'm usually covering 12 to 20 km. These can put me deep in the wilderness. If I were to get lost or be injured, I could be on the trail overnight. Thus, I like to be prepared for a variety of weather conditions.
For your standard day hike, a women's hiking outfit might look like:
Hiking Outfit #2: Fitness Hikes
There is a section of hikes I do that I refer to as my "fitness hikes". These tend to be shorter than full-day hikes (between 4 and 8 km) with a decent amount of elevation gain, and I'm quite focused on my pacing. The objective of the hike is to improve my cardio capacity and get faster at hiking.
These hikes are treated more like a workout and I get quite sweaty. As such, I like wearing synthetic clothing that will dry quickly and keep me cool as I'm moving.
For a fitness hike, a women's hiking outfit could look like:
*I injured both of my ankles last year so lately I've been wearing hiking boots with good ankle support for all of my hikes.
Hiking Outfit #3: Hot & Sunny Hikes
The next women's hiking outfit I will go over is for hot and sunny hikes
In this case, I like to wear a synthetic tank top or t-shirt and running shorts. As someone who is prone to sunburns, I usually opt for a t-shirt over a tank top. In addition, I like to bring a wide-brimmed hat to keep the sun off of my face.
I'll still pack a fleece sweater and maybe hiking pants in my backpack if I'll be out for a full day. As you may recall, 'insulation' is one of the ten essentials and it's important to be prepared in case you are out longer than expected. If something happens while I'm hiking and I'm there in the evening when it gets cool, I want to have a warm layer to put on the top and bottom. 
A summer hiking outfit for women looks like:
Regardless of what you're wearing, don't forget to pack sunscreen! Oh, and if you're hiking in tick territory, wear long pants even if it is hot!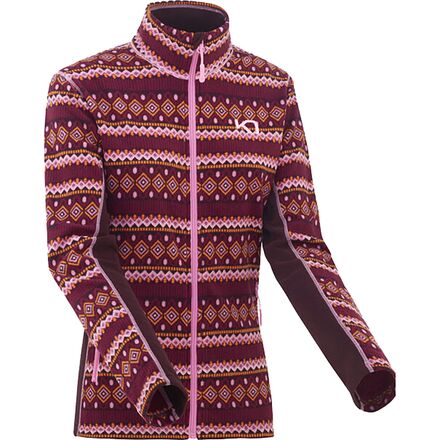 Hiking Outfit #4: Buggy Hikes
One of the most difficult conditions to hike in is when it's both hot and buggy. When the temperature is so high, it's tempting to wear a t-shirt and shorts – but then you have pesky mosquitos to contend with. Likewise, if you're travelling in an area with ticks, you definitely want to keep most of your body covered up to prevent bites.
From my experience, most lightweight hiking shirts – including all of the merino wool shirts I've tried – are not bug-proof. Mosquitos can bite through them. I have, however, found this Columbia long sleeve shirt to be bug-proof while still offering breathability.
In the past, I've tried wearing a bug shirt over a t-shirt for extra breathability, but I find them quite uncomfortable, especially under a backpack, so I avoid them unless it's really buggy. I do wear bring a bug hat with me though!
I also don't find leggings to be mosquito-proof. Instead, I like breathable hiking pants. I've found my Kuhl Horzn hiking pants to strike the right balance between keeping the bugs away and keeping me cool.
In addition to the above, I like to pack a bug hat for when it's very buggy. This keeps the mosquitos (and black flies and ticks) off my face, neck and hairline (the places I typically get the most bites).
Finally, I usually wear low-rise hiking socks when hiking. In buggy conditions, however, I opt for high-rise hiking socks. This provides more protection against bug bites, especially if I'm walking through grasses where ticks may be lurking.
A women's hiking outfit for buggy hikes could be: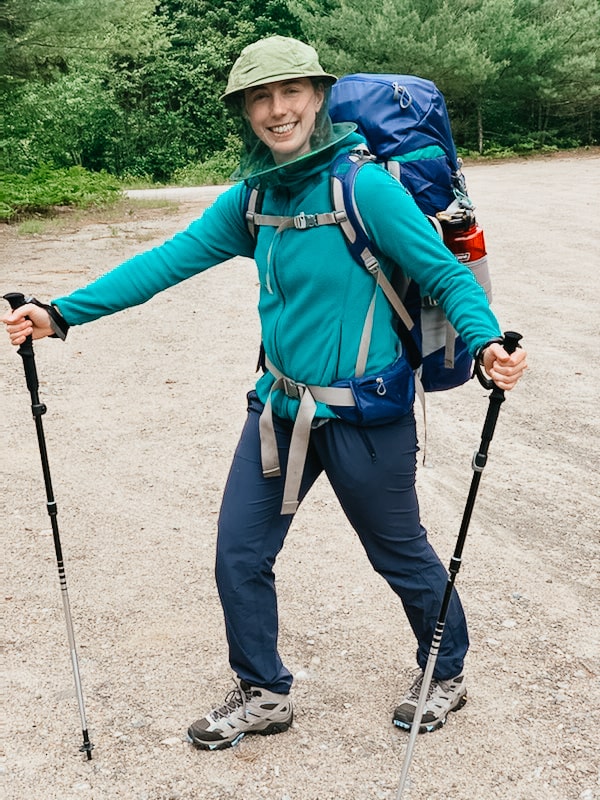 Hiking Outfit #5: Windy Hikes
When I'm hiking on a trail that is at a high altitude or has exposed ridges, I consider the possibility of high winds when deciding what to wear hiking.
Generally speaking, fleece and puffy jackets offer warmth but they don't do much to protect against wind. So I like to have an outer shell that is windproof (but ideally, still breathable).
In most cases, I'll carry my raincoat with me as the windproof outer shell. But sometimes it's really warm and my raincoat makes me like I'm in my own personalized sauna. Plus, my raincoat is pretty bulky. In those cases, I'll pack a windbreaker (I like this one from Patagonia).
For windy hikes, consider a women's hiking outfit like:
Leggings or hiking pants
A lightweight insulating layer (like a lightweight fleece or synthetic down jacket)
Hiking Outfit #6: Rainy Hikes
If you live somewhere like the Pacific Northwest, you'll inevitably end up hiking in the rain. When I lived in Vancouver, British Columbia, it was rainy on and off for eight months of the year – no way was I going to avoid hiking for that long!
So when it's raining cats and dogs but you still want to get outside, what do you wear hiking?
First, focus on the outer layers. A decent rain jacket and rain pants will keep you dry throughout your hike. Tip: When choosing a rain jacket, evaluate the hood – does it look like it'll keep the rain off of your face?
If you've had your rain gear for a while, ensure it's still waterproof by regularly re-waterproofing your rain gear. For additional tips on hiking in the rain, check out the post below:
When it's rainy, it's usually a little chilly, but not always. Wear a lightweight, breathable hiking long sleeve shirt underneath the rain jacket (if you wear a t-shirt, the rain jacket will stick to your forearms and that can be annoying).
Depending on the temperature, I usually find the single long sleeve hiking shirt to be sufficient. In my backpack, I'll pack a fleece sweater in case it gets chilly, or a synthetic puffy jacket if I know it'll be cold. Even if it's cold, I skip the down jacket – down does not perform well when it gets wet.
Under the rain pants, wear a pair of hiking pants or leggings (I prefer leggings as they feel less bulky under the rain pants).
Finally, if you're hiking somewhere with the possibility of big puddles, consider wearing waterproof hiking boots and gaiters to keep your feet and ankles dry.
A rainy hiking outfit would look like: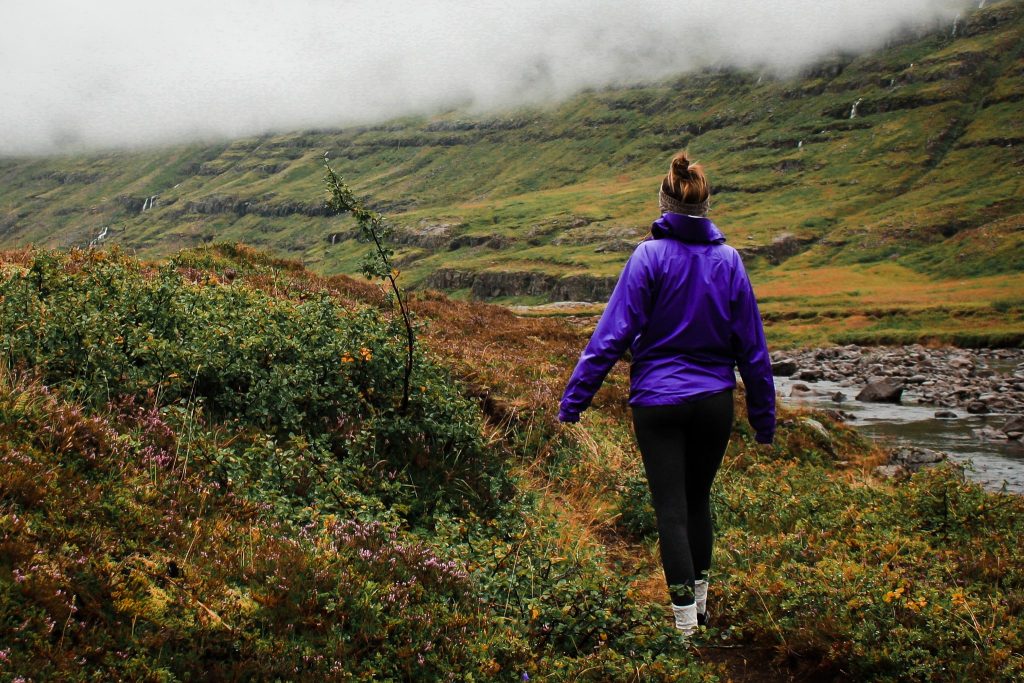 Hiking Outfit #7: Summit Hikes
What I wear for summit hikes is pretty similar to what I wear for standard full-day hikes, however, I'll usually pack a few extra items in my backpack. My main concern with summit hikes is that the weather can change very quickly. So I want to be prepared in case I get caught in a storm.
In addition to a hiking shirt and hiking pants, I'll usually wear a fleece sweater as summits are notoriously chilly – but also tiring (and sweaty) to hike up.
In my backpack, I'll definitely have a rain jacket and rain pants in case there's a storm. For even more warmth, I'll usually pack a puffy jacket in addition to the fleece sweater I'm wearing. I usually don't end up wearing all of this clothing, but I like having it just in case.
For summit hikes, here are some things to include in a hiking outfit:
In regards to storms: I never intend on getting caught in a storm near the summit of a mountain. That's crazy! If I notice the wind pick up or see dark clouds on the horizon, I usually don't proceed. Better safe than sorry. However, I like to be prepared. 
Also note: If you're doing a hike that is more like a scramble or involves periods of climbing, there are additional safety items you need to wear – most notably, a helmet. But I'm not an expert on scrambling, so I can't offer specific advice.
Hiking Outfit #8: Sunrise and Sunset Hikes
When I'm hiking for sunrise or sunset, I need to account for how cold it'll be when the sun isn't overhead. On the bottom, I usually wear leggings unless the hike is especially long and strenuous.
On the top, I generally wear a long sleeve merino wool shirt. I have the Icebreaker Oasis Merino Wool Long Sleeve that I love for exactly this purpose. The fabric is 200 g/sm, meaning it's lightweight and breathable. So I find it comfortable while underneath an insulating layer during the darker (and colder) portion of the hike. But if I'm going through a tiring section of the trail or I'm in the sunny (and warmer) portion of the hike, it's suitable on its own.
Don't forget to pack a headlamp if you're hiking for sunrise or sunset! You'll likely end up hiking part of the trail in the dark and you don't want to waste your phone battery using its flashlight feature.
For sunrise and sunset hikes, a women's hiking outfit could be:
Hiking Outfit #9: Spring Hikes
I love hiking in the early spring, especially in the mountains. One of the major differences between early spring hikes and summer hikes is that, although it can be warm, you might run into snow or ice. In addition, even if it's warm, the weather can change quickly and get chillier (especially if the sun moves behind the clouds).
To cope with this, I pack a pair of microspikes in my backpack in case I come across snow or ice. I also like to have a pair of water-resistant hiking pants or rain pants with me. This is in case I end up sitting (or slipping) on snow or ice – I want to stay dry.
In addition, I usually wear a t-shirt or tank top underne
If your hike involves river crossings, be aware that rivers tend to be wider and higher in the spring (due to the snow melting and adding more water volume to the river). Consider bringing gaiters for your hiking boots to keep water from filling your hiking boots or getting your pants wet.
A spring hiking outfit could be:
Hiking Outfit #10: Autumn Hikes
While hiking in spring and autumn might appear to be the same – both are shoulder seasons in most places – the weather and snow conditions can vary between the two.
Unlike spring, where you may have leftover snow and ice that has yet to melt, you might not see much packed snow on the ground in autumn. Instead, you may see fresh snow or frost along the trail, especially in the morning. 
The temperature can also be quite different. Of course, specific temperature (and weather) conditions will vary according to your specific geography. But in general (and my hiking experience), spring typically has warmer temperatures and fewer storms than autumn.
All this to say, you're less likely to need gators or microspikes on autumn hikes than you do for spring hikes. Instead, you'll want to ensure you have sufficient layers and a waterproof outer layer. That said, always check the conditions for your specific trail before departure.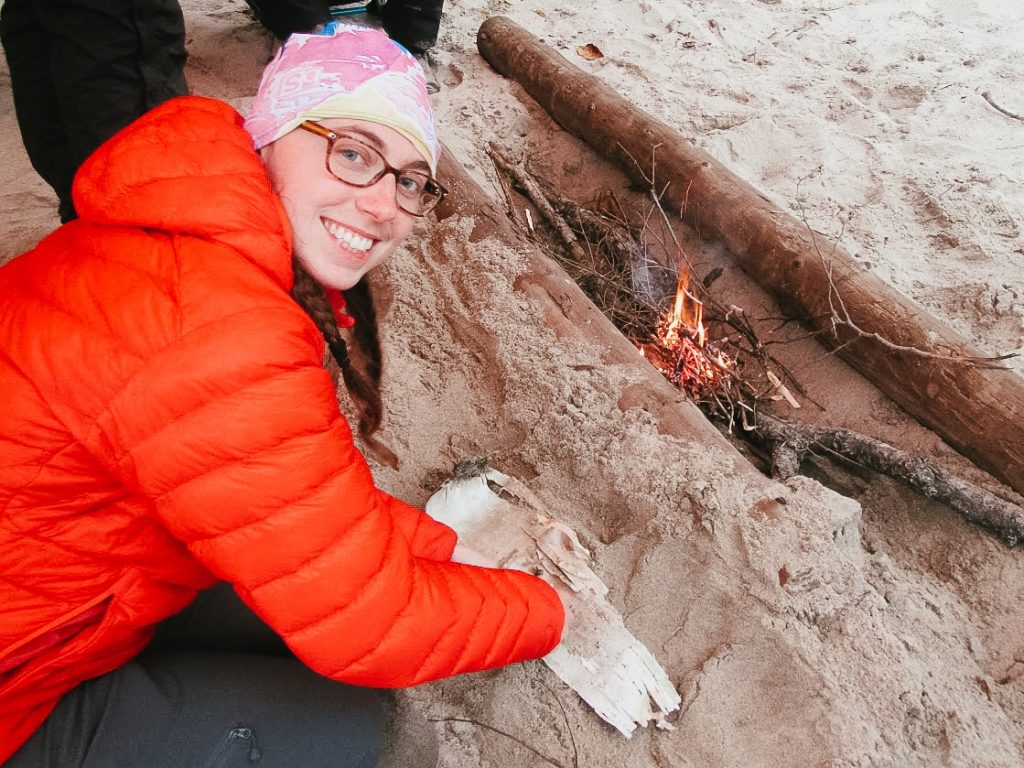 Hiking Outfit #11: Winter Hikes
In many parts of North America, winter hiking typically means hiking in the snow. Regardless of the duration or difficulty of your hike, it is especially important to be prepared in the winter. It doesn't take long for 'being cold' to turn into hypothermia.
In the winter, wear a moisture-wicking base layer. Even when it's cold, physical exertion will cause your body to sweat. Since water transfers heat 25x faster than air, sweaty clothing will make you very cold, very quickly. In the winter, I wear merino wool base layers exclusively.
On the top, I'll usually wear a fleece sweater over top of the base layer. If the weather forecast looks good, I'll probably wear a down jacket over the fleece. Should it start to snow or the wind pick up, I'll add a waterproof, windproof shell on top of that.
On the bottoms, I usually choose durable, water-resistant hiking pants. Depending on the length of the hike and how far into the wilderness it is, I may pack a pair of fleece pants and a pair of rain pants in my backpack. The fleece pants provide additional insulation if it were to get very cold. The rain pants, on the other hand, make my lower body waterproof, should it start snowing or I need to sit on the snow(water-resistant hiking pants are rarely 'waterproof').
Finally, I'll wear a wool hat and gloves (maybe two pairs if it's really cold) and a balaclava or neck warmer.
Here is a typical winter hiking outfit for women:
---
My Favorite Hiking Clothing for Women
Over the years I've tested a lot of different women's hiking clothing from a wide variety of brands. Here are my all-time favorite pieces.
Hiking Shirts
For most of my hiking life, I've worn synthetic hiking shirts. They're quick-drying and inexpensive. However, two years ago I started hiking in merino wool hiking shirts and now they're what I wear exclusively. I'm a pretty sweaty person and merino wool dries faster than synthetic materials. High-quality merino wool is also odour resistant, durable and comfortable.
My favourite merino wool hiking shirt is the Icebreaker BodyfitZone Merino 150 Zone Short Sleeve (merino blend) and Icebreaker Merino Tech Lite II Short Sleeve T-Shirt (100% merino).
My favorite synthetic hiking shirt is the Lululemon Swiftly Tech 2.0 T-Shirt and
You can read more about the other hiking shirts I wear in the post below:
---
Leggings & Hiking Pants
Currently, my favorite hiking pants are the Kuhl Horzn Hiking Pants, the North Face Aphrodite. Both of these pants are lightweight, breathable and comfortable. Highly recommend!
My favorite leggings are the Lululemon Fast and Free. They aren't as durable as I'd like them to be (they've never ripped, but the threads on the seams get loose over time). But they're so gosh darn comfortable and they fit me so well. The material is very lightweight and breathable, and they're super stretching.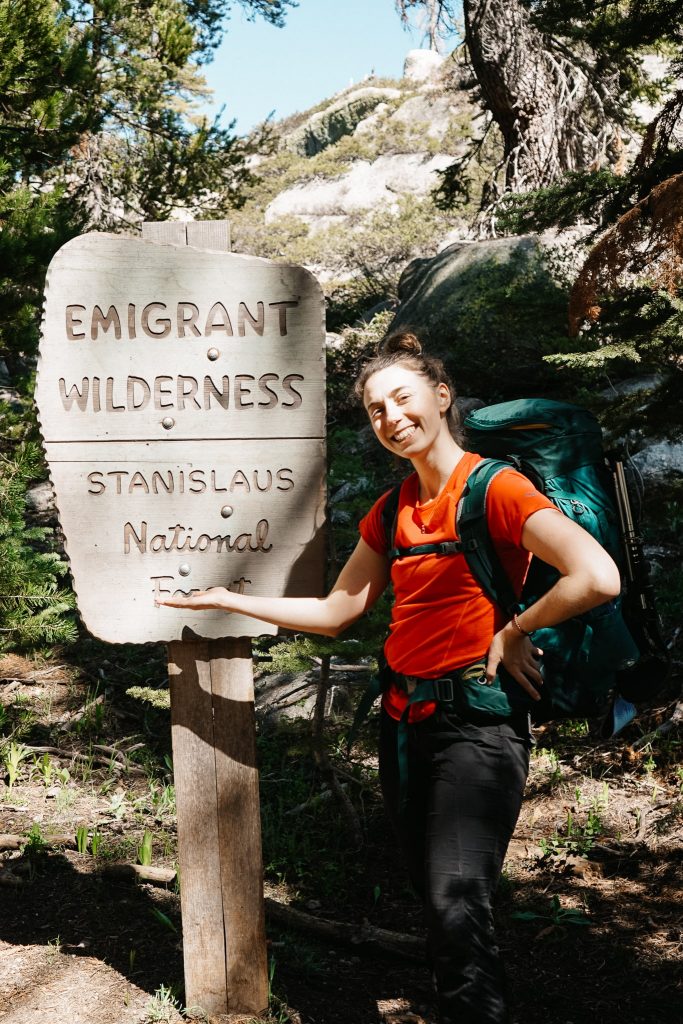 ---
Fleece Sweaters
I have a thing for fleece and, as such, have purchased way too many fleece sweaters in my life. I have two go-to sweaters: the Arc'teryx Covert Cardigan and the Patagonia Micro-D Snap T if I'm going for something lighter weight.
The other two fleece sweaters in my usual rotation are the Kari Traa Olga Fleece (a great lightweight and budget-friendly option) and the Patagonia Better Sweater Full Zip (similar to the Covert Cardigan but much cheaper).
---
Rain Jacket
I've been using the Marmot Minimalist Rain Jacket since 2018 and I really like it. It's made with Gore-Tex, so it's very waterproof and very breathable. But, unlike most Gore-Tex jackets, it is also very affordable. I used to wear the Patagonia Torrentshell 3L Jacket (which is also a great option), but comes at a similar price point as the Minimalist and I like the Minimalist more.
Puffy Jackets
My favorite down jacket is the Arc'teryx Cerium LT – it's extremely warm and meant for winter hiking, but it also compresses a lot, so I'll even pack it on my spring and fall backpacking trips. For a synthetic option, I really like the style and comfort of the Arc'teryx Atom AR. It isn't as puffy (and not as warm) but because of that it is way better for layering.
In the photo below, it was so cold I actually wore both of the above puffy jackets at the same time!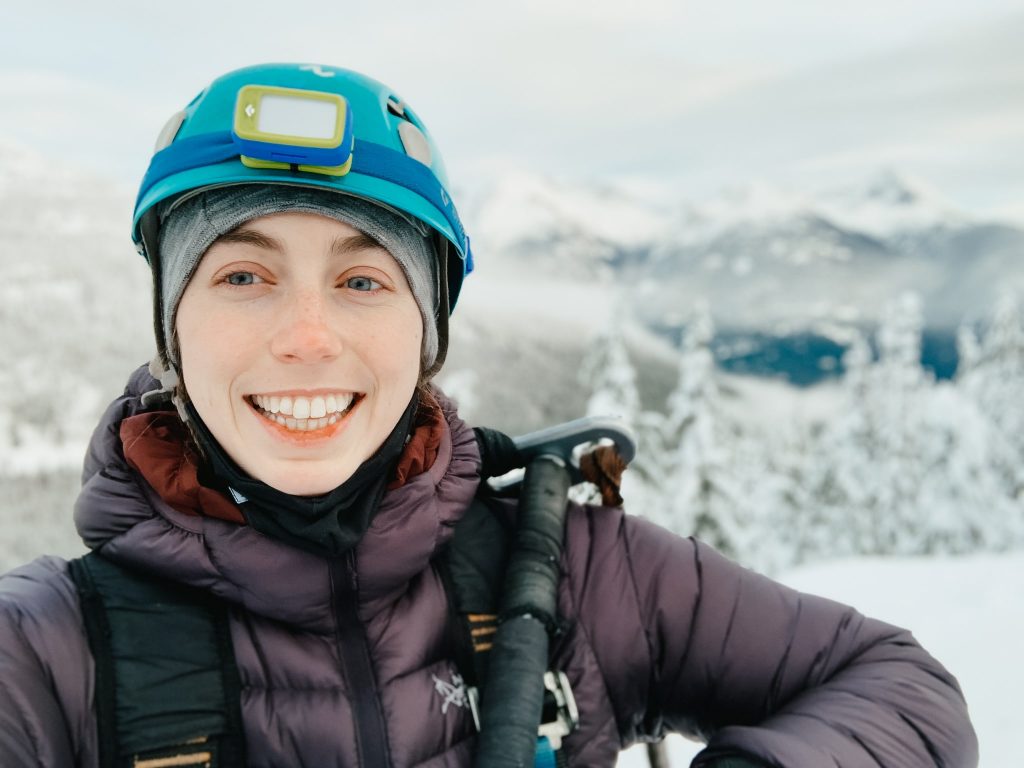 ---
Women's Hiking Clothing FAQs
What is the best outfit to wear while hiking?
The best hiking outfit is one that keeps you warm and comfortable throughout your hike. The best hiking outfits are comfortable to move around in, moisture-wicking and quick-drying, and allow you to adjust your temperature throughout the day. To achieve this, I like leggings on the bottom, a merino wool t-shirt and a fleece sweater on top, with a rain jacket and puffy jacket in my backpack.
Are jeans okay for hiking?
For short day hikes, many people consider jeans okay for hiking. If you're doing anything longer than a few hours or you'll be far away from your vehicle, I advise against jeans. Denim is made from cotton which holds onto moisture and takes forever to dry. Once denim is wet, you'll get cold very quickly.
Can you wear leggings hiking?
Yes, you can wear leggings while hiking! Leggings are my preferred choice for day hikes and short backpacking trips. Most leggings are not as durable as hiking pants, so I prefer hiking pants on more challenging multiday trips.
Should you wear makeup while hiking?
Whether you wear makeup on a hike or not is a personal preference. On a day hike, it's easy to wear makeup. On multiday trips, you'll want to bring makeup wipes to use before you sleep and keep your makeup (and other toiletries) with your food overnight (many products are scented). I don't wear makeup when I hike, but I also don't wear makeup ever.
---
Hiking Outfits for Women – Final Thoughts
I hope you've found this post helpful and have a better idea about the different options for hiking outfits for women. At the end of the day, bring lots of layers and wear quick drying fabrics. Dress for the worst case scenario weather, not the weather at the trailhead. If you have any additional questions, let me know!