For a city of just 8,000 people, Iqaluit really punches above its weight. When I first moved to Nunavut's capital city, I was painfully lonely. But once I started making friends and getting out of the house more, I really fell in love with it. I was surprised to find there are a ton of things to do in Iqaluit, whether you're visiting as a tourist or moving there yourself.
In the following post, I'll go over 21 of the unique things to do in Iqaluit – activities and sights that you're unlikely to be able to do in any other Canadian city. From snowmobiling to dog sledding, kayaking on the Arctic Ocean to hiking over tundra, catching a bite to eat or attending a festival, you're sure to find enough activities to fill your itinerary.
In addition to the specific activities, I've also included all the information I think you'd need to plan your trip: how to get to Iqaluit, where to stay, how to get around, the best time of year and more. This is a BIG post, so use the table of contents below to jump to exact information you're interested in.
My experience in Iqaluit: Part of the inspiration for writing this post came from reading other "things to do in Iqaluit" posts I found on Google – it was obvious they were written by people who hadn't lived in (or even been to) Iqaluit themselves. I've made two trips to Iqaluit: one where I lived there for four months supporting tours for guests (potentially you!) and another as a tourist myself. So know these recommendations come from a place of experience!
---
Map of Things to do in Iqaluit
All of the activities listed in the blog post can be found on the following map. In addition, I've included the airport, hotels, grocery stores and other points of interest. Iqaluit is a pretty small place, so most things can be accessed on foot. Otherwise, all taxis in the city are $7 per person, regardless of where in the city you are going (and this includes the town of Apex as well).
---
When to Visit & How Long to Stay
When you visit depends on what activities you want to do, and I go into extreme detail about Nunavut in each month of the year in this post. Long story short is:
Winter Activities: Mid-February through April. At this time of year, the days will be long (over 12 hours) the bay will still be frozen (needed for snowmobiling) and it's possible to see the northern lights.
Summer Activities: August through October. At this time of year, the tundra will be starting to change colour, the days will be getting shorter (but still over 12 hours) and there will be the possibility of seeing northern lights.
If you want to experience the peak of the midnight sun, May through July is the best time to visit. However, this limits the amount of activities you can do. In June and sometimes July, the bay won't be frozen enough for snowmobiling, but will still be too frozen for kayaking.
Another consideration to keep in mind is whether you want to visit a festival. Further in this post I've written about Alainait (an awesome cultural festival in June) and Toonik Tyme (the welcoming of Spring, in April), either of which you could plan your trip around.
I think four days is the perfect amount of time to spend in Iqaluit. Three days would be enough time to do most of the activities on this list, however weather in the arctic can be temperamental, so I think it's best to have the buffer of an extra day.
This post may contain affiliate links. If you make a purchase through one of these links, I may receive a small commission at no extra cost to you. Your support is much appreciated! You can learn more by reading my full disclosure.
---
How to Get to Iqaluit
One of the first questions I'm asked whenever I tell people I lived in Iqaluit is "How do you even get there?" (quickly followed by "Isn't it super expensive though?").
First of all, it's actually pretty easy to get to Iqaluit – there are direct flights from both Ottawa and Montreal by Canadian North. Both flights are around four hours. (If you want more details on getting to Iqaluit or travelling within Nunavut, check out this post).
The flights actually are quite expensive. Last I checked, the flight between Ottawa and Iqaluit was ~$750, but you can check the latest using the form below.
In my post How to Visit Nunavut on the Cheap, I have some tips on saving money – including how to score tickets for just under $250. (Hint: It involves Aeroplan.)
---
Where to Stay in Iqaluit
There are four major hotels in Iqaluit plus a handful of Airbnbs. I haven't stayed at any of these hotels myself (I was in the house when I lived in Iqaluit). However the guests I guided did, and they were always keen to offer their feedback. I've actually written an entire blog post with recommendations for where to stay in Iqaluit, but I've summarized all the info below.
Hotels
Frobisher Inn – Also known as the Frobe, this is a large hotel in the center of the city. The feedback I got from guests included:
Good location in the city
The rooms are nice and comfortable
Food options right at the hotel
Overall pleasant experience
The Discovery Lodge Hotel – The boutique hotel. Arguably the nicest hotel (when Leonardo DiCaprio came to Iqaluit this is the hotel he stayed in). Feedback:
Smallest hotel, nicest rooms
Not as great of a location (slightly outside the downtown core, however Iqaluit is so small it doesn't make a big difference)
Really good restaurant
Capital Suites – In all honestly I haven't heard much about Capital Suites (we didn't often book guests at this hotel) so I don't have feedback on this hotel. Sorry!
Bed & Breakfast
Accommodations By The Sea – Cute bed & breakfast outside of city center with great views of the Bay.
Small B&B with fewer guests and great hosts
Better prices for what you get
Breakfast provided, no other food options nearby
Great views of Frobisher Bay
Airbnb – There are also a few Airbnb options in Iqaluit. These are limited and you definitely need to book well in advance. An Airbnb won't be much cheaper than a hotel, but you will get access to a kitchen which will save you money eating out.
From conversations I had with guests, it seemed Accommodations By The Sea is the best option for accommodation in Iqaluit, followed by The Discovery Lodge Hotel in second. Next time I'm in Iqaluit, I'll try staying at some of these so I can give you additional first hand information!
What to Read Next: The Ultimate Nunavut Travel Guide
---
Winter Activities
The following activities are things you can do in Iqaluit during the winter.
Snowmobiling
Snowmobiling is one of my all-time favourite things to do in Iqaluit. First of all, because I love zipping over the frozen sea ice at 50 km/h. But also because the sea ice has some really cool features you won't notice unless you're on it for some time.
For starters, did you know that Frobisher Bay has the second highest tides in the world? It's hard to notice this in the winter, because the ocean is covered in a thick layer of sea ice. However, when you leave town and spend some time on the sea ice, the height of the tides because much more apparent. When the tide is in, the sea ice is flush with the surrounding landscape. But when the tide is out, the sea ice falls with it, leaving the impression of ice cliffs around the perimeter of the bay.
The second cool feature of sea ice is the polenya – essentially a patch of sea ice that never freezes and remains open water year round. This makes for a really beautiful sight, and you can sometimes see birds and other wildlife here.
You can read more about my experience on a guided snowmobiling trip here.
Ice Fishing
Join a local guide for a trip out on the sea ice. You'll travel over sea ice on snowmobile to come to a secret fishing spot. With the hole drilled and the rod in hand, you can try your hand at catching Arctic Char. I've never had lunch catching Arctic Char myself, but I always enjoy the excuse to get out on a snowmobile – and hey, maybe you're skills are better than mine!
Dog Sledding
Another winter activity that gets you out on the land is dog sledding. Dog sledding is the traditional transportation method for Inuit, and there are a handful of people who still dog sled today. I had a great time petting the dogs, riding behind them and feeding them. You can read more about the experience here.
Although, if you had to choose between snowmobiling and dog sledding, personally, I would choose snowmobiling.
Backcountry Skiing and Snowshoeing
If you want to get out on the snowy tundra in a slower way, you can join a guided skiing or snowshoeing trip. The gradual slopes of the tundra hills lends itself nicely to beginner skiers / snowshoers.
Northern Lights
Iqaluit is a good geographical position for hosting the northern lights, and if you visit between late September and early April, you have a good chance of seeing them yourself. (Check out this post on how to photograph the northern lights.)
If the northern lights is the primary reason for your visit to Iqaluit, then I'd recommend joining Arctic Kingdom's Northern Lights trip which, among other things, includes a town tour and a northern lights photography workshop.
---
Summer Activities
The following activities are possible in Iqaluit's summer months. If this is what you're interested in doing, I think August / September would be the best time to visit Iqaluit.
Hiking on the Tundra
Here's a fun fact for you about Iqaluit and, more broadly, Baffin Island. Despite being so far north, Baffin Island is still a part of the ancient Canadian Shield, a geography of exposed Precambrian igneous and high-grade metamorphic rock. Specifically, Baffin Island has some of the oldest rocks in the world. The oldest fossil was uncovered by scientists on Baffin Island – a species of red algae.
Unlike in the south, where ample vegetation can grow on the Canadian Shield, Baffin Island lies above the tree line. So instead of towering pine trees, the land has various mosses, lichens, berry patches and other low-lying fauna. Hiking on the tundra is unlike hiking anywhere else!
Hiking in and around Iqaluit is typically suitable for all levels of hikers. One benefit to the vast and sprawling tundra is a lack of elevation gain, so for the most part, you don't have to worry about any steep inclines or declines.
Apex Trail
This trail connects Iqaluit with its nearest town, Apex. The trial takes a little over an hour to complete and will take you by the historic Hudson Bay Buildings. There's a big hill you can climb at the end, which will provide additional views of the bay.
Note: The Apex Trail starts next to a cemetery (see below). Please be respectful when walking around the cemetery.
Sylvia Grinnell Territorial Park
On this hike, follow a trail along the Sylvia Grinnell River, a bright blue glacially-fed river. From the parking lot, it's a quick climb to a lookout deck. Then head down to the river and wander. There are a few points in the trail where you can climb up to higher ground for another vantage point.
Ward Inlet
This trail leaves Apex and goes toward Ward Inlet. Since you'll be out on the tundra and outside of town, I recommend hiring a guide for this one. It's easy to get turned around on the tundra (or, in very, very rare instances, encounter wild animals).
Sea Kayaking on Frobisher Bay
Once large pockets of Frobisher Bay are free of sea ice, it's a great time to go kayaking. You'll need to join a trip with an outfitter and get you suited up with dry suit, paddle and kayak, and then lead you on a guided tour of the bay. In addition to kayaking being a blast, I think this is a great way to see Iqaluit from another angle.
Canoeing on Sylvia Grinnell River
I've actually never done this myself, which is surprising because my two favourite things are canoeing and the arctic… and this activity has both! There is an option for a two hour hike along the Sylvia Grinnell River and then takes them down the river in canoes. This sounds like the coolest thing! Hopefully on my next trip I can try this out and let you know how it goes.
---
All-Year Sights to See Around Iqaluit
The following places are sights you can visit in Iqaluit year round.
Historical & Cultural City Tour
The easiest way to see all of the sights listed below is to take a tour with Inukpak Outfitting or organize a trip package with Arctic Kingdom. At the bottom of this post there are links to the specific activities they offer.
Unikkaarvik Visitor Centre
Unikkaarvik Visitor Centre is a great place to start your trip in Iqaluit. It's free to explore, you'll learn a ton about the arctic and history of Inuit in the area, and will be able to get recommendations about additional things to do and see in Iqaluit.
Nunatta Sunakkutaangit Museum
Adjacent to the Visitor Centre is Nunatta Sunakkutaangit Museum, Nunavut's sole museum. The exhibits promote local culture and history and showcase art from Inuit artists. There are three sections to the museum. The far room on the right has the most beautiful photos illustrating modern Inuit life. On the left, there is traditional hunting gear and clothing, plus you can watch short video clips created by students in other Nunavut communities.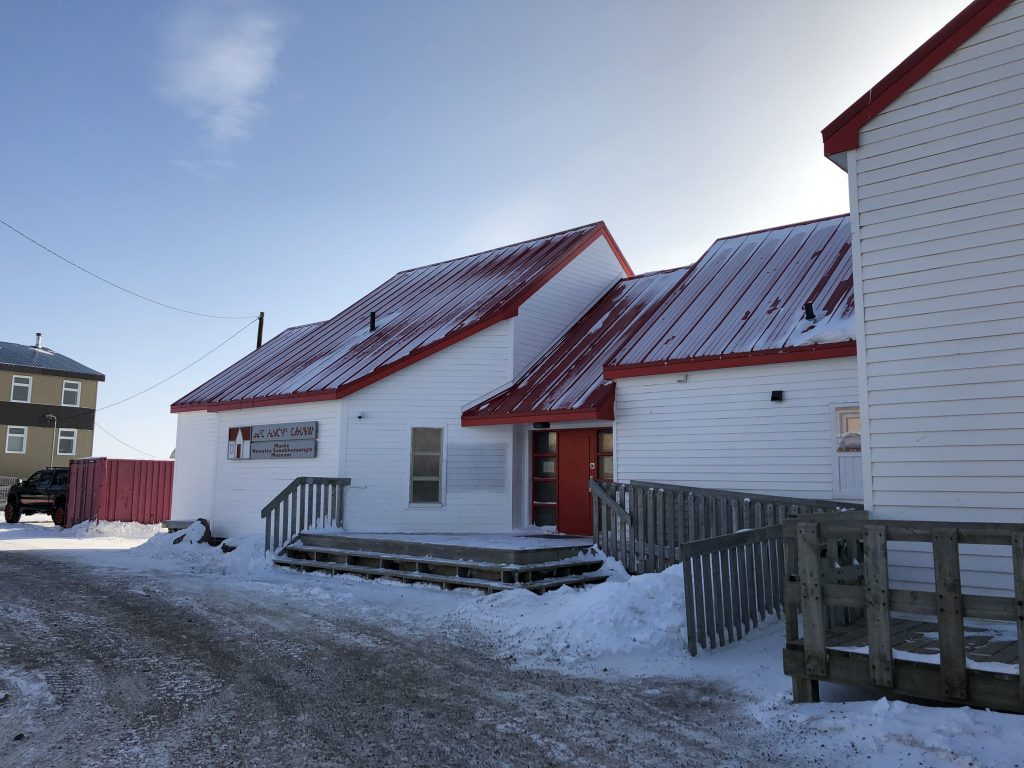 Hudson Bay Buildings
Even if you don't do the Apex trail hike listed above, you can still visit the Hudson Bay Buildings. In the town of Apex, a few minute's drive from Iqaluit, you can drive right up to them. The buildings were moved frequently between 1914 and 1943, until they eventually found their home in Apex. Today the buildings are boarded up, however you can see them from the outside.
Distant Early Warning Line
Iqaluit was home to a US military base after World War II. Built in the 1950s, the Distant Early Warning Line (commonly referred to as the DEW Line) was a radar system aimed at detecting a Russian air attack before it reached the United States. The system has long been dismantled, however it is still possible to drive up to it. From here you get an awesome view of Iqaluit and Frobisher Bay.
Legislative Assembly of Nunavut
The land that is currently Nunavut was once part of The Northwest Territories. However, the people of what is now Nunavut desired their own territory – to govern themselves in a way more closely tied to their culture, including the use of Inuktitut as an official government language.
It took three decades of hard work, but in 1999 Nunavut became a separate territory and Iqaluit became Canada's newest capital city. On a tour of the Legislative Assembly, you'll learn more about the formation of Nunavut and what makes the governing system here so unique. Call in advance to schedule a tour.
The Road to Nowhere
A drive down the Road To Nowhere literally takes you nowhere – it's just a road that stretches out into the tundra for couple minutes and abruptly stops. I've started some hikes from there and have gone ATV-ing in the area, but for the most part, it's just wide open tundra. That said, you get to say you've been down The Road To Nowhere, which in and of itself, sounds pretty cool.
---
Annual Festivals
Toonik Tyme
Toonik Tyme is a 10 day festival in April each year to celebrate the arrival of spring. Started in 1965, Toonik Tyme is a celebration of Inuit culture: the festival features traditional Inuit games, throat singing, dancing, a feast and more. It's a way to keep the culture thriving and the community close. I haven't been in Iqaluit to attend Toonik Tyme yet, but I'm planning my next trip to Iqaluit around it.
Alainait Arts Festival
The Alainait Arts Festival is an insanely cool music festival hosted in Iqaluit that brings together artists from across the arctic. This was actually the first music festival I ever attended and, boy did it set high expectations! There were musicians, dancers and other entertainment acts from across Nunavut, the other territories, Labrador and even Greenland. Hosted in late June when the midnight sun is at it's highest, Alainait Arts Festival is reason alone to visit Iqaluit in June.
---
Food Joints
NuBrew
NuBrew is a new-ish microbrewery in Iqaluit. It holds the title of Canada's most northernly microbrewery and is a great place to meet friends over a pint. They also host live music, trivia nights and other events at the brewery.
Black Heart Cafe
This is an absolutely excellent cafe in Iqaluit. They have, what I believe to be, the best breakfast sandwich I've ever had. They put a hash brown INSIDE the breakfast sandwich! Why doesn't everyone do this?!? Pair it with a handcrafted vanilla latte and you're in for a great meal.
Storehouse Bar & Grill
This is my favourite place to grab a drink and play a game of pool. It's located on the main floor of the Frobisher Inn. They do an awesome hamburger and have a great selection of beers / ciders (considering you're in the arctic, that is).
Tip for ordering drinks: You know how you normally head to the bar and semi-elbow your way to the front to order a drink? Yeah, people don't do that here. There's actually a line that forms from the bar and people wait a moment for their turn to order a drink.
Nunavut Country Food
This is where you can pick up delicious frozen Smoked Arctic Char to take home with you. It's great as a fancy substitute to smoked salmon on bagels with cream cheese, or in rice paper spring rolls.
---
Tour Operators in Iqaluit
There are two primary tour operators in Iqaluit, both of which I have experienced personally.
Arctic Kingdom
First of all, there is Arctic Kingdom (the guiding company I worked with when I was living in Iqaluit). They offer two trip packages, which is perfect if you want to have the majority of your trip organized for you in advance. Both trip packages include all activities, hotel stays and round-trip airfare from Ottawa to Iqaluit. Arctic Kingdom has negotiated a special rate for airfare, so save money when you book everything through them.
Inukpak Outfitting
Second, there is Inukpak Outfitting, which is a better option if you want to book specific activities rather than your entire trip. Also, they are the only outfitter that offers snowmobiling, dog sledding and skiing / snowshoeing.
---
Additional Resources
I hope this has been helping in planning your trip to Iqaluit (or showing you why you should take a trip here). Before I sign off, here are a few additional posts I've written to give you even more information about traveling to Iqaluit.
[optin-monster slug="s7d23jwl8nn8k8hen6l8″]
What to Read Next: How to get to Nunavut, Canada's Seemingly Inaccessible Territory