Certain destinations are suitable any time of year. Some months may have better weather, but other months will have fewer crowds. Well, Nunavut – a destination as off-the-beaten-path as they come – has no crowds ever so that mentality isn't going to fly here.
Some months are absolutely gorgeous and other months you'd rather stay inside. You're likely to make one, maybe two visits to Nunavut in your lifetime, so there is a best time of year to visit Nunavut and you should plan your trip accordingly.
This post may contain affiliate links. If you make a purchase through one of these links, I may receive a small commission at no extra cost to you. Your support is much appreciated! You can learn more by reading my full disclosure.
Now, in all fairness, I haven't lived in Nunavut in every season, so I've asked my friends who live in Nunavut full time what they think. There is agreement that the best times of year to visit Nunavut are either March/April or August/September.
If you want more of an explanation than that, here is a comprehensive look at what to expect in Nunavut at any time of year.
Note: Nunavut is simply massive, so of course the temperature and daylight hours will vary based on your location. The following descriptions apply to Iqaluit (the most populous community and most popular destination for visitors) but they can be roughly applied throughout the territory.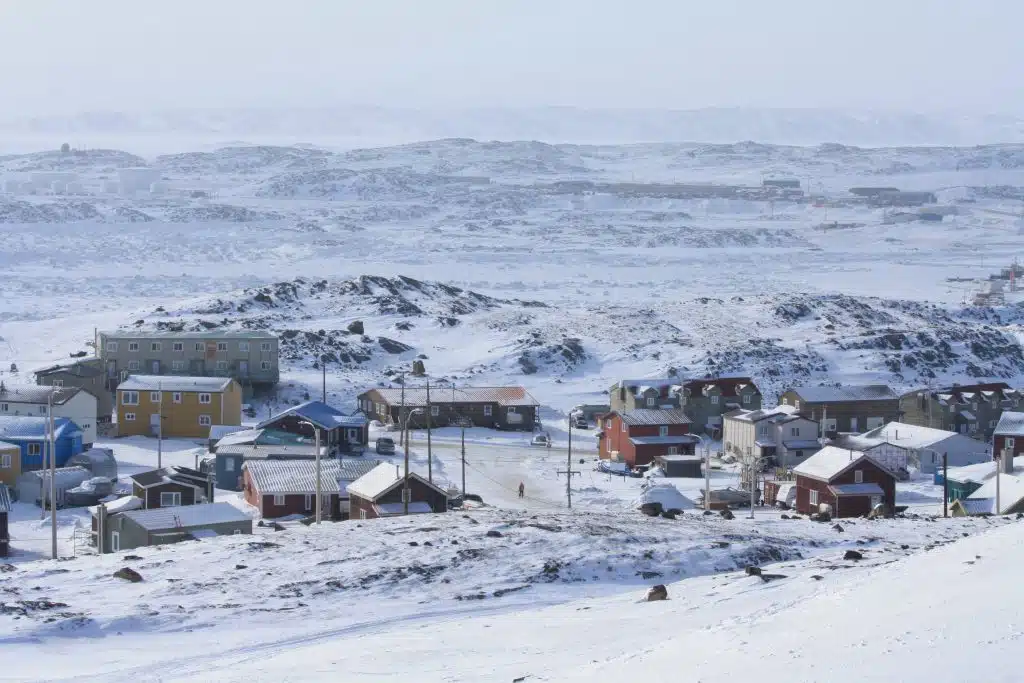 January to mid-February: A whole lot of cold darkness.
The winter solstice is in December, so from January to mid-February the days are getting progressively longer, the nights progressively shorter.
That said, you are still likely to encounter at least 18 hours of darkness during this time of year (the exact number of hours is dependent on where you are in the territory).
Also, I'm told it's bloody cold. Across the territory, you're average HIGH in January is between -23 C and -29 C. With all that dark and cold, it's difficult to do activities outside.
Locals will still get out, but if you aren't used to those kinds of temperatures, don't visit Nunavut in January and February.
In summary: Northern Lights. Cold. Dark. Not much to do.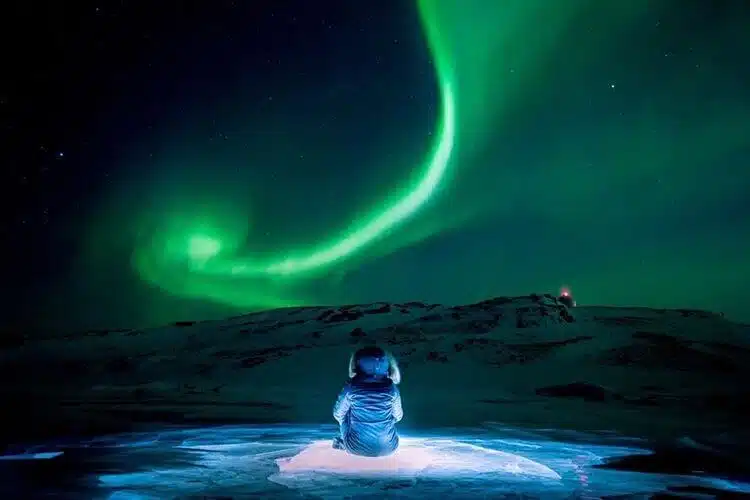 Mid-February to April: The arrival of sunshine!
If you want to do winter activities (think snowmobiling on the tundra and dogsledding on the arctic ocean), mid-February to mid-April is the best time of year to visit Iqaluit.
The sun has come back and the temperatures are beginning to get warm. For reference, I was there at the end of March when the temperature was around -10 C to -15 C and there was about 12 hours of sunshine.
Visit mod-February to late-March for the last northern lights of the season, or visit in April for Toonik Tyme, a celebration welcoming the return of summer.
In summary: Daylight. Cold-ish. Snowmobiling. Dogsledding. Celebration of sun.
May and June: Awkward shoulder season
May and June are warmer and sunnier than March and April, so this should be an even better time to visit right? Unfortunately, that is not the case.
If you are visiting Iqaluit, in May and June there is (usually) not enough ice to go snowmobiling and too much ice to go kayaking. In guiding terms, we call this a "shoulder season".
Even off the ice, the tundra is still partially covered in snow and May/June tends to get foggy and overcast. However, May and June are decent months for joining a floe edge arctic safari. The floe edge, where sea ice meets the open ocean, is a hotspot for wildlife; narwals, beluga, polar bears and other creatures are active at the floe edge.
May and June are the best times to visit if you are interested in camping on a floe edge (and have some serious change in your pocket).
In summary: Sunny. Warm. Shoulder season. Floe edge safaris.
What to Read Next: 21 Unique Things to do in Iqaluit, Nunavut + The Ultimate Iqaluit Travel Guide
July: Warm, sunny, bug bites
July can be really nice. The days are long and the temperature is about the warmest it'll ever be. The only downside are the mosquitoes, and this will be an issue if you are hiking out on the tundra (a great activity to do in the summer).
Despite the bugs, a trip to Iqaluit in July can still be enjoyable, especially if the flowers are blooming.
In summary: Sunny. Very warm. Hiking. Bugs.
August, September and October: The colourful months.
From August to October, Nunavut becomes a world of colour. The tundra shifts to oranges, reds and deep purples with a vibrancy that rivals the autumn foliage down south, and sets a backdrop for the many wildflowers that popped up in June and July.
It's progressively darker and colder, but with the added darkness the northern lights return. From August to mid-September, you can go kayaking and throughout August, September and October you can go hiking.
The temperatures will be cooling down (bring a warm coat) but won't be cold enough to discourage outdoor activities.
In summary: Colourful. Northern lights. Hiking. Kayaking. Pleasant temperatures.
November and December: Very dark and very cold
According to my friends, this is the worst time for your first visit to Nunavut. Depending on the part of the territory you're in, you may have between 20 and 24 hours of darkness each day.
The temperatures are just as cold as January (hello highs of -29 C!) and there aren't many activities to do.
In summary: Cold. Dark. To conclude, the best time of year to visit Nunavut is either March/April or August through October.
What to Read Next: How to Visit Nunavut on the Cheap.
Have you visited Nunavut? When did you go and what did you think of the time of year? Let me know in the comments below!
Additional Resources