Hello friends! With summer on its way, it's time to start planning canoe trips for the upcoming season. To help you plan some incredible canoe trips, I've put together a list of resources I use to find canoe routes.
Some are great for planning specific itineraries (canoe trip maps and trip reports), while others are better for inspiration (Youtube). Some are great for answering specific questions (Facebook groups) and others are good for planning logistics (outfitters). All in all, I hope these resources set on the path to planning an amazing canoe trip!
In this post, I've included details on the following resources for finding canoe routes.
Guidebooks
Canoe Route Maps (both online and paper)
My Canadian Canoe Routes
Outfitters
Topographic Maps
Blogs
Facebook Groups
YouTube
This post may contain affiliate links. If you make a purchase through one of these links, I may receive a small commission at no extra cost to you. Your support is much appreciated! You can learn more by reading my full disclosure.
---
📚 Guidebooks
I've found guidelines particularly helpful for two things: 1) learning about routes in areas I'm unfamiliar with, and 2) getting a very deep understanding of a single destination.
For the former, I'll look to books like 60 Top Canoe Routes of Ontario or Ontario's Lost Canoe Routes. Both of these books are by Kevin Callan and they provide a ton of information on specific canoe routes in areas you may never have heard of.
On the other hand, there are guidebooks for specific destinations that are super helpful for planning campsites, portages and rapids. For example, Hap Wilson's books on the Missinaibi River or Rivers of the Ottawa Valley provide campsite ratings, portage descriptions, and illustrations and classifications for rapids.
There's also a lot of information about the history and culture of the area. If I'm doing a whitewater canoe trip and Hap has a book on the river, I'll buy the book and read it cover to cover while planning my canoe trip.
I'll usually pair one of these books with a canoe map from Chrismar (more on that below) to find where the specific campsites are and get the most up-to-date information on portages and campsites.
---
🗺️ Canoe Route Planner
The Canoe Route Planner is an interactive mapping tool I've been building for the Trip Reports website. The tool allows you to select access points, campsites and route settings (like paddling speeds, number of portage trips, etc) and it'll map your route for you.
The route will provide you with the distance and estimated time for each day of your route. I'm also adding photos and descriptions to as many features as possible.
You need an account to use the Canoe Route Planner, and you can create a free one here.
---
🌟 Trip Reports
Trip Reports is a database of over 100 trip reports for backcountry camping routes in Canada. The majority of reports are for canoe routes, making it an excellent resource for planning a canoe trip. Each of the reports includes the following information:
Route Map
Outfitters / Shuttle options
Day-by-Day Itinerary (including campsite and portage descriptions)
Advice
Photos (and sometimes a trip video)
I think the site is amazing, but I'm also a little biased as I created the website and manage the reports. Each report is written by an adventurer I know who did the trip personally. Once submitted, I go through the report to ensure it's accurate, comprehensive and ultimately up to my standards.
🔥 Tip: If you only need a specific trip report and don't want to formally join Trip Reports, send me a message and I'll get you that report!
---
🗺️ Canoe Trip Maps
Canoe trip maps are another great way to build your own canoe routes. Once you have an idea of which park or region you'd like to camp in, you can either find a canoe route map online or order a paper copy.
Chrismar Adventure Maps (Paper)
My favourite paper maps are the Chrismar Adventure Maps. I own a ton of them (both for destinations I'm planning to visit and others I'm curious about). Each map contains information on the campsites, portages, natural features and history of the region.
There are 67 maps in total, so I won't list all of the destinations, but here are a few of my favourites:
Algonquin Provincial Park (multiple maps covering different sections of the park)
Bon Echo Provincial Park
Killarney Provincial Park & Phillip Edward Island
Missinaibi Lake Provincial Park and Missinaibi River Provincial Park
Temagami (multiple maps covering the region)
Algonquin Provincial Park (multiple maps covering different sections of the park)
Bon Echo Provincial Park
Killarney Provincial Park & Phillip Edward Island
Missinaibi Lake Provincial Park and Missinaibi River Provincial Park
Temagami (multiple maps covering the region)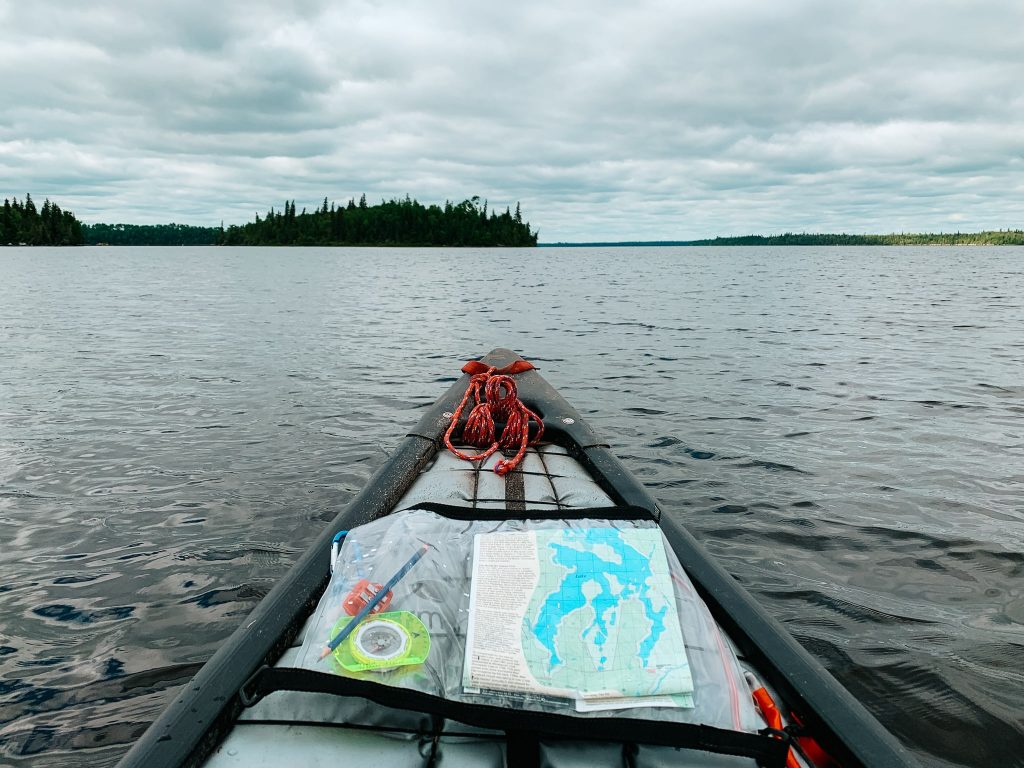 Online Maps
---
My Canadian Canoe Routes
To my knowledge, My Canadian Canoe Routes is the largest collection of canoeing trip reports online.
The trip reports have been submitted by users over the last three decades, so the details and timeliness of the reports is sort of a mixed bag. But if you're looking for information on a lesser-known route, this is your best bet.
---
Outfitters
Another resource I'll sometimes consult is the outfitter for the region. Outfitters are experts on the destinations in which they operate.
They often know tips for routes that the general public is not aware of (like where the best campsites are, which lakes are the quietest or which portages you should absolutely avoid).
For example, when I was paddling the Missinaibi River, we called Missinaibi Outfitters to inquire about route options. We asked about the different access points and which would be the easiest to access and we asked for guidance on water levels and how long our proposed route would likely take. The outfitter was super helpful in getting us set up (and gave us a great rate on the shuttle) and gave us some tips about things to see along the route.
Now, it always helps if you're going to be using the outfitter's services. If you're inquiring about canoe routes, don't be surprised if they suggest a route that requires a shuttle or ask if you'll need somewhere to stay the night before your trip.
That said, I've never heard of an outfitter withholding information from people who aren't engaging their services.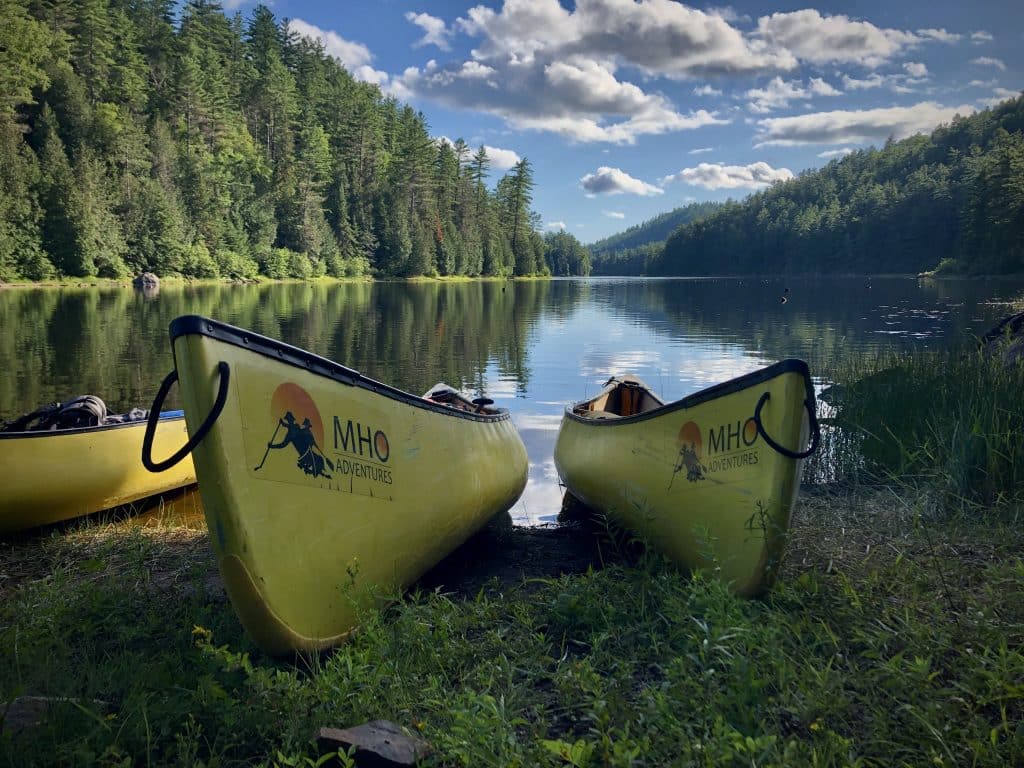 ---
Blogs
Another place to find trip reports is on personal blogs!
For example, Voyageur Tripper is obviously a great resource (if I do say so myself). I follow up each of my canoe trips with trip reports and destination guides, any of which can help you plan your own canoe route.
Besides my own, there are dozens (nay, hundreds!) of personal and company blogs with canoe route information. If you Google specific canoe routes, you should be able to find a blog post with a trip report about the route.
I sometimes refer to Canoeing.com, which has a lot of diary-style trip reports, especially for destinations in the US. Another regular is All of Algonquin, which is a great site specifically dedicated to Algonquin Provincial Park.
🔥 Tip: A lot of personal blogs don't show up on the first page of Google search results as they get 'outranked' by larger, more generic websites. Click through to the second or third page of results and you'll likely find someone has written about the route you're considering.
---
Topographic Maps
If you're planning a canoe trip in an area that isn't a common destination (like crown land in northern Ontario or the territories), you'll likely need to rely on topographic maps.
Topographic maps provide information on land and water features, contours, roads and more. Depending on the area, though, can come in varying degrees of accuracy.
---
Facebook Groups
Facebook Groups can be either awesome or awful resources for finding canoe routes. Here are the canoe groups I'm a member of:
Ontario Canoe Trippers
Crown Land Camping Ontario
Experienced Ontario Canoe Campers
Backcountry Camping Ontario (my favourite)
These can be a great starting point if you're trying to decide which region to visit. If you're debating a destination, post a question like "Between Wabakimi, Quetico and Woodland Caribou, which would you recommend for a 5-day canoe trip?"
A question like that will garner a lot of responses from people who have been to at least one of those parks. People will usually provide reasons for why their favourite place is the best and you can use that information to guide your decision.
Alternatively, you can ask for really specific canoe route advice. A question like "For those who have paddled the Spanish River, what did you for parking at the end of Agnew Lake?" can give you specific answers without combing the web for information.
So most of the time it's awesome. Many of the people in the Facebook groups are wonderful people, both novice and experienced paddlers, ready to help out.
But occasionally, you'll ask a seemingly innocent question and get attacked by people who have nothing better to do than criticize others.
I find any question that offers personal information can be a catalyst for trolls. If you say something like "I'm looking for a 3-day canoe route in Algonquin that has minimal portages because I'm still paddling solo", there's the possibility that people will respond with a rant about how you shouldn't be camping solo (expect this if you have an obviously female profile).
So all in all, use Facebook groups for whatever questions you have but don't take it personally if you get some not-so-nice comments.
---
YouTube Videos
The final resource I'll speak to is YouTube. YouTube videos by canoeists are fantastic for getting inspiration and learning about new destinations. I look to channels like Ted Baird, Canoe The North, Explore the Backcountry and Northern Scavengers.
Most YouTube videos are pretty vague about the specific route and campsites, so you can't get enough information to plan your own canoe trip solely using the videos.
But after watching a video about a destination, you can turn to guidebooks, maps, and trip reports to plan your own canoe route.
---
How to Find Canoe Routes – Final Thoughts
Hopefully you're found this post helpful and you're ready to start planning some canoe trips!