If you're just getting started, or interested in advancing to more challenging trails, packing for a hike can be a little daunting. You want to bring everything you need to be safe and comfortable in the wilderness, but you also don't want a heavy backpack that'll be hard to carry or slow you down.
So today I'm going to go over all of the items you should be packing for hiking – and the conditions under which you would bring them. Packing for a casual stroll in the forest is very different than an 8-hour trek up a mountain. The gear and clothing you bring should reflect the duration, difficulty and location of the place you're hiking.
In this post I'll go over:
---
What to Pack on a Day Hike – Summary
Here is a quick summary of what you'll want to be packing for a hike. You won't bring everything on every hike, but pick and choose items based on the specific characteristics of your hike (which I'll go into detail in the next section).
Backpack
Sturdy Footwear
Active Clothing (not cotton)
Insulating Layer* (not cotton)
Rain Jacket
Navigation* + Communication* (map + compass / GPS / satellite phone)
Food* (snacks + emergency meal)
Water* (bottle + filter)
First Aid Kit*
Fire Kit* (lighter + fire starter)
Sunscreen* + Bug Spray
Headlamp*
Emergency Shelter*
Knife*
Trekking Poles
Whistle
Bear Spray
*These items are part of the 10 Essentials for safe outdoor activities.
Read More: 10 Essentials for Hiking and Camping: Explained in Detail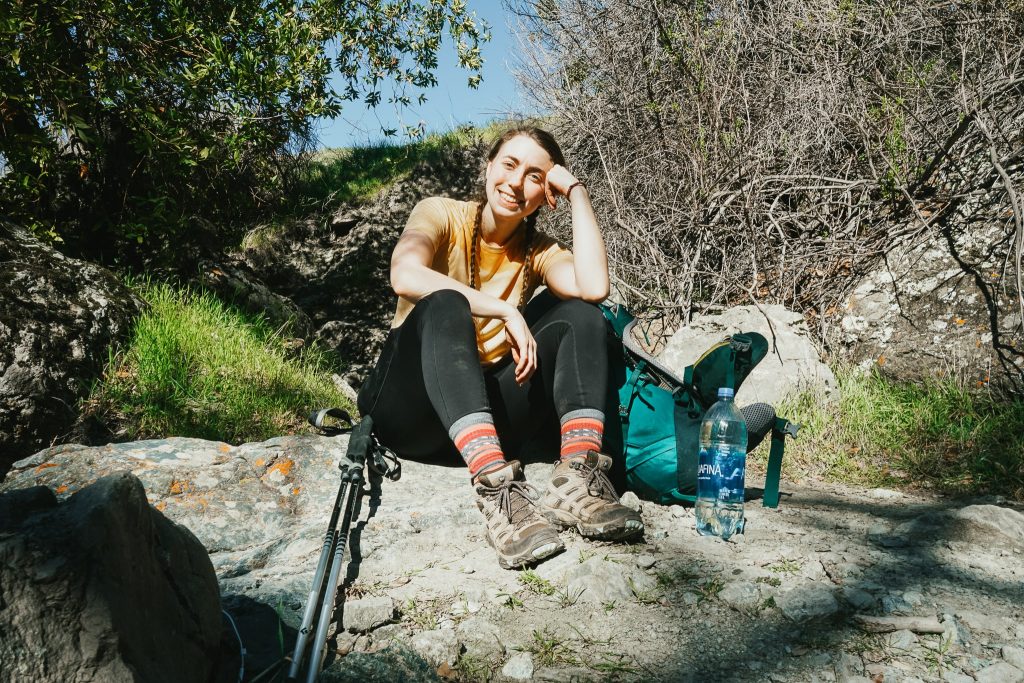 ---
Considerations When Packing For A Day Hike
What you pack for a hike will be dependent on a lot of factors. There's a huge difference between an eight-hour trek up a mountain and a two-hour walk through a forest.
How Long Is The Hike?
As a general rule, you'll need to pack more gear for longer treks. If you're spending more time on the trail, you'll probably be going further from your car and increasing the opportunity for injury. As such you'll want to bring a small, but well-stocked, first aid kit. You'll also have greater requirements for food and water on the hike. If you'll be out for most of the day, ensure you pack the 10 Essentials (detailed below) in case you have to be on the trail overnight (i.e. in the event of injury or getting lost).
For short, local hikes, you can usually get away with water, snacks, a sweater and a cell phone.
How Difficult Is The Hike?
There are a few elements that affect how difficult a hike is. Elevation gain is a major factor – if you're new to hiking, a hike with a lot of elevation gain will have lots of ups and downs. In this case, injury is more likely (rolling an ankle is a common injury) and you'll be much more tired. Remember a first aid kit and a lot of snacks and water. Trekking poles can also be really helpful.
Another factor is how well defined the trail is. A commonly hiked trail will usually be worn down and easier to follow. A trail that isn't travelled very often might not have great markers, increasing the likeliness of getting lost. In this case, a GPS and/or paper map and compass becomes more important.
How Remote Is The Hike?
A three-hour hike in Alaska is very different than a three-hour hike outside San Francisco. When you're in a remote area, assume medical assistance will take a lot longer to reach you in the event of an injury. As such, you need to pack the gear to be self-sufficient. That means more items in your first aid kit and overnight gear (the 10 Essentials) in the event you're out overnight. Cell service may be spotty or non-existent, so you'll want a satellite communication device, a paper map and a compass.
When in doubt, pack more than you think you'll need. You can never be overprepared!
Additional questions on what to bring on a hike? If after this post you still have questions, send me a message on Instagram and I'll do my best to help!
---
Safe Essentials To Pack For A Hike
Okay, now that we're going into detail about all of the items you might need to pack for a hike, let's start with the safety essentials. These are the items that are going to keep you safe if you end up being out in the wilderness longer than expected. Say you get lost and have to spend the night in the forest, or you get injured and rescuers won't be able to reach you until the next day… these are the items that will save your life.
Tip: I like to keep a lot of the safety essentials in a small waterproof bag called my 'Survival Bag'. If I'm doing a hike longer than an hour or two, or if I'm hiking solo, I'll put the bag in my day pack. I rarely ever need it, but I like having it with me just in case. In my Survival Bag, I have water purification tablets, emergency meal, a lighter, a fire starter, an emergency blanket, a compass and a small first aid kit.
Navigation + Communication Device (Map, Compass & GPS)
For hikes deep in the backcountry, a paper topographic map and a compass are two essential navigation tools. They're dependable, light, and long-lasting, and they'll never run out of batteries. They can help keep you from becoming lost (or at least find your way back if you do get lost). They will, however, be useless if you do not know how to use them. So before you go on your next big backcountry adventure, brush up on how to use a topographic map (like how to read contour lines or set a bearing).
For short hikes that aren't too far from civilization, you should still have some means of navigation on you, though you don't necessarily need to bring a paper copy. Instead, there are a few apps that allow you to download topographic maps to your phone and track your route on their GPS. I do this with AllTrails.
In addition, whenever you are going somewhere that cell service isn't guaranteed, you should bring an emergency communication device. I like the Garmin inReach Mini – if you get yourself into trouble, you can send an SOS message with your location to emergency services.
Also, on big backcountry adventures, try to keep your maps dry and safe. I recommend storing them in a transparent, waterproof map pouch (so you can read it in the rain without it getting soaked). If you expect to use GPS frequently, you should bring a USB power bank with you in case your gadget runs out of battery. While GPS devices can be very handy and convenient on the trail, they should never be used as a replacement for a map and compass.
First Aid Kit
When hiking in the bush, you should always have a well-stocked first-aid kit with you. The majority of hikers purchase a pre-packaged wilderness first aid kit, which provides a portable and dependable solution for minor ailments. As your trail experience grows, you'll be able to add other items from your first aid kit to meet your specific needs. Also, remember to replace everything you use as soon as you get home from your hike. If you're making your own First Aid Kit, don't forget to add a CPR mask, Epi-pen, Medical Gloves, Bandages, and antiseptic wipes.
Read More: How to build your own Wilderness First Aid Kit
Water + Water Purification
It's critical to keep adequately hydrated when on the trail. Dehydration is one of the most common ailments in the backcountry! Water is required for the correct functioning of all of your body's key functions. Water helps you stay cool in hot weather, warm in cold weather, and keeps your muscles and joints working as they are supposed to so you don't get hurt when hiking.
Pack enough water to last the duration of your trek, and bring a lightweight water filter in case you run out. Another common ailment in the backcountry is stomach issues from drinking contaminated water. Even if the stream looks crystal clear, harmful bacteria could still be lurking in it.
Be aware of water sources along your path – for example, if you're hiking in a desert or on a mountain, will additional water sources be available? If you're unsure, pack extra. One gallon (or 4 liters) per person is suggested for a 24-hour water supply. Make sure you have enough water, either in the form of water bottles or a hydration bladder, so you may drink whenever you want while hiking.
It's also worth remembering that, while water is essential, it's also one of the heaviest items you'll carry. If you're going on a long hike with lots of water sources, you can avoid carrying lots of water by bringing a water filter.
For lightweight options, you can either bring a small handheld water filter, like the MSR TrailShot or LifeStraw, or you can keep a pack of Water Purification Tablets in your bag.
Food
When packing for a hike, make sure to carry enough calories to keep your energy levels up for a full day of exercise. While hiking, I frequently eat bars (Larabar and Kind bars are my favs), dried fruits, almonds, chocolate and jerky. For a full day hike, I'll also bring a hearty lunch like tuna melts, pita pizzas, pasta salad or a freeze-dried meal. Check out the post below for more lunch ideas.
If you're going on a long hike in a remote area, carry some extra calorically dense food in case your journey goes longer than anticipated. I like to keep two Clif bars and a freeze-dried meal in my survival kit just in case.
Read More: Best Hiking Lunches: 16 Easy, Delicious & Creative Hiking Food Ideas
Headlamp
If there's even a small possibility you'll be hiking into the evening, headlamps are a must-have tool. On a casual three-hour hike I don't bring a headlamp, but I do for anything longer than that, in the autumn/winter or in the mountains. If you get lost, you could be on the trail into the evening and your phone battery will quickly die if you're using it as a flashlight. Another obvious benefit they have over flashlights is that they keep your hands free. They are incredibly light, weighing only a few ounces, allowing you to comfortably walk around while wearing them.
I own a fairly inexpensive Petzl headlamp that is separate from the headlamp I take backpacking. I keep this one in my survival bag at all times and never think about it.
Insulation
Even when hiking in the summer, I always bring a sweater and a pair of pants. The weather can change quickly in the woods or in the mountains, so taking an extra layer of insulating clothing (i.e. fleece) will keep you warm. When the temperature drops, a simple layering, and quick-dry clothing strategy will keep you safe and comfortable. >>This is my favourite lightweight hiking sweater.
The next section of this post goes into detail about clothing. I also have an entire blog post on layering for hiking which goes over exactly what to wear and how to wear it to stay safe outside!
Read More: Layering Clothing for Hiking: The Most Comprehensive Guide
Emergency Shelter
You'll already have a shelter in your bag if you're going on a multi-day hiking trip. However, when packing for a day hike, you might not be thinking about the need for shelter.
For long & remote day hikes, you should bring an emergency shelter just in case you get stuck overnight. I recommend packing a tiny, emergency blanket or bivy (I prefer the bivy) – you can find lightweight, inexpensive options that pack super small at both MEC and Backcountry. Although it seems unnecessary, it might save your life if you ever find yourself in a lost or injured overnight!
Knife
A knife is one of the 10 essentials and a super handy tool for both everyday like and emergency situations. For example, I've used my knife to cut bandages to cover bleeding, cut rope and make kindling for a fire. I'm currently using this knife, because it has a larger, serrated blade which is better at cutting rope and making kindling. But for beginner day hikers I find this Swiss Army Knife does a great job. Though in total honesty, my knife usually spends more time cutting cucumbers and spreading cream cheese than it does cutting rope or saving my life!
Fire Starter
Being able to start a fire in any weather is an invaluable skill. Look for a few videos on Youtube on lighting fires in extreme weather – it's amazing what people can do out there! Each experienced outdoor person will have their own fire starting kit based on their preferences; here's what's in mine:
I always pack two tiny lighters, a few stormproof matchsticks, and a few small fire starter cubes. Fire starter (or fuel cubes) will burn for a while and catch to other dry wood. You can also make your own fire starter by soaking cotton balls in Vaseline. Finally, I have a flint and steel in my survival bag, but never really use it (I'm also terrible at it, so it's really not offering me much benefit – hence why I bring matches and lighters too).
Sun Protection
Even if the weather appears to be overcast, sun protection is an essential element of every backcountry excursion. You'd be amazed how easy it is to get a sunburn on a mountain even when it's overcast! Every hiking excursion should include sunscreen, SPF lip balm (if your lips are easily sunburned like mine), sunglasses and / or a brimmed hat. I am a huge fan of bucket hats and Tilley hats. >>This is the brimmed hat I have. It was my grandpas and has been in use since the '80s and it still works amazing!
And if there's a chance you'll be swimming, please only wear non-toxic, environmentally-friendly sunscreen!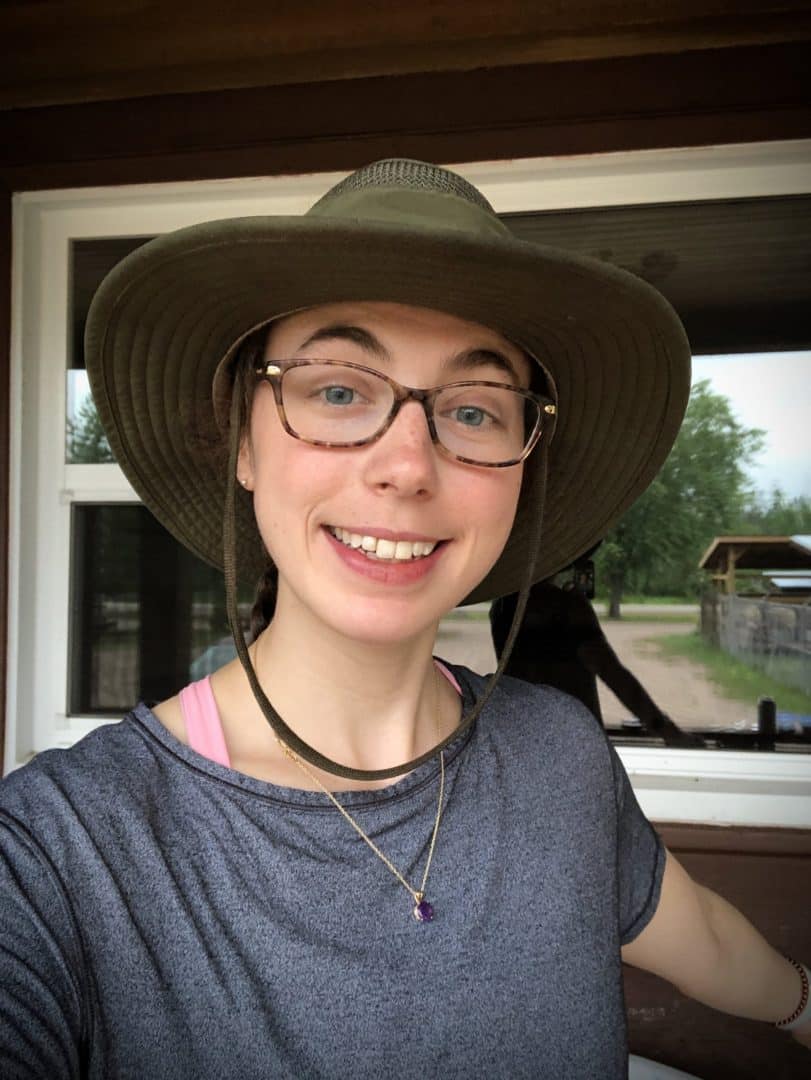 ---
Clothing Essentials To Pack For A Hike
Sturdy Footwear + Wool Socks
Despite popular belief, going hiking does not necessitate the use of hiking boots. You can get away with wearing regular running shoes or any other active shoe for a gentle or short hike. If you're going on longer hikes with variable terrain and higher elevation gains, then you'll want to consider hiking boots, hiking shoes or trail running shoes.
In comparison to running shoes, trail running shoes have stronger midsoles to provide additional support on rocky trails and uneven surfaces. Often they'll be faster drying too. Hiking boots and hiking shoes are very similar, with the biggest difference being the amount of ankle support. Hiking shoes typically end below the ankle joint, whereas hiking boots end above the ankle joint. I personally prefer hiking boots because I have weak ankles, but either works for a day hike! >>These are my current hiking boots.
And don't forget to wear a pair of wool socks with hiking boots. I know they're expensive, but they will be so much more comfortable that cotton socks. They provide more cushioning and are faster drying (especially with sweat), and as such less likely to cause blisters.
Read More: Guide to Buying Beginner Hiking Boots
Hiking Shirt
On the top, you'll want to wear a hiking shirt or an athletic shirt. The shirt material matters – avoid cotton because once it gets wet, it never dries and it'll chill you down. Polyester or another synthetic athletic shirt works, or if you have a little room in your budget, consider a merino wool hiking shirt. These are soft and incredibly comfortable, plus merino is quick-drying and keeps you warm even when wet. >>This is the hiking shirt I'm currently using (and loving).
Hiking Pants / Shorts
You'll probably want a pair of conventional hiking pants if you're going on a lengthy or multi-day trip. These are composed of a tough, weather-resistant cloth that is also breathable. There are also several leggings created particularly for hiking by outdoor manufacturers. They're designed to be durable and comfortable, with reinforcing around the knees, buttocks, and seams to avoid rips. Hiking in shorts is perfectly okay if the weather is mild and not too humid. Any athletic shorts would suffice.
>>These are my favourite hiking shorts.
>>These are my favourite hiking pants.
Rain Jacket
When packing for a hike, never bail on a rain jacket even if the forecast says there is no possibility of rain (I have made this mistake many times!). The weather at higher altitudes, especially, can turn on a dime. Alternatively, if anything unexpected occurs and you are stranded on a trek overnight, the rain jacket will keep you warm.
Sweater
I always like to pack a non-bulky fleece sweater on hikes. Fleece is a polyester fabric that is soft, warm, quick-drying, and breathable, making it ideal for the outdoors. You will feel cold on mountain peaks and when hiking in the shade, so carry a light fleece for those occasions. If I'm hiking somewhere in spring, autumn or when I might be out into the evening, I'll bring a light down jacket as well.
---
Other Things To Take On A Hike
Backpack
So you've been packing for hiking and assembled all the things you want to bring… what are you going to put it all in? If you're just getting started in hiking, there is no need to go out and buy an expensive backpack. Once you start doing longer and harder hikes, however, a proper day hike becomes more important.
Day packs have hip belts and sternum straps which help keep the backpack secure and reduce the weight on your shoulders. They also have plenty of pockets for organizing your gear, and many have little pockets on the hip belt so you can access small items without having to take off your backpack.
Backpacks come in a wide variety of sizes depending on how much gear you need to carry. My current day pack is 28L and it's a little big for most half-day hikes. However, it is excellent for full-day hikes when I have lots of food to bring or when I want to bring lots of layers.
Read More: 10 Best Hiking Daypacks (2021 Review & Guide)
Trekking Poles
Trekking poles aren't required equipment, although many hikers prefer them for a number of reasons. The major advantage of trekking poles is that they minimize knee impact and enhance stability, which may be especially useful on lengthy uphill or downhill trail sections or while crossing rivers. Trekking poles can also be used as tent pole supports for a variety of lightweight shelters, reducing weight on long-distance treks. >>These are the trekking poles I use.
Whistle
Although not considered one of the 10 Essentials, I strongly recommend having a whistle on your backpack. Many hiking backpacks have whistles built into the sternum strap, but I prefer to have a good, ol' reliable Fox40 whistle tied to the strap. As you can see in the second photo below, I keep the whistle secure with a carabiner and within easy reach. Three whistle blasts in a row is the universal signal for 'I need help'.
Bear Spray
If you're hiking in grizzly bear country, it's usually advisable to bring a canister of bear spray. Before you start your hike, check the local regulations. There are rules around where you can bring bear spray and how you carry / transport it. If you are bringing bear spray, ensure you know how to use it and store it somewhere you can easily access it (i.e. not in your backpack, but on a hip belt).
PowerBank + Charger
Since I use my phone for navigation on a lot of hikes, I'm very paranoid about never running out of phone battery. I bring a fully charged PowerBank and an iPhone charger on all of my hikes. The PowerBank I use can store 4-5 iPhone charges, which I've found to be more than enough for a full-day hike.
Hat & Mittens
If you're hiking for sunrise / sunset or in the spring or autumn, it may be a good idea to bring a warm hat and mittens. I remember this one sunrise hike I did… it was so windy and the mountain was very exposed and my hands were so cold I could barely feel them.
Backpacking Gear
For multi-day hikes, you'll need to pack additional items. That includes a tent, sleeping pad, sleeping bag, cookware and more. Check out this post on packing for backpacking trips.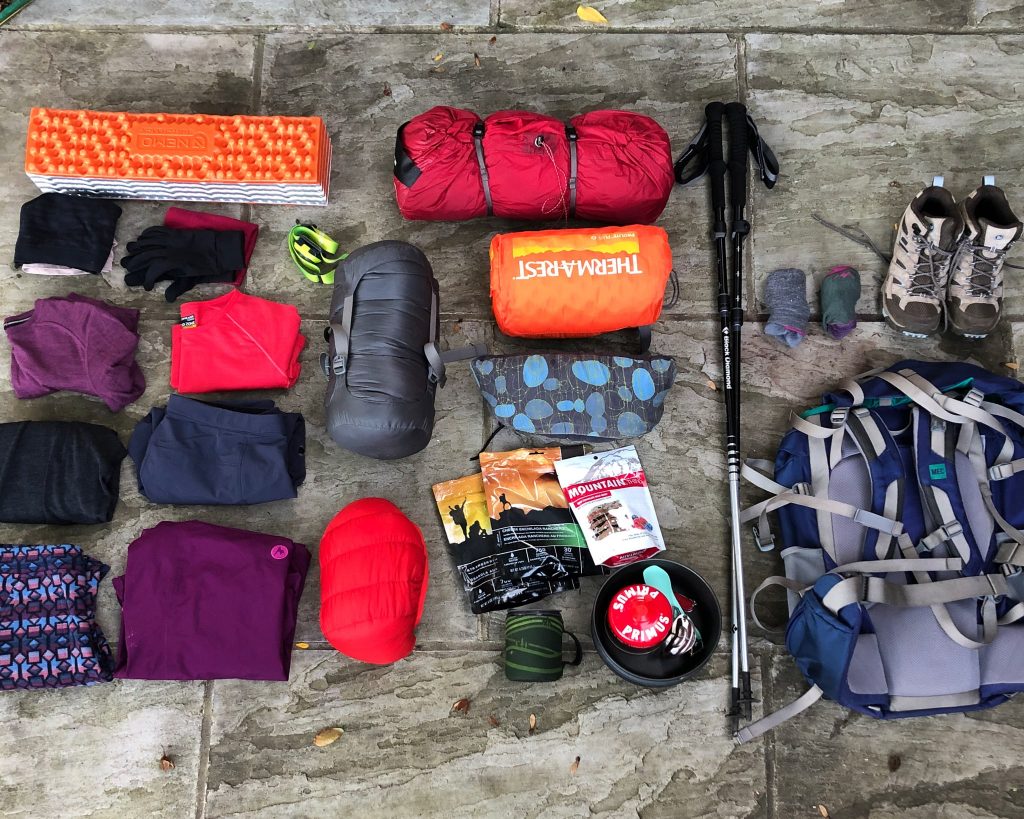 ---
Printable Day Hike Pack List
---
Packing for a Hike – Final Thoughts
I hope this post has been helpful and given you a better idea of what to pack for a day hike. Hiking gear and clothing doesn't have to be fancy or expensive, especially when you're starting out. Ensure you have the necessary safety gear and acquire better clothing slowly. And practice! The only way to get confident packing for hiking is by going hiking!
Additional Resources: